Prices and availability are subject to change from the time and date that you print this page.
4/23/2014 1:25:12 PM. For Customer Service, please call 800.967.6696
$199.95 - $239.95 open stock $215.20 - $263.00
Clean, contemporary design in pristine white porcelain is highly versatile for dining and entertaining. This stylish, affordable dinnerware in a wide variety of shapes is sophisticated yet fun with asymmetrical edges on dinner, salad, low bowl and platters.

Please note: This pattern will be discontinued in June 2014.


Madison Dinnerware Sets
Madison Dinnerware Individual Pieces
Madison Dinnerware Serving Pieces
Madison Dinnerware
is rated out of
5
by
62
.
Rated

1

out of

5
by
Puzzled couple
from
Not microwave safe?
I loved the look of these plates, especially for the fact that it curves up at the rim. The rim helps to avoid spills, when the plate is carried over to the dinner table.We had a set of 4 of Dinner plate, Salad plate, low bowl as our Wedding gift. Sadly, all8.5-inch Salad plate cracked. All of them have one big crack, and I had to throw them away... I didn't physically damage them, or washed it in the dishwasher, but it seems that it does not do well with a sudden change of temperature, including heating food up in the microwave. It says Microwave safe, but I don't think it is. Maybe it is just the design problem. Other design of Madison does OK with microwave.
Date published: 2014-02-13
Rated

2

out of

5
by
JPinAK
from
Beautiful but not durable.
Very disheartened at the durability of these dishes.  The plates often crack right down the middle for no apparent reason.  Many times I take them out of the dishwasher to find they've cracked (across the entire plate) or find them chipped.  Believe me, I wanted to love these dishes, but in the end I truly regret my purchase.  They are very expensive, and for that amount of money I would have expected not to have to replace 6 or more pieces per year.  
Date published: 2014-04-01
Rated

4

out of

5
by
PBFT
from
Elegant + Practical
I have just purchased Crate and Barrel's Maison porcelain dinnerware to use as my "best" china. I chose it because it is dishwasher and microwave safe and a friend has had this pretty white dinnerware for several years and it still looks brand new. Although this was a significant investment I am glad I chose Crate and Barrel because of the excellent customer service I received. When several Maison items arrived with imperfections, sales associates at C&B's Flat Iron Crossing, CO store spent lots of time selecting and sending replacement pieces that I am very happy with. I am looking forward to my next visit to Crate and Barrel to select companion serveware items.
Date published: 2013-08-12
Rated

2

out of

5
by
Hola
from
Warning: ASYMMETRICAL
We received Madison dinnerware for our wedding in June. It is very beautiful and contemporary, which is exactly what I wanted. However, I did not realize that the plates were asymmetrical. I am very disappointed on how silverware (especially C+B's Oona flatware) falls off the plate or into the food if you are eating on the couch or carrying the dirty dishes to the kitchen. It drives my husband absolutely crazy! If you eat on the couch in front of the tv, this might not be the pattern for you. This issue should motivate my husband and I to eat at our beautiful Crate & Barrel table, but I think we'll just buy new plates instead. :(
Date published: 2013-08-13
Rated

4

out of

5
by
CathyO
from
Great set!
My husband and I registered for these for our May 2009 wedding. The only complaint is that in the past year and a half we've broken 3 bowls. 2 were chipped at the same time against a metal hinge and one was elbowed and hit the floor from at least 3 feet up. We use these as our everyday pieces and seem to look as good as new (ie no noticeable scratches from utensils or dishwasher). I love how we can use these with nice table linens and automatically have a classic, gorgeous entertaining set. I personally think that the asymmetrical design is beautiful. So all in all, as long as you aren't clumsy with them, they should hold up and last well!
Date published: 2010-12-14
Rated

4

out of

5
by
Boltonite
from
Stylish but fragile
We've had this dinnerware for 3 months and have chipped 2 pieces already. I wasn't anticipating needing to be so careful. Also, the cereal bowls take up a lot of space in the dishwasher. It bugs me a bit to have to set the table worrying about having the tall edge face the back and adjusting them to be just perfect. I totally love the contemporary look and how the table looks all set. I wouldn't have changed my decision but wanted to warn future purchasers.
Date published: 2013-09-29
Rated

5

out of

5
by
dishowner
from
Excellent for Everyday Use
I have the dinner plates, salad plates, mugs, and symmetical bowls (place settings for 14). They have lasted many years already with everyday use. They are my only set of dishes. They work well in the microwave and dishwasher. Sometimes, I have to rotate the plates a bit to align the thick and thin parts of the plates, so they don't bang against each other in the dishwasher, but that is uncommon and quick to do. I have broken plates, but that was because they were dropped on the floor or granite countertop or broken during moving. They are quite sturdy. I've dropped heavy utensils on them and dropped them in the sink and they have survived with no damage. I highly recommend these dishes.
Date published: 2014-04-01
Rated

5

out of

5
by
Allie M
from
Favorite dishes ever!
My husband and I registered for these dishes for our wedding and though it took us a while to get used to the way they stack (a little angled), we absolutely love everything about them! We love the shape and rounded edges which makes them a little more unique and fun than typical white dishes. They also hold up really well to my husband's clumsy dishwashing and our many dinner parties with friends. And we've had no problems with them in the microwave or warming them in the oven pre-food. They can also be dressed up for holidays or used as casual BBQ lap resting plates. They have turned out to be one of our favorite wedding gifts!
Date published: 2011-08-28
Rated

5

out of

5
by
urbnchic
from
Exquisite
We had these dishes on our wedding registry, which we did online. When I recieved the first batch as a wedding gift prior to the wedding, I was shocked to see that they were asymmetrical. I was worried that it would not be a fit for my home. I like contemporary, but lean more towards classic. I put them back in the box and was ready to return them. Then I pulled them out again, set it all up on the table, and they are just AWESOME! I love them and I am keeping this style. I have my Waterford crystal glassware to accent them and the Boulder Flatware from C&B also, perfect fit!!! These are A MUST for contemporary brides! :)
Date published: 2010-06-30
Rated

1

out of

5
by
marriedwchildren38
from
Lacking Quality
There is no doubt this dinnerware is beautiful but out of my 12 bowls, all most all are cracked or chipped; plates too are becoming just as beat up. My husband and I are the only ones using these plates at the time being so i hate to see what happens to them once our now toddlers start to use them. DO NOT put these dishes in the microwave and handle with great care. These are too pricy to have this kind of wear and tear after less then one year.
Date published: 2014-04-01
Rated

5

out of

5
by
in love
from
love that we get to use these everyday
My husband and I chose the five piece setting, plus deep bowls and various serving pieces in person for our wedding registry. We love their clean, modern design. The off-center cup circle on the saucer is a smart, practical thing for a designer to do. It's a place for a spoon, or a cookie.We've had 2-3 pieces break. The strangest incident was when I placed a small plate with lasagne in the microwave; heard it crack within seconds.They clean well in the dishwasher and continue to look new and shiny.
Date published: 2013-08-13
Rated

5

out of

5
by
kreilly
from
Great Set!
We received the 4 piece place setting of these dishes for our wedding. LOVE them! We also got 1 large serving bowl, 2 small serving bowls, and the sugar and creamer. They are all fantastic! Chose not to register for the serving plates as they were rather small (take a look in person).For those that aren't sure on the asymmetrical aspect of the dishes - take a look at them in the store. We love the quirkiness and don't find it it a hassle or problem!GREAT dishes!!!
Date published: 2013-08-13
Rated

5

out of

5
by
Sunnyside Girl
from
Perfect
I noticed another reviewer said that they didn't notice that the plates were asymmetrical and were disappointed. We didn't realize they were asymmetrical either but it was the best surprise. They are so unique, lovely and classic all at the same time. We've had these dishes for over 5 years and haven't chipped one yet. They are extremely versatile. Casual or Formal. Kudos to the designer. We love our dishes and continue to add pieces to our collection.
Date published: 2013-08-13
Rated

3

out of

5
by
Miggysgirl44
from
Lovely but Don't Hold Up
My husband and I registered for the Madison dinnerware when we got married. We loved the clean, modern look and the fun flare that the asymmetrical edges add. Unfortunately, we've had them for a little less than two years and they're already showing considerable wear and tear. There are a number of salad plates and bowls that are either chipped or have rough/jagged edges that lead me to believe they're about to chip. One of my dinner plates also has a crack through both sides about half its width. It was a little embarassing when family members would offer to set the table during the holidays and had to sort through my chipped dinnerware. That definitely wasn't the look I was going for on my Christmas table! The worst part is that it's just my husband and I, so it's not like the dishes are being subjected to strenuous wear and tear. I just assumed that I could expect quality from Crate and Barrel. I'm so disappointed to learn that that's not necessarily the case, especially now that I've read that others have had the same problem. I hope you have better luck if you decide to go for the Madison dishes!
Date published: 2014-04-01
Rated

1

out of

5
by
greenspartan
from
FRAGILE!!
My husband and I registered for this set for our wedding in 2008. Within the first 3 months there was a crack in the salad plate, 3 coffee cups chipped and two cereal bowl have chipped too. I had initial reservations as the edges come to a pointy tip and the top seemed to be missing glaze but we fell in love with the pattern and the assymetrical shape that some reviewers dislike. Overall, I am upset that my uncle (who bought the entire set for us) spent his hard earned money on something that won't last us many years.
Date published: 2013-11-08
Related Products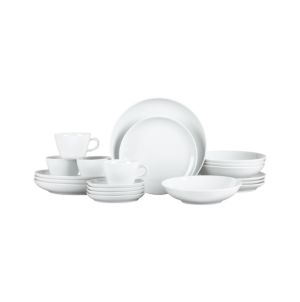 Clean, contemporary design in pristine white porcelain is highly versatile for dining...
Crisp white porcelain dinnerware trends modern and flexible in modern, rounded coupe...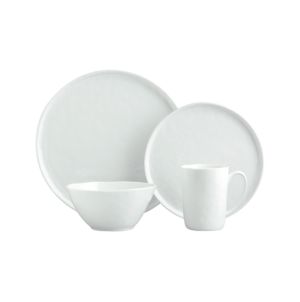 Contemporary porcelain whiteware represents a fusion of refinement and rusticity. Round slim...