Prices and availability are subject to change from the time and date that you print this page.
11/26/2014 12:29:56 PM. For Customer Service, please call 800.967.6696
Crate and Barrel Exclusive
Contemporary porcelain whiteware represents a fusion of refinement and rusticity. Round slim profile takes on organic overtones with freeform rims and a finely "hammered" surface that ripples the light.


Mercer Dinner Plate
is rated out of
5
by
74
.
Rated

5

out of

5
by
cabdbfan
from
Beautiful plates!
These plates are absolutely gorgeous. Food presentation is easy on these babies. Nice and neutral, but still make a statement. I haven't had them very long, so can't really speak to their durability, but I will review again after my husband has had a chance to chip them ;)
Date published: 2014-05-27
Rated

5

out of

5
by
BBare
from
versatile dinnerware
These are great. I bought them for my bachelor pad and continue to fit in with everything in my shared abode!
Date published: 2014-05-27
Rated

4

out of

5
by
RitaP
from
Love my Mercer dinnerware!
I have had my Mercer dinnerware for about one year. I bought 6 sets of square plates and 6 sets of round. I like to mix and match them on the table. I think the serving bowl is beautiful. But . . . the plates get marked up from the silverware.
Date published: 2014-05-27
Rated

5

out of

5
by
AWEMCG
from
After 45 years!
45 years ago when I got married, I wanted a square plate dishes and the salesperson talked me out of it! Now they are the trend! So I treated myself to an entire new set and I selected the Mercer line. The irregular lines are ideal for my taste of handmade items. I LOVE IT!!!
Date published: 2014-05-27
Rated

5

out of

5
by
Melski
from
Beutiful, elegant
I bought the dinner and salad plates, and the two different bowls. I love these pieces. They do get warm in the microwave, warmer than my old dishes. They are so elegant and wash/wear well. I have no issues with them. I love the hammered look.
Date published: 2014-05-06
Rated

5

out of

5
by
Whimsey144
from
Great size!!
I've been looking for a decent sized salad plate for quite a while, something that doesn't let the salad spill over the edges. These are just right.
Date published: 2014-05-03
Rated

5

out of

5
by
Herkyrobyn
from
Lovely little apetizer plates
I bought 4 square and 4 round appetizer plates to use for small desserts. They made a square of cake with whipped cream look elegant.
Date published: 2014-04-24
Rated

5

out of

5
by
snortinshatzie
from
I like these plates!
I really like these dishes. Have so many dishes, but decided to downsize to one everyday set and I really have enjoyed these new dishes. The bowls don't stack too well, because they are kindof wobbly shaped, but I still like them.
Date published: 2014-04-21
Rated

2

out of

5
by
Cheri349
from
Great Interim Dishes
I've had these for a little over a year - bought 2 sets and some extra items. What I love - they're really pretty. I fell in love with them at the store.Why 2 stars if I'm in love - within the first few months, a few of the plates (app and dinner size) chipped. A few of the bowls cracked. Ive had dishes that have lasted me 8+ years that were inexpensive but apparently better made compared to this. I'm a little disappointed in the lack of durability given the price point for a 8 person set and also the add on accessory dishes.
Date published: 2014-04-09
Rated

5

out of

5
by
lvgadgets
from
Great work horse
We now have 4 sets of dinnerware from C&B and this is one of our favorites. Goes with just about everyhing, washes great, does not stain and has some great additional pieces. Love the little coctail plates. Highly recommended.
Date published: 2014-04-07
Rated

5

out of

5
by
DeniseD
from
I love these!
I bought these items approx 1 year ago. I previously had a set of stoneware and hated them! Every time I would heat something on them I would burn my hands on the plate and the food would still be cold. My daughter and I were shopping and stopped in a C&B store in Chicago, and started looking at dinnerware. I had no intention of buying anything when I found these. It was a great investment! The only downside (and its a very small downside) is the size of the plates. They are larger than usual, which makes the amount of food on them look small, so if you're not careful you may load them up more than usual. By the way, my husband even loves them, which most husbands don't care so long as food is on the plate! I would definitely purchase them again!
Date published: 2014-04-04
Rated

5

out of

5
by
Chicagosandy
from
These bowls are beautiful!
I love these bowls, too. Going back for more. Please don't discontinue.
Date published: 2014-03-29
Rated

5

out of

5
by
CBSelect
from
Love the handmade look, but practical use!
Bought the appetizer plates and small bowls first, a find! then have added all the dishes, LOVE THE low large bowls for pasta! now adding the square plates are wonderful for sandwiches, waffles, brownies etc. These look handmade but can use in dishwasher, microwave etc. and they are very durable yet aethestically upscale!
Date published: 2014-03-25
Rated

5

out of

5
by
Momac77
from
Unique Styling
I recently bought 12 place settings of Mercer dinnerware with square plates. I love the clean look of the white pieces - food looks gorgeous on them - very appealing! Another feature that I really like is that the pieces look somewhat rustic - almost free form (for example, the square plates are all the same size, etc., but the edging is the tiniest bit uneven and is meant to be so). We also like the "hammered" finish. All in all, I am very pleased with the set.
Date published: 2014-03-25
Rated

5

out of

5
by
judibobr
from
Three Part Server
It's a lovely piece that I am using to serve munchies for our Saturday Mah Jongg game. It's very handy and looks lovely.
Date published: 2014-03-12
Rated

5

out of

5
by
notapol
from
Casual and sharp!
I started buying these plates almost 2 years ago and so far only one has chipped; I recently bought the bowls and I love the style these give to my otherwise traditional kitchen.
Date published: 2014-03-04
Rated

5

out of

5
by
Fatt3
from
Very nice!
I have had my eye out for a square plate for quite awhile and found these. They stack great and no they're not 'perfect' but that's the point! They are 'rustic' and not the plain white perfect plates you see everyday. I first used them for Christmas dinner and everyone kept commenting on how nice and interesting they look. Super easy clean up - just throw them in the dishwasher and they fit and stack there easily, too. I know I will use these for years to come as they are sturdy and are weighted just right.
Date published: 2014-02-18
Rated

5

out of

5
by
architectz
from
delightful dinnerware!!
This Mercer dinnerware has an excellent feel and look to it!! It makes dinnerware---not boring---but rather enjoyable just for the feel and look!! Use it for everyday use---or save it for special occasions---it serves either purpose very well!!
Date published: 2014-02-17
Rated

5

out of

5
by
jayee
from
Looks like art! Has their own personality.
I bought service for 12. Gave them 6 months before writing a review.  They have held up through dishwasher issues, being dropped and stacked with other dishes.  They are rough on the bottom (which makes them look like art). Always use a placemat if surface requires.  Irregular so they do stack uneven, but this adds to their personality.  Love the texture too.  Plates are big and flat so food stays separate.  Classy and go with any decor.
Date published: 2014-01-18
Rated

4

out of

5
by
fhoefel
from
Beautiful but there is a catch
These pieces look great. However, the plates require careful handling and may not be ideal for daily use: the plates do not stack well due to their shape and their bottoms are kind of rough/porous, which makes dish washing (I wash by hand) more difficult and they don't slide as well either on cabinets etc. 
Date published: 2014-01-13
Rated

5

out of

5
by
cammilla48
from
works great as a serving piece!
I needed a way to serve a pumpkin tart at Thanksgiving. This plate fits my tart pan perfectly, and works perfectly as a serving piece for the tart. The size was about an inch wider, with just enough lip to hold the tart in place. And the price was terrific!
Date published: 2013-12-24
Rated

5

out of

5
by
cammilla
from
also perfect as a serving dish!
I needed to find a dish to use to serve a pumpkin tart. This dinner plate is the perfect size to serve the tart, with just enough lip to hold it in place, but not too much to hide the edges of the tart. The price was great, the shipping and handling was superior, and I couldn't be happier.
Date published: 2013-12-22
Rated

3

out of

5
by
JoeyTai
from
So beautiful, but just not quite there.
I purchased eight of the Mercer dinner plates, salad plates, mini bowls, mugs and serving platter. Pros:• Absolutely beautifully designed.• Washes well.• Very well priced.Cons:• The plates do not stack properly because of the lip. Even with plate felts in between each plate, they still rest on the lip of the other plates which can cause them to snap.• The plates are thin and are prone to snapping.• The bottoms are not glazed, so they will scratch your tabletop (including stone), as well as each other when they are stacked.Overall impression:Style before function. I would still recommend these dishes even with all the cons. But I would not recommend if you are not a careful person and tend to bash things around. The mugs are outstanding however. Perfect size and beautiful.
Date published: 2013-12-12
Rated

5

out of

5
by
rubyrider
from
Beautiful china
This is beautiful handmade porcelain china.  It has a hammered-look surface.  It is a bit fragile, not a good choice for everyday with children.  Nice to mix and match with the square plates.
Date published: 2013-11-19
Rated

5

out of

5
by
faeriegrandma
from
Third trip back for this line
I have a lovely and rather complete set of everyday dishes, but I fell in love with the large Mercer bowls - perfect for stews, soups, dinner salads and my Posole.  I went back and ordered these small bowls and though they are as lovely to look at and good for smaller servings such as ice cream or fruit, I needed something in between,  So now I'm coming back to order the medium size bowls.  I hope  C&B doesn't discontinue this line for a long time, as they are so lovely.  I may eventually get a full set - if I could bear to part with my beloved Desert Rose.
Date published: 2013-09-27
Rated

1

out of

5
by
KennyRae8
from
Pretty but not Long Lasting!
I bought these plates 2 months ago, I should have returned them. Right out of the box I knew these dishes are going to chip so fast!! they are simply too fragile. I have been extra careful with, beause they are beautiful...so far three dishes have chipped. I ordered 2+ sets so i'll just keep using them until they fall apart.Pro's- look nice, sit nice and flat on the table, great size, presentation of food looks beautiful on these plates.Con's- consider yourself lucky if they last a year
Date published: 2013-08-09
Rated

5

out of

5
by
Tesa
from
Love This Purchase
This set is so chic & beautiful. The white makes it timeless, yet the bumps & ridges make it unique. I love that the plates are thin & not bulky. So excited to have this set!!
Date published: 2013-07-23
Rated

1

out of

5
by
HB Florida
from
Looks like seconds
I read the reviews and after looking at different sets, ordered the Mercer Square plates and low soup bowls. The plates are skewed, not square. The bowls are different shapes and I can't even imagine trying to stack them in the cupboard. I'm returning them. I saw "rustic" but did not expect each piece to be a different shape.
Date published: 2013-05-29
Rated

5

out of

5
by
CBPAshopper
from
Great Dinnerware
Have the square set and love it. The plates are really light so they are easy to carry and they are dishwasher safe so easy to clean.
Date published: 2013-03-05
Rated

5

out of

5
by
Bitafar
from
Light and elegant
This set is light like china and strong like ceramic. It is very elegant and simple at the same time. It's both practical for everyday use and great for special occasions.
Date published: 2013-03-04
Related Products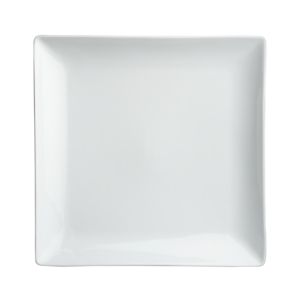 Clean, crisp white porcelain dinnerware combines squares and curves in a dynamic...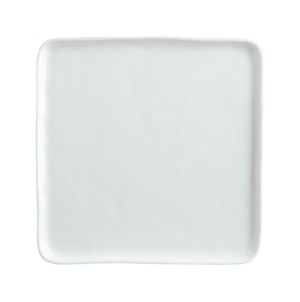 Contemporary porcelain whiteware represents a fusion of refinement and rusticity. Square slim...
The traditional quality and translucence of fine white bone china are reinterpreted...