Prices and availability are subject to change from the time and date that you print this page.
8/23/2014 12:44:35 PM. For Customer Service, please call 800.967.6696
A timely, shorter design for fresh-ground pepper. The stature (see additional photos) of this sleek stainless mill doesn't affect its commercial-quality performance, and makes it great for moveable feasts.


Mini Salt and Pepper Mills
Mini Stainless Pepper Mill
is rated out of
5
by
58
.
Rated

5

out of

5
by
Jupiter
from
big punch in a small compartment
These salt and pepper mills have a lot of oomph packed into a small space. They are heavier than they look, but still very manageable. My husband and I love that we can get freshly-ground pepper without having to use a large cumbersome mill.Some reviewers have commented that the pepper mill can get stuck; ours has stuck a couple of times, but a quick shake is usually enough to get it going again.A word of caution about the salt mill: be sure to use a coarse grain of salt. I filled it with a finer kosher salt grain by accident, and it leaked salt out of the grinder without any plunging.
Date published: 2011-08-30
Rated

5

out of

5
by
AKDR
from
Great
Love these!!! They are small so they look great sitting anywhere, stove top, table top, etc. Love that you only need one hand to operate them.
Date published: 2011-08-24
Rated

5

out of

5
by
LMonday
from
Great item
Love this item! Very modern looking and easy to use!
Date published: 2011-01-05
Rated

5

out of

5
by
Tarjida
from
Fancy & Useful
These are awesome for the kitchen table and for cooking. One click and you have salt or pepper on your food. They look great and work great so far too.
Date published: 2010-07-05
Rated

5

out of

5
by
chicojen
from
Awesome - but test them in the store first!
We received these as a wedding gift and love them. It's great that you don't have to twist them like other salt and pepper mills. The first ones we received had some major scratches from C & B online and the salt grinder didn't work well. I took them into the store and exchanged them. Following the other reviewers' advice, I tried out the ones in the store (much to the employee's hesitation), to see which ones worked the best. I have to admit that several of them I tried didn't seem to work at all. But, after a small salt-and-peppery-mess was created on the floor , I managed to find two that function very well and that we use all the time. They take up virtually no counter space and we get tons of compliments on them. We plan to get a set for my husband's parents. BOTTOM LINE: If you get these...test them out in the store first to make sure they work.
Date published: 2010-05-18
Rated

5

out of

5
by
jamaicanbcrazy
from
Best Mills Ever.
We love our mini salt/pepper mills! Though they are "mini," we've had ours nearly 2 years and only had to fill them 4 or 5 times.Everyone who comes over loves them (as soon as they figure out how to work them), and a few friends have gone out and bought them based on their experiences at our house.I love being able to freshly grind salt and pepper with one hand rather than spinning and turning a large pepper mill, which is always awkward at the table.We received the silver set for our wedding and bought a red set 2 months later during the after-Christmas sale. Our kitchen has red accents, so they go perfectly.You have to love fresh, whole tasting salt and pepper flakes on/in your food to love these mills. I do, and I've been spoiled. I can no longer use pre-ground pepper at a restaurant or if we're eating at a friend's house. The powder just doesn't taste right after this experience.Yum!
Date published: 2010-02-26
Rated

3

out of

5
by
sin2fit
from
Not smoothe operation
Salt mill in this set works great, pepper mill is not that good. Grind is not smoothe and size of ground pepper, not fit for all dishes. They look very nice, though.
Date published: 2010-02-07
Rated

4

out of

5
by
JennNCA
from
Nice.....but small!
I bought both the salt and pepper grinders.They are very cute and they work okay (so far)My only complaint would be that they are smaller than I expected. I will keep them though because I can't find any other ones that "wow" me.
Date published: 2010-01-30
Rated

5

out of

5
by
ROTN
from
Works great...
The pepper mill is a great hand held item. It's wonderful to be able to mill fresh pepper with one hand while you are cooking or even sitting down for a meal. You can even take it with you for on the go purposes because of its compact size.
Date published: 2010-01-06
Rated

1

out of

5
by
shore girl
from
MIni Salt/Pepper Mills
I was so happy to find the salt and pepper mills and thought that they'd make great stocking stuffers for our four grown children. What a disappointment they were! Not one of them worked easily, especially the salt mills. It was almost impossible to push the plungers to grind the salt. I had wanted something fun, sleek, and useful, but wound up returning all of them.
Date published: 2010-01-04
Rated

5

out of

5
by
Hobes
from
Date published: 2010-01-03
Rated

5

out of

5
by
JenniferR
from
Fabulous
I seen these grinders on a show on the Bravo channel and had to have them. The are very sleek looking and work great. I bought a set for myself and then purchased 3 more sets for gifts.
Date published: 2009-12-22
Rated

4

out of

5
by
pootums
from
Very cute
The salt and pepper mills are so cute and very handy. With the salt mill, you must be careful that the salt is very hard or it will not grind properly.
Date published: 2009-11-25
Rated

2

out of

5
by
Grandma Cutiepie
from
Very cute, but not functional
If all you are going to do is look at the salt and pepper grinders, buy them. But, if you have anyone with weak thumbs, they won't be able to get the salt grinder to work and will have difficulty with the pepper grinder. I really wanted them to work because they look so cute on the table. But, I eventually gave up and returned them. We need a battery operated version.
Date published: 2009-11-20
Rated

5

out of

5
by
Axel
from
What a great pepper mill!!!
My wife follows Crate and Barrel products very closely, so I was not surprised that on one of her bi-weekly visits she picked up the Mini Pepper Mill. I liked it because it has a nice heavy, mechanical feel to it AND it does a great job of grinding pepper. It really does grind well with just one hand, but you can create a blizzard of pepper if you use it with two hands. Way to go, C&B, another product that looks great and works well !!
Date published: 2009-10-21
Rated

5

out of

5
by
iinsic
from
Great sea salt grinder!
We saw these clever grinders when visiting with some out-of-state friends recently. As soon as we returned from that trip, I ordered a pair of the salt grinders.While traditional pepper mills do usually require two hands, I have a pair of mills that have been carefully calibrated to give either fine or coarse pepper, in copious quantities. I did not want to stop using them.Salt, however, is another matter. When cooking, being able to "squirt" some freshly-ground sea salt into my cooking is a wonderful convenience. I bought a second grinder to stay on our outdoor table - we live in Florida and the humidity makes salt shakers useless, but not grinders. And, since we eat 90% of our meals outside, having such a clever grinder is a great boon.I also am quite impressed at the heft and construction of these solid stainless steel appliances.As to the "thumb power" required to operate the grinders, think of it as a little strength-training for your most important digit.
Date published: 2009-10-19
Rated

1

out of

5
by
SteveHB
from
Falls apart - very poor product
We are about to return our second pair of these. The first time the connection between the clear plastic and metal broke apart. This time the button/grinder assembly broke apart. These are poorly constructed and not recommended.
Date published: 2009-08-25
Rated

5

out of

5
by
Jimmy
from
One-Handed Precision Spice Delivery Instruments
I don't cook... much. My wife does. She spends a lot of time shopping for the latest cooking "stuff". I usually follow her around looking politely interested. During one of these excursions, I spotted the Mini Salt/Pepper Mills. I like the look of stainless so I picked them up. They look cool. Kind of like a cross between a flashlight and a rocket ship. They're beefy too. Real man shakers. Precision instruments. The little windows show whether it's a pepper or a salt shaker. No "Ps" or "Ss" required. Best of all, they solve a problem I've been wrestling with during the few times when I must cook for myself... most pepper or salt mills require two hands to operate. Trust me, I can't afford to have both hands occupied with one task when I'm trying to cook. These little gems operate with one hand! Pressing the little plunger at the top of the shaker releases a shower of pepper or salt beneath. They do take a little hand-strength to operate but, hey, that just means my wife is likely to leave them to me!
Date published: 2009-07-03
Rated

3

out of

5
by
mollys mommy
from
Pretty to look at
These salt/pepper mills are really beautiful, but not the easiest to use. When you're cooking and need to poor salt or pepper quickly, it's kind of frustrating having to use these. Also, they sometimes get stuck and you need to play around with them to get them to work. They are nice to put on the table at dinner, but not for cooking.
Date published: 2009-06-30
Rated

5

out of

5
by
jacki
from
salt/pepper
This was a gift to me, but I am going to give it as a gift to a friend now as I really like the style, ease and efficient use it serves. It also is sleek and looks good on the table as well as the kichten counter.
Date published: 2009-06-29
Rated

4

out of

5
by
Heidi Hello
from
A great conversation piece at the table
I fill this with smaller sized salt and pepper grains so it is a breeze to push the button.They are attractive and curious looking; we always have a guest ask where we got them. They feel sturdy and after a year of constant use, they perform just as good as the day we got them for a wedding gift.
Date published: 2009-06-26
Rated

5

out of

5
by
anb912
from
Great
Very cool looking!!! We love this set because its sleek and simple. They do a great job and are well constructed.
Date published: 2009-06-23
Rated

5

out of

5
by
mjohn
from
Too good to pass up
Though discrete either in the kitchen or dining room, amazingly it is alwasy noticed for its compemporary look! And provides a great thumb work-out.
Date published: 2009-06-20
Rated

5

out of

5
by
KathyB
from
Love these!
I received these for a gift. I immediately loved the look but was skeptical about performance. SInce they are compact, I assumed they would need to be refilled constantly. Not so! They hold a surprising amount! I like them so much I am giving them as a gift.
Date published: 2009-06-20
Rated

5

out of

5
by
LLJJ
from
Great mini mills !
We registered for these and are very pleased with their performance! Still going strong after 2 years of everyday use, which is more than I can say for other salt grinders that I have owned. Highly recommended.
Date published: 2009-06-20
Rated

5

out of

5
by
Klayton
from
The perfect gift!
We love these mini salt and pepper mills. From the classic modern design to the ease of use and refill. We got them as a gift at our wedding and use them all the time. Everyone asks us where we got them. They are fun, simple and look great on any table.
Date published: 2009-06-20
Rated

5

out of

5
by
nicki73262
from
Great Gift or Not!
I originally bought these to give away as gift but when my husband saw these he didn't want to give them away, so we kept them for ourselves.They make a very stylish addition to our dinner table.
Date published: 2009-06-19
Rated

5

out of

5
by
Long Island
from
Quite Handy
A wonderful product. The fact that each can be used with one hand is useful more often than I would have thought.Just one thing to note: you cannot adjust how coarse or fine the grind is. So, if you are picky about that, this is not the product for you.
Date published: 2009-06-19
Rated

5

out of

5
by
Jeanne
from
Fun and easy
I bought these in red as a gift. Now everytime I visit my friend and have dinner, everyone always comments on them. I love how they look and work and how easy it is to refill. I wish I kept them for myself!
Date published: 2009-06-19
Rated

5

out of

5
by
Fort Lauderdale
from
Sleek & useful - perfection for kitchen or table
These are absolutely perfect. I looked all over for a pair that were nice enough to leave out without being a distraction. They are versatile -dressy enough to put on a table for a nice meal and durable enough for a bbq on the deck outside.The pump action actually has a nice 'spray' area - it disperses much larger than the circumference of the actual mill so you don't end up with a small mound of salt or pepper in one place on your dish.I LOVE THEM!
Date published: 2009-06-16
Related Products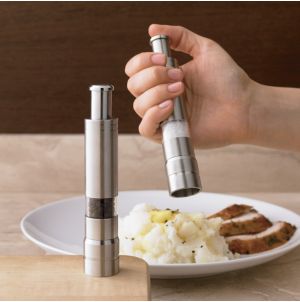 A timely, shorter design for fresh ground pepper and sea salt. The...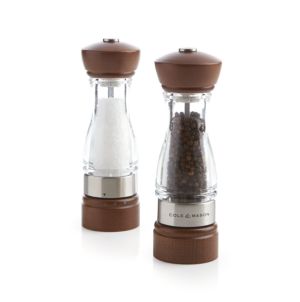 Cole & Mason's premium spring loaded mills grind with consistent results every...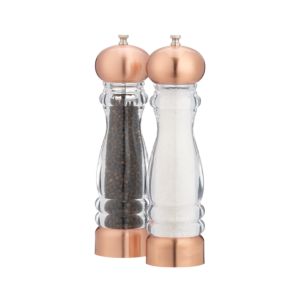 Classic copper for the kitchen or table. Salt and pepper mills with...