Prices and availability are subject to change from the time and date that you print this page.
4/20/2014 9:23:16 AM. For Customer Service, please call 800.967.6696
Expertly designed to care for your finest clothing, Nellie's™ All-Natural Laundry Soda is hypoallergenic—perfect for baby clothes and sensitive skin. Unscented soda cleans all the way to the fiber, rinses thoroughly and leaves no residue. Biodegradable, non-toxic, mild yet highly efficient, this earth-friendly soda also economizes with every wash, as the super-concentrated formula requires only one tablespoon per large load. Vintage-inspired packaging adds retro charm to your laundry room.

It's no wonder that Nellie's™ has taken home three Housewares Design Awards: Best of the Best Bronze; Best in Category in Home Organization, Laundry and Non-Electric Cleaning; and Green House for Design.


Nellies All-Natural Laundry Soda
is rated out of
5
by
23
.
Rated

5

out of

5
by
Dog Person
from
The best laundry detergent I've found
I used to find laundry detergent a hassle to deal with. The powdered detergents didn't dissolve properly in cold or lukewarm water, and the liquid detergents weren't eco-friendly because the bottles weren't recyclable where I lived and I was throwing away a bottle every 3-4 weeks. Then, three years ago, I discovered Nellie's Laundry Soda. It's a powder that dissolves very, very well, even in cold water, never leaving any visible residue behind. And, because only one tablespoon is needed per load, a package lasts a long time. It has done a great job of cleaning even heavily soiled items. My only complaint about it WAS that it was hard to find, which led to me ordering it from Canada several times. I'm very happy, therefore, to learn that Crate & Barrel sells it!
Date published: 2013-08-21
Rated

5

out of

5
by
cgibsnc
from
Awesome Laundry Soap
I have been using Nellie's for over 2 years now. I first stumbled across it when getting started with cloth diapering. This soap works great! It does a very good job cleaning clothes. It may not seem like it at first because you use so little and it doesn't "suds" up but it works just as well as traditional detergent if not better. It is very economical- one tin will last me 3 months or longer and I was 4-6 large loads a week. I love the fact that there are no harsh chemicals- safe for your family and the environment. Clothes also seem brighter or less resistant to fading as well. Crate and Barrel has an awesome price for it too! I definitely recommend it and this will be all I ever use.
Date published: 2013-02-11
Rated

5

out of

5
by
LALanie
from
Glad I Chose This One
I usually use a variety of natural liquid detergents. I've pretty much stuck with The Laundress products for the past couple years. My towels had become increasingly non-absorbent over time. While using up the last of The Laundress & while shopping for a powder soap for my husband to take on the road, I chose Nellie's. He took a portion of Nellie's on the road with him. I washed about 5 loads of laundry with the Nellie's left behind. I was AMAZED at how much soil came off the first load, that I washed that load twice. I love that there was NO POWDER RESIDUE which is something I have had problems with - Charlie's powder soap being one. The towels seem to be somewhat more absorbent with the one wash with Nellie's. Also, my sheets seem cleaner, not coated with something, after washing with Nellie's.
Date published: 2013-07-26
Rated

5

out of

5
by
Suzyfish1154
from
I Love This Detergent
Excellent product. I have a brand new washer and dryer and my clothing comes out beautifully using Nellie's ALL NATURAL. We are trying to cut out as many chemical as possible, and hoping we can do so without losing quality. Nellie's is a definite winner in that department. My only problem is figuring out what to do with the darling tins! Maybe I'll use them as boxes for holiday gifts.
Date published: 2014-02-21
Rated

5

out of

5
by
JudyK
from
Economical
Money saving. Great cleaning and fresh smelling. Leaves no residue or perfume on cloths. All natural good for the environment and people wih sensitive skin. Love it.
Date published: 2013-01-03
Rated

5

out of

5
by
DHaus
from
Best Laundry Soap Ever.
I LOVE this product. Clothes come out clean and fresh and actually smell like clothes and not perfumes. Great on stains and awesome for sensitive skin. I will never use another laundry soap. A+++++
Date published: 2013-11-21
Rated

5

out of

5
by
Granny in WA
from
Won't Use Anything Else!
Started using this over 5 years ago when our grandson developed many allergies. Been using it ever since. Love the no detergent smell, but fresh and clean feeling of the clothes when they are done. Bought it online from someone else at first & then saw this price was much better! Try it- you'll never go back to commercial detergent!
Date published: 2012-07-05
Rated

5

out of

5
by
hsmiley92
from
Works Great!
I bought some of this off amazon, but now that I know it is here I am so excited! Nellies is top quality and gentle. No enzymes so it is safe to us on reusable menstrual pads, diapers, wool, silk, really anything. The only laundry detergent I use now. It is also great pared with C&B 's wool dryer balls!
Date published: 2014-04-09
Rated

5

out of

5
by
HappyGardener
from
Cleans great!
I have bought this laundry soda through Crate & Barrel & local stores.The retro tin is adorable, but the two tins I got in the mail from Crate & Barrel came dented. : (I put white vinegar with the laundry soda. We work in the yard and it cleans well without leaving sensitive skin irritated.
Date published: 2014-04-08
Rated

5

out of

5
by
cs22
from
Great cloth diaper detergent!
I have used Nellies for all my clothing and cloth diapers for about a year now. I have had no residue build up or yucky smells. Nellies gets all my stains out. Love it!
Date published: 2013-08-08
Rated

5

out of

5
by
scho3032
from
Cloth Diaper Must!
This works great on cloth diapers with no dyes or additives. This is also a great price! Almost $6 more on other sites.
Date published: 2011-08-27
Rated

5

out of

5
by
MNwasher
from
Love it!
I have been using this laundry soda for a year and love it! It cleans great and I love the fact it is natural!
Date published: 2014-04-08
Rated

5

out of

5
by
Jen26
from
amazing
clothes come out very clean and love the light scent. Glad I purchased 3 of them!!
Date published: 2013-07-31
Rated

5

out of

5
by
meljv
from
Never Been Cleaner!
I absolutely LOVE this laundry detergent. I found it by accident, and I am so happy I did. This stuff gets clothes super clean, and there's no strong synthetic fragrance to mask anything that didn't get completely clean. My clothes come out smelling like - clothes! (Novel concept, isn't it?) It also rinses clean and makes clothes softer than ever. I use 1/8 cup vinegar in my fabric softener dispenser of our HE machine to use as a fabric softener along with Nellie's. This is hands down my favorite "green" product conversion. I never will go back to the nasty liquid stuff!Also make sure you try the oxygen booster for your whites - it makes them so bright!
Date published: 2011-11-26
Rated

5

out of

5
by
Jazz For Two
from
Wonderful Product
You will Love..Love..Love this product! I am glad I found this laundry soap at Crate & Barrel. Was buying it from the distributor in Canada. No more liquid soap mess and and the metal storage container is so convenient to use. No more soap residue left in your clothes and towels. Our towels are bright and fluffy. And the best thing is, I am not buying as much laundry soap as I did with liquid products. Please continue to carry this product Crate & Barrel.
Date published: 2012-06-02
Related Products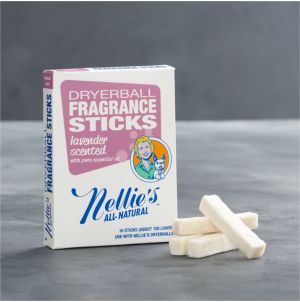 For those who prefer fragrant laundry, Nellie's™ offers this all natural alternative...
Expertly designed to care for your finest clothing, Nellie's™ All Natural Laundry...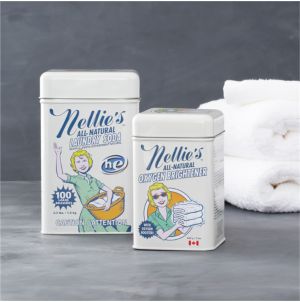 Expertly designed to care for your finest clothing, Nellie's™ All Natural Laundry...