Prices and availability are subject to change from the time and date that you print this page.
4/21/2014 1:20:27 AM. For Customer Service, please call 800.967.6696
Crate and Barrel Exclusive
Intricately pieced, eco-friendly bamboo glows with a warm, natural finish. Each richly grained accessory is beautifully crafted with clean, classic lines. Soap pump conceals a 9-oz. plastic bottle and is accented with rustproof zinc.


Bamboo Soap Pump
is rated out of
5
by
107
.
Rated

1

out of

5
by
Disappointed1
from
Looks nice, but poor product
I purchased this last year because it looked beautiful. I was initially very happy with purchasing the soap pump, toothbrush holder and basket set. I received plenty of compliments until it started getting moldy and rusty in a matter of 2 weeks! Obviously the basket is still in great shape, but can't say the same about the other two. I stopped using them and left them aside until a month ago, I remembered them and decided to give them another try. Not surprisingly, when I went to clean my bathroom this weekend, mold and rust is everywhere on the inside! These products were made with no intention of getting wet. To make it worse, the pump is really hard to press now! I purchased it in Sept 2011, and according to a previous review, they improved it in May of 2011... So I decided to take the plastic bottle and pump out of the bamboo casing and using that until I purchase another one.
Date published: 2012-06-13
Rated

2

out of

5
by
MplsCook
from
Not a great soap pump
I put some self-stick rubber feet on the bottom of the soap pump to elevate it just a bit - this keeps it from sitting in puddles of water that inevitably form around the sink and it hasn't gotten moldy (as some other reviewers have commented).HOWEVER - the steel part of the soap pump is still just awful. It keeps getting some kind of brown residue on the plunger part of the pump (I assume it is dried soap?). This makes the pump not operate very well and looks gross. I clean the pump at least once a week. It also doesn't dispense a lot of soap and seems to clog easily.Too bad - it looks really nice. But the bottle the soap came in works better.
Date published: 2012-12-05
Rated

4

out of

5
by
CBOhio
from
Beautiful set, but soap pump molds
We received the set of bathroom bamboo pieces as a wedding gift. The set is just beautiful and we have gotten so many compliments on it. It has not gotten scratched whatsoever. However, when my husband washes his hands, he tends to splash some water out by the soap pump when getting his soap (not unusual), which then naturally pools around the edges of the soap dispenser. We realized, only a couple weeks after using, that this has caused the bottom edges and parts of the wood to have a slight green and white mold. I find this odd because the soap dish, which gets splashed often, doesn't mold one bit. You can't really see this unless you are refilling the soap, but we were a little disappointed since we love the set so much :(
Date published: 2011-10-17
Rated

1

out of

5
by
brnew
from
Molds!
We received the soap pump, tissue box cover, toothbrush holder, and tray from our wedding registry. It's a beautiful set, but the entire thing was moldy and disgusting within a couple weeks. Might be fine if you don't expect these to get wet at all, but not sure how that's possible while using close to the sink. The tissue box actually molded to the inside and we had to tear it out. Really disappointed and I guess we'll have to throw the whole thing away! Oh, and one whole side of the tray fell apart from the rest. It's junk.
Date published: 2012-04-11
Rated

2

out of

5
by
shachi
from
Doesn't last long
I give it two stars for appearance, but the soap dispenser did not last more than a few months. It started to rust pretty quickly and then a few months later the dispenser actually stopped working (unless you pressed REALLY hard). The bottom part stopped staying on and because it started to get wet, got moldy. GROSS! I expect more from Crate and Barrel...
Date published: 2010-11-16
Rated

1

out of

5
by
ILGal
from
Nice to look at - but broke down too quickly
I got two of these pumps, and a toothbrush holder for my wedding just 4 months ago. Since using them, all three have starting smelling horrific, and the pump doesn't work very well. Tried spot cleaning them to no avail. Had to throw them all away over the past couple of weeks, and am highly dissatisfied due to the price. Would not recommend them at all. 
Date published: 2013-10-15
Rated

1

out of

5
by
dsngrl
from
Dispenser Leaks
We got the set for our wedding last August. It hasn't been a year and the soap dispenser is leaking from the top. Soap leaks out and gets in the bottom. I'm not sure if we can return it. The bamboo part is still good the the rest is not usable. I won't be replacing it with the same one. The rest of the set is fine.
Date published: 2013-07-27
Rated

1

out of

5
by
dzillo
from
Worst Product Ever
Almost immediately, we were finding rust mixed into our soap. 4 months into marriage, the bamboo sides were starting to rot and fall apart. By a year, the screws on the bottom had rusted off, and the bottom panel had decayed and fallen off. We are now going on 2 years. I only wish I could upload a picture. The other day, a hole rusted in the side of the spout, and soap squirted out onto the tile wall. I now have to catch the soap coming from two holes. I know that all of this sounds perfectly unbelievable and ridiculous, but this product is like the miserable, decaying New York tenement of soap dispensers. Literally decaying - I am not joking. If you doubt me, you need only buy it, fill it with soap and wait a couple months. I was on the site buying for a friend's registry, and was honestly offended to find that this product is still on the market. Unbelievable. NEVER buy this product. ANYONE. Least of all for someone you love. The only reason we still own it is cause we want to see what happens to it next.
Date published: 2011-07-29
Rated

1

out of

5
by
cassandra0611
from
Pretty, but molds fast!
Just two months of use, and have to throw the whole set away. Got the toothbrush holder, soap pump, and soap dish. The second they get wet (which they obviously will in a bathroom), they started to mold and deteriorate. Huge waste of money.
Date published: 2014-01-04
Rated

2

out of

5
by
sinerge
from
Looks nice but rusts internally
We bought 4 of these and they all rusted. I think it's the spring inside the pump chamber.
Date published: 2011-07-06
Rated

4

out of

5
by
ebelle
from
beautiful with some issues
I bought this soap pump along with the bamboo tray, soap dish, tissue box and toothbrush holder. They all look great together, very clean aesthetic look. The soap pump leaked out the sides at first and I thought I would have to return it, but it corrected itself. The only real problem is that it needs some maintenance because it gets clogged at the tip. Otherwise I'm pretty happy with it.
Date published: 2012-05-11
Rated

1

out of

5
by
taurusgirl
from
Moldy after a few months
I received this from my wedding registry. Looks nice, but I had to get rid of it after a few months because the bottom became very moldy. Similar to the reviewer's pictures below. Would not recommend the soap dispenser to someone who actually plans on using it often. However, I still have the tray and tissue box which have held up after two years.
Date published: 2012-06-22
Rated

1

out of

5
by
genes
from
Great Set but Soap Pump quickly rusts...
I loved this set when my husband and I received it for our wedding. Its been about 3 years and the tray and tissue box hold up just fine - the pump however started to look rusty and water stained almost within 3 months. I love the look of the bamboo but they need to treat the bamboo with some kind of wood protectant. Don't buy the soap pump!!
Date published: 2011-02-03
Rated

5

out of

5
by
AvaNick1
from
Love the set
Love the soap pump with the matching set. The bamboo looks so clean in the bathroom.
Date published: 2011-12-17
Rated

1

out of

5
by
Lindze
from
Horribly made
We registered for this and recieved it for our wedding. I thought it was a good deal since the bamboo soap pump at the other place we registered was more expensive, but clearly I should've reconsidered. Right away the bottom piece was rusted and damaged. A few months of use resulted in the magnets on the bottom rusting so bad that it left rust all over the vanity and I'd be wiping it clean every day. Eventually the magnets completely stopped working and the bottom wouldn't stay on resulting in more rust everywhere. Now the bottom became so rusted and damaged that it snapped in 2 when I placed it on the vanity. The pump has worked ok but has also shown corrosion.If you buy the little tray to place underneath this maybe it would be better. We did but it's so big it didn't fit on the vanity so we only kept this and the tissue holder. Looking at the other reviews I plan to call customer service and request a replacement with the improved model...assuming that's not the one I have.
Date published: 2012-01-06
Related Products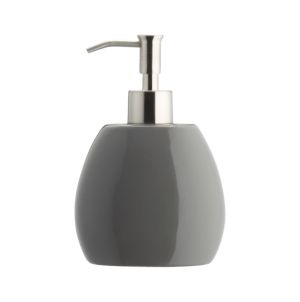 Grey stoneware adds a soft note of color and clean look to...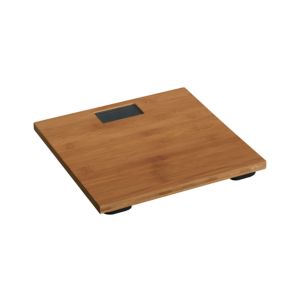 Durable yet lightweight platform scale features modern spa styling in eco friendly...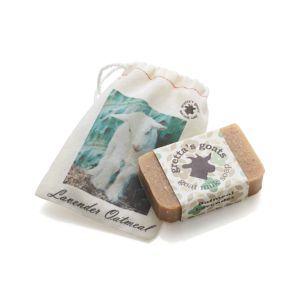 Each artisan crafted bar of Gretta's Goat Milk soaps gets its skin...