Prices and availability are subject to change from the time and date that you print this page.
4/20/2014 7:25:12 AM. For Customer Service, please call 800.967.6696
A unique modern shape that harks back to the charm of old-fashioned dairy bottles, this clear glass spice jar has a tight-sealing lid to keep your favorite flavor accents fresh. Not just for the pantry, it's attractive enough to use on the buffet or dinner table.
Glass Spice Jar
is rated out of
5
by
100
.
Rated

5

out of

5
by
Amanda Beth
from
Easy Open Spice Jars
I love these spice jars. I bought twelve of them a few years ago and have always though that they were the best looking and feeling of my large collection of spice jars. Lately my hands have become much weaker because of arthritis. I am only 52 and know that I have years of great cooking ahead of me, but the majority of my spice jars had tough plastic lids that were become really hard for me to open. For Christmas I got some for my 80 year old mother-in-law and splurged and got 45 jars for myself and then turned my whole collection over to these jars. They keep everything fresh, are easy to open, and look great. Thanks.
Date published: 2014-03-23
Rated

4

out of

5
by
Mid Century Kitchen
from
Beautiful but delicate
I purchased several of these for the spice rack in my tiny kitchen. They're really adorable, but also very breakable. My last collection of glass spice jars was really sturdy, so I was surprised at how these shatter if you drop them.I've purchased several extras because...well...I drink when I cook.
Date published: 2014-04-05
Rated

5

out of

5
by
berea
from
form AND function
These little glass jars are genius! No toppling, no loose lids, no question about what is inside, and they are easy to store in view or tucked away. My little spice soldiers line up in their drawer, and I can fill them with all sorts of things beside spices - lime wedges, nuts, little things that get left over.....these are seriously amazing and beat others without trying. They also allow me to buy my spices in small quantities at the health food store bulk section, thus reducing waste and alleviating the empty jar/dead spice syndrome. The glass is eco-friendly and easy to clean. What more can one ask!!
Date published: 2013-08-29
Rated

5

out of

5
by
kranger
from
Best Spice Jar
I LOVE these spice jars. I bought one, and then came back to buy more to replace my entire herb/spice drawer.They have a nice tight seal to keep the spices and herbs fresh. They fit perfectly in my drawer and have a clear top so I can see what they are from the top.I used a label maker to print labels for the top. They also have a wide enough top to get a spoon in or use my fingers to pinch.
Date published: 2014-02-15
Rated

5

out of

5
by
nszibel
from
Absolutely Perfect
These spice jars are absolutely perfect in every way! We are currently remodeling our kitchen and I want it to be as organized as possible. My previous method of putting everything in a cabinet was a disaster!!! I could never find anything. I have looked at many different types of containers for organizing my spices in my drawer and these fit the bill. They are nice enough to put on a shelf of some sort too. They are quite sturdy and the top has a great seal. Definitely worth the few extra cents. The associates packaged very well so there was no issue with them breaking on the way home. Based on other CB purchases I have made online, I would imagine they package these just as well if you are having them shipped. Now, I just need to get some more!
Date published: 2011-10-23
Rated

5

out of

5
by
lebeclinda
from
So pretty when filled!
I received my 45 Glass spice jars , quite promptly I might add. I filled them with the spices I have and used a P-touch to label the bottoms. They are so cute, I didn't want to ruin the effect with labels..I definatly need to order more. Ran out before I could finish the job..the little cream jar I purchased is also a perfect size. The shipping materials were marvelous and I received every single jar intact..This was my first purchase from Crate and Barrel and am thouroughly impressed by the fast service..Thank you so much. I will be recommending you to my family and friends..
Date published: 2013-11-22
Rated

5

out of

5
by
molasses2
from
Love these!
Great spice jars! I've printed out spice labels, on Deb from Smitten Kitchen's recommendation, and affixed them to the tops. Now I keep all of my spices in a well-organized drawer, and can see what I have just by pulling it open!The jars are good-sized - more than enough room for most spices, and when you buy in bulk, you can buy smaller amounts more often, so you ensure you always have fresh spices!
Date published: 2013-12-23
Rated

5

out of

5
by
Shoshanna48
from
Love these!!!
I grow my own herbs and these little spice jars keep all of them so fresh. The rubber seal on the lid is unique to most spice jars. They have a unique look to them as well. I bought ten of them for myself and have bought many more as gifts for friends. They love them as well. You won't be disappointed if you purchase these sweet jars. They are also the perfect size!
Date published: 2014-01-21
Rated

5

out of

5
by
jmross
from
Great Little Spice Jars!
These work really well for storing all those homemade spice mixes and dried flowers. They seal really well and are cute too! They are great for giving spice mixes as gifts. You do have to sort of make your own stickers and tape the name on top since the shape of the jar isn't conducive to markings on the sides.
Date published: 2013-08-29
Rated

5

out of

5
by
brown eyed girlie
from
Great for candles!
I recycle candles to make new ones and fell in love with this jar with a lid. Just the right size for a gift or to sell! I received the package with the jars in it and it was packed so well. Nothing was broken and I was totally satisfied with the purchase. Thank you very much!
Date published: 2013-08-29
Rated

5

out of

5
by
rieditor
from
Great little jars!
I registered for these but didn't receive them so I treated myself! I use these in the built-in spice rack that's above the stove in my 1926 bungalow. I replaced stainless steel spice jars that annoyed me because I couldn't tell what was inside without taking it off the shelf and looking through the glass top. Now, everything I need is at hand. The lids fit nice and tightly. For spices that look similar - and for my husband's sake because he can't tell the difference - I placed small, round stickers (yard sale price-sized) to the bottom and wrote the spice name on a few of them.
Date published: 2011-10-31
Rated

5

out of

5
by
these are the best
from
I LOVE THESE
OMG - these little jars are adorable as well as functional! I buy my herbs & spices in bulk from a health food store and these are the perfect size. The mouth is large enough to use a table spoon with ease and the lids fit very snugly. Will buy more!You cant go wrong with these little - but not too small, jars! They arrived quickly and were packed very well.
Date published: 2011-07-21
Rated

5

out of

5
by
Pintsize
from
Excellent form & function!
Not only are these little jars cute, they are versatile - can be used for spices, in the bathroom for hair clips or elastics & recently I found them to be perfect to mix salad dressing! They seal tight so no leaks even when taken on a picnic. Truly a great buy.
Date published: 2013-08-29
Rated

5

out of

5
by
BulldogMom
from
Perfect Size
I bought 30 of these Glass Spice Jars, needless to say I will be buying more. They are the perfect size, seal well, and make my cupboard look very organized. I will also be using them for other types of storage and for gifts too.
Date published: 2013-12-19
Rated

5

out of

5
by
Smj75
from
Invaluable!
These little jars have become invaluable in my kitchen, a true staple. Their sleek design showcases dry goods on my countertops, and the seals are wry airtight. An exceptional, indispensable value!
Date published: 2012-12-08
Related Products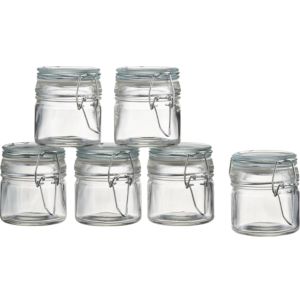 A storage classic with a modern new design and a million uses....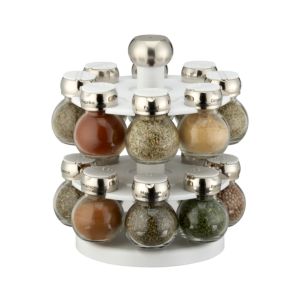 Sixteen of our cute Orbit spice jars revolve on a white plastic...
A refresher course in retro storage and service. These classic lidded glass...