Prices and availability are subject to change from the time and date that you print this page.
10/31/2014 9:06:02 PM. For Customer Service, please call 800.967.6696
Set Savings $99.95 open stock $118.55
Customize smart storage for counter or cabinet space with this sleek new stackable system from OXO®. Ten airtight containers in mixed sizes and shapes strike a streamlined profile. The innovative pop-button mechanism creates an airtight seal and doubles as a handle (see additional photos).


OXO® 10-Piece Pop Container Set
OXO® Pop Containers
More OXO® Pop Container Sets
OXO® 10-Piece Pop Container Set
is rated out of
5
by
59
.
Rated

5

out of

5
by
ashley
from
Awesome for organizing
I've been using these containers for years to keep our pantry clean (we are GF so we have a multitude of flours at any given moment) and I love them. Only certain parts are dishwasher safe, though!
Date published: 2014-08-04
Rated

5

out of

5
by
NCF23
from
Obsessed with these containers
Received as a wedding gift from our wedding registry. We use them for cereal, dry ingredients, snacks... anything you can think of!
Date published: 2014-07-23
Rated

4

out of

5
by
hsy1228
from
Great for Organizing
I received these as a wedding registry gift and the whole set has been useful in organizing my kitchen (ex: cereal, noodles, crackers, sugar, spices...etc). I do notice that they are not completely air tight. The lids need to be separated by simply twisting them apart to clean & dry them completely. Overall, this is a good starter kit to make your kitchen neatly organized.
Date published: 2014-06-10
Rated

5

out of

5
by
apiecold
from
AMAZING!!!!
So I have wanted these FOREVER and when doing our wedding registry I decided to put them on there, I am lucky enough to have gotten two big sets and one small one and they are the first thing I have used out of all our gifts! They have helped make our small pantry bigger and more organized!!! I just LOVE THEM!!!!!
Date published: 2014-06-09
Rated

5

out of

5
by
FlaniLa
from
Pantry Transformation!
These are great. Received them for our registry and already want to purchase a second set. Love them!
Date published: 2014-06-09
Rated

3

out of

5
by
TunaDear
from
Great Containers, not all of them very useful
I love these containers, I just wish the sizes were ones that were more useful. There are a lot of small containers and not as many larger ones, but you find uses for them.
Date published: 2014-05-27
Rated

3

out of

5
by
desertman
from
They're not airtight!
I just purchased some more of these today. I may take them back. While the concept is great, and I like the fact that they stack, I have found that they don't keep things particularly fresh. I purchased these to transfer dry goods that seem to get bugs. I had stored some Japanese rice crackers, opening them just a few minutes ago. They've not been in this container for long, yet they've definitely gone stale. I'm worried that if they're not keeping things fresh, they may also allow these annoyingweevil type bugs to infiltrate. I think it's back to the store with these.
Date published: 2014-05-23
Rated

3

out of

5
by
HoustonGirl24
from
Some sizes are not very useful
It's easy to use the medium size containers, but the really little ones take up a lot of space with the pop top lid, but only hold a small amount of food. I find that I usually can only store items in there once I've used up part of the bag or box, which means I am storing this container as well in the meantime. The other sizes are great as noted by other reviewers. I'd recommend this variety pack depending on your needs.
Date published: 2014-04-08
Rated

5

out of

5
by
msityblue
from
Excellent and informative
I needed to create more space in the pantry so when I went looking in Crate and Barrel's online store and I wanted to see good quality containers. Just one look and I loved the way they could be easily stacked to allow space and OXO is known as a quality product. Along with a great price I bought them and they have exceeded my expectations.
Date published: 2014-03-25
Rated

4

out of

5
by
RTee
from
OXO 12 piece set
I love this set! I wish it would have included a couple of the smallest containers for nuts, seeds or dried berries. The largest sizes will not fit in the cabinets, so it did completely solve clearing my counter space. I would like to know where I can purchase the smaller individual pieces? Thanks
Date published: 2014-03-07
Rated

2

out of

5
by
peanutbox
from
Good looking and functional, but not airtight
I've owned these for two years now since I'm trying to get my money's worth.  Unfortunately throughout my experience, I have found that although these containers seems practical, they are NOT airtight.  All-too-many times my sugar hardened or things became stale because the seal is not airtight at all.  I also strongly discourage anyone from buying the set since the 4 small containers are pretty useless for their size (since the lids are so big and reduce the usable volume by half).  
Date published: 2013-11-02
Rated

2

out of

5
by
sarah1234
from
Oxo containers
So far I've had one top stop working - doesn't pop up and another has a cracked bottom. I washed them in the dishwasher and the tops seem to get water stuck in them - I assumed they were dishwasher safe. Not worth the price.
Date published: 2013-02-22
Rated

3

out of

5
by
GatorBRM
from
Great Product, awkward sizes
First of all, let me say these containers are great. I love that they seal and are attractive and modern. I would buy they again and again... The reason I gave it 3 stars is because it's a set. The sizes are just a little weird. I would rather have another one of the big tall ones to fit cereal (1 box fits perfectly). The tall thin one is great for pasta. The medium size ones are great for sugar, flour and rice. I think i'm most confused as to what to put in the very small ones. I don't usually put snacks in containers (these are individually wrapped for lunch boxes, etc). So, I guess my recommendation is to register for these containers individually to get exactly the size you'll use. I'm still looking for something to keep in the smallest containers.--also, these containers don't stack like you'd imagine. They nicely sit on top of each other because they are the same size, but they dont snap in place or fit into designated slots. Definitely not a draw back or a reason not to buy, but not necessarily what you'd expect
Date published: 2012-09-11
Rated

5

out of

5
by
mrsdelicious
from
container heaven
This has been one of my favorite gifts i received off of my registry! not only do i use them to make my pantry beautiful but i also use them underneath my bathroom sink for extra clippies, nail polish, cotton balls, etc. The way they stack has helped us save alot of space. i can't wait to get some more!
Date published: 2012-09-10
Rated

5

out of

5
by
ncknme
from
Necessary
These are the most useful item in my kitchen. They keep everything fresh and the pop top makes it so easy to use. I definitely recommend it.
Date published: 2012-09-09
Related Products
Customize smart storage for counter or cabinet space with OXO® sleek new...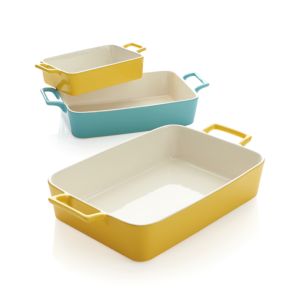 Our popular stoneware bakers in sunny yellow and sky blue with white...
Customize smart storage for counter or cabinet space with OXO® sleek new...