Prices and availability are subject to change from the time and date that you print this page.
4/18/2014 11:56:46 PM. For Customer Service, please call 800.967.6696
Staple ingredients of a well-stocked kitchen. Stackable and perfectly portable, these pint-sized, clear glass bowls are ideal for storing and transporting leftovers.


Set of 12 Storage Bowls With Clear Lids
More Items
Set of 12 Storage Bowls With Clear Lids
is rated out of
5
by
236
.
Rated

5

out of

5
by
JulesP
from
Made me and my fridge happy!
We recently purchased the set of 12 clear glass storage bowls with lids to be honest because the price for 12 of them was amazing! I expected maybe they wouldn't be as big as I thought or something would be "not as useful" as I thought...but boy was I wrong. I LOVE them... and so does my husband. We can now not only find our leftovers, but we can SEE them. We pack them in my son's lunch box and know they are solid and won't break.They are the perfect size.. they stack... the fit nicely in the fridge, so we can organize things... and there are 12 of them!!! so always have enough!oh... and did I mention I also have used one for planting a succulent?
Date published: 2012-07-05
Rated

4

out of

5
by
Fairfield foodie
from
Great for Storage, not leftovers
These bowls are exactly what I was looking for when I was organizing my pantry. I originally bought all 12 (if you buy twelve, it's only 19.95, it's like getting two free) but I actually went back to buy 6 more because I found so many uses for them! I would agree with the other reviewers that said the tops warp and don't fit after a few washings in the dishwasher. They are super thin (so is the glass, for that matter), but I only use them for storage, not leftovers, so they serve their purpose. They are 2 cup capacity- perfect for bags of dried fruit, nuts, chocolate chips, coconut- my baking section is at my disposal because I can clearly see everything in my new storage bowls!
Date published: 2014-03-29
Rated

5

out of

5
by
FashionFan
from
A kitchen staple
I have been buying these for years! During the fall and winter months when we make a big pot of soup, we fill these individual bowls with soup, and freeze and stack them in the freezer for our lunches or last minute dinners. Plastic lids seal tightly and provide a nice cushion when stacking to prevent any chipping. The reason I have to keep ordering them, is because I bring soup to people in these bowls and they rave about them so much I inevitably end of letting them keep the bowls. They are also great for storing leftover vegetables and side dishes.
Date published: 2014-01-05
Rated

5

out of

5
by
RoniCDC
from
Going Green one step at a time
I absolutely love this product. In an effort to get plastic out of our home, I replaced all of our tupperware with this, and some pyrex pieces, and I haven't looked back.It is the perfect size for a single serving. My question for people who think it is too small, is what were they planning on using it for? While you can't store EVERYTHING in it, I enjoy portioning out leftovers so that I have my lunch ready to go.I also haven't broken one yet. Which is incredible. I have found that even though they are light weight, they do not break easily.Another reviewer complained that the lids could not be microwaved, and I just want to add that no plastic should EVER be microwaved, whether it says that it is mircowave safe or not.Anyway, I LOVE this product!
Date published: 2014-03-29
Rated

2

out of

5
by
ElleMarie
from
Good price and nice design, but poor quality
I purchased these storage bowls for leftovers and to use in my husband's lunch. While they are adorable and a perfect size, I have had problems with the glass breaking. I ordered the complete set of 12 about 6 months ago, and I am down to 5 remaining bowls. Of course glass is breakable, but these bowls are breaking from simply being stored, stacked on top of one another.
Date published: 2014-03-29
Rated

5

out of

5
by
BayArea Girl
from
I love them
They are great for storing applesauce, pudding, and other desserts in. You can make a big recipee and devide it up into individual servings. Or when you separate your egg whites from the yokes so if you are only using the whites, you can keep the yokes in a bowl until you make that cake tomorrow.If you have a couple scoops of ice cream left but your running out of room in the freezer you just put the last of the icecream into a bowl and voila, more room. Basically , i'm always finding more uses for them. They are just handy to have. Plus they look nice and not like tuberwear.Plus, they are just so cute!
Date published: 2009-08-13
Rated

1

out of

5
by
Serge
from
Way too fragile!
I bought a set of these about a year ago, and only one remains.  The rest are so fragile that they have all broken.  One broke while I was handwashing it--it just came apart in my hand!  Another broke in my bag while I was on my way to work--just from being slightly jostled around en route.  I thought this would be a cheaper way to get plastic containers out of my life, but instead I've spent the little bit extra and upgraded to Pyrex, which is SO MUCH more durable.
Date published: 2013-12-31
Rated

5

out of

5
by
Lbuffo
from
Great Non Toxic storage
My son has Autism and I was researching the ways to remove toxins from our home. I was very surprised to see plastic storage containers are horrible storage containers that leach chemicals into the foods that they hold. So in my search for non toxic options I found glass to be the best storage containers. As I did more research I came accross information that Pyrex has lead in them. I was wandering around C&B and found these. They are a perfect size from snacks, and lunch. And because of there size the aren't too heavy, the perfect fit!
Date published: 2014-03-29
Rated

5

out of

5
by
thracemulan
from
good for freezing lunches
I'm using these to freeze single servings of spaghetti, chili, and stew. Once they're defrosted, they microwave well too.
Date published: 2013-10-01
Rated

3

out of

5
by
sara
from
Good but could be better!
The bowls are very thin and can break fairly easily. If storing hot foods, the lids can become soft and warp. Also, not being able to put the lids in the dishwasher makes cleanup a hassle!!!That being said, I think these are pretty good lidded prep bowls. You're bound to break a few and destroy some lids, though.
Date published: 2014-03-17
Rated

5

out of

5
by
ParisReally
from
Very Convenient
I originally purchased this set probably 8 or so years ago, and have added more sets as I've found more uses for them. They are the perfect size for leftovers, which we always have lots of, and for separating single servings of cut fruit, or soup, ready to go to work as lunch.Because they are glass you can take them from fridge to microwave, something I will not do with plastic. The wash up quickly and are built to last. Yes, the lids do seem to warp a bit over time, even in the top shelf of the dishwasher, and pasta sauce and carrot soup seems to stain them, but they are so darn convenient I don't mind! Oh, and they make excellent crayon storage.Now off to buy some more!
Date published: 2012-12-08
Rated

5

out of

5
by
mpleasanton
from
eco-friendly bowls
so-my new year's resolution was to stop using plastic wrap or ziploc bags to store those small items in the fridge. these bowls are perfect--just the right size to fit the leftover cucumber slices, extra salad, leftover tortellini, half of an onion, etc. they are clear so it's easy to see each item stacked neatly in the fridge. they're glass--much better than storing your food in plastic. and waste-free--no more plastic wrap or ziplocs. totally worth the money--i use these every single day.
Date published: 2013-10-01
Rated

3

out of

5
by
PintSized
from
Wobbled
I buy a set of these bowls every year to put small gifts in to give away for Christmas. This year, 10 out of 12 bowls were uneven on the bottom, so they didn't even sit flat. Also, the lids were not tight-fitting. I was very disappointed in the quality, especially since they were "Made in USA."
Date published: 2013-10-01
Rated

5

out of

5
by
RaspberryT
from
Excellent Excellent Product!
I LOVE these storage bowls with lids. They are the perfect size. I cook flan in these and refrigerate them after cooling. So much easier and convenient than using plastic wrap, which gets all messy. They are very versatile. I've also store chocolate mousse in these. Individual servings are great. Would highly recommend. I will buy more once I settle in my new home.
Date published: 2013-02-18
Rated

5

out of

5
by
A Real Man
from
Excited about food storage?!
I never thought I would really love food storage containers. But, like all the reviews say, you can see the food, and, these clean up great, too. Plus, they're inexpensive and unique.I also think they're a great size for left overs, salads or spreads like hummus. I even took these on a picnic last weekend.And, while these are glass, the lids are plastic. I accidentally poured boiling water on one once and it warped immediately. It was still useable, though. And, you can buy replacement lids for $0.50, which is great.Highly recommended!
Date published: 2012-08-09
Related Products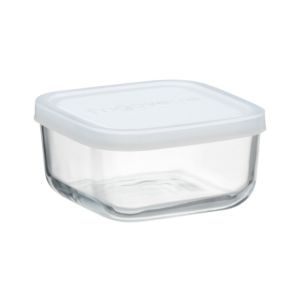 The perfect in between size for prep and leftovers, this versatile glass...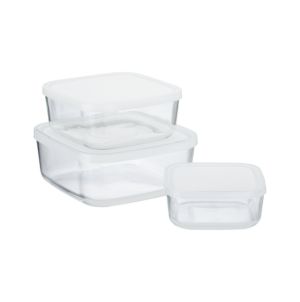 Nesting glass containers in three sizes have a finished look for serving...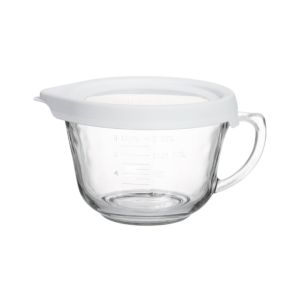 Smart glass batter bowl is calibrated for convenience and outfitted with an...