Prices and availability are subject to change from the time and date that you print this page.
4/25/2014 1:58:55 AM. For Customer Service, please call 800.967.6696
With the rise in home canning and preserving, it's only natural we'd revisit these German classics—keeping it fresh since 1900. Unlike other canning jars, Wecks feature an open tapered shape that's easier to fill and empty, rust-free glass lids (no can opener required), and sealing gaskets that are easy to check at a glance. Jars stack for convenient storage.


Weck 26 oz. Canning Jar
is rated out of
5
by
48
.
Rated

5

out of

5
by
graphic designerd
from
Completely Worth It
This jar is sturdy, durable, affordable, functional, and beautiful. I think that covers all the bases.I first started looking into Weck jars because I sought an alternative to my mismatched set of plastic - hopefully BPA free - containers, which always resulted in the occasional missing lid (too much effort to replace). Also, I wanted a cohesive container collection that I could easily expand, without worrying about discontinued production by the manufacturer. Of course, it doesn't hurt that the Weck jars are more affordable than the OXO POP containers, another collection I considered.I researched thoroughly and I came upon home-canners who owned the Weck jars for over 30 years, still completely satisfied with their purchase. By then, I was sold.The jar is airtight and keeps its contents fresh. My collection has grown sizably; I basically have at least one in every size. I store everything I can - including pasta, rice, cereal, oats, flour, sugar, tea, and leftovers - in these handy jars, and they look beautiful in my cabinets and fridge. This size is a great medium size that suits most of my needs. I highly recommend purchasing the other sizes as well. Another plus is that it is easy to replace the rubber gaskets, lids, and clamps.I believe the description is a bit off, in terms of the specifications. This is a 28.7oz (3/4 L) jar measuring 5.75" in height and 3.875" in diameter.*Sidenote: One of my jars, out of four, arrived with a chip along the rim that prevented a proper airtight seal. I highly doubt this was a result of shipping and handling, as it was protected so thoroughly that I was impressed and amazed. Nonetheless, I called Customer Support and was promptly shipped a new one, in perfect condition. Crate and Barrel has excellent customer service and I felt it deserved mention.
Date published: 2014-03-28
Rated

5

out of

5
by
istuke
from
Good for long-term storage
I bought several of these, hoping they would work for storing nuts, dried fruits, one-pound bags of flours and other pantry items.They look very nice and do hold those items nicely. However, with the seals, these really are intended for something you don't have to access repeatedly. They are better suited for long-term storage. And yes, that is their original intent.The glass is wonderfully thick and they stack nicely. I will definitely still use the jars.
Date published: 2013-12-04
Rated

5

out of

5
by
Stina2323
from
Excellent for canning
These jars are excellent for canning. The wide mouth makes them better than other brands because they are easy to fill. I purchased them for my mother-in-law to make home made sour kraut. To make it properly, you need a wide mouth canning jar with a rubber gasket and these Weck jars are just perfect!
Date published: 2012-07-15
Rated

5

out of

5
by
hwhit1646
from
Weck for Storage
Purchased several of these jars after receiving two for a birthday present (along with a cold water bath canner, etc.). I am now using them to store leftovers after abandoning plastic storage containers. They are fantastic and you can actually see what is in the containers. I would recommend them for canning as well but for now, my canning season is over and they are serving a better purpose! Highly recommend the purchase.
Date published: 2012-12-01
Rated

5

out of

5
by
meandleo
from
Amazing
These canning jars are so classy and amazing. I have wanted these since Martha Stewart had them in her magazine over 10 years ago but could only order online. Thanks C&B for bringing them to your store!!
Date published: 2012-02-14
Rated

5

out of

5
by
port
from
Good looking, great storage
Six of the 26 oz. Weck jars are now holding my homemade yogurt, mayonnaise, as well as beans, nuts, rice, etc. in the pantry. They were very carefully packaged & arrived quicklyThe seals fit snugly, the jars are easy to fill, plus they are just good looking!I will be ordering more in this & other sizes.I've recommended them on pinterest.com as one of my favorite products.
Date published: 2011-08-29
Rated

5

out of

5
by
e Butler
from
what are you waiting for
I bought several sizes of the "Weck" Jars. Each one is the perfect size for something i keep around. They also travel well. I bring lunch to work in them, either hot or cold the 26oz jar and it's perfect. I will buy more and my pantry will look as good as the food it stores.The lid can be a bit tricky, but as soon as you learn it, it can't be beaten. They stack like a dream. I highly recommend them for small or large pantries. Thanks CB for carrying these wonderful jars.
Date published: 2012-05-12
Rated

5

out of

5
by
amyleigh
from
Perfect for My Sourdough
I bought this because I needed a wide mouth jar for my sourdough starter. It is perfect to store my starter in, is easy to sweeten it without having to take it out and the wide mouth makes it easy to remove without a making a mess. The jar design is also clean and classic and very attractive.
Date published: 2014-03-27
Rated

5

out of

5
by
umihui
from
best glass jar ever!
I would like to buy all the jars of Weck. Totally affordable,good looking,good function,air-tight and stackable. Make my kitchen cabinet organized.
Date published: 2014-03-27
Rated

5

out of

5
by
emilydc
from
Beautiful jar for displaying all you can
No pun intended. :) I can jams, jellies, fruit butters and marmalades all the time, and these jars display them beautifully. They are supremely well-made in addition to how pretty they are on their own.I have found it best to put the rubber ring securely on the top before putting that piece on the jar- this makes the best, error-proof seal!Unless you are a major jam eater, I find the larger sized jars to be less useful for preservation.Great product, and I'm so glad C&B started carrying them.
Date published: 2014-03-18
Rated

4

out of

5
by
Emerald713
from
Canning
I bought the Weck style canning jars as an alternative to ball jars, which require new lids after each use. They also nest together very well, saving valuable storage space. The only negative of Weck jars is learning how to can with these jars; as most canning referances are gearded toward ball type jars. And a couple of the jars I received were cracked but that was probably just the byproduct of poor handling by the shipper; as crate & barrel packages there products very well. An additional plus is how attractive these jars are. They would be great for display or used as flower vases.
Date published: 2014-02-09
Rated

5

out of

5
by
deh26
from
Use These Daily
I absolutely love these Weck jars and have them in a variety of sizes/shapes.  I do not use them to can, but more as an alternative to tupperware. They're great to use for salads, soups, pasta, etc.  The glass microwaves well (remove the clamps and the rubber!) and clean very easily by hand.  After several months of daily use, the rubber gets a bit stretched and stops serving as a good barrier, but you can easily buy the replacement rings and it's good as new again for several more months.  I have never had a problem with any glass chipping or any other problems for that matter.  
Date published: 2014-04-22
Rated

4

out of

5
by
kitewithfish
from
Great for Storage, clumsy for travel
These tough jars seal tightly and survive a little rough handling without damage. The lids are held by metal clips that have a mild tendency to shift around on the lip of the jar or shoot off when you remove them from the lid- it makes it a little hard to tote the jars around. Overall, a very good purchase for food storage in the home.
Date published: 2014-02-24
Rated

5

out of

5
by
TeacherJoy
from
Multi-use throughout the year!
Love these little gems! Great for making refrigerator jam recipes in the summer. Finished up the last jar of jam on the Christmas table, then just finished using the jars to make mini individual servings of cheesecake (source: Martha Stewart's LIVING Magazine). The cheesecakes store in the fridge for a couple of weeks and the family can take them as they want them. The jars are dishwasher safe, and look great decorated up with the help of some scrapbook detailing as jam jars. Hope C&B keeps these as a steady product so that I can order a couple with other items throughout the year to add to my collection of sizes!
Date published: 2012-03-16
Rated

5

out of

5
by from
For food & organization!
I absolutely love my Weck jars, I had been pining over them for years and when C&B offered 4.95 shipping I had to bite, indulging in a total of 32 jars. I have not stopped finding uses for them and think I might need more. I have used them to serve individual desserts (make ahead and impress your guests with how they are served), storing matcha powder, storing leftovers, organizing my spice pantry, etc. They are a beautiful combination of form and function. Crate and Barrel did a beautiful job of packaging and not one of them was received broken. I would order again from C&B provided shipping was reasonable.
Date published: 2012-04-27
Related Products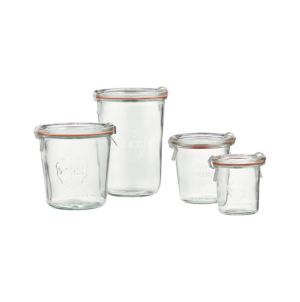 With the rise in home canning and preserving, it's only natural we'd...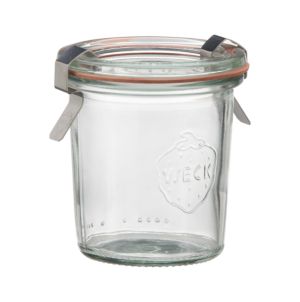 With the rise in home canning and preserving, it's only natural we'd...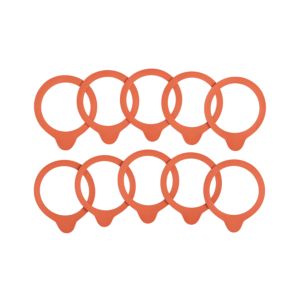 Single use rubber gasket seals extend the life of Weck's classic glass...