Prices and availability are subject to change from the time and date that you print this page.
4/20/2014 4:28:26 AM. For Customer Service, please call 800.967.6696
$1.95 - $3.50 reg. $2.95 - $3.95
With the rise in home canning and preserving, it's only natural we'd revisit these German classics—keeping it fresh since 1900. Unlike other canning jars, Wecks feature an open tapered shape that's easier to fill and empty, rust-free glass lids (no can opener required), and sealing gaskets that are easy to check at a glance. Jars double as fun drinking glasses and stack for convenient storage.


Weck Low Canning Jars
More Items
Weck Low Canning Jars
is rated out of
5
by
57
.
Rated

5

out of

5
by
chipperchicago
from
High Quality & Versatile
I bought these canning jars for Christmas presents. I made Nutella and jams and presented in these Weck jars with beautiful twine and tags. They looked very professional. My gift recipients must have liked the jars too, because they didn't get returned!
Date published: 2014-01-04
Rated

5

out of

5
by
Kwhit83
from
Perfect
I've had these for several months. I use them for leftovers, but butters, dry storage and anything I can when it comes to food. They are a lot more than mason jars, but I'm trying to get away from plastic. These have glass, pure rubber (which I reuse) and stainless steel clips. Put the rubber on the lid before putting on the container. These are airtight, versatile, beautiful and I'm trying to get enough so I can can jams, jellys, fruit butters and poss nut butters this year. I even use these , 10 oz low jar, for layered casserole leftovers like lasagna. It's not perfect since my portions are generally in squares but I make it work and have no qualms about heating the food up in them. Best price even on the internet -after you factor in shipping and handling- which can be as high as 29%. Thank you c&b for carrying these. My only request would be to also carry their tulip shaped jars as well. Btw, I knocked one of these from the top of my full size refrigerator onto a wood floor. No chips, dings, scratches, etc. since I'm always a graceful person (sarcasm) I appreciate how well built and sturdy they are.
Date published: 2014-03-28
Rated

5

out of

5
by
ala80301
from
Perfect Tiny Jar
I searched many stores and websites for tiny glass jars that had mouths large enough to accomodate a spreader.  I thought it would be easy, but it seems most jars with a volume this small are more tubular, designed for spices.  This 2.7 oz. Weck jar was just what I was looking for.  It looks great and is the perfect size and price for making lots of little homemade gifts.  Buy the inexpensive white plastic lid too, which makes for quicker storage once the jar is open.
Date published: 2014-01-29
Rated

5

out of

5
by
wisgirlski
from
Great looking and great quality!
These are the perfect size for dressings and toppings and spreads to carry in my lunch bag. I thought the clips might be annoying but they work great! I also make a lot of lotions and scrubs and this is the perfect size for trying out a new recipe.
Date published: 2014-03-29
Rated

2

out of

5
by
oceanhike
from
Metal Clips Chip the Glass Lids
I have a couple of vintage ones I use for storage and have never had a problem.  I bought 4 jars and two had large impact chips and the other 2 had small chips around the lids.  C&B replaced but the replacements came nicked/chipped too under the metal clips.  When I removed and put the clips back on a different spot, that spot would get chipped by the clips as well.  It looks like the metal clips have rough edges that cause the chipping, but the glass is also not durable enough and chips easily. How is one suppose to close use this when the clips nick and chip the lids?  Very disappointed with the quality of these new Weck jars.
Date published: 2014-02-28
Rated

5

out of

5
by
emilydc
from
Beautiful jar for displaying all you can
No pun intended. :) I can jams, jellies, fruit butters and marmalades all the time, and these jars display them beautifully. They are supremely well-made in addition to how pretty they are on their own.I have found it best to put the rubber ring securely on the top before putting that piece on the jar- this makes the best, error-proof seal!Unless you are a major jam eater, I find the larger sized jars to be less useful for preservation.Great product, and I'm so glad C&B started carrying them.
Date published: 2014-03-18
Rated

4

out of

5
by
Emerald713
from
Canning
I bought the Weck style canning jars as an alternative to ball jars, which require new lids after each use. They also nest together very well, saving valuable storage space. The only negative of Weck jars is learning how to can with these jars; as most canning referances are gearded toward ball type jars. And a couple of the jars I received were cracked but that was probably just the byproduct of poor handling by the shipper; as crate & barrel packages there products very well. An additional plus is how attractive these jars are. They would be great for display or used as flower vases.
Date published: 2014-02-09
Rated

5

out of

5
by
myexperience
from
Kefir, Food Storage and Lunches
I purchased one each of the 10-oz and 26-oz jars to try them before buying more. I've found that the 26-oz size is now my favorite jar for making kefir. The glass lid, wide mouth and not-too-deep height, make it easy and enjoyable to work with and to wash in the dishwasher. For making kefir, I just place the glass lid on the jar without the gasket or clips. The 10-oz size is perfect for my husband to bring yogurt in his lunch to work. I also like the 10-oz size for easy refrigerator storage of left-overs. Again, I just place the glass lid on the jar without the gasket or clips for this purpose. The lids are recessed, so will stack nicely. I plan to order more soon.
Date published: 2012-12-09
Rated

5

out of

5
by
deh26
from
Use These Daily
I absolutely love these Weck jars and have them in a variety of sizes/shapes.  I do not use them to can, but more as an alternative to tupperware. They're great to use for salads, soups, pasta, etc.  The glass microwaves well (remove the clamps and the rubber!) and clean very easily by hand.  After several months of daily use, the rubber gets a bit stretched and stops serving as a good barrier, but you can easily buy the replacement rings and it's good as new again for several more months.  I have never had a problem with any glass chipping or any other problems for that matter.  
Date published: 2014-04-06
Rated

4

out of

5
by
kitewithfish
from
Great for Storage, clumsy for travel
These tough jars seal tightly and survive a little rough handling without damage. The lids are held by metal clips that have a mild tendency to shift around on the lip of the jar or shoot off when you remove them from the lid- it makes it a little hard to tote the jars around. Overall, a very good purchase for food storage in the home.
Date published: 2014-02-24
Rated

5

out of

5
by
TeacherJoy
from
Multi-use throughout the year!
Love these little gems! Great for making refrigerator jam recipes in the summer. Finished up the last jar of jam on the Christmas table, then just finished using the jars to make mini individual servings of cheesecake (source: Martha Stewart's LIVING Magazine). The cheesecakes store in the fridge for a couple of weeks and the family can take them as they want them. The jars are dishwasher safe, and look great decorated up with the help of some scrapbook detailing as jam jars. Hope C&B keeps these as a steady product so that I can order a couple with other items throughout the year to add to my collection of sizes!
Date published: 2012-03-16
Rated

5

out of

5
by from
For food & organization!
I absolutely love my Weck jars, I had been pining over them for years and when C&B offered 4.95 shipping I had to bite, indulging in a total of 32 jars. I have not stopped finding uses for them and think I might need more. I have used them to serve individual desserts (make ahead and impress your guests with how they are served), storing matcha powder, storing leftovers, organizing my spice pantry, etc. They are a beautiful combination of form and function. Crate and Barrel did a beautiful job of packaging and not one of them was received broken. I would order again from C&B provided shipping was reasonable.
Date published: 2012-04-27
Rated

3

out of

5
by
sunshine sandy
from
needs a little improvement
These Weck canning jar seals work but are so flimsy they are hard to keep in place whild putting the lids on the jars. I have tried several methods but still worryh because I am worried that the jars will not seal. These seals need to be a little firmer.
Date published: 2012-12-24
Rated

5

out of

5
by
Schatts
from
Canning jars do double duty!
When I saw these I immediately ordered some to see what they were like. I'm sure they are great canning jars, but they make superior drinks glasses! There's room for ice and the beverage and you know they can withstand the heat in the dishwasher!!! So get 8 or 12 of your favorite size and when you are not using them for canning, serve your refreshing summer drinks in them. I think I'd refer to them as "industrial chic"
Date published: 2013-07-16
Rated

4

out of

5
by
shillken
from
Awesome!
My wife and I love these canning jars. So far we've made Jam, Applesauce, Pickled Green Beans, and we have canned pumpkin. They work well, are inexpensive, sustainable, and look great on our counters even when they're empty!Cons - Sometimes hard to tell if the seal is good after canning. Also, once opened, the jars are not as easy/nice to store in fridge as a ball jar with a screw top (but the glass lids are sweet).
Date published: 2012-03-09
Related Products
The choice of many gourmet food purveyors, these French preserving jars are...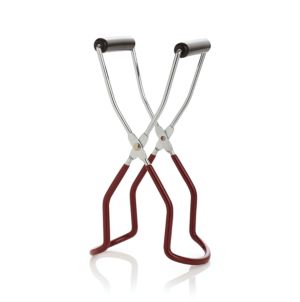 Every home canner knows the tongs are an essential element of the...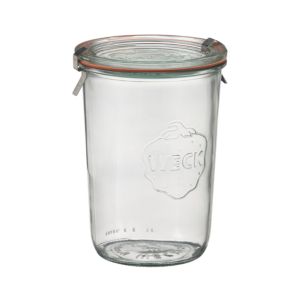 With the rise in home canning and preserving, it's only natural we'd...