Prices and availability are subject to change from the time and date that you print this page.
4/16/2014 9:18:05 PM. For Customer Service, please call 800.967.6696
Ribbed bin in durable, view-through plastic with built-in handle and feet organize your favorite foods while maximizing fridge space.


Fridge Bins and Organizer and Tray
Large Deep Fridge Bin
is rated out of
5
by
20
.
Rated

5

out of

5
by
myexperience
from
Easy Access to Items in Back
I ordered 3 of the large, deep bins, 3 of the small, deep bins, and one of the shallow trays. I didn't find the shallow tray to be helpful in my fridge; but I use it as a tray in the kitchen, instead. The deep bins, though, are a big help in my fridge. They perform like extra drawers, making it easy to access items in the rear by simply pulling the bin out partway. I also have a two-tiered turntable on the top shelf of the fridge, which holds the shortest items and makes them easily accessible.
Date published: 2013-07-14
Rated

5

out of

5
by
cas124
from
Organizers
I originally looked at this and the smaller bins for organizing the refrigerator, but took a look at my pantry with the wire shelves that everything tends to fall over and decided these would be perfect - and they are. Will order more of both sizes.
Date published: 2012-02-23
Rated

5

out of

5
by
Farfalle
from
Multi-purpose organizer
I recently purchased two of these refrigerator organizers. They are great! I used one in my refrigerator and the other one in my pantry. If you are looking for good food organizers, this one is definitely worth it.
Date published: 2012-07-04
Rated

5

out of

5
by
FeistyAnn
from
Worth the Money
I am using these (I also bought the large size) for my fridge. They keep things together, so nothing gets lost as stuff is shuffled around in the fridge. They actually save me money, because I can see what I have and not buy duplicate products at the grocery store! I will be purchasing one or two more of these in various sizes.
Date published: 2012-04-29
Rated

5

out of

5
by
FurmanGrad
from
Great product!
I love these organizers. I bought one to hold the bags of shredded cheese that often end up scattered across my fridge. It is the perfect size for it, and it keeps things much neater. :) I haven't found one like this anywhere else.
Date published: 2014-02-12
Rated

3

out of

5
by
paperchase
from
Cumbersome
If you stack the products,like they are displayed,you have to do a balancing act to insure that items don't topple over in the top bin when retriving items from the bottom bin.I guess I thought they were going to be more like drawers..I have to place my least used items in the bottom binbecause its a headache lifting the top bin to remove items from the bottom. You're also dealing with your fridge shelf above the top bin when getting items out of it...Boo!
Date published: 2014-04-05
Rated

4

out of

5
by
karyanca
from
Best for maximum of two-high stacks
I bought four large deep and four small deep bins to help organise the fresh produce which takes up the bulk of our refrigerator space. Labelling the bins helps not only finding what we want (and reducing spoilage of vegetable and fruit that get buried in the standard large bins at the bottom of the refrigerator), it also allows me see when we are running low on important items. It's also easier to clean the smaller bins individually as needed.I would not recommend stacking more than two bins, unless the bottom bin holds only infrequently used items (or duplicates). Ideally, I would stack two with enough space from the next shelf above to allow tipping up the top bin to access the one below. Otherwise, it might be frustrating having to pull out several bins to access the one you want.
Date published: 2014-04-14
Rated

1

out of

5
by
ValerieLa
from
Don't stack
They don't stack. The top one falls into the one below it.
Date published: 2014-02-12
Rated

5

out of

5
by
choowy
from
Great way to protect my new fridge!
I purchased 2 of the fridge bin trays (8" wide) to organize all the assorted jars that usually clutter the top shelf of my fridge. They are sturdy and just the right size to hold a good number of items and not be too heavy to pull out. Being clear, it is easy to see what I have. Best of all, my brand new fridge shelves will be protected from scratches and spills. Love them!
Date published: 2014-02-12
Rated

5

out of

5
by
Megan190
from
Fridge Soda Can Organizer.
It only holds 9 cans if your only having two rows of pop, I stack mine up one more row and then it hold 12 cans. The bin supports it just fine as long as you have the room to go up another row in your fridge (which isnt too much more). The quality is nice but the plastics does move a little as it isnt compeletly solid and has a few inperctions in it, like lines, they are smooth but you can still see them. I bought a bunch for my fridge and I love them. They work alot better than the pop boxes, look better and fit in the frige better.
Date published: 2014-02-12
Rated

5

out of

5
by
hobofosho
from
Organized!
These are keeping my fridge a TON more organized than it was. I bought the various fridge bin sizes as well as the soda organizer and wine stacker. They all work very well and I haven't lost any yogurts or fruit cups yet!
Date published: 2014-02-12
Rated

1

out of

5
by
Khahm
from
I bought 2 and thought they would stack and they don't. It is a waste of space:(
Date published: 2014-02-12
Rated

2

out of

5
by
ValerieLa
from
So small!
These stack nicely, but they are so thin. They barely fit a half pound of deli meat.
Date published: 2013-10-22
Rated

4

out of

5
by
JHann
from
Organize your fridge!
My refrigerator looks like this picture! I have yogurt and various jars neatly organized and everything is easy to find. I would recommend these fridge bins to anyone who is looking to organize and give their fridge interior a neat appearance.
Date published: 2014-02-12
Rated

4

out of

5
by
PS2chgo
from
No more searching
I can now find items that seem to get lost and it helps my family put things back and not have to searchI ordered two of everything except the bev. can storageand have ordered two more of everything as gifts
Date published: 2013-10-22
Related Products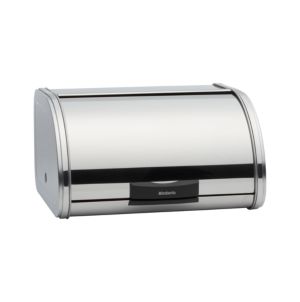 A sleek new take on the classic breadbox, streamlined in chromed steel...
Ribbed bin in durable, view through plastic with built in handle and...