Prices and availability are subject to change from the time and date that you print this page.
4/19/2014 2:24:03 PM. For Customer Service, please call 800.967.6696
Crate and Barrel Exclusive
Meet with a Furniture Design Expert at your local store
There's more than meets the eye in our new compact entertainment bar. Two bartop leaves flip open to perch drinks and snacks, while revealing generous bottle storage. Front door drops down to create an open serving area. Below are a drawer for tools and an 18-bottle wine bin. Side shelves (three on the left, two on the right) store stemware or bottles. Finished back panel lets Parker be the center of the party.


More Parker Spirits Cabinets
Parker Spirits Ebony Cabinet
is rated out of
5
by
142
.
Rated

5

out of

5
by
Jason E
from
Love this Cabinet
My partner and I bought this cabinet at our local Crate and Barrel during their Memorial Day sale (15% off!). They had to order it from San Francisco and we waited about a week and a half for it to be delivered. It came in two different boxes that fix easily into my compact car.Assembly was easy, but the directions could have been more clear in terms of positioning pieces properly so that you don't put them on backwards! Assembly took about an hour.The height is perfect for making cocktails. Additionally, the wine rack slots are large enough to fit champagne bottles (in the top row only). The right side storage is large enough to fit 1.5L bottles of Ketel One and Bombay Sapphire.The inside storage fits everything that we need it to, including decanters and 750ml bottles of Vermouth and bitters.The drawer is perfect for storing our Rabbit wine opener, stoppers, wine keys, etc.Overall, we love this cabinet and highly recommend it!
Date published: 2014-04-09
Rated

1

out of

5
by
kenken
from
terrible disapointment
Assembles ok, but is impossible to get the top to go flush. The fold in tops look cheap since the gap widens towards the back. I can't get them even.The drawer doesn't go all the way in either.Parts were scratched or broken upon opening the box.Worst: alcohol bottles don't fit in it!!! Bottles must be 9 inches or smaller to fit inside it! Side shelves, but one, are useless as well. Bottles must be shorter than 7 inches to fit. Good luck finding one that's that small. I even bought crystal decanters to fit, but still too big. BIG DISAPPOINTMENT!!!To return it I'd have to take it all apart and mail out. Yuck.
Date published: 2013-11-30
Rated

3

out of

5
by
Tiffr
from
Not what expected
I read on here that assembly was difficult?? NO! I put this together alone in less than 45 minutes. There aren't that many pieces. The drawer, side storage pieces, etc are already built. You're just assembling the main pieces, about a dozen or so. I was not impressed with the quality of this piece after assembly. The wine rack holder just slides in and sits there. And the top flipping pieces do not line up. There is no leveler to adjust these and make them line up. I tried! The front piece that folds down does not do so smoothly. I did put this together correctly! I have assembled many pieces from C&B. Pretty piece, but cheaply made. I would buy it again but not for the price paid. Also, a few pieces were scuffed up upon opening the box:( Very minor and unnoticeable though.
Date published: 2013-09-08
Rated

2

out of

5
by
anonymous1234
from
nice looking product, poor quality
the piece looks great when put together, but required significant work in addition to assembly. inside of the shipping box, one of the boxes seemed jammed into one of the side cabinets and broke one of the side rails trying to extract the part box, which i then had to fix with epoxy glue. furthermore, the top which flips open didn't lie flush with each other because the felt stoppers placed on the back of the cabinet (to keep the bartop from damaging the wood upon closing) were placed erratically, so i had to fix that too. most frustrating was that the drawer was not level, so i had to remove the casters on one side of the cabinet, relevel it, redrill holes for the screws, and reassemble it. overall, it looks great, but definitely some assembly/troubleshooting required.
Date published: 2013-09-25
Rated

3

out of

5
by
ColombianBean
from
It could be a little bigger
I really liked this cabinet in the picture... just wish it was a little bit wider and taller... Just b/c when you open it I feel hunched over using it .ALSO beware that if you want to store wine glasses on the side they have to be stemless!!!!!!!! none of my wine glasses fit on the side. Very disappointing.But I love the look of the cabinet.Assembling it wasn't super hard. Instructions were good.
Date published: 2014-01-31
Rated

2

out of

5
by
Deltah G
from
Terrible craftmanship
Quality control on this product was the worst I have ever experienced. As we started to assemble it, one of the sides was missing all the required drilled holes. Customer Service sent us the box containing that part with the intention of us switching out the new side. The side in the second box was crushed on the bottom, strange because the box was in perfect condition. The third box arrived and finally the side we needed was made correctly. With some tweaking, my husband was able to put the cabinet together, but he had to resort to extra drilling to make all the pieces fit. All in all, very shoddy craftmanship and unpacking and repacking boxes was a joke. Save your money!
Date published: 2012-04-17
Rated

4

out of

5
by
Majad
from
Stylish, practical piece
This is a great piece, especially for an apartment with limited space. I would have given it 5 stars, except when I was assembling it, three of the screws snapped off. After reading an earlier review, I was afraid I was going to have to return the almost assembled piece for a new one, since there didn't seem to be any way to extract the broken screws. However, C&B did a fantastic job by sending me out just the replacement pieces I needed (they even expedited the order so I got it in 2 days). They acknowledged that other people had had the same problem with the screws and also informed me that the vendor has now corrected the problem. If it weren't for this minor glitch, I would have given the product 5 stars (and their courteous customer service almost makes up for it).
Date published: 2013-09-08
Rated

5

out of

5
by
DN913
from
Finally Got Our Dream Bar!!!
My husband and I have had our eyes on the Parker Spirits cabinet ever since registering for our wedding three years ago. Its beautiful, sleek, contemporary lines perfectly complemented our style, which we intended to use to set up our bridal home. We registered for the bar, but didn't expect to receive it as a gift from our guests. We thought that the price may be beyond what the guests may have intended to spend on a wedding gift, but we were hoping to be able to purchase it ourselves after the wedding with the assistance of the 10% registry completion discount Crate & Barrel offers. Well, as life sometimes goes, thinking it was more important to take care of the basic necessities involved in setting up a household and beginning our careers, we put off purchasing the bar until this past Christmas, when we were finally able to get it!! We've always envisioned what it would look like in our apartment, even saving a place for it, and I must say we couldn't be happier with it!! It looks absolutely beautiful in our home and really completes the look we were going for! Perfect in both form and function!
Date published: 2013-05-25
Rated

5

out of

5
by
ArchProf
from
Perfect for my space & needs
I fell in love with this cabinet when I first saw it in a C&B catalog, so I checked it out on line. I think this was 2 years ago. I found the reviews a bit off-putting, as they mentioned difficulties in assembling the piece. But I knew it was perfect for the small spaces of my condo so after hesitating so long I ordered it. My worries were unfounded: I was able to assemble the piece w/o help and it went together flawlessly. It is lovely, fits just right in my dining nook, looks sleek and sophisticated. No more liquor & barware in a kitchen cabinet! I am delighted. It's everything I hoped it would be!
Date published: 2012-01-05
Rated

3

out of

5
by
beeps
from
Looks great, terrible quality control
Received the cabinet from our wedding registry and were really excited to put it together. While the individual pieces are well built, the quality control of the warehouse is sub-par. Of the 12 screws that come in the boxes, less than half of the holes were actually drilled in the pieces. Of the holes that were drilled, half didn't fit the pieces. After using a power drill, was able to drill holes but shouldn't have been needed for something of this quality and price.
Date published: 2013-09-25
Rated

4

out of

5
by
Bar Watcher
from
Pretty darn nice
We ordered and received one a few days ago. The size, and design are perfect. The only thing that I see that is not up to par is the workmanship. After completing the assembly, we noticed that the fit of two top cover pieces were not perfect and the drawer wobbled quite a bit when pulled out. So the workmanship is not quite up to par. But as a piece of useful furniture, nice size and very attractive, it was a "pretty darn nice" piece.
Date published: 2013-09-08
Rated

4

out of

5
by
Sweet Bryss
from
Life of the Party
I purchased this product for my new apt. I did the pick up at the store option but unfortunatley when I began building it, there were pieces of wood broken. I called customer service and they had a new one delivered to my address and picked up the broken one. Awesome!! This product is a bit pricey but the quality is very good. My only complaint is that you can't store large bottle unless you have the top open and the wine rack shifts back and forth which is a little annoying. Besides that it goes well with my dinning room set and all my guest love it. Instead of my guest staying in the livingroom, they surround my bar.
Date published: 2013-05-25
Rated

5

out of

5
by
Tarun
from
No major complaints
First off, I was on the fence about this due to some of the complaints in the other reviews. However, my sister told me she had this same bar, and absolutely loves it, so I took the plunge, and I don't regret it. I'll address the other negative feedback with my experience:AssemblyI had a friend help me put this together. We had no problems and it took less than 2 hours from unpack to finish, and we weren't speeding. The 2 handles need to be screwed in and it takes a bit of time for the holes to catch, but the rest of my assembly was easy and I had no trouble with any screws not going flush. Did not have to file or drill anything and I used a handheld screwdriver.Top alignmentI did not experience this issue. It looks nice and flush to me. There is a gap, which is completely expected, and it is the same distance from front to back. Maybe the manufacturing process differs from unit to unit, but no problems.No shipping damageThe surface looks pretty good to me and I didn't notice any significant scratches or dings. I have received other pieces from C&B before that have been damaged from shipping, but the replacement process was simple (call, and they'll pick up the damaged piece and deliver new ones)Side Shelf HeightI do wish that some of these were a bit taller, but all in all, not a huge deal. My tall wine glasses do not fit except in the right bottom shelf, but I rather put them into the wine slots instead. See Liquor Bottle Fit for measurements.Liquor Bottle FitThe reviewer complaining about 9" means the main inside area, but in truth, there are three areas where liquor bottles may fit. The right bottom shelf (tallest, 15"; inner back dropped shelf, 12.5"; and the main front inside area; 9.5"). Additionally, the wine rack goes 14" deep (rack itself goes 13", but there's an extra inch or so of space in front of the rack before the bottles protrude out). Inside, I have fit Captain Morgan's Private Stock, Hibiki Whiskey, Absolut Vodka, Bombay Sapphire, an ice bucket, and cocktail shaker/strainer, and a jigger. I have taller bottles either slid into the wine rack or on the side shelf, Gray Goose being one of them with no issues.Other ShelvingThe other 4 shelves (right side top and all 3 left side shelves) are about 7.75" tall and 4.5" deep, so ensure your glassware will fit before purchasing.Magnet: I had no issues with the magnet. It is strong enough to hold the front door tightly.DrawerYeah, there is a *bit* of wobble, but it's fairly smooth on rails. Never would have thought this if I didn't read it in another review.Wine Rack ShakesTrue. It's not going to move much and feels fairly solid, but it does shift a bit when pulling out and putting in bottles. Personally, I like the fact that it's removable, as you could always use that space for something else if you do choose.HeightI am 5'8" tall and the side shelves are a good height for making drinks. The front shelf (when the front door is lowered) is a bit low to make drinks.All in all, I really like this piece. I'm a little worried about spills damaging the wood, so I'll likely try to lay down something on the side shelves (like a black rubber mat) when I open it for entertaining, but I've experienced no issues so far. In the drawer, I keep a corkscrew, muddler, cocktail spoon, a book of cocktail recipes, ice tongs, bottle opener, cocktail napkins, and toothpicks. I've received compliments already and am planning on putting a chalkboard or black dry erase board above it, naming "the bar" and listing out some cocktails, which would be nicely at eye level.Last note: I live in a 600 square foot apartment. I find the size and collapsible feature to be perfect - small, but big enough to be used as a cool focus point of the living room, especially when it opens up.
Date published: 2013-09-25
Rated

3

out of

5
by
MMA330
from
A little disappointed...
My husband and I have been eyeing this piece for awhile. We purchased this past weekend and were very excited to get it home and assemble.While putting it together, my husband was a bit disappointed as the pieces were not fitting together perfectly, etc. The top flaps are uneven. Overall, we do like the piece but wish the quality was better....
Date published: 2013-09-08
Rated

4

out of

5
by
DanW
from
Great in a smallish space
I bought this bar cabinet for my studio apartment a few weeks ago. The assembly was mostly easy, if rather tedious. At a distance it looks very nice, but of course if you get up close you can see that it's not quite the highest quality.As far as the functionality, it's done an admirable job of holding my liquor and assorted glassware. Because I like to keep a variety of alcohols on hand and don't drink wine very often, I use the wine rack mostly to hold narrower bottles of things like anisette and coffee liqueur that I don't use as often. Note that the wine rack is fairly flimsy; functionally it's fine, but it wobbles when I pull out a bottle. (You could theoretically do away with it and store bottles upright in that space provided they are less than 11" tall.) I have to keep the top open permanently because I store the Tino decanter in the main space, but this allows me to have more storage space on top for my bar tools and napkins anyway. Overall I'm quite pleased.
Date published: 2014-02-01
Related Products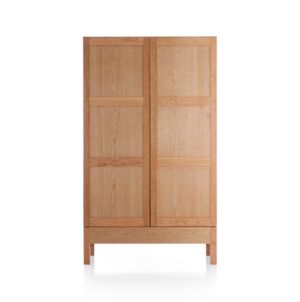 Inspired by Shaker design, created by British designer Russell Pinch and crafted...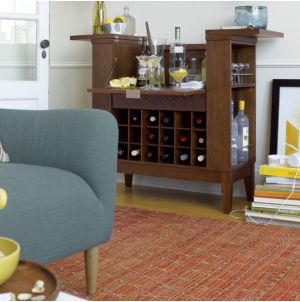 There's more than meets the eye in our new compact entertainment bar....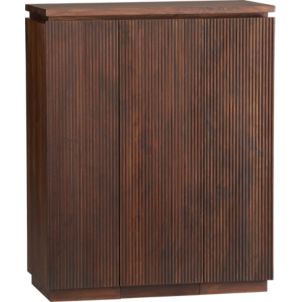 Compact yet high functioning bar cabinet features three generous storage sections behind...