Prices and availability are subject to change from the time and date that you print this page.
11/29/2014 12:03:11 AM. For Customer Service, please call 800.967.6696
The modern poaching solution in flexible, heat-resistant silicone. Multi-purpose pods float in boiling water to make the perfect poached egg, easily released with a push. They also serve as miniature double boilers for melting chocolate or butter, baking cups for flan, even as a mold for rice, gelatin or muffins.


Poachpod® Set of Two
Poachpod ® Set of Two
is rated out of
5
by
30
.
Rated

5

out of

5
by
Caitlin
from
Works great!
These are excellent. The key is to make sure you cover the pan so the tops cook at the same time. Takes a little trial and error to get the right cook time, but nice, clean, easy option.
Date published: 2014-11-12
Rated

5

out of

5
by
sooznd
from
I was skeptical- but these really work!
I used to have a small aluminum single egg poacher, but must have lost it during one of my various moves. My granddaughter wanted poached eggs for breakfast and told me her mom had gotten these. I decided to try them--they work best in about 1-1.5 inches of water- a large frying pan or skillet works best. If you add too much water-the water gets into the egg. Wish they came in more colors!
Date published: 2014-06-16
Rated

5

out of

5
by
Ladyfish
from
It's all in the little things!
You know, life really is better when it's all about the little things falling into place. We recently discovered the buttery taste of poached eggs, but they were falling apart and looking messy in the boiled water. I knew Crate and Barrel would have a solution. A helpful sales woman steered towards these egg poaching cups and said they were the best... and they are. I've even bought more sets for friends... those that really do appreciate the little things in life.
Date published: 2014-06-09
Rated

5

out of

5
by
JoBo189
from
The easiest way to poach eggs!
I love eggs benedict, and these poach pods make it so easy to make poached eggs! There is no mess and these pods are easy to wipe clean.
Date published: 2014-06-02
Rated

5

out of

5
by
ak_va
from
Makes poaching a snap
These are terrific -- they make poaching eggs a snap, without the mess.
Date published: 2014-05-27
Rated

4

out of

5
by
KS10022
from
Makes poaching easier and cleaner.
I received these as a gift. They work really well, but come with misleading directions. The directions indicate that you only have to boil an inch of water in a pan and put the poachpods in. The top of the eggs will not cook that way. Instead, boil a pot of water several inches deep and float the pods in there. They come out great. I use a little spatula and run it around the edge of the eggs before flipping them out of the pod.One set is only good for a single serving of eggs benedict. I will be buying another set so I can get 2 servings ready at the same time.
Date published: 2014-04-07
Rated

5

out of

5
by
DocH
from
Great to use, great as gifts
I have had every type of egg poacher over the last 20+ years, but these are the easiest to use and to clean. I am pretty sure that they are indestructible, unlike other varieties that I have owned. I like them so much that I have bought sets for friends as a part of breakfast-themed gift baskets -- needless to say, I highly recommend them.
Date published: 2014-04-07
Rated

2

out of

5
by
jen68
from
did not work so well for me
could never get nice poached eggs using these. They look fun, but are hard to use, water tends to splash up into the cup. Maybe it's just me, lol.
Date published: 2014-04-07
Rated

4

out of

5
by
laurenkay
from
Poaching made easy!
Once you perfect the cook time, these things are great for effortless egg poaching. The occasional water gets inside the pods, but considering traditional egg poaching is done directly in the water, this is very minor. Also, these require much less cabinet space than a egg-poaching pan. Win-win.
Date published: 2014-04-01
Rated

5

out of

5
by
mmk0130
from
Easiest Poacher Ever
Bought these on a whim and tried them out and they work perfectly.  It took more than 1/2" of water to float them so they sat on the bottom of the pan a bit for the first two but just add more water for the next two and they worked flawlessly.  No mess and smell disaster like what you get from the microwave kind and simple and easy plating and cleanup.
Date published: 2014-01-06
Rated

5

out of

5
by
wordsmoosher
from
Best poached eggs I've ever made!
These little floating egg poachers are the coolest thing ever. I love poached eggs, but if you make them by just breaking the eggs into the water, you know about all the icky trails of white that end up around the edges, kind of gross! Then there's the "microwave poacher" that usually ends up with too-dry, or even exploded, eggs...I just quit making them at some point a few years back. And then I saw these on at Crate & Barrel. The directions say to float them in a half-inch of boiling water...it took deeper water, maybe an inch or a little more, for mine to leave the bottom of the pan and start floating, but they make the nicest-looking, buttery, perfect poached eggs ever!
Date published: 2013-10-13
Rated

5

out of

5
by
GailSR
from
This makes poaching so much easier.
I adore poached eggs, but usually, I eat them only in a restaurant, because I had so much trouble making them at home. Now that I have tried my new poachpads for the first time, I am ordering 2 more right away. And yes, the instructions are bad and do not lead to perfect poached eggs. Deeper water is needed, and the pan should be covered during cooking. Cooking spray is essential. I was very pleased that there was zero mess, and the poached eggs were perfectly round.
Date published: 2013-09-13
Rated

5

out of

5
by
Ynpgal
from
Awesome!
We bought two sets (four total) at the Keystone store after I read these reviews. Read instructions online before you use them and you will get wonderful eggs the first time!I actually microwaved some bacon then used some of the bacon fat to "grease" the inside of each pod. I did that with the paper towels that were covered in bacon grease after cooking the porky delights.I plopped the pods into boiling water about one minute before cooking in order to warm up the silicone, then opened each egg directly into the pods. I covered it with the lid and cooked the eggs for four minutes.I removed the pods with a slotted spoon, put each on the counter and ran a spoon around the edge of each egg and just ever so gently around the bottom, flipped the pod over onto toast and pushed the bottom to release the egg.Each egg was marvelous and delicious. I am totally in love with these pods! Get them!!!
Date published: 2013-08-04
Rated

5

out of

5
by
Mandy E
from
AMAZING
I bought these pods about 6 years ago and LOVE THEM so much that that I'm on the site about to buy more when I read all the reviews. It baffles me as to how anyone could give these a bad review. They absolutely do NOT taste like silicone at all and they are super easy to slide out of the pod as long as you spray a quick bit of olive oil spray or PAM into them before putting the egg in. I use a pan with about 2" of water and put on the top for a few minutes and they always come out great every time. Use a spoon to loosen the edge when its done and you're good to go! I would say it took me a few times to get the hang of it but I'm always happy to have an egg and was fine with them being a tad under done or over done... but be patient you get the hang of it and you're HOOKED!
Date published: 2013-03-10
Rated

4

out of

5
by
Suelyn
from
Great Eggs
No more losing half the eggs in the water when poaching. No more scrubbing egg off the bottom of the pan.
Date published: 2013-01-26
Related Products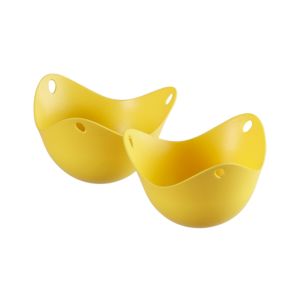 The modern poaching solution in flexible, heat resistant silicone. Multi purpose pods...