Prices and availability are subject to change from the time and date that you print this page.
4/23/2014 10:31:19 PM. For Customer Service, please call 800.967.6696
The modern poaching solution in flexible, heat-resistant silicone. Multi-purpose pods float in boiling water to make the perfect poached egg, easily released with a push. They also serve as miniature double boilers for melting chocolate or butter, baking cups for flan, even as a mold for rice, gelatin or muffins.


Poachpod® Set of Two
Poachpod® Set of Two
is rated out of
5
by
24
.
Rated

5

out of

5
by
wordsmoosher
from
Best poached eggs I've ever made!
These little floating egg poachers are the coolest thing ever. I love poached eggs, but if you make them by just breaking the eggs into the water, you know about all the icky trails of white that end up around the edges, kind of gross! Then there's the "microwave poacher" that usually ends up with too-dry, or even exploded, eggs...I just quit making them at some point a few years back. And then I saw these on at Crate & Barrel. The directions say to float them in a half-inch of boiling water...it took deeper water, maybe an inch or a little more, for mine to leave the bottom of the pan and start floating, but they make the nicest-looking, buttery, perfect poached eggs ever!
Date published: 2013-12-31
Rated

5

out of

5
by
LDesignerS
from
Poacher & More
This is a great product. I found that using more than 1/2 inch of water as directed provides better results. I used 1.5 inches and the eggs turned out great with no plastic taste and using a lid on the sauce pan speeds us the cooking. I bought 2 sets about 2 months ago. One for me and the other for my 84 year old mother. She got a kick out this product. After I explained its many uses she improvised the poachers into a duel role as bra cup supports when they are not in use in the kitchen. So there C&B another multi-satisfied customer.
Date published: 2013-07-01
Rated

5

out of

5
by
heidi10
from
great gadget
I didn't like these the first time I used them, the eggs stuck to them. Being that they are made from silicone I was surprised. I solved that problem the next time with a little spray of PAM, now the eggs slide right out.To get perfect poached eggs I put them in boiling water for nine minutes and then to get the tops cooked I spoon some boiling water from the pan and the eggs are done. .
Date published: 2010-12-27
Rated

4

out of

5
by
Amy R
from
Love 'em!
I made pasta with arugula pesto and used these poach pods to poach an egg to go on top of each dish. It was super easy and convenient---I just cracked the eggs into the poach pods and floated the pods on top of the boiling pasta water for the last 4 minutes of the spaghetti cooking time.Now I just need to get 2 more poach pods so I can cook 4 eggs at once---weekend breakfasts for my husband and I!
Date published: 2009-11-20
Rated

4

out of

5
by
heathnat
from
Poaching newbie
My husband loves poached eggs but I had never made them before. I have some silicone bakeware and thought these would be a great addition to our cooking tool collection! It took a few tries to get the water level and cooking time just right but now I'm a poaching pro! They clean up so easily and I just love them!
Date published: 2009-06-27
Rated

3

out of

5
by from
Not a replacement for my poaching pan
I bought these thinking it would be an easy way for my fiance to prepare poached eggs without having to deal with the special poaching pan, spraying each cup holder with non-stick spray etc. But, I didn't find these offered the ease I was hoping for. I felt they were difficult to work with, part of the egg stuck, and it was difficult to gauge the proper cooking time. I think I may try to find alternate uses for these and stick to my poaching pan for eggs.
Date published: 2009-05-28
Rated

5

out of

5
by
SpeciallK
from
A Unique kitchen essential!
Poach Pods are one of those items you'll wonder how you lived without them! I've found they are perfect for molding individual jello desserts; children have especially loved them and I've experimented with using them for Ice blocks for punch, freezing flowers in the ice. The Pods clean-up well, release easily and do exactly as they are described. I highly recommend them!
Date published: 2009-06-13
Rated

5

out of

5
by
Cheryl Lou
from
Online shoppers paradise
Made perfect poached eggs first time. No more wondering if eggs are cooked to your taste. Easy to remove from pod and easy to clean. So simple a 6 year old could make perfect poached eggs. Also can be great for those of us wanting to lose a few pounds!
Date published: 2009-08-20
Rated

5

out of

5
by
Gizmodo
from
These are great!
Always wanted some of these, and was happy that Crate and Barrel carried them. Eggs Benedict is my favorite, so was happy to add this to my collection of products to make my favorite dish.
Date published: 2009-08-10
Rated

4

out of

5
by
Suelyn
from
Great Eggs
No more losing half the eggs in the water when poaching. No more scrubbing egg off the bottom of the pan.
Date published: 2013-04-27
Rated

5

out of

5
by
jameve
from
perfect poaching!
finally a device that makes perfectly poached eggs easily
Date published: 2009-05-27
Rated

4

out of

5
by
Hencini
from
Great product, but needs instructions...
I ran into a lot of the same problems other reviewers did: undercooked on top, overcooked on the bottom, didn't release easily, etc. Using the Googlewebs, I was able to find instructions for similar products and now these bad boys turn out brilliant eggs every time. Is it a true "poached" egg? No. Is it delicious, relatively healthy and roughly 45798245 times easier? Yes.Pro tips:1. Lightly coat the inside of the pods with light olive oil or butter-- the egg will release *much* easier.2. Keep the lid on the pot otherwise they overcook on the bottom, undercook on top. Five to six minutes at a strong boil is all you need for rare to medium eggs.3. Put the pods in the boiling water a minute or so before you crack the eggs in them. They don't conduct heat all that well (duh, they're silicone) so they need to heat up a bit before putting the egg in.Happy poaching!!
Date published: 2014-04-01
Rated

5

out of

5
by
Mandy E
from
AMAZING
I bought these pods about 6 years ago and LOVE THEM so much that that I'm on the site about to buy more when I read all the reviews. It baffles me as to how anyone could give these a bad review. They absolutely do NOT taste like silicone at all and they are super easy to slide out of the pod as long as you spray a quick bit of olive oil spray or PAM into them before putting the egg in. I use a pan with about 2" of water and put on the top for a few minutes and they always come out great every time. Use a spoon to loosen the edge when its done and you're good to go! I would say it took me a few times to get the hang of it but I'm always happy to have an egg and was fine with them being a tad under done or over done... but be patient you get the hang of it and you're HOOKED!
Date published: 2013-06-29
Rated

4

out of

5
by
heisenberg
from
Makes Breakfast Easy
I picked up two packs of these a couple of years ago, and I'm a big fan. Cleaning and preparation are both easy, and the 6 minutes it spends cooking give me enough time to make the rest of my breakfast and start packing my lunch. Worth the $10.
Date published: 2012-12-21
Rated

5

out of

5
by
GailSR
from
This makes poaching so much easier.
I adore poached eggs, but usually, I eat them only in a restaurant, because I had so much trouble making them at home. Now that I have tried my new poachpads for the first time, I am ordering 2 more right away. And yes, the instructions are bad and do not lead to perfect poached eggs. Deeper water is needed, and the pan should be covered during cooking. Cooking spray is essential. I was very pleased that there was zero mess, and the poached eggs were perfectly round.
Date published: 2013-12-29
Related Products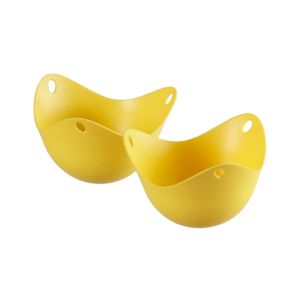 The modern poaching solution in flexible, heat resistant silicone. Multi purpose pods...