Prices and availability are subject to change from the time and date that you print this page.
4/20/2014 1:18:47 PM. For Customer Service, please call 800.967.6696
Crate and Barrel Exclusive
Meet with a Furniture Design Expert at your local store
Low-profile design is well-suited for platform beds and pairing with specialty mattresses requiring a solid surface foundation, such as latex foam. Provides additional support and raises mattress a convenient 2" without significantly changing the look of the bed. Premium stud grade pine frame covered in fire-retardant, quilted damask. Dust cover protects the underside.


Queen Bunky Board
is rated out of
5
by
47
.
Rated

1

out of

5
by
anonna
from
Defective Product!
This product does exactly what it promises: makes your bed firmer and raises a mattress to the proper height. We were very satisfied at first. However, as stated in several other reviews, about 6 months in we started hearing squeaks every time we got in and out of bed. The noise got progressively worse and at this point is just ridiculous.
Date published: 2014-04-01
Rated

1

out of

5
by
protective1
from
Save your money! Do NOT buy this garbage.
The C&B sales lady suggested we avoid this product and use plywood to support our mattress instead, but we didn't listen and bought the bunky board anyway. The bunky board is an overlapping grid of 1x3 wood studs covered with a thin sheet of cardboard and a piece of fabric. Any amount of movement on the bed causes the overlapping wood to rub and squeak loudly. Having this bunky board made it difficult for my wife and I (100 lbs and 150 lbs, respectively) to sleep because, after about a month of use, any movement resulted in the bunky board creaking which woke us both up.This bunky board was not only useless, but also ugly, as the white color stuck out against our black bed.After 1.5 years, we finally got around to trashing the bunky board and replacing it with 2 pieces of 3/4-inch plywood, as the sales lady originally suggested. The plywood is easy to get and cheaper - the lumber yard is happy to even cut the plywood to size for you. My wife sewed simple covers for the plywood by folding black twin sheets in half. The replacement plywood is completely quiet and looks much better than the bunky board. Save your money, save your sleep, and save the hassle of having to eventually dispose of this useless bunky board - avoid it at all costs!I read all the negative reviews about this item and thought my experience would be different, but it was not. This item is a complete waste of time and money.
Date published: 2014-04-13
Rated

1

out of

5
by
sleepingsoundly
from
Do not buy
This bunky board is a wood frame, topped by a very thin piece of cardboard and covered with fabric. It will begin squeaking after a few months and will ruin your sleep. The best thing to do is to go buy 2 pieces of plywood cut to the dimensions of the bed, some fabric, and a staple gun. It'll cost you about $150 (depending on quality of wood and fabric), and take you about an hour. It'll be the best $150 you've ever spent.
Date published: 2014-03-22
Rated

1

out of

5
by from
Squeaky Squeaky Squeaky
The squeak problem has been getting worse, and now I finally realize that the bunky board is the problem. Whenever you move around in the memory foam bed there is an awful loud squeaking. After taking the bed apart and rearranging everything, it turns out that the bunky board is the problem. I can now just push on the board itself and it will squeak.I would not buy this product. Next step is to contact Crate and Barrel for a solution.
Date published: 2014-03-22
Rated

4

out of

5
by
mew5280
from
Serves the purpose but....
We have a wood platform bed (wood cross slats) that lost the center support (from the center of the bed to the floor) so our mattress started to sag. I bolstered the slats with two iron bars but the mattress was still uncomfortable so we bought one of these boards.It was delivered by two men and "installed" on the bed and really made the bed look better as the mattress is sitting up higher, 2 inches, makes it much easier to tuck in the sheets as well. So the bed looks neater.Right away my husband said he could feel a difference, the mattress wasn't sagging as much.I had to move the bed recently and picked up the bunkie board and as others have noted, it is made from CARDBOARD. I couldn't believe it! I have also noticed squeaking but it hasn't been too bad.We just ordered a memory foam mattress to replace our traditional mattress so I'm a bit worried about the weight and hope the bunkie board will support it enough.
Date published: 2013-10-21
Rated

1

out of

5
by
Since1907
from
Bad construction
Bought it to go together with Spoke bed. Now the the Spoke bed itself is fantastic. Already wrote a review for that separately. However when it comes to bunky board, sequeks started exactly described on the previous reviews after 6 months. It was little at first then it became extremely annoying.
Date published: 2014-03-22
Rated

1

out of

5
by
Hendrik
from
Worst C&B purchase ever
We bought a nice bed from C&B and also bought the Bunky Board to go with it. However it turned out to be of poor quality, with cardboard which offers no support and which started to sag quite quickly. The worst thing is that the cloth and cardboard started to rub against each other and against the wood, making an annoying squeaky noise every time you move any part of your body when you lie in bed. Getting in or out of bed was even worse.
Date published: 2014-03-22
Rated

1

out of

5
by
KLong
from
Squeaky after 6 Months
We bought this bulky board with a bed about 6 months ago. The bed is great, but the bunny board started to squeak with every move in the bed. As noted in other reviews, it is pretty cheaply made. I would NOT recommend this product to anyone. 
Date published: 2014-03-22
Rated

1

out of

5
by
AlexisfromTX
from
Awful, just awful
Agree w/ previous reviews regarding the sqeaky issue. Bought for Collette bed. Squeaks started after 4-5 months. Loud and extremely annoying. Made me hate the bed altogether. Would love to return it or trash it.
Date published: 2014-03-22
Rated

4

out of

5
by
themann
from
box spring alternative
We bought a platform bed (for use without a box spring) and our mattress proved unable to handle the upheaval. My husband's back problems instantly flared up. We just got the bunky board yesterday and are both hopeful that the extra support in bed will buy us more time before we buy a new mattress. Price was right and quality seems good. Delivery was timely.
Date published: 2014-04-13
Rated

5

out of

5
by
SissyH
from
Seems alright!
I bought the bunky board with the Colette bed and mattress since it seemed like the right thing to do. I have no complaints and I'm so happy with it all I don't even care if it was a cheap upsell or not! I suspect it was the right decision, though. Much better to be snoozing contently instead of wondering "should I have bought it?" Right?
Date published: 2014-04-13
Rated

5

out of

5
by
CandB in CA
from
Necessary for Mattresses with coils
We bought this to go with our new mattress and colette bed. It works perfectly and also priced fairly to other bunky boards from other retailers.
Date published: 2014-04-13
Rated

1

out of

5
by
aleffin
from
Very thin cardboard base on not enough slots
We got a new mattress that comes with a recommendation for a solid base for our slatted base platform bed. Since my daughter has a bunk bed and the boards are very solid, we decided to get one. We couldn't find it locally, so we were excited when we found a queen size one at Crate and Barrel. What a disappointment when we got the delivery and noticed that it is just a very thin cardboard on just five horizontal and one vertical 2 1/2 inch slats. My daughter's full size boards have nine horizontal and one vertical 3 inch slats. Since we couldn't find the bunky board locally, we'll keep it, but I was expecting higher quality from Crate and Barrel.
Date published: 2014-04-13
Rated

4

out of

5
by
caligirl27
from
Gives solid, supportive feel to bed
I ordered the Colette bed (also from C&B) and tried sleeping on it with and without the bunky board. I really like the extra support of the bunky board. It makes my bed feel more solid and stable underneath my mattress. If I never tried the bunky board, I don't think I would've complained that the bed frame wasn't supportive enough (it's fine), but now that I've tried sleeping with the bunky board I wouldn't want to go without! The 2" height also makes the sheets easier to change (and an added bonus is that the subtle increase in height makes the bed look more elegant!) If you're on the fence, and you can afford it, I would highly recommend it.
Date published: 2014-04-13
Rated

5

out of

5
by
KEPC
from
Does its job well.
I have a bed with slats, making box springs unnecessary. But my 9" mattress sat too low for my taste. This bunky board should measure 2" but seems a bit thicker, which is fine with me. Now my mattress no longer looks like it is sinking out of sight into the frame of the bed. And it is much easier to get my hands under the edges of the mattress when changing the sheets. My mattress is made of latex and subsequently is heavy, so the bunky board has been of great assistance during linen changes. C&B had my bunky board delivered even earlier than promised during the ordering process. The delivery team was courteous and efficient. I couldn't be more pleased.
Date published: 2014-04-13
Related Products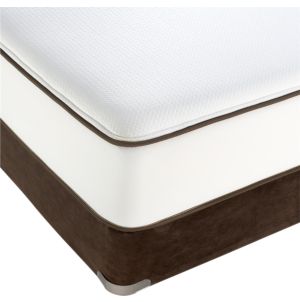 Our exclusive Simmons® Beautyrest® mattress requires no flipping, no rotating, no maintenance....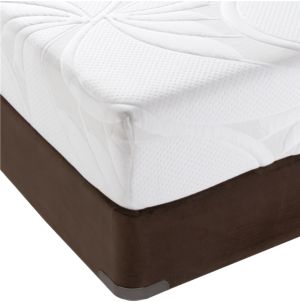 The optimum support and cooling technology of this durable mattress makes for...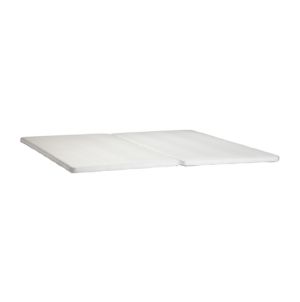 Low profile design is well suited for platform beds and pairing with...