Prices and availability are subject to change from the time and date that you print this page.
4/25/2014 1:01:57 AM. For Customer Service, please call 800.967.6696
Squared for maximizing refrigerator real estate, this durable glass jug has a clean modern look with open handle, pouring spout and white plastic lid with hermetic seal.


Refrigerator Jug
Refrigerator Jug
is rated out of
5
by
102
.
Rated

5

out of

5
by
crate and barrel lover
from
LOVE IT!!!
I just got this pitcher for use with OJ and iced teas. I love it!!! It's the perfect size for my fridge. And the seal is really tight. I'm thinking about getting another one so that I can have two on hand. The size is also great because it's compact but at the same time it will hold a lot of liquid. It's the perfect pitcher that I've been looking for. LOVE IT!!!
Date published: 2013-09-02
Rated

5

out of

5
by
Whamglam
from
Great product
I love this pitcher and use it for milk. I have a small fridge and will only use glass storage. This pitcher fits perfectly.
Date published: 2013-12-21
Rated

5

out of

5
by
chubbychef
from
No Nonsense Pitcher
Pitcher is heavyweight and sturdy.Strong handle lets you grip a full pitcher with complete control.Lid seals perfectly,it must be removed first for pouring.However, it pours neatly into your glass,without any dripping.Cleaning is quite simple,since it is very easy to get your hand inside to wash it thoroughly.The price is very reasonable for the quality.I have seen the exact same pitcher for up to three times as much.Crate and Barrel promptly sent my order and it was well protected for shipping. It arrived in perfect condition. It was a pleasure to order from this company.
Date published: 2010-07-26
Rated

5

out of

5
by
Txgrl
from
Won't find a better jug!
I really love this. It's a nice size; although it doesn't fit a 2 liter jug of milk, I feel if it did, it'd be too heavy. I agree with others that it's heavy, but it's a quality piece made of durable glass, so it's expected! I have no issues with the handle; I think it's comfortable. It does occasionally dribble from the spout when pouring but this is a minor inconvenience. The price is amazing for the quality. The hermetic seal lid is a nice feature; it's much better than cheaper jugs without a tight seal. Arrived super fast; another great purchase from Crate and Barrel!!
Date published: 2011-05-08
Rated

5

out of

5
by
Laurz
from
PERFECT FIT!!!
This cute little jug fits perfectly in the refrigerator door and/or interior. We love how the hermetic lid is not just cool-looking, but effective for keeping the odors and tastes out. Our family loves this pitcher... and I may just purchase another!
Date published: 2013-06-30
Rated

4

out of

5
by
ecsri
from
refridgerator jug
very good quality product and the sealing lid is wonderful. would be great if it came in a smaller size(ie 48oz instead of 70oz). there are few occasions you would need one this big and it gets very heavy when full. 48oz or so would be adequate.
Date published: 2013-08-03
Rated

4

out of

5
by
jski8884
from
Great Buy!
I bought this to use as a juice pitcher and it works wonderfully! the top can be a bit tricky to seal at first, but after looking at the directions it was super easy to figure out. The only thing I didn't like about it was that you have to take the top off in order to pour anything out of it. It does a great job sealing though. I love it b/c it's very compact and I don't have to store it on my top refrigerator shelf- where I never seem to have enough room. Yet, it holds a lot of liquid. Great product overall!
Date published: 2009-12-09
Rated

4

out of

5
by
lianeh
from
Refrigerator Jug
This jug just replaced the plastic pitcher we've used for orange juice for the past 20+ years. I love that this is so easy to clean by hand or in the dishwasher, and I like the square shape. It fits perfectly in the door of our refrigerator with the handle hanging over the shelf edge.Cons: The handle is a tight fit. My husband has a hard time fitting his fingers in there, and because it's glass, it feels heavy. Unfortunately, it also drips sometimes.I still like this jug enough to recommend it, however.
Date published: 2012-12-16
Rated

4

out of

5
by
ClaudiaG
from
Nice size!
Perfect for tea!  Only problem is the little gasket under the top keeps slipping off and then then the top won't tighten down to the pitcher.  So I know what to look for in the pitcher if the top won't tighten!  Not 5 stars with the gasket slipping off!
Date published: 2014-01-18
Rated

5

out of

5
by
HB Girl
from
Perfect Pitcher!
Great product. It's heavy-duty, compact and easy to handle. Fits nicely in the refrigerator. Best pitcher I've ever bought. Liked it so well, I bought another and will buy them for my friends for the summer since they are so reasonably priced.
Date published: 2013-06-30
Rated

5

out of

5
by
Enji
from
Bought 4 and ready for more!! Best Ever!
First of all, I've been looking for great glass refrigerator jugs for the longest time. When I find a good thing, I buy a few bc you never know when you'll find it again.The jug is a great size and made by a well respected company. It is a little heavy, but that's understandable bc it is glass. Now, the feature that makes this product rock is the trick top/lid. It's this piece of plastic with a tightening mechanism at the top. So basically, you put the lid on, you hold onto the rim of the lid and turn the "mechanism" to tighten the gasket that seals it. Amazing seal! I've gripped the lid "mechanism" (sorry I don't have a better word for it) and lifted the jug while it is half full knowing well enough that it will not drop.This jug is the best ever!! Do not listen to the person who gave the item a low score. It sounds as though she didn't know how to use it, and I can see how that might happen.I bought 3 for myself for my cold-brewed espresso, green iced tea, and black iced tea. I also got one for my friend who makes her own kombucha and she was just as stoked as I was. It's a MUST HAVE!!
Date published: 2009-10-08
Rated

5

out of

5
by
KatyBug
from
Love these jugs
We bought one of these refrigerator jugs because we remembered something similar to these from our childhoods. We couldn't be happier with our choice. In fact we liked it so much we purchased another one!!They fit perfectly in the refrigerator, are made of heavy, strong glass, have a perfect handle and a lid that seals tight. The lid must be removed to pour the contents, but that keeps whatever is inside nice and fresh. So much better that any other glass pitcher we've ever used.
Date published: 2011-04-27
Rated

5

out of

5
by
Dddnam
from
Great item!
I love this pitcher, and so glad I bought 2. It took a minute to figure out how to use the top. A great size for sun tea too!! Never any waste!!
Date published: 2013-06-30
Rated

5

out of

5
by
murryo
from
glass jug
nice size, like the design of the stopper top, more decorative than a repurposed glass juice container. Nice price.
Date published: 2013-06-30
Rated

5

out of

5
by
KatieLane
from
Wonderful little frig jug
I love this little jug. It's perfect for tea, orange juice or milk. The lid attaches firmly so no spills! Love it!
Date published: 2013-12-18
Related Products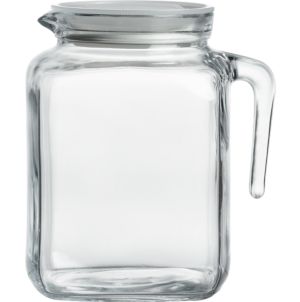 Squared for maximizing refrigerator real estate, this durable glass jug has a...