Prices and availability are subject to change from the time and date that you print this page.
4/19/2014 9:00:35 AM. For Customer Service, please call 800.967.6696
Frozen treats in any flavor you can dream up are just a few easy steps away — without messy ice or salt. Cuisinart's fully automatic ice cream maker can hatch a 1.5-quart batch of ice cream, yogurt, sorbet or frozen drinks in as little as 20 minutes. Once you toss your ingredients into the spout, the heavy-duty motor, double-insulated freezer bowl and patented mixing paddle do all the work for you. Bowl must be frozen overnight in advance. The results are consistently smooth, and clean-up is a breeze.

Cuisinart® and other Wedding Registry offers


Cuisinart® Ice Cream/Frozen Yogurt Maker
is rated out of
5
by
62
.
Rated

5

out of

5
by
Socks
from
Easy and fun!
I purchased this after reading all the great reviews. I thought my daughter would have fun with it. The first recipe we tried was a sorbet. I substituted blueberries for the raspberries...but I didn't strain it and chilled it in the freezer instead of the refrigerator...my error. So it didn't churn in the bowl... just stuck to the paddle...still good though...more like a slurpee. Last night we tried the cheesecake recipe...a winner! Put it in the freezer for about 30 minutes to get a little firmer...then topped it with a blueberry sauce and crushed graham crackers...to die for!! Very rich though! We're anxious to try the frozen yogurt recipes next. Very happy with it!
Date published: 2014-03-16
Rated

5

out of

5
by
Wusthoflover
from
Love homemade ice cream
This was a wedding gift "to us, from us" and my husband and I cannot get enough of it! I make ice cream at least once a week and have tried most of the recipes in the booklet as well as a variety of others.After a year of use, I have a few helpful hints:-Make sure your freezer is set for an appropriately cold setting or the bowl will not freeze properly. I store it at the back of the freezer.-Horizon organic whipping cream seems to make a fluffier ice cream than any other variety-Substitute nutella for peanut butter in the pb ice cream recipe for the best ice cream ever.-Don't skimp on chilling the ice cream mix before placing it in the mixer. The ice cream churns better and is much fluffier if it is thoroughly chilled when it goes in to the maker-Homemade ice cream is more expensive than most name brand store bought ice creams, but it is healthier and tastes much better
Date published: 2013-09-27
Rated

5

out of

5
by
ThatMommy
from
Awesome Machine
I had done my research when it comes to ice cream makers, and I had no doubt this would be a nice tool for the kitchen but I was still super impressed by the ice cream we made on our very first try! My (very picky) children loved it, and my husband was oohing and aahing over it for a couple of days. It was the super simple recipe for vanilla we took from the enclosed recipe book, and we will be trying many more recipes from the book and I am sure making up our own.You should know that you do have to pre-freeze the freezer bowl for up to 24 hours in advance, but you can purchase an extra freezer bowl from Cuisinart so that you always have one ready.Love this machine!
Date published: 2012-06-24
Rated

5

out of

5
by
Ridgie
from
Scrumptious gelato!
I bought this for my husband, who believes that ice cream is its own food group. We decided to make chocolate gelato with chocolate chunks. Since we have heart conditions, we have to be careful of certain ingredients, so substitutions were made (2% milk, Splenda instead of sugar). It turned out beautifully and was just delicious, especially when it's been in the freezer only 20 minutes or so - it's like soft serve ice cream. It may be my freezer but we did freeze what was left and it was as hard as a rock the next day. Looking forward to trying more recipes.
Date published: 2012-12-15
Rated

5

out of

5
by
bogeygolfertoo
from
So Good And So Easy To Use
The Cuisinart Ice Cream Maker is so easy to use. You just pour in the ingredients and the machine handles the rest. You can alter the ingredients to reduce the calorie and fat content and it comes out just great. You can add any kind of crushed candy to give it your own unique twist.
Date published: 2013-07-29
Rated

5

out of

5
by
Crones Nest
from
Sweet Surprise
Love that you can control all the ingredients. Low fat, sugar or indulgent. Couldn't be easier.
Date published: 2013-12-14
Rated

5

out of

5
by
Resident
from
Excellent Product!
This is absolutely fantastic! Makes the best (creamy) ice-creams and sorbets. A great gift to give and to receive. Love it!And the recipe booklet that comes with this is a keeper. Follow instructions to the T and you will never be disappointed.
Date published: 2013-12-17
Rated

5

out of

5
by
Crate and Barrel Living
from
Affordable Fun for Everyone
My daughter received this item as a wedding gift and loved it so much that I purchased one for my husband, who includes ice cream as a part of his daily diet. But it has turned into a family affair. We have found it so much fun to be creative, whether it's with friends, grandkids, neighbors or just for ourselves! Once we were able to master the basic formula, we created our own gourmet flavors!I would be remiss if I didn't mention the excellent service I received when I purchased this item. Crate and Barrel should be commended for their ALWAYS friendly service.
Date published: 2012-12-08
Rated

5

out of

5
by
HWoods
from
Easy to Use, Great Price
The ice cream produced by this product is simply wonderful. It has a fresh, pure taste that outshines anything I could purchase from the store. I bought it mainly because I wanted to have control of my ingredients, particularly organic, locally-sourced items. This product couldn't be simpler to use, and I think it will pay for itself fairly quickly in savings over the cost of premium purchased ice cream.
Date published: 2012-05-09
Rated

5

out of

5
by
Stjag
from
A Great Find!
I have been watching this ice cream maker for some time at C&B online and debating the purchase because I have the old-fashioned ice cream freezer.It was a great find and was on sale, so even better!! It makes beautiful, creamy ice cream in a fraction of the time and without the mess!The staff who helped me with the purchase could not have been more friendly and helpful!Thank you!
Date published: 2012-12-18
Rated

5

out of

5
by
enjoys cooking
from
A Great Buy!
My grandkids had wanted an ice cream maker since last year and we went shopping together and bought this. Already in just a few weeks we've had so much fun making ice cream & frozen yogurt. The best part is yet to come, because we'll have ice cream anytime we want it up at the cabin this summer! I love the fact that the machine is so easy to use - just keep the freezer bowl in the back of the freezer and it'll be ready when you are.
Date published: 2012-07-05
Rated

5

out of

5
by
Southern Mama
from
Love it, use it, wish it was a little bigger
This thing is terrific and I use it all the time in the summer. My only complaint is that I'd love for it to hold just a little more of the finished product. I'd also recommend finding the Ben & Jerry's cookbook. If you're into awesome ice cream, that is.
Date published: 2013-05-20
Rated

4

out of

5
by
nica820
from
Makes Ice Cream Making Easy
The husband was a bit concerned that this wouldn't get muh use and would collect dust on a shelf. Nothing could be farther than the truth. I love using this in the summer to try out new ice cream recipes. The booklet comes with some recipes, but just google and you can find tons of others. My only complaint would be that you have to know in advance that you'll be making ice cream, so the canister has sufficient time in the freezer. We tried rushing it one time and our ice cream never became solid.
Date published: 2011-10-16
Rated

5

out of

5
by
HPMom
from
Easy to use
Love this ice cream maker! After years of using a old ice cream maker that required ice and salt, it's fun to have this versatile ice cream maker. I just keep the freezer bowl in the freezer and can enjoy delicious ice cream in 20 minutes. Already made vanilla ice cream twice in the first week we got the maker!
Date published: 2011-11-05
Rated

5

out of

5
by
Arcendis
from
Great!
I received this ice cream maker as a gift. It is wonderful. So far I've only made the strawberry ice cream recipe from the booklet but everything was easy and super yummy! I can't wait to make some frozen yogurt!
Date published: 2012-12-15
Related Products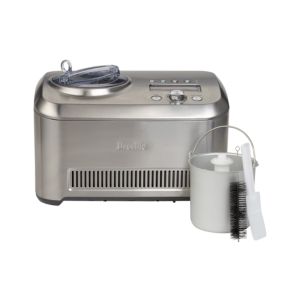 The SmartScoop rethinks the ice cream maker with 12 hardness settings and...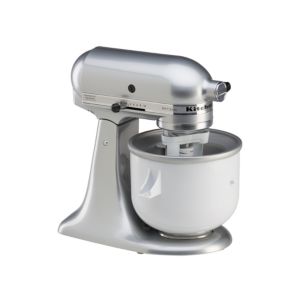 Expand the potential of your KitchenAid® mixer with this ice cream maker...