Prices and availability are subject to change from the time and date that you print this page.
4/19/2014 1:32:53 AM. For Customer Service, please call 800.967.6696
Crate and Barrel Exclusive
Pure and simple. Clean Asian shapes have a thin, elegant feel and sophisticated color palette of subtle celadon and matte black. Porcelain is fired at a very high temperature, with the cooling process creating the beautiful crackling of the glossy glaze. This traditional artistic effect is food safe, though it may discolor when exposed to foods that can potentially stain until it is cleaned in an automatic dishwasher.


Kita 16-Piece Dinnerware Set
is rated out of
5
by
96
.
Rated

2

out of

5
by
Moosbrugger
from
A coffee cup that is stained by coffee ....?
Who would ever think that a coffee cup could get stained by coffee?  But this one does.  Then I checked the website, which does include this statement:  "This traditional artistic effect is food safe, though it may discolor when exposed to foods that can potentially stain until it is cleaned in an automatic dishwasher."What does that mean?  Will putting the Kita items through an automatic dishwasher once "seal" the finish so that it wont stain?  Or do I always have to clean my Kita items immediately to prevent staining?  It is absurd that a store will sell serving items that can be stained by food without posting a very noticeable warning.
Date published: 2013-09-03
Rated

1

out of

5
by
mreber
from
Cracking problems
We received this dinnerware as a wedding gift almost 5 years ago. Over the past 2-3 years, several pieces have begun developing cracks. Three pieces have broken completely as the cracks become larger and larger. We take good care of our stuff. This dinnerware is supposed to be dishwasher/microwave safe.
Date published: 2014-01-02
Rated

1

out of

5
by
mg238
from
Breaks Easily
I received my Kita Dinnerware sets for my wedding. After only a year, my dishes started to have cracks in the plates and bowls. I understand the design is a crackle design, however this should not hurt the integrity of a dish. Each dish that had a crack has now broken. Since I do not have any gift receipts, and it is past 90 days, I am out of luck. I love Crate and Barrel, but cannot recommend this product. It is ashame with such an expensive piece, that is has not lasted.
Date published: 2014-02-18
Rated

1

out of

5
by
Fit3
from
Wish I Could Return Them
They break, chip, crack and stain very easily. Period. Do not purchase.
Date published: 2013-07-12
Rated

5

out of

5
by
Bride1013
from
Love them
I registered for these for my wedding and love them. The bowls are a great size the plates are huge. As for the other review, we have not had any problems with breaking or staining. We have eaten spaghetti several times on them and the are still fine. They come out of the dishwasher just like new. When have had them almost a year and use them constantly. I am very happy with them.
Date published: 2013-07-29
Rated

3

out of

5
by
lmfr
from
Love these plates, but they are fragile
I spent a lot of time shopping/looking for and researching plates. Love the look of these and purchased because porcelain is supposed to be more sturdy than some of the other materials. I have been very careful, as week one, was putting a dinner plate away and chipped an edge. These plates are fairly thin in depth and now nervous about breaking them. I have had the set 2 yrs and have kept them safe until recently I microwaved a dinner plate with food for under 2 minutes, it cracked in half. I warn guests of the fragility, they may think I am a crazy person, or do the dishes myself. CB did replace the dish and basically told me this type of glaze is not really microwaveable, so be forewarned. Otherwise I have had no trouble with stains, I do rinse after eating and use the dishwasher. I wish they were more durable, but will keep with them as it was not a cheap purchase and I liked the look over any other plates I saw from a variety of stores.
Date published: 2014-03-11
Rated

4

out of

5
by
cecile1
from
So far so good
Just bought these dishes; serving of 8.  One plate and one salad plate needed to be replaced due to cracked and over glazed, respectively.  I'm a potterer and am aware that the cracking in the glaze can/may increase over time.  They have a different sound when touching, due to the crackle.  We'll see how they last.........
Date published: 2014-01-06
Rated

2

out of

5
by
djll
from
Beautiful, but not durable enough for everyday use
We received the full set of Kita place settings and servings dishes. We began to unpack them and multiple items were broke in our hands just stacking them in the cabinet. They were gorgeous, but couldn't risk keeping them because they were so fragile. C&B was great in the return process though.
Date published: 2014-03-28
Rated

5

out of

5
by
dominican
from
so in love
I included this item in my registry and I am very happy that I did. Have had friends over and they just love it.
Date published: 2013-06-08
Rated

4

out of

5
by
hef21
from
Great and durable. 6 yrs no chips
I'm totally mystified by the negative reviews here. I have had these dishes for 6 years, and none of them have so much as a nick or a chip. And I'm not a careful person. They get banged and clanked when putting them away. I've knocked plate edges HARD against counters, and there's not so much as a scratch on the enamel. The coffee cups will stain, so if that's a problem these aren't for you. However, I have not had a problem with staining on any of the other dishes. I make a lot of Indian food, so I tend to rinse the dishes if they have things with turmeric on them before putting them in the dishwasher, but even when I forget to do that, it hasn't been a problem.
Date published: 2014-02-17
Rated

4

out of

5
by
modernflair
from
love the Asian flair
I registered for them online for our wedding before seeing them in person, but once I saw them I fell in love. Our home decor has an Asian but modern feel, so they fit perfectly. They are even made in Japan! The crackle is beautiful and has already gained admirers. So far no problems with stains and cracks as some have said. However, my friend owns the same set of dishes and I've seen that her mugs have cracks and some of her plates have stains. The handles on the mugs are quite small, so I can see how handling them may cause breakage. Overall, I am very pleased. After using them everyday they look the same as when I received them.
Date published: 2014-04-03
Rated

5

out of

5
by
kateydid11
from
7 years and we love them!
We have had these since we were married over 7 years ago. We fell in love with their clean lines and loved that they were porcelain, a nice compromise between china and stoneware. We use them everyday. We now have a child who uses these as well. We rinse them before putting them in the dishwasher and have had no staining on our plates. Some of the mugs and tea cups are stained, but that's to be expected with serious tea drinkers such as ourselves. As a fun aside, I saw "historic" Korean and Japanese dishes in a museum and noticed it looked almost exactly like Kita! Roughly 1200 years later the design is still rocking!
Date published: 2013-12-08
Rated

1

out of

5
by
kandi6000
from
broke my heart
These went onto our registry as soon as we found them. The dishes are lovely shapes, colours, and apparently quality. But...They stain quickly, unless you chug your coffee and snarf your food, which I more or less accepted because I loved them so much.However, after about 4 years of fairly gentle use (two of us had mugs and salad plates for 12 and only occasional dinner guests), they begin to crack: our mug handles began dropping like flies and the salad plates split down the middle. I have never seen anything like it and we now have about 6 each.
Date published: 2013-11-30
Rated

1

out of

5
by
Badger53705
from
Proceed With Caution
The Kita is a lovely design and style.  As part of our wedding registry, we were very excited to receive the entire collection.  Over the last 5 years of normal/light use we have had 10 bowls, 4 plates, sugar bowl and creamer crack and chip! By no means are we hard on our dishes--especially now knowing how "fragile" they are. We never had a problem with staining with hand washing or dishwashing. I am disappointed by the poor quality delivered from Crate & Barrel, and surprised to see that Kita is still available for sale.
Date published: 2014-04-12
Rated

4

out of

5
by
thepragmatist
from
Beautiful Dishes
We registered for the Kita Dinnerware for our wedding and have been very happy with all of the items. The crackle celadon glaze is very subtle, but it really gives the pieces some personality. We receive compliments on the pattern all the time - it is very clean and modern, but still classic. I love the organic feel of the shapes and the glazes.The small bowls are the perfect size for ice cream or cereal, and the low bowls are great for pastas and salads.The only problem is that the coffee mugs and the tea cups have gotten a little stained on the inside - due to the permeable glaze. It would not have changed my mind about the purchase, though.
Date published: 2009-05-28
Related Products
Handcrafted in the European tradition, our update on the traditional punch bowl...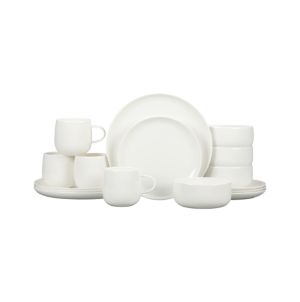 Simple coupe shapes in durable bone china define contemporary everyday dining.Please note:...
Your table will be dressed for success in this tailored cousin to...