Prices and availability are subject to change from the time and date that you print this page.
8/29/2014 10:06:45 PM. For Customer Service, please call 800.967.6696
Crate and Barrel Exclusive
Pickup
Outlet Item. Available for Shipping Only.
Earthy, Asian-inspired creamer is both chic and soothing in hues of black and moss green. Minimal modern styling allows the color drama to take center stage. Unique shape is both casual and elegent; the inviting reactive glaze on the interior ensures that no two pieces are exactly alike. Satin exterior finish has a "cast iron" appeal. Quality and integrity of design, only from one of France's original ceramic factories. Samoa dinnerware also available.

Please note: This pattern was discontinued in January 2013. When our current inventory is sold out, it is unlikely we will be able to obtain more.


Samoa Creamer
is rated out of
5
by
69
.
Rated

2

out of

5
by
lkb740
from
Pretty, but...
We've had this set since we got married 6 years ago, and within about 2 years, we regretted it.I'll echo what others have said about it crackling and chipping. Some of ours are totally unusable and look dirty at first glace. Also they do break very easily.Another big issue we found immediately: the shape is terrible. The plates flip up very very easily. It's too deep, I guess.Like most of C&B's stuff, it's good for a while, looks nice, but in practice it leaves a lot to be desired.
Date published: 2012-02-27
Rated

2

out of

5
by
WHowell
from
Definitely not durable
My husband and I registered for the Samoa dinnerware when we married 8 years ago. It's lovely, however, it's simply not true to say that they're dishwasher friendly. They also are very fragile. We have lost 6 out of the 10 bowls due to nicks or cracks sustained in either the dishwashing process or merely by stacking the bowls. We've lost several dinner plates in this same fashion. We're currently in the market for new everyday wear and feel bad that so many wedding guests essentially wasted money on something that lasted for such a short time.
Date published: 2012-01-01
Rated

2

out of

5
by
Spiced
from
Wobbly base
We got this set about 8 years ago for our wedding. We were attracted to the look of these dishes. Little did we know that any time we tried to cut anything outside of the absolute center of the plate, it would wobble over. It's very embarrassing when it happens to one of your guests during a dinner party. I find myself apologizing for the small diameter of the base. I'm going to get rid of these and get a new set with a wider base. Lastly, these dishes crack easily - beware.
Date published: 2011-12-29
Rated

2

out of

5
by
Kaetchen
from
Crackling
My husband and I purchased several sets of dinnner plates, salad plates, bowls and coffee mugs about 3-4 years ago. So far, they have lasted after everyday use. However, all of the pieces have crackled and some have small chips that have appeared from the crackling. I have yet to see any leaking due to the crackling and we are continuing to use the dinnerware everyday, but it feels like a matter of time before they are crumbled in our hands. I love the look of the collection when first purchased, but the crackling has taken away from the look. I noticed the crackling about an year and a half ago.
Date published: 2011-08-23
Rated

5

out of

5
by
Erica D
from
Durable and Beautiful
We get compliments every time we bring out this dinnerware which we received for our wedding 8 years ago. So glad we decided on this pattern. I hope C & B never stops making it!
Date published: 2011-08-23
Rated

2

out of

5
by
Uggslippers
from
Breaks easily
I agree with the other reviewers who said that these plates break easily. The bowls in the sets have been fine, but the plates break way too easily. They are very stylish, however.
Date published: 2011-08-16
Rated

4

out of

5
by
SusanH
from
Very attractive dinnerware.
Attractive design and color. Sturdy. Was a little smaller than expected.
Date published: 2011-06-13
Rated

1

out of

5
by
Tribester
from
Though you should know
I have never taken the time to review anything before. EVER! But I felt the need to review this set. I am surprised that nobody has reviewed it to date.We got a set of 12 plates, 12 salad plates, 12 bowls and 12 cups for our wedding. We use the plates daily - they are beautiful, but not fancy. They don't look like plates that were intended to be taken out once a year for a holiday feast, handwashed and then put away. In fact, they say that they are both dishwasher and microwave safe.We put the dishes into use about 3 1/2 years ago. Since then, we have broken 10 plates, 7 salad plates, 10 bowls and no cups (we use these least often). Admittedly, we have broken the most of the items that we use most often, but we have not been juggling them or using them as frisbees...they were just broken through everyday use. At first I thought it was a fluke...but the quality of these plates was confirmed with every use. Bowls had a tendency to crack (you would not see the crack, but would find the milk from your bowl of cereal pooling beneath the bowl as you ate). I thought that the "hairline cracks" might be a unique feature of the bowls, but the same was true for the plates.There were times that plates broke merely as a result of the rinsing process that happened when a scrub brush was applied to them prior to dishwashing. They often chipped when they came in contact with other plates (again, not throwing them but just clinking them in the kitchen sink).I would have felt better if these had been cheaper plates, but I asked my friends and family to buy them for us because I intended on keeping them for a good deal of time.I would not recommend them.I was registered at Crate and Barrel and really liked most of the other things that I got for my wedding from this store. The service in the store is also excellent. The plates...not so much.
Date published: 2011-06-05
Rated

3

out of

5
by
slinkylink
from
Beautiful but delicate
The plates are beautiful, but they break too easily compared to many of my other sets. Also, the black underside scratches easily. For the price I expect a sturdier product.
Date published: 2011-02-06
Rated

4

out of

5
by
Maggienpl
from
LOVE the style and color
I absolutely love the style of this dinnerware. The color is great and makes me smile every time I eat a meal. The only negative thing I can say is that everything is on the small side. I don't really mind so much since it helps with my portion control :) but it would be nice if the low bowl was 9.5" instead of 7.5". We don't eat a lot of meat so we don't do much cutting with fork and knife so the base tipping hasn't been an issue. Overall we like.
Date published: 2010-12-16
Rated

5

out of

5
by
Bianca
from
Beautiful plates, wobbly base
We registered for these plates and have used them for the past 6 years. One thing we would have liked to know beforehand was that the base diameter of the plates is very small. When cutting food away from the center of the plate they tend to wobble. They are really attractive, well-weighted, and have held up well. I noticed the crackling that other reviewers mentioned. We've had a couple bowls crack, one lost a small glass "chunk" and was replaced. Would highly recommend.
Date published: 2010-11-25
Rated

3

out of

5
by
Laura Beth and David
from
Beautiful but poor quality
We had these plates on our wedding registry and love the style. We have a whole set and have been washing them in the dishwasher. Out of nowhere, one of the plates developed a crack. The crack occurred along a natural imperfection. I am worried now that cracking problems will happen on the rest of our set. This set was meant to last a lifetime. My parents' stoneware set has lasted 30+ years and my plan was to use these the same way. I may return the whole set if we keep having crack problems. For the price you pay, you should be getting a product that lasts a lifetime, not 3 months!
Date published: 2010-09-11
Rated

3

out of

5
by
SageCinnamon
from
Lasted 3.5 years
I received these dishes for my wedding three and a half years ago. They are beautiful, and I love the look, but over time 4 of the bowls have spontaneously developed cracks, as have several of the dinner dishes. Needless to say, I'm struggling with whether I should spend the money to replace them considering how little time they last. We've just used them as our everyday dishes, so they get washed in the dishwasher about once a week which shouldn't have caused cracks so quickly.
Date published: 2010-08-29
Rated

4

out of

5
by
Milo
from
Great product
I received these dishes as a wedding present from my registry 8 years ago, and it has been wonderful. We just needed to add to the collection and replace some pieces, so I bought this set. This set can be used everyday or made to look more formal which is what I love about them. I have no desire to get formal china now. A few pieces broke in the shipment (which is why 4 stars were given) but C&B replaced them immediately!
Date published: 2010-07-21
Rated

5

out of

5
by
gselsbeth
from
Date published: 2010-06-22
Rated

4

out of

5
by
LNShopper
from
Perfect Every Day
We love our dinnerware set. The only thing we really don't use every day are the mugs as they are a little tiny but we often use them for breakfast juice. We bought this set because they are dishwasher safe and had tons of matching items to go with: serving bowls/platters, creamer, etc. Being that we registered for these items on our wedding registry, we didn't get all items at once. What we noticed when we bought the last two sets is that the design was a little bit different and didn't really match the sets we'd receive prior. So, when buying, I would suggest getting them all at once.
Date published: 2010-04-22
Rated

5

out of

5
by
Cali Lily
from
love them!
Beautiful plates. Are heavier and of good quality so be careful loading into dishwasher. Recently just cracked one and am super sad :(
Date published: 2010-04-13
Rated

4

out of

5
by
pepper1
from
Samoa Dinnerware
I have owned a set of this dinnerware for over 7 years and it has held up wonderfully. Yes, some minor scratches do appear on the surface glaze, but they are just so beautiful it doesn't matter to me. They go in the dishwasher daily with no problems. I recently replaced several hundred dollars worth of the dishes since I had broken some of the originals and feel that the replacement dishes are not of the same quality as the others. While still the same in appearance they are much lighter weight and even the stamp on the bottom shows that they are not of the same quality. Time will tell how these newer dishes stand up in comparison to my older seemingly higher quality ones, but I can not imagine that they will be as durable.
Date published: 2010-02-04
Rated

5

out of

5
by
MarvelousMaryV
from
Samoa Dinnerware
This was purchased as a bridal shower gift for a good friend. Of course, I had to inspect it when the package arrived and I was very pleased. The colors were really pretty and this is something that I would definitely buy for myself.
Date published: 2010-01-26
Rated

3

out of

5
by
Morgan8
from
Beautiful but tipsy
We spent a lot of time choosing our plates for our wedding registry, and I kept coming back to these. I love love love how they look, but when I used them for dinner parties, the guests had to be wary of tipping their plates when they cut. The bases are so small that if you cut on the edges, they tip up and clatter, so I became embarrassed to use them. If you don't mind that, these are durable, pretty plates.
Date published: 2009-11-08
Rated

3

out of

5
by
CiaoBellaBaby
from
WE LOVE THE PLATES BUT DON'T PUT IN DISHWASHER!
We have had these plates and bowls for 5 years. When we purchased them, the salesperson told us not to put them in the dishwasher because it would damage the glaze. We have never, not once, cleaned these plates by any method other than by hand. And yet...the glaze still shows obvious signs of wear and tear, and there are scratch marks from utensils. Bummer. But the plates are beautiful, and when they get a little too "rough" looking, we buy a few new plates. Crate and Barrel considers these plates to be "high-end." They told us that. So, yes, we really like them, receive compliments on them, but if you are putting them in the dishwasher, you will ruin them! And try not to cut your food with too much vigor- you will see the damage left behind. I am torn on whether I would recommend this dinnerware.
Date published: 2009-10-24
Rated

1

out of

5
by
Bunny21
from
Disappointed
My husband and I purchased 10 place settings of Samoa and have had to replace several dinner plates and salad plates due to them cracking down the center. This has caused us a lot of expense! Also, when cutting meat on the dinner plates they come up off the table because they are unstable. I wish I could trade them all in for a different style.
Date published: 2009-08-03
Rated

3

out of

5
by
kimmycav
from
Not durable
Had 3 plates split in half. Do not feel it is a durable product for the money
Date published: 2009-07-29
Rated

4

out of

5
by
MKDM620
from
Very modern and fun!
We chose this pattern for our wedding registry and have liked the dinnerware so far! I do agree with the comments that the plates are a bit hard to use when cutting on the edges and sauces tend to move to the middle, but these issues are minimal and we still love the Samoa!
Date published: 2009-07-28
Rated

5

out of

5
by
HubertHumphrey
from
Great Dishes!
My husband and I have had these dishes for six years and we're really happy with them. They're very durable, though we've managed to break a plate and a bowl over the years. Fortunately, Crate & Barrel always has them in stock, so we can replace them as needed. We just added two more place settings last year so we can use them for larger gatherings.The dishes still look great after 6 years and don't show any wear at all. They're subtle and pretty and we hope to keep using them for many more years to come.
Date published: 2009-07-10
Rated

5

out of

5
by
Kiwahdog
from
Not Just a Pretty Plate
My husband and I got several place settings, as well as the completer set and a platter, as part of our wedding registry. We couldn't be happier with everything. It's been two years of nightly use (and they always go in the dishwasher) and they still look new. The matte finish on the outside did not scratch or show wear like less expensive plates that I've owned in the past that had a similar finish. This dinnerware collection is truly durable and has held up very well, in addition to its obvious beauty.
Date published: 2009-07-02
Rated

1

out of

5
by
Jules the Red
from
Surprised so many people like them so much
We were so excited to get these as part of our wedding registry. Now, almost 2 years later, I wish we picked something more traditional. The plates are heavy and bulky and tip if you cut towards the edge of the plate and all the juices of anything pool to the middle of the plate since it isn't quite a flat plane. Also, a point that annoys me the most, is they all become scratched on the outside from other items in the dish drain - silver scratches on the outside, unglazed areas of the dish that do NOT wipe off. Very disappointing in general.
Date published: 2009-07-02
Rated

5

out of

5
by from
Great plates!
We picked the dinner plates and mixed it up with a different style for the salad plates. They plates are durable, they match well with most of our decor and they don't scratch so they always look new.
Date published: 2009-07-01
Rated

5

out of

5
by
JEWELSalmostjohnson
from
Stunning
I received two place settings for my recent bridal shower and was yet again captivated by the stunning, sheek simplicity of this design. I am so excited to use the plates with my beloved husband to be.
Date published: 2009-06-25
Rated

5

out of

5
by
clairecancook
from
beautiful and unique
We got these as part of our wedding registry. we have only had them about 9 months but have had no problems with cracking, chipping, etc. They are beautiful and we love how each plate/bowl/mug is a little different.They look amazing and I like how they're not enormous too. great pieces.
Date published: 2009-06-24
Related Products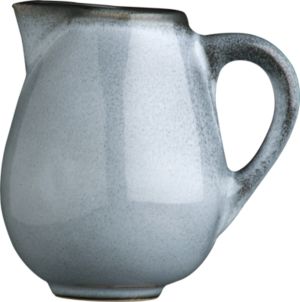 Day or night our Nuit glazed creamer combines hues of twilight and...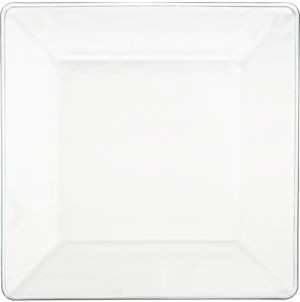 Flared and tapered squares of clear glass make a clean presentation for...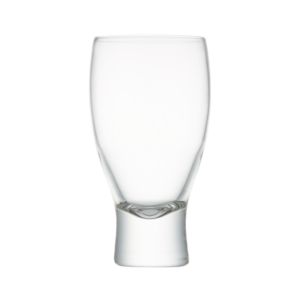 A gracefully curved bowl tapers into an exaggerated, thick yet slender sham...