Prices and availability are subject to change from the time and date that you print this page.
4/21/2014 8:36:58 AM. For Customer Service, please call 800.967.6696
Four distinctive impressions and a thick sham give you a comfortable hold on these glasses.


Impressions Cooler Glass
is rated out of
5
by
421
.
Rated

3

out of

5
by
Cheryl AH
from
The quality has changed
I registered for these glasses and received them as wedding gifts 15 years ago. I was pleasantly surprised that C&B still carried them all these years later, and I didn't hesitate ordering more. Since I still had some glasses from 15 years ago, I could instantly see the difference - the bottom "weighted" part is much thinner, and the glasses weigh noticibly less. No matter. BUT -In 2 months, 5/18 new glasses I bought have broken. Some just simply in the dishwasher. They are not nearly as sturdy as they used to be. :-( It's a shame...still a bargain, but if they all break what's the point?
Date published: 2014-03-31
Rated

4

out of

5
by
SuziMH
from
Staple in our Home
I've owned these glasses for 10+ years and am so glad they keep making them! The design is attractive and I just enjoy drinking from them. The only drawback is they do get a bit cloudy over time if you wash them in the dishwasher, however, I think most glasses do anyway! I read the reviews on breakage and I have had a few break in the dishwasher over the years but that could be for various reasons (ex, banged against something). These are so affordable that I'm not concerned if one breaks once in awhile. I also own the rocks glasses which we use as juice glasses. I'll keep buying these as long as they're around!
Date published: 2013-06-01
Rated

5

out of

5
by
EntertaininginNJ
from
Will always have replacements!
About 12 years ago I asked a clerk what glasses they always carry that will never be discontinued, because I was always tired of not being able to replace the latest cool look I purchased and ending up with pieces of sets. She recommended these - thank you whoever you were. They look nice and are functional for all the reasons you have read in other reviews. Today I am ordering a few more of each size to replace whatever was broken the past couple of years. I seem to do this every two years or so and am always pleased to see them on the site when I go back for more. NO MORE MIX/MATCH SETS. I never fret when one is dropped, chipped or cracked. Toss it out and replace it. Nice looking, not too expensive and always has a replacement. What more could you ask for. Entering year 13 with a full set again. You go C&B!
Date published: 2013-12-14
Rated

5

out of

5
by
WendySF
from
Great glasses - they don't break if you are GENTLE
I purchased these glasses for everyday drinkware, but was a bit cautious after seeing some negative reviews about the glasses breaking easily in the dishwasher.Our glasses have not broken or chipped at all. I think the other reviewers have been rougher with their glasses. If you don't slam them into your dishwasher, or slam them against other glasses, there is no problem!The only negative about putting these in the dishwasher is the inset at the bottom of the glass. Dishwater collects there and dirty may get trapped. I usually run a towel under the glasses to brush out the dirt and they are clean.
Date published: 2011-04-16
Rated

4

out of

5
by
bg1201
from
Love the indentations, but they break easily.
We registered for these glasses for our wedding and love the way they fit our hands. I wish we would have gotten more because they keep breaking on us. We've had them for about a year and a half and one of this size has broken. We also have the Impressions double old-fashioned glasses and have had two of those break as well. I've just kept buying new ones to replace the broken ones ... and I must say I like that they're always in stock, never discontinued. They're cheap enough that I don't mind buying new ones if they break ... a small inconvenience, but I won't stop loving C&B!
Date published: 2014-04-08
Rated

5

out of

5
by
yogamom613
from
great every day glasses
Maybe these have been redesigned because mine don't collect water in the dishwasher and seem very sturdy.  I particularly like that I can take them right out of dishwasher and into cabinet without having to dry with a cloth.  Also they are very easy to hold and good size.  I'm buying another set of 12 to take with us to our Florida house.  Hope C&B keeps on making them.
Date published: 2014-01-11
Rated

1

out of

5
by
thechamp2010
from
won't last a year
Just celebrating our first anniversary and these glasses are the only thing on our registry that were a FAIL! We only have 1 small glass left and 3 tall ones(of 12 each)!! The glasses went through standard wear and most of them broke when being washed on the top rack in the dishwasher!Sure, we loved the fact that they were inexpensive for our guests but we also liked the look of them. I didn't realize there could be such a difference in the quality of glasses based on price, guess its true for most everything.
Date published: 2012-03-20
Rated

1

out of

5
by
0emma
from
Breaking
We got 8 of these 11 months ago and in the past month, 5 of them have broken. We are gentle with them and don't even use an ice machine like others have had issues with. They break when sitting on the dishwasher rack, sometimes before the load starts and other times during or after.
Date published: 2013-12-15
Rated

5

out of

5
by
como
from
Good value, good quality, great shipping
The quality of the Impressions glassware is excellent. They have a substantial weight and feel. The price is certainly competitive. But what I want to comment about is the packing and shipping. I was a bit apprehensive about ordering glassware online for fear of breakage. I ordered 8 Impressions coolers and 8 matching juice glasses. They were wrapped and packed meticulously. Not a single crack, chip, or broken glass in the box. Thank you for the care you put into packing and shipping the glasses!
Date published: 2011-12-21
Rated

1

out of

5
by
tara72
from
attractive but break very easily
These glasses are very attractive and appear sturdy... but unfortunately looks can be deceiving. Don't be lured in by the great price. We are not particularly hard on glasses in our family (rarely ever break any)...however, almost every single one of these has broken and we bought quite a few about a year ago. Many/majority have broken just while being put in the dishwasher. If these break in the dishwasher while running, you could do damage to your dishwasher! Avoid these glasses at all costs!
Date published: 2011-12-18
Rated

2

out of

5
by
BUbear
from
Break easily
We registered for these for our wedding and were so excited to get them. They are lovely and fit nicely in your hand, so overall they have a nice feel and look. However, after having them less than 2 months we've already had many break. They are very fragile around the edge so they can't go in the dishwasher without coming out cracked or broken. We'll probably have to replace them soon, unfortunately. A little disappointing for C&B considering most things are great quality.
Date published: 2011-03-18
Rated

2

out of

5
by
hula809
from
They break
We ordered six of the coolers and six of the highball glasses through our wedding registry. Crate and Barrel, as always, wrapped them perfectly and none arrived broken. However, we have only used each cooler glass maybe two times, and two have already cracked (one down the side and one across the bottom of the glass). It is really disappointing because the feel of the glass is great- the divots make them easy to hold. I can't believe they broke after a few uses!
Date published: 2013-07-23
Rated

4

out of

5
by
KFirsten
from
A Favorite
My husband and I love these drinking glasses. They shape feels good in the hand and they are a nice weight. These glasses are very durable. We got them because we wanted something that wouldn't break in the dishwasher and we haven't lost one yet! The only issue is the dimple in the bottom of the glass. Water sits in it after a washing and you have to tip the glass over when you are taking them out of the dishwasher. Not a deal breaker though.
Date published: 2012-05-10
Rated

4

out of

5
by
JMC25
from
Classic Glass
I received these cooler glasses, the juice glasses, and the double glasses. I really love the way these glasses look and the impressions on the side are perfect for your fingers. I will say that after taking them out of the dishwasher you will need to dry off the bottom. There is an impression on the bottom that houses water. It kind of bugs me, but not really that big of a deal.
Date published: 2012-04-29
Rated

5

out of

5
by
cjays
from
Best Impressions
The Impressions 17 oz. cooler is my new favorite go-to glass. I bought these for work meetings because of their stylish look, and they're so comfortable- grip fits perfectly into the impressions- I ended up buying them for the entire office. The 10 oz. is nice to have on hand for juice. We throw them in the dishwasher daily and they come out looking like new.
Date published: 2012-06-24
Related Products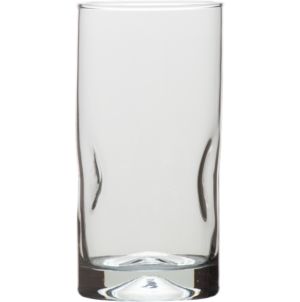 Four distinctive impressions and a thick sham give you a comfortable hold...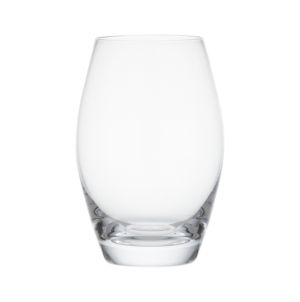 A keg inspired barrel form nods to the craftsmanship of the contents...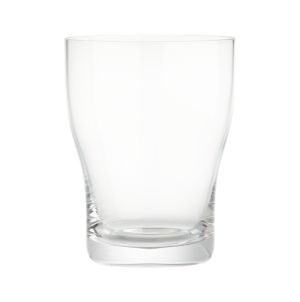 Conceived with the thought of friends and family coming together and enjoying...