Prices and availability are subject to change from the time and date that you print this page.
4/25/2014 5:23:10 AM. For Customer Service, please call 800.967.6696
Store a stack of leftovers or premeasured ingredients in these convenient clear glass bowls. Bowls have a finished look without lids, suitable for table service. Sold as a set of four. Bowls nest when not in use (see additional photos).


4-Piece Round Storage Bowl Set
is rated out of
5
by
178
.
Rated

3

out of

5
by
CMW27
from
Great for storage, but watch out for the microwave
My husband and I received this set from our registry last year. We have been very happy with the set overall -- the nesting bowls are great for storage and look great. We have been using them almost daily. However, we were disappointed the one of the bowls recently broke in the microwave while reheating leftovers. The lid was not on, and the microwave was on for less than a minute when we heard the glass "pop" and the bowl broke in two pieces. It is disappointing that these microwave safe bowls don't always hold up. We will continue to use the remaining bowls, but I would be wary of buying them again in the future, as I would prefer my storage containers to be microwave safe.
Date published: 2014-04-21
Rated

2

out of

5
by
sscrate
from
Disappointed
I have a similar set from many years ago... still doing great. I asked for this set as a replacement to broken pieces from the earlier set... LIDS DO NOT SEAL in food well... they bubble up, come lose, and just don't secure food well. So disappointed.
Date published: 2014-04-21
Rated

5

out of

5
by
Sculi
from
Excellent product!
My husband gave me this set for Christmas last year, and it was a GREAT gift! We use them daily, and the lids fit perfectly! I usually wash the lids by hand, but have tossed them in the dishwasher, too. They've worked well in both the freezer and the microwave. Highly recommend them, and bought an extra set as a bridal shower gift.
Date published: 2013-09-08
Rated

2

out of

5
by
AliciaB0923
from
Bad buy - will crack after microwaving
I received these bowls as a registry gift. I got them with the intention that I could use them to store leftovers in and then reheat the leftovers in the same bowl (without all the worries of reheating in a plastic container). BIG DISAPPOINTMENT! The first time I heated up leftovers in this bowl in the microwave, the bowl cracked once I pulled it out and set it on the counter. It seems the contrast in temperature (hot food / room temp counter) makes these bowls crack. If you have any intention of reheating food in these bowls, DO NOT BUY!
Date published: 2013-04-20
Rated

2

out of

5
by
IlliniAmy
from
Potentially fabulous, but disappointing
We registered for these and received them as wedding gifts. The variety of sizes is terrific and useful. They claim to be freezer and microwave safe, but my experience is that they are NOT. Like a previous poster, one of them cracked after being reheated in the microwave. Another shattered from the center outward in pie-slice shapes after being in the freezer. They did replace the freezer one, but we had thrown away the pieces for the microwave one so I didn't even ask. I'll keep using glass storage but it won't be these containers.
Date published: 2013-01-28
Rated

1

out of

5
by
RosemaryM
from
VERY disappointed
I had very high expectations for these bowls. I put them on my Christmas list and was happy to receive them. For being an item purchased at Crate and Barrel I would have expected more. I have used/washed 2 of the bowls and lids twice and now both lids are warped and don't fit properly on the bowl. I hand washed them both times so this should NOT happen. Also none of the bowls look to air tight when I put the lids on.
Date published: 2012-03-21
Rated

5

out of

5
by
green girl2
from
Love these!
I've used these bowls for over a year now and are one of the best purchases I've made!They have been in the freezer and microwave several times without issues (since they are glass, you do need to be careful of sudden temperature changes)...when I take them from the freezer, I microwave using lower power at more time (defrost) to avoid this. The only chips or breaks that have occurred were from my own clumsiness.I also have several other sizes of this product and have noticed that the lids will tend to lose their snug fit over time, especially after being heated in the microwave (I don't have a dishwasher, but would image the heat from it would do the same).Overall I have been very satisfied and will be buying more in the future.Go green!
Date published: 2013-06-08
Rated

4

out of

5
by
smoore129
from
Better than ANY Tupperware
My fiancé and I hate storing leftovers in plastic Tupperware containers because the food has a tendency to leave stains. We were at C&B when we came across these gems... They are wonderful containers! Easy to store, and easy to see what is in the container once it makes it to the fridge. However, we have had trouble with a couple of the lids not fitting properly. We do not microwave the containers with the lids, nor do we put them in the dishwasher. It's a minor issue; I just have to be careful when I'm taking the bowl out of the fridge!
Date published: 2014-03-27
Rated

5

out of

5
by
JoBell
from
Start of a new beginning
I am purging my cabinets of plastic storage and this product has helped convince me it is the way to go. I love the way they stack. I did place swatches of cabinet liners in each one for protection. The sizes are perfect and the lids are leak proof. They can even go right to the table with the clean good looks. They would make wonderful Christmas gifts as well.
Date published: 2011-08-12
Rated

4

out of

5
by
shopperllg
from
One chipped
I've used these set for about a year now and I store them stacked in my cabinets. I was pulling one out to use and it was kinda stuck in there and it chipped as I pulled it. So now I'm down to 3 bowls and a little leary about using the rest. Also, because the lid is a white, it can stain more easily than other similar storage lids I have.
Date published: 2013-06-08
Rated

5

out of

5
by
ParisReally
from
Built To Last
I have had this set for over 5 years and despite being in and out of the dishwasher a few times a week the lids still fit perfectly. They are my go to storage bowls for marinating, and still function like the day I bought them. A great quality item.One thing to note though. Do not store a chocolate cake in them overnight on your balcony in the winter. A squirrel can chew right through the lid. Trust me on this!When I called customer service and told them the story they sent me a replacement lid.Lucky squirrel.
Date published: 2012-12-08
Rated

5

out of

5
by
K Teacher
from
Excellent Food Storage
Love these GLASS storage containers. Keeps your food fresh and you can microwave in them straight out of the fridge (without the lid). And, you can see exactly what's in them. They also ft inside each other when not in use. I also have an older set from about 20 years ago and it is still in great condition.
Date published: 2012-01-17
Rated

2

out of

5
by
Outofthebox
from
Not microwaveable
Although the description says microwave safe, they're not. I was reheating rice in one of the bowls when I heard a snap. I have a little cheap microwave so I am surprised that this happened. The dish cracked in half. Also, the tops stain but most plastic tops do.
Date published: 2011-11-21
Rated

5

out of

5
by
Mom89
from
Best Storage containers
Besides these storing nicely inside each other, the sizes are very convenient. The food stored in them look very appetizing with the clear glass, also! People at work are always asking where I got them. I will be getting a second set!
Date published: 2011-12-18
Rated

1

out of

5
by
Melissa C
from
Lids don't fit
My husband and I received these storage bowls for our wedding. When we tried to use them we discovered that the lids didn't fit properly. We can't get them to stay on any of the bowls. Sorry to say these will be going back.
Date published: 2013-01-31
Related Products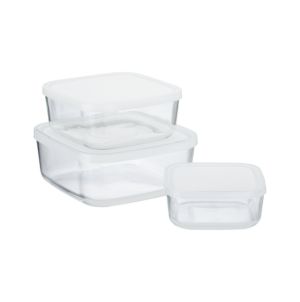 Nesting glass containers in three sizes have a finished look for serving...
Nesting green and yellow bowls are a breakthrough in food prep for...
From Portugal, these deep earthenware bowls in a beautiful range of tonal...