Prices and availability are subject to change from the time and date that you print this page.
7/30/2014 2:13:15 AM. For Customer Service, please call 800.967.6696
More Storage Bowls Containers
Set of 12 Storage Bowls With Clear Lids
is rated out of
5
by
247
.
Rated

5

out of

5
by
peggiejeanie
from
Perfect!
These bowls are wonderful! Not too big and not too small; absolutely perfect for leftovers, cooking, & portion control. I haven't had these very long, but I've used them numerous times already. They are sturdy (though I still wouldn't handle them roughly) and the lids fit very snugly. I wish these bowls were available in more sizes! :) I am very pleased.
Date published: 2014-04-07
Rated

5

out of

5
by
tmama1
from
Great size
I use these all the time! Love how there is a lid. Safe and durable enough to put in the microwave and dishwasher.
Date published: 2014-04-07
Rated

5

out of

5
by
bloecker18
from
Must have!
I bought this as a wedding present and she loved it. I also received it as a Christmas present last year and couldn't be happier. These are a must have for every house hold. The clear glass makes it very easy to see what's in the container and they're the perfect size. Highly recommend.
Date published: 2014-03-31
Rated

3

out of

5
by
Kmar
from
Good Deal
I bought these to use as storage for leftovers. The size is perfect and the quality of the glass is ok however the lids are pretty flimsy and do not hold up well.
Date published: 2014-03-25
Rated

5

out of

5
by
sophie99
from
Love these!
My second set - I bought them years ago and just purchased another set. Use for vegetables, fruit, leftovers etc. so great to keep in the refrigerator and then be able to quickly see what is what. Replaced most of my plastic Tupperware type containers and just use these. Bowls I run through dishwasher and lids hand wash.
Date published: 2014-03-25
Rated

5

out of

5
by
PegB
from
Great for Soup Lunches
Glass is nice and easy to clean! I bought a case of these in December and gave another to a friend. We exchanged soups and brought servings to work all winter long. They also work for freezer storage.
Date published: 2014-03-25
Rated

5

out of

5
by
amyleigh
from
clean design
I had a set of these 10+ years ago and lost them in the divorce. I finally picked up a new set last week and am so happy I did. I get nervous about all the plastic used when storing leftovers and prefer glass. They are the perfect size amd they have a beautifully clean and austere design. They stack easily when not in use and let you see perfectly what is inside when you are using them.
Date published: 2014-03-25
Rated

4

out of

5
by
cambridgecook
from
Great for mise en place cooking prep
I use these bowls for prepping my ingredients before cooking - perfect size!The bowls are fine to run through the dishwasher, but handwash the lids - they are very thin. These are very good for fridge/kitchen storage, but I wouldn't use them to transport your lunch to work - I worry that they wouldn't make the journey, even in my padded lunch bag.
Date published: 2014-03-25
Rated

5

out of

5
by
KourtneyB
from
Great Bowls for storage
I bought these bowls to use for packing my lunch (I dislike plastic storage containers) and they are great. The are perfect for portioning servings. I use them for nearly everything. I love them so much I bought 2 cases.
Date published: 2014-03-25
Rated

1

out of

5
by
AlexandriaVAHomeCook
from
Not durable
Similar to the other reviews - I was very excited to ditch the plastic Tupperware for glass. Unfortunately, these are VERY breakable. We take care of our dishes/glasses/etc very careful so I know we weren't too rough with them. Will switch to Pyrex until these get a little thicker.
Date published: 2014-03-18
Rated

2

out of

5
by
Ree1
from
Only 3 left and I've had them less than a year....
I have had these for less than a year and all but 3 are broken. They are definitely not dishwasher safe. I gave it 2 stars instead of 1 because I really do like them for food storage and the lids fit nice. Thehe glass is super thin and fragile. I also bought the round and rectangular Frigovere sets (which have way thicker glass)and they are still in perfect condition and I use them everyday for leftovers.
Date published: 2014-03-06
Rated

1

out of

5
by
georgiebon
from
Fragile Glass - Breaks Easily
These storage bowls are a convenient size, but the glass is too fragile. 4 out of 12 have already broken within a month of careful ownership. The plastic lids are also very flimsy.
Date published: 2014-02-16
Rated

5

out of

5
by
MiaMonroe
from
Great Simple Bowl
I recently purchased these bowls to store fruit and make homemade single sized parfaits in. I must say these bowls are great. My only complaint is that the glass is fragile ( i broke one as soon as I got home) But i'm rather clumsy so I won't blame the bowl. These bowls are great if your storing food in them in the refrigerator or cabinets. I don't think you should take your lunch to work in these bowls. It will most likely break. Originally, I purchased 6 bowls thinking a case of 12 is too many. Boy, was I wrong I love these bowls so much i'm purchasing 12 more.
Date published: 2014-02-11
Rated

4

out of

5
by
KzooJenn
from
Can't have too many
I love these containers!  they're just the right size, and because they're clear, food doesn't end up out of sight, out of mind and rot in your fridge.  Just don't forget and microwave the lid - they warp quickly and don't recover.  The good news is you can order replacement lids.
Date published: 2014-01-30
Rated

4

out of

5
by
Plumquot
from
Just Right for Homemade Frozen Dinners
These freeze well (just be sure to leave some head room for liquids to expand when frozen).  I recommend buying some extra lids because someone inevitably will forget that they warp in the dishwasher and microwave, or accidentally throw them away because they look just like a lid to hummus from the deli.  I'm so glad C&B sells extra lids separately!
Date published: 2014-01-13
Rated

5

out of

5
by
FashionFan
from
A kitchen staple
I have been buying these for years! During the fall and winter months when we make a big pot of soup, we fill these individual bowls with soup, and freeze and stack them in the freezer for our lunches or last minute dinners. Plastic lids seal tightly and provide a nice cushion when stacking to prevent any chipping. The reason I have to keep ordering them, is because I bring soup to people in these bowls and they rave about them so much I inevitably end of letting them keep the bowls. They are also great for storing leftover vegetables and side dishes.
Date published: 2013-11-15
Rated

5

out of

5
by
Conan
from
nice and great value
Got a set of 12 six months ago and I used for store leftovers/snacks. Surprise to see that It can be microwaved right out of the fridge. none of them broke so far. It seems small in size but it fills up quite a lot of food. Nice buy and great value.tip: do not stack the bowls without lid on.
Date published: 2013-11-04
Rated

5

out of

5
by
LJane56
from
I love these bowls!
I have used them for years. I keep an extra box of 12 for when my supply gets low from giving away treats or very occasional breakage. You can't just throw them in the sink with pots and pans, but with a bit of care - as with most glasses, etc. - they are perfectly durable and have been my favorite storage bowls for many years.
Date published: 2013-10-17
Rated

1

out of

5
by
Serge
from
Way too fragile!
I bought a set of these about a year ago, and only one remains.  The rest are so fragile that they have all broken.  One broke while I was handwashing it--it just came apart in my hand!  Another broke in my bag while I was on my way to work--just from being slightly jostled around en route.  I thought this would be a cheaper way to get plastic containers out of my life, but instead I've spent the little bit extra and upgraded to Pyrex, which is SO MUCH more durable.
Date published: 2013-09-03
Rated

5

out of

5
by
rileysmama
from
We love these bowls!
I bought a half dozen of these bowls for food storage last year. We use them a lot, and haven't had any problems at all. They are thin but feel durable and of above average quality. I use them for side dish or sauce leftovers in the fridge, so I usually transfer the contents to something else for microwaving - I'm leery of microwaving any container straight out of the fridge. I store them stacked with other heavier glass bowls and we haven't had any break or even any close calls. We just bought a nice food storage pantry and I am going to buy more of these for snack and small quantity storage. 
Date published: 2013-08-28
Rated

4

out of

5
by
sjchang2
from
awesome for everyday storage
I knew that the glass is not tempered glass so I was not careful in the use of these storage bowls. I've purchased 24 of these bowls and use ten everyday as regular bowls and as storage containers to Carr my granola and trail mix around in my bag.The only down side to these is that the lids can look like disposable lids of some take out containers, my friend threw one away; it's great that C&B has replacement lids for just 50c.It's made in the USA and even if they do break, it's not so expensive that it hurts. Use gently and they'll last a long time.
Date published: 2013-08-20
Rated

5

out of

5
by
Anonomous
from
PUREFECTION!
Love C&B for old-school basics (simple, quality, durable items made to perform well & look great!). Stumbled upon these & was immediately intrigued, read numerous reviews, had the same concerns you have now: I break everything, are these too thin / breakable? Too small / large? Do they clean up easily in D/W? Do they stack w/o the glass ledges getting stuck together? Yadda yadda.Eventually, it occured to me that @ $20 / dozen, these cost only slighly more than those HORRID (but perfectly sized) disposable plastic storage containers w/ screw or snap-on Blue lids. Gawdy Lawdy how I hate plastic. (Since I was already ordering $100 other merchandise, I didn't worry about S&H). I thought hey it's $20, less than... Well, almost everything. Told myself, go ahead, take a chance- Worst case, I'm out $20. Upon receipt, WOW! For ~ a month, these bowls have been in constant daily rotation. We literally fight over them- And we are a family of only 2! So, I'm back to order another dozen, w/ spare lids for expected future discoloration.What's so great about them?1st, be aware that these are Libbey glassware, labled dishwasher & microwave safe. I'm not sure if they are "tempered", or what the diff. is between D/W & M/W safe vs. fully "tempered" (?)2nd- Our other dishware is all 100% gorgeous, pricey, Italian tempered quality, thick, heavy glass, & we do LOVE it. While these bowls, in contrast, are indeed thin in comparison, they are surprisingly sturdy. It's been a month, I haven't broken any yet, & we are hard on our dishware. 1 vegetarian / 1 carnivore here- Wer'e really clutsy w/ our glassware.3rd- They stack well 3-4 high (they don't stick together impossibly to separate). The diameter is relatively same at base & top- Unlike our other "flared" bowls, with small bases, & triple diameter ledges. In other words, these little beauties are straight up & down.4th- The glass is crystal clear. SO many reviewers have commented on how easy it is to see contents inside, it is THE one thing that bears repeating... We now actually EAT and ENJOY our leftovers within a day or 2, vs. letting them sit until contents are moldy. With lids on, they stack beautifully in fridge, too. (Use plastic wrap to cover when cooking in M/W).5th- Yes- They come out of the D/W clean as new. Also, for some reason, these are incredibly easy to swipe clean w/ a soapy dishcloth & rinse- takes 5 seconds. They really clean up beautifully!6th- Well, they are just plain gorgeous! Elegant. But functional!7th- The 2 cup / 16 oz. size... Who'dathunk? PERFECT! I cook a lb. of frozen green beans, peas, spinach, whatever, I eat a double serving, & the rest *just fits* ! Or, I open a can of olives, mushrooms, sweet red peppers, whatev's- Again- PERFECT! Specialty cheese? Fresh. Leftover chicken wings? Yeah! MARINARA- For me, this is the one food that I LIVE on! Once I open a jar, I heat up / per serving in this bowl, covered w/ plastic WRAP (not lids!). And, I love storing the extra marina for tomorrow, in these bowls :) Nearly any / all weird foods you might eat, the plastic tops seal nicely, & these bowls do the job, while looking like a million $$! :) From D/W to M/W to Fridge to Freezer to Table, these bowls do it all, looking gorgeous! The glass is so smooth, undistorted, clear- It sparkles!I can't emphasize enough, that we now eat all our food, vs. letting it sit 'till moldy, b/c we're too lazy to figure out what's in each container. Also such a comfortable size to hold in-hand, while eating a dish of ice cream, fruit, veg's, etc. Oh- perhaps tmi here- But, for some reason, these bowls are designed *just right* (!) for scooping (or forking) out every last morsel (or spoonful !). I actually just stack rice, veg's & beans for a 1-bowl meal).Next, The lids- I either swipe clean w/ a soapy dischcloth & rinse, OR put them in top rack of D/W. The key is- Don't even try to use lids in M/W. Lids are TRULY GREAT for fridge storage (!), but you need plastic wrap for M/W re-heating.Lastly- Well, these beauties have literally changed the way we eat! Bowls inherantly portion control whatever we're eating- We now eat less. And, We now finish all our leftovers while they are fresh, colorful, crispy & yummy, so spoilage / throw away is eliminated, & our grocery bill is less! Sorry so long-winded. If you're on the fence, BUY THESE! If you don't like them, just gift them to someone else :)
Date published: 2013-08-16
Rated

1

out of

5
by
youlearn
from
Fragile
The glass is extremely thin and prone to break easily. The lids are flimsy and warp, and while I can still manipulate them onto the bowl, they don't stack for storing.
Date published: 2013-07-28
Rated

2

out of

5
by
ElleMarie
from
Good price and nice design, but poor quality
I purchased these storage bowls for leftovers and to use in my husband's lunch. While they are adorable and a perfect size, I have had problems with the glass breaking. I ordered the complete set of 12 about 6 months ago, and I am down to 5 remaining bowls. Of course glass is breakable, but these bowls are breaking from simply being stored, stacked on top of one another.
Date published: 2013-05-30
Rated

5

out of

5
by
Doc K
from
Much better than plastic
My wife and I wanted to get rid of all our plastic storage and microwave bowls. We purchased several size glass bowls including this set of pint bowls. These are very convenient for storage and easy to clean. They're the perfect size for leftovers. The bowls are microwave safe but the lids are not (as stated in the product description) but that's okay because I don't use lids when microwaving. It's much better to use wax paper and loosely cover the bowls.
Date published: 2013-05-11
Rated

5

out of

5
by
ghenne04
from
Back for more
We put these on our wedding registry a few years ago and used these very frequently for both storage and for food service (we loved to use them for taco night fixings, it's so easy to put the lids on and store the leftovers in the fridge). Unfortunately many of them broke over the past several years and we're down to two bowls, so it's time to order more!
Date published: 2013-04-16
Rated

5

out of

5
by
Simplistic
from
Luminousity
I almost didn't order these bowls because I thought the set included too many bowls. BUT, I am so glad I did! The bowls are in constant use. Nice size. Lovely display & great visibility of food in the refrigerator. Great for pre-chopped fruit/veggies, desserts & leftovers.***Be careful that the lids don't get thrown out accidentally (they almost look disposable).
Date published: 2013-03-24
Rated

2

out of

5
by
campchocolate
from
Quality Control
I bought two sets for Christmas 2011 and gave one set to my mother in law. The other I secretly hoped to keep for myself through a Christmas grab. My plan didn't work so my mother gave them to me for Christmas this year (2012). The quality between the two sets (2011 & 2012) is amazing! The glass is very thin on the 2012 set. To the point I am afraid to place it in the dishwasher. The size is perfect for storage of leftovers from a family of four.
Date published: 2013-03-19
Rated

5

out of

5
by
The Doodles Mom
from
Great Value!!
These containers are one of my best purchases - I even went back to get a set for my mom! I prefer glass containers over plastic, and these are such a great value for 12. They are big enough to pack oatmeal or cereal for breakfast at work. They don't take up too much space in the cupboard, though. I hand wash the lids and would recommend that to others.
Date published: 2013-03-06
Rated

5

out of

5
by
cooper66
from
LOVE THESE!!!
These are great! They are clear so you can see what's inside and the lids fit great. Nice size too.
Date published: 2013-03-06
Related Products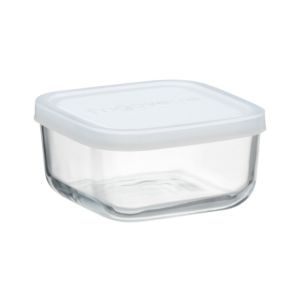 The perfect in between size for prep and leftovers, this versatile glass...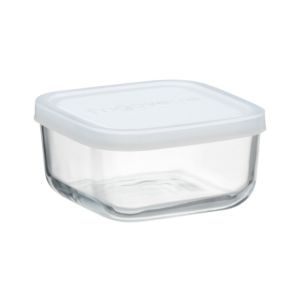 The perfect in between size for prep and leftovers, this versatile glass...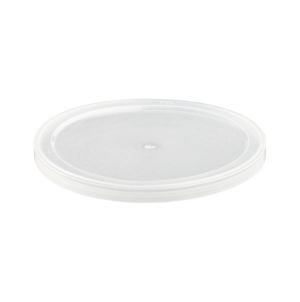 Tight fitting plastic lid fits our popular pint sized glass storage bowls....