Prices and availability are subject to change from the time and date that you print this page.
8/20/2014 9:36:49 PM. For Customer Service, please call 800.967.6696
Clean square of white porcelain features broad flared rim for all-purpose serving. Chip-resistant plate goes from microwave or oven to table and dishwasher.


Square Rim 10.25 Plate
is rated out of
5
by
89
.
Rated

5

out of

5
by
SarahEd
from
Love these plates!
We have the dinner plate, salad plate and bowls. They are perfect! White dishes from crate and barrel definitely a must have!
Date published: 2014-03-25
Rated

2

out of

5
by
Greenl14
from
Cute but tippy
Some of the plates are tippy and it is really annoying when your plate moves while eating!!!
Date published: 2014-02-07
Rated

3

out of

5
by
nicknamealready
from
Plates don't sit flat
Overall: Happy with the way the plates were shipped and the service. Disappointed the plates rock on flat surface. Virtually every one. That's something a plate should beable to do - sit flat. Rock the plate when cutting something.
Date published: 2014-01-08
Rated

5

out of

5
by
Teresafahey
from
Amazing Dinnerware
I cannot say enough good things about these. We have the dinner & lunch plates as well as the bowls. We've been using them daily for 2 years now, and they truly are the most durable dishes I've ever had. I dropped one, corner first, on the granite counter...didn't even chip it! Believe it or not, it chipped a little piece of the granite!! There are no gray marks from ss Eating utensils. Dishwasher does not seem to be wearing the finish in the least. And I love the fact that I can add to the set whenever I want. The other thing is, being square, they fit very well in the cupboard as well as the dishwasher. The plain white is easy to dress up with elegant napkins, chargers, and other ideas. 
Date published: 2014-01-01
Rated

5

out of

5
by
jett44
from
All Time Favorite and Second to None!
The square rim collection is positively second to none!  These plates are durable and beautiful.  I've been using this collection for several years and to this day-there are zero chips and even though we have granite that these have been dumped on, we have yet to break a single one!  I also love how they do not show knife or fork markings.  Even after using them for three years they look like the first day we purchased them.  I'm so happy to see them back again and am ordering more just to keep adding to my collection.  The color is a true clean white.  Beautiful. Elegant. Durable. LOVE!
Date published: 2013-12-18
Rated

5

out of

5
by
NadoMom
from
Simple and beautiful
These are very durable. A little on the heavy side but that's what makes it durable. Sets a very elegant and modern looking table. We use them often for serving dishes too.
Date published: 2013-11-04
Rated

5

out of

5
by
kimeeinnc
from
Fantastic dinnerware
I am a fan of C&B Cafe II dishes. I was looking for a switch up for a change of pace and tried these. Please C&B keep this product available to us.You will be a fan as well. Everything looks wonderful on these dishes. They look way more expensive than they are and wash up beautifully in the dishwasher. I purchased the set of six square small appetizer sized bowls as well as the set of twelve appetizer plates that all work beautifully together for everyday or entertaining. These are your dress up or down dinnerware.I called all over the country to find more of these dishes when I couldn't find them online any longer. I was foolish and started out with a few to see if I liked them. LOVED THEM!!!There are other square dishes out there that look like these...they don't compare! My family purchased from another and they aren't durable like these.Contact C&B and have them keep the quantity out there so many more of you can enjoy these beautiful and durable dishes.
Date published: 2013-11-03
Rated

5

out of

5
by
Champmyboy
from
White square rim dides and bowls
I bought dinner, salad and soup Bowles for my daughter to finish her set. She loves them. I have used them when visiting her. They look so nice on a set table. I wish I had them.
Date published: 2012-12-18
Rated

5

out of

5
by
Handbagaddict
from
Great Plates
These plates have a nice rim, good for holding in liquids. Nice weight and size. Purchased for a dinner party. Very happy with my puchase.
Date published: 2012-12-17
Rated

5

out of

5
by
Smiles from Mpls
from
Wonderful purchase!
I love these plates. They look great -- and food looks great on them!
Date published: 2012-12-15
Rated

3

out of

5
by
AnjaS
from
Not flat
These plates are beautiful, and the color to me is straight white. However, like a previous post mentions not one of the plates I received (I ordered the large bowl, the large plate and smaller plate, eight of each) sits flat. I am about to call and see if they will discount the order.. as I am sure if it was sitting on a wooden top that could be quite annoying.But for the price and the look I wouldnt return for this. A few are barely noticeable unless you attempt to push down the shorter leg. It seems all the corners are flat except one for each item. And one did come chipped.Lastly, almost every large plate has a weird color descrepency in the paint right in the middle... It might be just from how they go about painting them, but it looks almost like a line in the plate that is warped with each large plate.
Date published: 2012-12-01
Rated

5

out of

5
by
richard 1
from
Great dishes
If you like contemporay dishes, these are for you. Heavy, but not to heavy. Good sized and the raised outer edge keeps things on the plate. Pure white and very easy to clean.
Date published: 2012-09-23
Rated

5

out of

5
by
Ladarnold
from
Great purchase
I started with just these plates & liked them so much I bought the smaller plates, & the bowls. They wash beautifully & have great presentation. I will have them forever!
Date published: 2012-09-09
Rated

5

out of

5
by
BeckyDMc
from
Awesome plates
Just the right size and heft to these plates. Love their versatility.
Date published: 2012-09-08
Rated

5

out of

5
by
Jenbo
from
Date published: 2012-09-08
Rated

5

out of

5
by
Abrow
from
Fab dinner plates
These dinner plates are simply wonderful! I love the square shape and simplicity of the white because you get to add color to the plates with food and other accent dinner accessories! The plates never get old!
Date published: 2012-09-08
Rated

5

out of

5
by
shoes
from
Quality product
These dishes have held up very well. I use them daily and put them in the dishwasher. They wear well and are priced at an affordable price. But the best part , is that they so stylish. My guests always comment on how cool they are!!
Date published: 2012-09-08
Rated

5

out of

5
by
tulsastyle
from
great for bridal registry
My children registered for this set of dishes and could not be happier. The dishes are inexpensive and the shipping costs are so low that they received everything on their list. The serving pieces are large and heavy and very impressive. They are a great set to mix and match. I loved them so much that I bought myself a set. The gift wrapping is also very impressive and worth every penny.
Date published: 2012-09-05
Rated

5

out of

5
by
June A
from
Dishes!!
I ordered these as a surprise for my niece for her wedding...THEY ARE JUST AWESOME!!! They look great casual or dressed up, very versatile!! LOVE THEM!
Date published: 2012-09-05
Rated

5

out of

5
by
Tom24123
from
Good buy
We got these plates after we got married and we love them. They make the food look professional and modern.
Date published: 2012-09-02
Rated

5

out of

5
by
botickles
from
Great Plates!
We registered for these plates for our wedding. We have already gotten some of them and started using them. We love them, they are big and sturdy and fit in the dishwasher great!
Date published: 2012-09-02
Rated

5

out of

5
by
NainaM
from
Great plates
These plates are so inexpensive and stylish. Really durable too.
Date published: 2012-09-02
Rated

5

out of

5
by
kiwimum
from
great value!
Ordered a set of 12 large and small square rim plates. They arrived quickly and were carefully packaged. They are heavy--exactly what we wanted, but if you're looking for something delicate, these plates are not it. One of the plates was cracked, despite the careful packing--called customer service and a new plate was on its way to me immediately with no trouble at all. Have gotten numerous compliments on these plates every time we use them--classy, simple, and will make all your food look like a work of art!
Date published: 2012-09-01
Rated

5

out of

5
by
kellygee
from
Very Happy
bought these plates for dessert/appetizer plates. they look elegant and are the perfect size. i liked them so much i'm going to order more for the holidays. i've only used them once but they seem to really be quality plates.
Date published: 2012-08-27
Rated

2

out of

5
by
Aggiekelly
from
Wobbly
I love these plates. This is actually why I registered for my wedding at Crate and Barrel. However almost all of the 12 plates we got are wobbly. Unfortunately I will be returning all of these plates. I am sad because now I don't have plates to match all the bowls and platters I got :(
Date published: 2012-08-09
Rated

5

out of

5
by
VCap
from
Nice and Sturdy
I got these plates at my bridal shower- they're great. Heavy, sturdy, and clean looking.
Date published: 2012-07-28
Rated

3

out of

5
by
dougury
from
uneven
I've ordered several of these plates, and one out of 3 don't sit flat. They are like a table with one short leg, and they are terribly noisy on a wooden table.
Date published: 2012-06-09
Rated

4

out of

5
by
Mrs PZ
from
Nice
We do love our plates, but only wish they weren't so heavy. Other than that they are beautiful for everyday and formal use.
Date published: 2012-05-26
Rated

4

out of

5
by
Seattle home
from
Nice plates!
Good quality and nice looking plates. Great for every day use. They are a bit heavy though, but for the price and quality I recommend them!
Date published: 2012-05-07
Rated

4

out of

5
by
Wipo
from
Good stuff
I bought an set of the square plates (large, small, soup bowls and serving platters) for 8 people. They look great on the table, both with and without food. Everybody likes them and aske where I got them.
Date published: 2012-05-05
Related Products
Modern and restrained in form, expressive and rustic in glaze. The artisan's...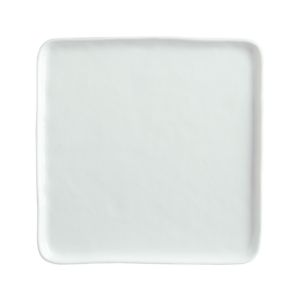 Contemporary porcelain whiteware represents a fusion of refinement and rusticity. Square slim...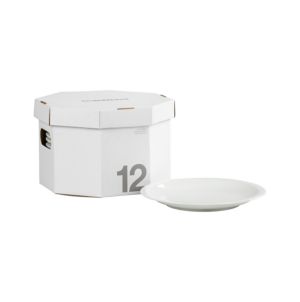 Boxed set delivers a dozen clean white plates at a moment's notice....