Prices and availability are subject to change from the time and date that you print this page.
9/30/2014 6:16:17 PM. For Customer Service, please call 800.967.6696
Pickup
Northbrook Court Outside the Mall: Not available
Change store
Slow cooking gets a modern makeover with sleek new lines and improved performance. Housed in brushed stainless steel with chrome-plated handles, this 6.5-quart unit gently and evenly cooks food. Touchpad control panel with digital LCD offers cooking accuracy on warm, simmer, low or high settings. 24-hour timer with four heat settings automatically switches to warm when cooking is complete. Removable black ceramic pot and stainless-rimmed glass lid with chrome-plated knob go straight to the table (see additional photos).

Cuisinart® and other Wedding Registry offers


Cuisinart® 6.5 qt. Digital Slow Cooker
is rated out of
5
by
82
.
Rated

5

out of

5
by
lynnb62
from
good slow cooker
I needed to replace my slow cooker as it seemed that it would 'burn' the stocks i would make...even on the warm setting, it was too hot.This Cuisinart fit the bill...nice, even slow temperature cooks my stocks very gently. Also, REALLY like that the insert is ceramic as opposed to teflon. My mom as a more expensive slow cooker, but I avoid Teflon, so don't want to borrow hers any more.
Date published: 2013-03-04
Rated

5

out of

5
by
msparks32
from
Does what it promisses
I bought this as my sisters and mom were ranting about how they loved their slow cookers. I've only used it a couple times but it did what I expected. I made a great stew for Super Bowl and some great chicken recipes. The retractable cord is a nice feature. I just wish it went all the way in. It sticks out about an inch so you can't push the cooker all the way flush against the back of the countertop.
Date published: 2013-02-24
Rated

5

out of

5
by
Beaba
from
Great machine!
My husband and I received this slow cooker for our wedding and we love it! So easy to use and a great new addition to our house!
Date published: 2013-02-22
Rated

5

out of

5
by
CanesFan1
from
loved the digital programming!!
Been looking for a slow cooker that can handle different times other than 6 to 8 hours.This is perfect!! I like the fact that it drops down to a warm setting after the first time is done!! I ruined a cheesy pasta dish this way in a different slow cooker.Also the cord is retractable is also a big plus!! We all know how the storage of cords can be quite a pain!!With my husbands military schedule and our sons' soccer/lacrosse seasons this slow cooker is amazing!!
Date published: 2013-01-24
Rated

4

out of

5
by
Garden Lover1
from
Love Crate and Barrel
After waiting a week or two, because it was on back order my slow cooker came and I used it immediately and made some turkey chili. It worked great and the chili was good, too.
Date published: 2013-01-04
Rated

5

out of

5
by
kmari
from
Great Product
I love the flexibly of being able to set the cooking time on this product. It is very easy to clean and operate. I especially like the warming feature, if you are late coming home you do not have to worry about your meal drying out. The slow cooker fits easily on the counter. I ordered this item on the Website, it shipped quickly, and was exactly has shown.
Date published: 2012-11-01
Rated

4

out of

5
by
Rissebran
from
Great Buy
This slow cooker has been heaven sent!!! So easy to program and go while your food is getting an even cook.
Date published: 2012-09-12
Rated

5

out of

5
by
SarahSuss21
from
Easy Cook, Easy Clean & Love the Food!
Not only does this Crock Pot offer easy-to-use features, but also it offers a sleek design, easy clean-up (dishwasher safe), and delicious, flavorful, juicy food!I've yet to cook something in my crockpot that I've not absolutely loved.
Date published: 2012-09-08
Rated

5

out of

5
by
KathyE5
from
Perfect For Parties
Exactly the classier looking upgrade from your average crock pot I was looking for to handle larger numbers of guests. Greatest thing about it? Having more temp. options with a timer! The lowest heat setting was enough to keep the entire dish serve ready warm and left unattended for several hours without scorching the bottom. I'll definitely be entertaining with it again soon!
Date published: 2012-05-05
Rated

5

out of

5
by
Mommyno
from
I love slow cooking!
This slow cooker is easy tor regulate to cook everything perfectlly! From a roast, to a chicken and my favorites-soups and pasta dishes-If you like to cook savory, flavorful dishes--you need this cooker!
Date published: 2012-05-05
Rated

5

out of

5
by
bmorechef
from
Great!
I purchased this slow cooker to replace an old hand-me-down from my mother. I'm very pleased overall. Pros: attractive on the counter; switches to warm when cooktime is finished; easy to use and program; it's HUGE (easily fits an entire small chicken). Cons: it's HUGE (sometimes you don't need something this big); you can't saute in the dish (I think only the All-Clad version allows for that); difficult to store because it's big and heavy (I have a lot of countertop space so this doesn't matter but it would if I had a smaller kitchen).
Date published: 2012-04-25
Rated

5

out of

5
by
bklyngirlinva
from
CUSINART DIGTL SLOW COOKER
I just received this crock pot and used it immediately I cookied a Beef Brisket recipe for 8 hrs and to my surprise the veges and meat were cooked to perfection. In my previous crock pots, the veges were always very soggy and almost cooked away. The veges still had a crisp chew to them even after cooking for 8 hrs. Very satisfied with this purchase and can't wait to use it again.
Date published: 2012-04-24
Rated

5

out of

5
by
NancyL
from
Slow Cooker
A pleasure to use. Looks very chic on the counter and makes dinner prep so easy. Cleanup is also a breeze. Perfect for those who don't want to spend a lot of time in the kitchen as well as for those who do. It frees up time for whatever one might want to do.
Date published: 2012-03-14
Rated

5

out of

5
by
KLKHR
from
Moving into the 21st century with style
I love my harvest-orange Crock Pot (which is older than me - it was a wedding gift to my parents in 1973) but its heating element is on its last legs. Enter my new Cuisinart slow-cooker!I just got it, so I've only used it once so far, but it passed its first test with flying colors. Easy to set the timer, and I love that it switches to "warm" after the preset cook time ends - so you don't come home to lukewarm stew if your commute is longer than usual. It looks great and I expect to be using it frequently
Date published: 2012-03-13
Rated

5

out of

5
by
Shann18
from
Great Slow Cooker
We love our new slow cooker. The product comes with a cookbook and we have been able to try some of them out. It cooks perfectly and it is so easy to clean.
Date published: 2012-03-12
Rated

5

out of

5
by
EmmaJ
from
Excellent Purchase!
The slow cooker is the best I have ever owned!!! It is large enough for a family dinner of 7-8. Cooks to perfection, leaves your meal on warm when the cook time is finished so if you're are running late or dinner is delayed everything stays hot! Easy to clean and store. I would suggest you buy the larger 6.5 qt as you can always make less, but you have the option to make more for company! Great buy!!!!!
Date published: 2012-03-11
Rated

5

out of

5
by
TRacer
from
Extremely Easy to Use
I bought this product a few weeks ago and I have already used it to make everything from roasts to soup to chili. I just combine everything in the morning, set the timer, and forget it until its time to eat. The switch to warm feature is also great, because I don't have to worry about being home in time to do it myself. I would highly recommend this unit.
Date published: 2012-03-11
Rated

5

out of

5
by
kkoenigs
from
Sleek and functional
Great product and it came with a really helpful cookbook. Can't wait to have a party to use it!
Date published: 2012-03-11
Rated

5

out of

5
by
Bellagirl
from
Incredible Cooker
The Cusinart Slow Cooker is incredible. Had a crock pot in the old days. I don't have to rush to get home and cook dinner. I can do it in the morning or the evening before. My room mate and I alternate dinner responsibilities.The best feature is that's it's programmable for start and stop - dinner doesn't over cook..
Date published: 2012-03-10
Rated

4

out of

5
by
Tpode
from
Most used appliance
Stylish and functional. I love the ability to program any time frame on four temps- high, simmer, medium and warm.Easy to use and provides even cooking.
Date published: 2012-03-10
Rated

5

out of

5
by
Stonehome
from
Loving slow cooking
Love my new slow cooker. I had been shopping for a while and decide to buy this one due to features, reviews and great price. I have used it several times and love the performance. I especially like the cooking rack, the retractable cord and multiple settings. Can't go wrong with Cuisenart.
Date published: 2012-03-10
Rated

5

out of

5
by
Ellimac
from
Delightful Design
This slow cooker is one of the best designed ones I have seen in a long time. The shape makes it easy to fit on a shelf for storage or on the counter top for use. The size is adequate for a large group and can be served from the ceramic insert. This model has an added bonus - a rack on which a smaller pot may be placed. From the various switches to the retractable cord, this product is super to use. The price is right too!
Date published: 2011-11-11
Rated

5

out of

5
by
INArchitect
from
Love it!
I have had this slow cooker for a couple of years now with no problems. I love the fact that you can set the timer and it automatically switches to warm after the set time. No more rushing home to turn down the slow cooker!
Date published: 2011-11-02
Rated

5

out of

5
by
eclairity
from
Loving our slow cooker!
My fiancee and I bought this slow cooker to use during weekdays when we both come home late from work. It is great! It is so easy to use and program. We love that the cooker warms the food for up to 7 hours once it is done cooking. I would definitely recommend this cooker to anyone looking to purchase one.
Date published: 2011-08-29
Rated

4

out of

5
by
melmann
from
Bulky but great appliance
This is a great slow cooker. It's difficult to lift and move around for me and it's a challenge to store when you're limited on cabinet space. However, it's worth the challenge because this cooks evenly and true to temperature! It's easy to wash since the pot is removable (also making it easy to take to the in-laws)!
Date published: 2011-08-26
Rated

5

out of

5
by
Crate Queen
from
A Real Rival for Rival
My family has owned Rival crockpots/slow cookers for generations....and it all stopped with me. I researched slow cookers for over a year before I buckled down and purchased one. Cuisinart has mastered the automatic temperature regulation better than any other slow cooker on the market. We throw dinner in before we leave in the morning and come home to a perfectly cooked dinner. Rack is very helpful for cornish hens or meat loaf. No complaints. I own two of them, and have replaced all my family's Rival crockpots (they tend to boil the food rather than slow cook it). I have also bought the 4.5 qt for smaller jobs.
Date published: 2011-08-24
Rated

5

out of

5
by
Deb S
from
Love it!
A must have for every home! Cooks just about anything and its so convienent and easy! Love the timer and easy clean up. Great for a variety of items and for preparing meals in advanced.
Date published: 2011-08-23
Rated

5

out of

5
by
valdivita
from
Great Crock Pot for the money
This is my second crock pot and I have to say that the first one was a more expensive model and did the exact same job as this one. Very practical and easy to use.
Date published: 2011-08-23
Rated

5

out of

5
by
Sandra S
from
Good results everytime
I reveived this as a wedding gift and use it at lease once a week. A nice feature is that it switches to "warm" after the cooking period is done. I don't mind having this on the counter for a day since it actually looks kind of sleek.Another nice feature is that the cord winds up inside the unit when not in use.
Date published: 2011-08-20
Rated

5

out of

5
by
Cast Iron Joy
from
slow cooker
must have! great size, easy to use, perfect for households on the go!
Date published: 2011-08-20
Related Products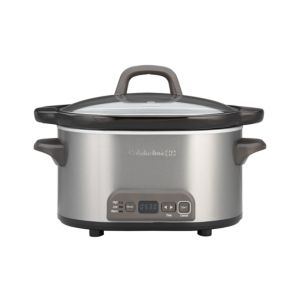 All the benefits of a slow cooker with Calphalon's quality construction and...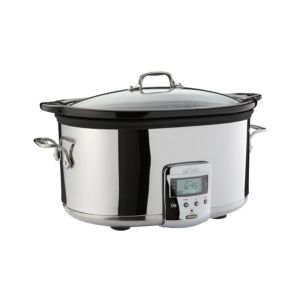 The slow cooker takes an upscale gourmet turn with this smart stainless...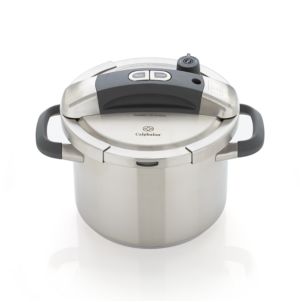 Forget yesterday's pressure cooker and embrace the future of quick, easy cooking...