Prices and availability are subject to change from the time and date that you print this page.
4/20/2014 7:28:59 AM. For Customer Service, please call 800.967.6696
Crate and Barrel Exclusive
$114.95 - $134.95 open stock $127.20 - $151.00
Roulette features subtle concentric circles that create a soothing ripple effect. This durable, pure white porcelain lends itself to creative accessorizing. Distinctive cup, saucer and serving pieces. Mix and match with our
Roulette Blue Band dinnerware.
Roulette Dinnerware Sets
Roulette Dinnerware Individual Pieces
Roulette Dinnerware Serving Pieces
Roulette Dinnerware
is rated out of
5
by
258
.
Rated

5

out of

5
by
Ednamode
from
Still going strong after 15 yrs
I received this set for my wedding 15 years ago. I still have every single piece, not one broken and I use them every single day with family, friends, kids and everything. I've experimented with other dishes but these never go out of style and I can mix in other dishes with them. I've secretly wanted them to break so I can change them out but I can't find a good replacement that'll last like these have both in terms of style and strength. I especially love the plates, bowl and the coffee cup. Coffee cup is great size for home made cappuccino. Great product! Will last you a lifetime, whether you like it or not! Just kidding...love them
Date published: 2014-03-08
Rated

5

out of

5
by
Best Ingredients
from
Good Things Are Worth It
These dishes are simple yet elegant. The circle pattern keeps this from being plain but is subtle enough to make it fancy. I wanted the mugs, which came in the four-piece set. However, I also needed the low bowls (for pasta), which were included in the five-piece set. The five piece set has the cup and saucer instead of the mug. I would never use the saucers so I went with the four-piece and bought the low bowls separately. The small bowls that come with this set are a perfect size for soup, cereal, and ice cream. The set goes with every occasion and decor. So glad I bought the whole set!!! Get it!!!
Date published: 2014-03-08
Rated

5

out of

5
by
mmvlm
from
Great dishes
We love these dishes. The size of the plates and bowls and mugs are perfect for everyday use. They are not too big that they overwhelm the dishwasher space, and are still a great size to handle any meal you want to serve. The dishes look great and blend in well with other white serving pieces that I have already. I also really like the thickness and weight of the dishes. They are not overly heavy but have a nice weight that feels like they will be durable and long lasting. We had looked for a long time to find something to replace a cheaper set of department store white dishes which chipped too easily. I am thrilled to have finally found my perfect white dishes.
Date published: 2014-03-08
Rated

5

out of

5
by
Jper10
from
Durable and classic
After three full years with this set of everyday china which we received for our wedding, I cannot say a bad thing about them. My husband and I both can tend to be clumsy and you can knock these things around, hit them accidentally on granite, drop them on the floor and they are chip/break free. We have literally only had one plate break in the 3 years we have had them. They are classic looking, the white is still bright after 3 years and I have not seen a single chip on any of our plates, bowls, or mugs. If you are looking for study and understated these plates are the way to go.
Date published: 2014-03-08
Rated

5

out of

5
by
Mary10
from
12 Years and counting
We received Roulette for our wedding 12 years ago. Have not chipped or cracked one plate. Recently replaced our kid-proof plastic cereal bowls with new Roulette cereal bowls (was thrilled that it's still made!). Now I open my cabinet and a sea of organized white tableware stares back at me, a peaceful respite from the chaos that is the rest of my house. Incidentally, 12 years ago, we also registered for a pattern that is a cool variation on Roulette, with blue swirls. Those plates are our "special" plates. Wish Crate and Barrel had not discontinued them....
Date published: 2014-03-08
Rated

5

out of

5
by
KimS
from
Roulette is great!
We registered for the Roulette blue band dinnerware for our wedding and I've never regretted it. The plates aren't too heavy, but they aren't too light either. They come through the dishwasher like a champ--no scratches or scuffs whatsoever. We've now had them almost two years and I just now broke something (a bowl) from dropping it--that's how reliable they are. And we're a clumsy group! They are very microwave safe.The best design feature is that they go with everything and will never go out of style. Sure they may not be trendy, but trend it up with napkins and other accessories. Don't let your dinnerware become a punchline.
Date published: 2014-03-08
Rated

5

out of

5
by
Teppie
from
Love my Dishes!
I looked around at various stores for the perfect set of white dishes for our wedding. I wanted something that could be both used for both formal and everyday uses. These dishes are absolutely BEAUTIFUL and everything I wanted. The pattern is distinctive, but lets the food really be the main attention. Other than the color and design, my favorite feature is the depth of the bowls. They're just great for cereal or soup, and fit well in the dish washer- more so than the ones that are shallow with the wide rims. I really recommend this set because every time we use them I say to my husband "I just love our dishes!"
Date published: 2013-01-29
Rated

5

out of

5
by
LUCIE G
from
Best lasting dinnerware
I purchased the roulette dinnerware for 20 serving 17 years ago when Crate and Barrel first came out with it and I still use it to this day. I used it as everyday dishes and raised 3 children using them. I have to say that one plate chipped and I broke one bowl but THAT'S IT !!! BEST PURCHASE EVER !!!!
Date published: 2014-03-08
Rated

5

out of

5
by
jrusso
from
This dinnerware displays food beautifully.
Just replaced two salad plates after 17 years of using this set every day. The dinnerware is sturdy, yet not bulky. The table always looks "dressed" even for a simple breakfast of toast and jam. Also, it is nice to know if someone does break a dish, it can be replaced. I use the 8oz cups for soup bowls when I have a crowd over for cream of crab soup at Christmas. The simple pattern on white allows the focus to remain on the food presented. And, the set is perfect with all my French Porcelain baking dishes. 
Date published: 2014-03-08
Rated

5

out of

5
by
RustyRedCab
from
Stand in dishwasher perfectly
These were picked out by my wife as her gift. I'd have like a bit more color. These do have some interest with the white-on-white bands. Plates stand perfectly in the dishwasher (unlike our old plates that had a lip which made them fit funny). These plates and salad plates are a nice size without being giant. The bowls are perfect for morning cereal. Again, not too big but still nice and deep. Same with the mugs -- hold a proper sized cup off coffee.Use in oven and microwave with great results. Love porcelain for function and durability.With eight full place settings plus two extra salad plates and four extra dinner plates, this set should serve us well for many years. And the white on white will still look good when a trendy color seems so 2010.
Date published: 2014-03-08
Rated

5

out of

5
by
nana24
from
Classy in Cupboard
I just ordered two dinnerware sets (service for 8) and when it came it was fun to unravel all the packing and see each piece appear. I quickly ran the sets through the dishwasher to see how they would look. They look great. The dishes are just the right size, the cups feel good in your hand, and they look so clean and neat in your cupboard. Can't wait to use them at Christmas with colorful napkins and decorations. White is classic and yet you can change it everytime with different accessories. Love it!
Date published: 2013-09-01
Rated

5

out of

5
by
mamallama
from
Roulette Dinnerware Rocks
Registered for this for our wedding almost 9 years ago. We use it everyday and still love it! Classic and elegant. Good for everyday or fancy, and easy to mix and match. I have the plates/bowls/mugs...each seems to be the perfect size. I also have the serving bowl, platter, pitcher, creamer, sugar bowl, and casserole. We have moved several times including one cross-country move and nothing has broken! Absolutely love love, love.
Date published: 2013-09-01
Rated

5

out of

5
by
Dsflow
from
Love them!
I am very pleased with these dishes!  I have had them about a year now and they look as good as new!  No marks from silverware like the dishes I replaced them with. I am going to expand my set and buy the serving pieces!  They can be dressed up or down and go with any color scheme...strongly recommend 
Date published: 2014-01-14
Rated

5

out of

5
by
jjj157
from
Roulette...the best
This dinnerware is fabulous! It's versatile but not stale or cheap-looking, I can use any decor or table setting and it looks great. I purchased this maybe 8 years ago and I can still get additional and replacement pieces. Also Crate and Barrel has added new pieces to the original set.
Date published: 2013-09-01
Rated

5

out of

5
by
kjspy
from
Timeless, Resilient
I have had the full set of Roulette dinnerware for 6 years now and I adore it. I have matched it with different color schemes in every holiday, it is timeless and versatile. I have used it in a dishwasher for years, and handwashed it at times as well. Cleans well either way. I've microwaved it, warmed plates on low temps in the oven, stuck it in the fridge, it's still trucking along. Not a single mark on a plate, bowl, or platter--smooth surfaces still abundant. It looks and performs the same way it did 6 years ago, and it's still in such great style. You won't regret the glossy white classy style of this set!
Date published: 2009-06-21
Related Products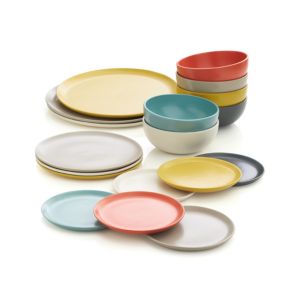 Clean coupe shapes and fresh shades of mix 'n' match colors allow...
Pure and simple. Clean Asian shapes have a thin, elegant feel and...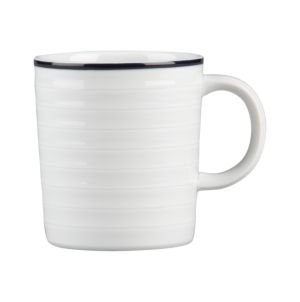 Your table will be dressed for success in this tailored cousin to...