Prices and availability are subject to change from the time and date that you print this page.
10/25/2014 6:32:24 AM. For Customer Service, please call 800.967.6696
Crate and Barrel Exclusive
Our Roulette sugar bowl features subtle concentric circles that create a soothing ripple effect in durable, pure white porcelain. Roulette dinnerware also available.


Roulette Sugar Bowl with Lid
is rated out of
5
by
253
.
Rated

5

out of

5
by
Aria
from
Gorgeous Set
I got this set for my wedding and I absolutely love it! The bowls are the perfect size and the design is just enough to look fancy without being difficult to fit into a decorated place setting. I use these for every occasion, including casual use.
Date published: 2014-04-07
Rated

5

out of

5
by
Kriseyk
from
Perfect accessory
I purchased this since I choose the Roulette dinnerware. I love the size and the lid with the loop handle. This is a very classic pattern and we use it everyday.
Date published: 2014-04-06
Rated

5

out of

5
by
Kriseyk
from
Great everyday dishes
I ordered two of the 16 piece sets a couple months ago and I'm so glad I did! I wanted something classic and more durable than the stoneware dishes I was using. The Roulette pattern reminded me of a Parisian cafe I used to visit. Even the simplest of meals look fantastic using these dishes. I'm so happy I chose these.
Date published: 2014-04-06
Rated

5

out of

5
by
france41881
from
Elegant staple for every kitchen
Another item off our wedding registry we were so happy to receive our beautiful Roulette dinnerware sets! We went back and forth on whether to get something colorful and modern or something simple that would stand the test of time. We ended up going with the Roulette set because we felt we would never get sick of the simple white plus it has a little pattern to it that you can't really see in the pictures. Even though the design looks very classic, it has a contemporary feel to it too. We are so happy with our choice and hope they will be the foundation of many meals to come!
Date published: 2014-03-26
Rated

5

out of

5
by
kate00
from
Another great addition to the Roulette series
Love my Roulette dishes and that it comes with this handy Roulette Sugar bowl. My old-fashioned dad sure does love that I have a sugar bowl at the table at breakfast whenever he comes to visit.
Date published: 2014-03-25
Rated

5

out of

5
by
amye22
from
Sturdy and nice looking
I just got these dishes from my wedding registry. They feel sturdy, but are still nice looking. Functional for everyday, but nice enough for company too.
Date published: 2014-03-25
Rated

5

out of

5
by
maliah
from
Fabulous Everyday Dishes
We purchased these dishes a little over a year ago, and they have definitely stood the test of time. We use them every day, we run them through the dishwasher, and they've never cracked or stained. They are so pretty when I open my cupboard that I'm installing open shelving so I can see them all the time.I'm super picky, and there are a few tiny imperfections in the dishes, but C&B was great in working with me to exchange for dishes that were not flawed.
Date published: 2014-03-25
Rated

5

out of

5
by
robma
from
Great Item!
We received these dishes for our wedding and we LOVE them. Such a great quality. Very nice, we get a ton of compliments on them. Dishes and bowls are a great size and they look very elegant with a casual AND a formal table setting. The only con I have is that I wish they had more serving items available, but other than that WE absolutely love them!
Date published: 2014-02-10
Rated

5

out of

5
by
LMS8517
from
Simple, Elegant & Beautiful
I had been looking for an all white set but something with a little texture. I was so excited when I found this set and even happier when I saw it in person! It is so smooth and looks great with mix matched serving bowls & accent dishes! I love the simplicity but the little detail of the lines I don't think that this is something that I will get sick of looking at for a long time as I would with a lot of the other sets out there!!! I have service for 10 but I think that I am going to order one more set!!
Date published: 2014-02-07
Rated

4

out of

5
by
sdawg
from
Classic and simple
We have had these dishes for 10 years and I have LOVED them. I wanted something more fancy and my husband talked me into these and I am sure glad he did because they are classic. We have 3 kids and they have held up as well as I would expect any dish to hold up with tile floors. 
Date published: 2014-01-04
Rated

5

out of

5
by
roody2
from
Great place to shop
Beautiful product....fast easy ordering....exceptional communication and super fast shipping
Date published: 2013-12-31
Rated

5

out of

5
by
Erin00
from
Beautiful and durable
I have been using these dishes for almost a year and they look great. Several have been dropped or accidentally whacked against our granite countertops, but no chips or cracks so far. Love them!
Date published: 2013-12-30
Rated

5

out of

5
by
sd91941
from
9+ years of use and still perfect!
My husband and I added multiple five-piece sets to our wedding registry as well as the accompanying serving pieces.  We will soon be married ten years, and these items have been used on a daily basis without any problems at all - this includes our children using them as well.  No chipping or damage of any kind.  They are beautiful and withstand the test of time - so happy they are still sold at C&B so that I can pick up some extra pieces soon!
Date published: 2013-12-29
Rated

5

out of

5
by
apple64
from
great set of dishes
purchased these dishes a year ago - for everday - and I really love them. They go with everything and are really rugged. I would highly recommend these to anyone. I love the fact that I can add individual pieces.
Date published: 2013-11-22
Rated

5

out of

5
by
PennyPennyPenny
from
Nice weight and size
Had these for a month now. Love love love!! Always wanted white, now I have them:) Using for everyday, really like the feel and the weight. Not too heavy, not too thin. Just perfect! signed, Goldilocks...ha ha ha!
Date published: 2013-11-07
Rated

5

out of

5
by
Dsflow
from
Love them!
I am very pleased with these dishes!  I have had them about a year now and they look as good as new!  No marks from silverware like the dishes I replaced them with. I am going to expand my set and buy the serving pieces!  They can be dressed up or down and go with any color scheme...strongly recommend 
Date published: 2013-11-06
Rated

5

out of

5
by
sierra2
from
Great dishes
I purchased these dishes to replace the set we had owned for 18 years. We bought 12 place settings and it is wonderful to have enough for ourselves as well as guests. These dishes are attractive and show off the food nicely. The dishes are sturdy and I look forward to using them for several years.
Date published: 2013-09-25
Rated

5

out of

5
by
jrusso
from
This dinnerware displays food beautifully.
Just replaced two salad plates after 17 years of using this set every day. The dinnerware is sturdy, yet not bulky. The table always looks "dressed" even for a simple breakfast of toast and jam. Also, it is nice to know if someone does break a dish, it can be replaced. I use the 8oz cups for soup bowls when I have a crowd over for cream of crab soup at Christmas. The simple pattern on white allows the focus to remain on the food presented. And, the set is perfect with all my French Porcelain baking dishes. 
Date published: 2013-09-02
Rated

5

out of

5
by
shwarma
from
Matches everything
Purchased the creamer for my husband.  He warms his milk for his coffee, the spout flows nicely and the color is perfect with all cups or mugs.  It has such an elegant look for a reasonable price.  
Date published: 2013-08-29
Rated

5

out of

5
by
cvc333
from
Perfect dishes!
I have had these dishes for over a year now and I just love them! My parents bought them for me when I got married. I wanted a classic, white dish set that would go with everything, and these definitely hit the nail on the head. They are very durable; none of them have broken. They haven't scratched or anything! They are so beautiful and timeless, so I feel like I will be able to use these a lifetime!
Date published: 2013-08-08
Rated

5

out of

5
by
kekster
from
Roulette dinerware
They Are Wonderful They Arrived perfectly Packed In Great Shape. I am Extremely Happy With Purchase.
Date published: 2013-07-01
Rated

5

out of

5
by
Jper10
from
Durable and classic
After three full years with this set of everyday china which we received for our wedding, I cannot say a bad thing about them. My husband and I both can tend to be clumsy and you can knock these things around, hit them accidentally on granite, drop them on the floor and they are chip/break free. We have literally only had one plate break in the 3 years we have had them. They are classic looking, the white is still bright after 3 years and I have not seen a single chip on any of our plates, bowls, or mugs. If you are looking for study and understated these plates are the way to go.
Date published: 2013-05-29
Rated

5

out of

5
by
Ednamode
from
Still going strong after 15 yrs
I received this set for my wedding 15 years ago. I still have every single piece, not one broken and I use them every single day with family, friends, kids and everything. I've experimented with other dishes but these never go out of style and I can mix in other dishes with them. I've secretly wanted them to break so I can change them out but I can't find a good replacement that'll last like these have both in terms of style and strength. I especially love the plates, bowl and the coffee cup. Coffee cup is great size for home made cappuccino. Great product! Will last you a lifetime, whether you like it or not! Just kidding...love them
Date published: 2013-05-05
Rated

5

out of

5
by
chloebear
from
Roulette Dinnerware
I was looking for white dishes to replace what I have been using for the past ten years. After reading others reviews I purchased them. I love the size, they fit perfectly in the dishwasher. I haven't had dishes with soup/cereal size for some time and I like the change. What surprised me the most is the weight of the dishes have more of a China feel to them. Since I use them for all my entertaining, it's great.
Date published: 2013-04-11
Rated

5

out of

5
by
linctic
from
Love them
I bought the small 6 3/4 inch plates and I love them. They can be used for so many things
Date published: 2013-04-05
Rated

4

out of

5
by
gcodom
from
I was conflicted
Well I got them very quickly, surprised in fact they came so quickly. Was also equally surprised when I opened the box. I had read the reviews and there were comments about the bowl size, but these were more shallow than I expected. However, once I got used to the idea and tried them, I was again surprised, pleasantly that is. They are shallow but large enough in diameter to compensate. They have another advantage not previously thought about. Being shallow and larger diameter allows those hot soups to cool a bit quicker. I still prefer the deeper bowls for cereal, but for soups and salads these are perfect. They can even serve as a little luncheon plates if you wish. The pieces are well made and the beautiful white porcelain looks great under any colorful food. I do recommend them. I had earlier ordered some tea cups, also porcelain, and was well pleased with them as well. My wife has a great set of stoneware, but there is something pleasing about this porcelain and we find ourselves using them more often than the other. It is my intention to order additional pieces.
Date published: 2013-03-13
Rated

5

out of

5
by
dfp09
from
Love these dishes
I bought this set a couple years back and absolutely loved it. It's made in Portugal so I know the it's good quality.
Date published: 2013-03-05
Rated

4

out of

5
by from
The perfect White Dinnerware
Spent years looking at and eating off of a friends set finally got my own i am very happy to have these in my cupboard.
Date published: 2013-03-04
Rated

5

out of

5
by from
Simple and Pretty
I received this dinner ware set as part of my wedding registry. We use it for everyday dishes and for company. I absolutely love them! They are durable, do not crackle in the dishwasher and look great with any serving pieces I pair them with.
Date published: 2013-03-04
Rated

5

out of

5
by
Pam B
from
Dinnerware
Love this simple dinnerware set. So easy to mix and match and love all the options for placemats, napkins, etc.
Date published: 2013-03-04
Related Products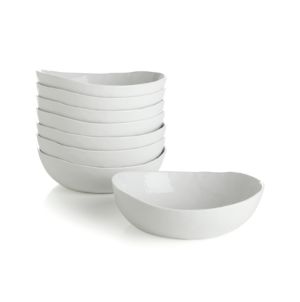 Contemporary porcelain whiteware represents a fusion of refinement and rusticity. Round slim...
Our Aspen dinnerware is an overture of grace and simplicity. Dressing up...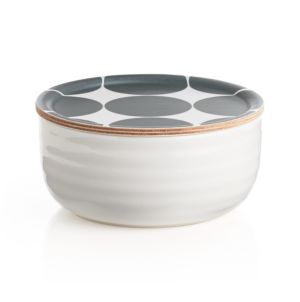 High style graphics, unexpected shapes, textured surfaces and a chic mixed color...