Prices and availability are subject to change from the time and date that you print this page.
10/30/2014 11:23:36 AM. For Customer Service, please call 800.967.6696
Ridged cast iron grill pan perfectly "grills" foods indoors. Perfect for burgers, bacon, chicken and grilled sandwiches.
More Lodge® available via special order. Please contact your
local store.
Lodge® Cast Iron Grill Pan
More Lodge® Cast Iron Cookware
Lodge® Cast Iron Grill Pan
is rated out of
5
by
37
.
Rated

1

out of

5
by
CookZ
from
Didn't work for me
After seeing the rave reviews and knowing how great cast iron pans can be, I was very excited to receive this as a wedding shower gift. Unfortunately, the first time we used it, the meat got stuck to the pan and when we tried to soak it for a few minutes to release the coating, it got completely rusted. There was nothing we could do to remove the rust so we threw it away after one use. Sad!I realize part of this was human error, but I found this pan difficult to use and will not buy another. If I try cast iron again, I will be sure to get a smooth finish instead of grill pan.
Date published: 2011-11-07
Rated

5

out of

5
by
talikay
from
Grill-tastic
We ordered this grill pan about a week ago and have used it every night since. We grill veggies, meat, sandwiches and meat/veggie sandwiches. It is made of sturdy cast iron, cooks evenly and is extremely useful!
Date published: 2011-08-23
Rated

5

out of

5
by
Happy Cali
from
Great Purchase
I love this cast iron grill. I have used it to grill steaks, chicken and veggies. I found it very easy to clean using very hot water and my soft plastic brush and oiling after each use. I would recommend this to anyone wanting to purchase a cast iron grill at a reasonable price.
Date published: 2011-08-19
Rated

5

out of

5
by
AMACCOW
from
I want her gift!!!
I purchased this cast iron grill pan for my mothers 50th birthday gift. My mom loves any and everything that deals with cooking and food so this was something I knew she would looove. I love this item mostly because its a steal! The quality and craftmanship is amazing! and it was under $50. My mom totally loves it, I happened to purchase quite a few crate and barrel gifts for her and everything from shipping to gift wrap was five star. I only regret not ordering one for myself.
Date published: 2011-08-16
Rated

5

out of

5
by
anneec
from
great pan
it's not only good for grilling, indoors and out, but it is a workout lifting it, which I love.
Date published: 2011-08-16
Rated

5

out of

5
by
redbecca
from
in-home grilling
I put this on my gift registry because I was replacing an electric panini press and it has been better than I expected. We use it for everything: grilling meat, vegetables, sandwiches, etc. Using it with the small press is also great. We use a little plastic scrub pad and a cotton cloth to clean out the grooves - no problem.
Date published: 2011-02-09
Rated

4

out of

5
by
Mrs Cole
from
Fantastic Grill Pan!
We live in an apartment and don't have grill, so this is the next best thing. It is heavy duty, great quality. I really love cooking on this pan, I just really don't love cleaning it. It recommends cleaning with a wire brush...which I don't have yet.
Date published: 2010-07-17
Rated

5

out of

5
by
rwm in tennessee
from
Awesome!
I used to think cast iron was 'old fashioned' (my granny used cast iron). Cast iron has been around for generations because it works! Cooks evenly--cleaning becomes easier after use. Steel wool works great for cleaning. Never put in dishwaher. Designed well. Love the second handle and large cooking surface. Cast Iron + gas cook top = winning combination! Will last a lifetime.
Date published: 2010-06-29
Rated

5

out of

5
by
I heart Crate and Barrel
from
Love it
This grill pan was given to use as a wedding gift, and serves well for sausages, burgers, steaks etc - particularly seeing as we don't have a balcony to our apartment so can't have a regular outdoor grill. Given that it's cast iron I know it will require some additional care throughout the years, but it's also one of those gifts which hopefully should last us a lifetime.
Date published: 2010-05-27
Rated

5

out of

5
by
Raleighgirl
from
Sturdy and functional griddle
This heavy duty cast iron griddle has perfectly seared filet mignons in my kitchen and served as my go to pan for paninis.
Date published: 2009-06-22
Rated

5

out of

5
by
Rabbydab
from
Best gift ever!
One of my favorite pans! The flavor of your foods is way better than any regular fry pan. Easy to sear tuna, chicken, and makes the best steaks!
Date published: 2009-06-20
Rated

4

out of

5
by
Kalsey
from
Cooks evenly
We received this cast iron as a gift, and have been enjoying grilling burgers and pork chops. Once heated, the pan cooks very well and evenly. The smoke always sets off the smoke detector in our living room (!), so we have to make sure all the windows and doors are open when we grill in the kitchen.
Date published: 2009-06-19
Rated

4

out of

5
by
amye
from
Great pan
Rather heavy and try to avoid getting anything stuck in the groves. Other than that I know this pan will last my lifetime.
Date published: 2009-06-16
Rated

4

out of

5
by
Kalin
from
Absolutely worth it for year-round indoor grilling
We received this as a wedding gift, and it's wonderful. Although a bit heavy and difficult to clean, it grills items quickly and evenly. Just make sure to rub all of the surface with some olive oil before cooking to minimize food getting stuck to the pan.
Date published: 2009-06-12
Rated

4

out of

5
by
cNbfan
from
great grill pan
This a great grill pan. Have tried George Foreman, Cuisinart Griddler and more and this is the only grill pan that my husband and I prefer. Heats evenly, cooks wonderfully and is great for apartment living. Only downsides are, as others have mentioned, the heavy weight of the cast iron and the need for occasional re-seasoning. Still, its the best!
Date published: 2009-06-04
Rated

4

out of

5
by
oceans
from
Nice griddle
Cast iron is great, you just have to be ready to season the iron occasionally to make it easier to use. All in all, I really like this griddle. My biggest issue with it is that it is too heavy for me to easily lift with one hand. When I am doing stovetop cooking with a pan or griddle, that is important to me.
Date published: 2009-05-28
Rated

4

out of

5
by
KP09
from
Great Grill
As with anything that is cast iron you pay for great results. This is an awsome pan that grills very evenly..cleaning up is a diffent story.
Date published: 2009-05-27
Rated

5

out of

5
by
chris holiday
from
Forget the Grill
I initially purchased this grill pan because i was living in a condo and i didn't have a grill. now i have a grill, and i never use it. Honestly, i can make the best steaks, burgers & more on this pan with little or no effort. Its also great in the winter when you don't feel like standing outside in the cold next to the grill. Seriously, there is nothing like cast iron.
Date published: 2009-05-27
Rated

5

out of

5
by
CaliTexan
from
The only grill pan you will ever need.
This is an outstanding grill pan. It has all the benefits that cast iron offers like superior heat retention and a nearly indestructible durability. It's large so cooking up a few steaks or chicken breasts is no problem. All in all, it's a great grill pan and with proper care it is the only grill pan you will ever need.I like to use my grill pan on... the grill. For those things I am worried about slipping through the grates, like veggies, I'll use the grill pan on the grill. This is a great grill pan and definitely worth the money. An enameled version would cost 3-4 times more and wouldn't even offer better performance.
Date published: 2009-05-27
Rated

5

out of

5
by
Cali Cook
from
Indoor BBQ
Love this Pan! We use it whenever we don't have time to fire up the BBQ outside. Makes a great Filet Mignon but can also do a nice Hot Dog when the kids ask. Works well to create grill lines on our Skirt Steak before we stuff it and put it in the oven to finish cooking. Washes up well with a lite wash with soap & water and ready for use again.
Date published: 2009-05-27
Rated

2

out of

5
by
Jules0701
from
A lot of work
I bought this as a christmas gift and it turned out to be more trouble. Everything sticks to the pan and my boyfriend mother has followed the instructions on how to use it to a T and even downlaoded additional information on cast iron on line and everything still sticks. She said it is getting a little better with each use but it has been months and still not easy to use.
Date published: 2009-05-27
Related Products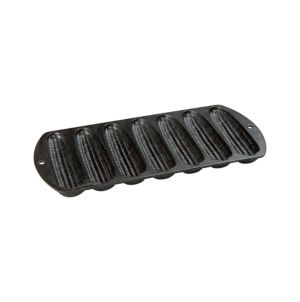 The return of Lodge's cast iron classic bakes cornbread in detailed ear...
Grandma was on to something with the timeless cast iron skillet, preferred...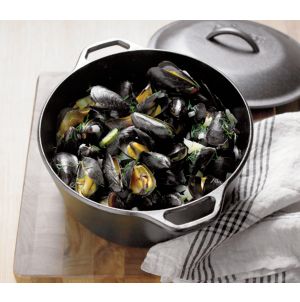 Grandma was on to something with timeless cast iron, preferred by many...