Prices and availability are subject to change from the time and date that you print this page.
4/16/2014 9:31:07 PM. For Customer Service, please call 800.967.6696
Crate and Barrel Exclusive
Meet with a Furniture Design Expert at your local store
Hand-hewn in oversized proportions, this 104" table has the heft and character of a European farmhouse antique. The simple, rustic design has substantial legs and a hand-planed plank top with authentic peg detailing. Open grain and knots are unique to each piece. The rich honey finish is waxed to a soft sheen.


Basque Honey 104" Dining Table
More Items
Chair/Barstool Cushions
Basque Honey 104 Dining Table
is rated out of
5
by
74
.
Rated

5

out of

5
by
momofkings
from
Awesome table!
This monster table is amazingly beautiful. It is wide enough that in a pinch, you can seat two at each end. The mango wood is gorgeous. This thing is sturdy too! There is a network of braces underneath the table so it won't sag as time goes on.Everything about this table is heavy duty. We bought it for our large family of 9 (7 kids, two crazy parents!). Recently we had dinner here for my brother's birthday and had seating for 15 around the table.
Date published: 2009-05-28
Rated

5

out of

5
by
dakotabuyer
from
great all around
Have had this table, six chairs and the bench for over a year. Even with two elementary aged kids it has held up great (i.e., still looks brand new). I followed the recommendations and waxed it every 6 months. Not a job that I love, but only took a couple of hours. Had looked for a long time for a large affordable table that had a simple, but unique look. Haven't regretted it for a minute. It even arrived two weeks earlier than promised.
Date published: 2009-06-22
Rated

5

out of

5
by
harper
from
Big and Beautiful!
This table is even more beautiful in person. The color is very rich, and goes surprisingly well with my antique sideboard and hutch. I bought this table because of its length and the fact that it is solid wood - not veneer. The width is the wonderful aspect I didn't anticipate. Tons of room for serving dishes, and it makes ordinary meals seem lavish. Definitely could seat 12 at this table because of the width. Love the benches too!
Date published: 2009-06-08
Rated

5

out of

5
by
judy
from
BIG and beautiful!
We love this table! It was a bit bigger than we thought (recommend you measure before) but we can easily have 10 people over for casual dinners with the bench. The bench is ideal for the kids (and we don't need a booster now for the 3yo) and the colors and quality are gorgeous. It has natural knots and color variations and fit my need for a beautiful farmhouse table for our eat in kitchen. The best value for the money that i found.
Date published: 2009-05-28
Rated

5

out of

5
by from
My dream table
I wanted this table from the first time I saw it in the store, and finally bought it a couple of years ago. It is beautiful rich wood and very solid construction. Best of all, I can have large groups of friends over to dinner - we can seat up to 14 people comfortably. The width of the table is also ideal. I can fit place settings, serving dishes, and centerpieces on it without things looking crowded. I highly recommend this table.
Date published: 2009-06-21
Rated

5

out of

5
by
JPMD
from
Best Table Ever
I recently purchased the Basque dining table in honey and I'm thrilled with it. It is rich-looking, solid, beautifully crafted, and will last a lifetime. If you are looking for a table to get you through a few years and then move on don't buy this table--it's a keeper. I've had other dining tables in my life and this is the best I have ever owned, and the only one I will ever own from now on. Love it!
Date published: 2009-09-13
Rated

5

out of

5
by
Bird
from
Beautiful table
Locating a table that sat 10 was hard to find and am so glad we bought this one. It is solidly built. The top is one solid piece. Rustic in look but goes perfect with my modern chairs and surrounding pieces. The width surpised me most it will easily be able to hold platters in center and plates comfortably on each side. Hard to find quality furniture that will be with our family generations to come.
Date published: 2009-07-23
Rated

5

out of

5
by
167597
from
Great table!
I had my eye on this table and other Basque items for more than a year before finally purchasing it last month. It's a beautiful table - rustic, but not too rustic, and overall it is a great value. It fits my dining room perfectly and adds warmth to the room. Unfortunately, the side chairs and bench were on backorder when I purchased the set, so I am eagerly awaiting their arrival...
Date published: 2009-07-07
Rated

5

out of

5
by
janie
from
We Love it
We love this dining table, especially with the benches. The wood is warm and really lights up the dining room. We get TONS of compliments from guests who come for dinner. Easy to clean. Has a few scratches because I think the mango wood is a little on the softer side, but given the style of the piece, I expect that over the years, they will be a mark of time, love and experience.
Date published: 2009-05-28
Rated

4

out of

5
by
lisawm
from
Great Table
Just purchased the honey table. Originally was trying to decide between the java and honey. I wanted dark, but was discouraged by the java reviews(white scratches on a dark surface). This table came in darker then it was in the store and it was absolutely perfect. Beautiful finish and design. I love the heaviness of the chairs and bench, too. Highly recommend this set!
Date published: 2011-11-05
Rated

5

out of

5
by
Kerry S
from
Love this table
We purchased the large table, bench & buffet for our wine room. We host dinners & hoildays here and wanted a rustic feel. The table is perfect & hutch serves as a buffet table PLUS stores many dishes & linens.It added the perfect touch to our Tuscan Wine room.Would highly recommend. Remember to put on a good polish if not using place mats.
Date published: 2009-10-30
Rated

5

out of

5
by
Mikeyj32101
from
Very worth while purchase
My fiancee and ordered this table as our first piece to start filing our home with. The table is absolutely awsome. The finish and build are truly reminiscent of a farmhouse table, and we will on more than the usual occasion be entertaining friends and family. It is truly a centerpiece and will be with us for a very very long time.
Date published: 2009-11-13
Rated

4

out of

5
by
Carolina
from
Bisque Table
We really love this table! It accommodates lots of people, is sturdy, looks good, and is kid friendly with the benches. However, we were disappointed to find out that the benches do not fit between the legs, which in most cases is fine, but on the occasions where it be a space saver is the reason I took off one star.
Date published: 2009-05-28
Rated

5

out of

5
by
Chris
from
Great Table!!
I looked at this table for 2 years and built the dining room in my house for it. Bought the table from C&B but the chairs elsewhere (all leather). The wood is beautiful and the table is incredible - seats 10 very easily. Or when not entertaining we eat at one end (4 of us).
Date published: 2009-05-28
Rated

5

out of

5
by
Remsenburg NY
from
Awesome Quality
I bought this table for my office and fell in love with it. If it can be in an office as a conference table for 4 years then it belongs in my house....with my kids!It's easy to take care of and compliments many different styles of decor.
Date published: 2009-05-31
Rated

5

out of

5
by
Kate1177
from
Great Table!
Great Table! It is extrawide so when you have lots of guests and lots of food there is still plenty of room. We like to entertain in large numbers so we got 8 chairs and the bench. It is great! A beautiful set!
Date published: 2009-06-22
Rated

5

out of

5
by
Dawgtoes
from
Beautiful Basque Dining Table
This dining table is absolutely beautiful. We bought it a few months ago and I am still amazed at how pretty it is. When the sun shines on it; it glows a wonderful amber color. Great purchase, great price!
Date published: 2009-06-22
Rated

5

out of

5
by
DEARL
from
Great Buy
This table is one of the best purchases we have ever made. Very well built. Easily fits a group of people. Price is much less than we were willing to pay. Would recommend this table to anybody.
Date published: 2009-05-29
Rated

5

out of

5
by
AJane
from
Beautiful
The table is quite large as you can see from the dimensions, but I love how it fills our dining room. The color and finish are lovely and the quality is outstanding for the price of the table.
Date published: 2009-05-28
Rated

5

out of

5
by
XDMGX
from
Love It!!!
I am so happy with this table. I have a family of 5 and we all sit very comfortably around the table. Whenever somebody new comes to my house, they always compliment the table.
Date published: 2009-05-29
Rated

5

out of

5
by
SunnyF
from
Love This Table
This table is gorgeous. I have had mine for 5 years and it still looks amazing. In fact, I just ordered two more chairs!
Date published: 2009-06-21
Rated

5

out of

5
by
anna k
from
Fantastic Purchase
It seats 10-12 comfortably! Wepurchased a bench as well as somechairs and they worked perfectly. Thewood is lovely.
Date published: 2009-05-30
Rated

5

out of

5
by
mominwa
from
holds up well
We've had this table for over 6 years. Like the rustic, but not too rustic, look. Would buy again.
Date published: 2009-06-05
Rated

5

out of

5
by
rjmedia
from
Perfect for my large antique dining room
My original Ethan Allen dining table was much too small and narrow for large groups after we remodelled and turned our living room into a fireplaced dining room.  I'd been craving this table for some time, and finally bought it in time for Thanksgiving two years ago.  Matched up with Ethan Allen and Hitcock chairs, and the rest of my dining set, it's just perfect.  Wide enough and long enough to seat 12-14 (two on each end if necessary) and plenty of room to place platters of food down the middle.  We treat it with wax every six months, and use custom pads and a tablecloth for large gatherings.  So far, no scratches or problems.  Highly recommended.
Date published: 2014-02-09
Rated

5

out of

5
by
bbwolf
from
So glad I found it.
After extensive shopping I found this table and I love it. I was surprised, in spite of the negative reviews, that the table felt as though is had NO finish on it. I did some research and decided to apply Minwax Wipe-on Poly to protect it. This was relatively easy to do and I applied 3 coats, using steel wool in between coats just like the directions say. Now I have a low sheen protective finish that actually beads up when water is on it. The style and size of the table is just perfect to seat 6-8 people and still does not overwhelm my dining room. I expect to enjoy this table for a long time.
Date published: 2013-12-18
Rated

5

out of

5
by
sweetnlow96
from
Timeless
I've had this table for 2 years now. I love it just as much now as I did the first day they took it off the truck. I have the 104" in honey with six chairs and one bench. I have seven children ages 11 years down to 3 months. Enough said. This table has held up beautifully! With how many spills, messes and down right out disasters this table has endured you wouldn't even know it by looking at it. This table cleans up like a dream with just a damp cloth. This is by far my most favorite piece of furniture in the house. I'm sorry but some of these negative reviewers are just too high maintenance for my taste. If you're looking for a table that'll walk on water for you good luck with that! I look forward to passing this table on for generations. Thank you Crate and Barrel!
Date published: 2014-03-24
Rated

5

out of

5
by
JayLi
from
Very Happy
Love my table. Wanted a Rustic yet Modern looking table and this fit the bill at a great price. Dining Chairs are from another store but work well with the beautiful wood color of this table. Delivery was smooth and quick.
Date published: 2013-08-30
Rated

4

out of

5
by
MommyBear
from
Great semi large table
When this piece arrived I thought it would be bigger. I love the table but it really seats 8 comfortably and you can squeeze in 12. I wish it came in an even larger size. The table, and al the basque furniture, scratches easily. So if you have a dog who likes to put their paws on the table or kids who will be playing with plastic toys, I suggest looking into something else or making sure they don't get near it. However, because of the honey stain and wax finish, rubbing a walnut over the scratch makes it look like part of the original look of the table.
Date published: 2014-02-03
Rated

5

out of

5
by
jdchang
from
Finally! Found the perfect table : )
I looked around for about a year before finding this table. I wanted a casual, farm-style table that could seat a lot of people for gatherings, and double as a project table for writing papers, sewing, crafts, etc. The width is perfect for putting a lot of dishes in the center, and still have room for people's place settings, yet not too wide where it's difficult to reach for the food. The table is very solid, and the finish is a gorgeous shade of honey brown -- I received compliments on it from just about everyone who came over to my house. I do have to be careful with the finish -- there's sort of a waxy coating that changes color if something too hot is placed on it, so I have to make sure to place something extra thick underneath that won't scratch the surface. The first time it happened, I was able to rub it out with some furniture polish. I also purchased two chairs for the ends, and two benches for the length. The bench can be a bit awkward when someone wants to get up. Either everyone has to get up to move the bench back, or the individual has to delicately climb out. Overall, I love the set and already have made a lot of great memories with the get togethers around this table.
Date published: 2013-12-14
Rated

5

out of

5
by
Sandie5160
from
The only table you will EVER need
The Basque Dining table is the most durable yet beautiful table you could ever ask for. We have the 104" table and it serves not only as a dining table, but also as a lessons table for our 3 home-schooled children. This table has lasted through 2 rough boys and a houseful of pets. Simply wipe with some beeswax paste and it looks brand new once again. This was the best purchase our family has ever made.
Date published: 2012-09-09
Related Products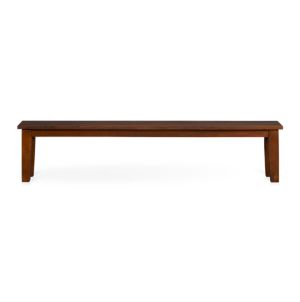 Hand hewn with the heft and character of a European farmhouse antique,...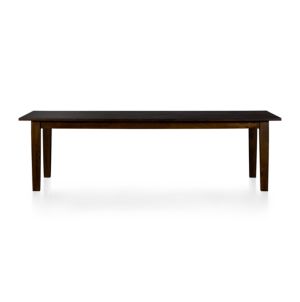 Hand hewn in oversized proportions, this 104" table has the heft and...
Acid washed galvanized iron sheet—arranged plank style complete with breadboard ends and...