Prices and availability are subject to change from the time and date that you print this page.
4/17/2014 11:06:20 PM. For Customer Service, please call 800.967.6696
Muffins and cupcakes never had it so good. Free-standing silicone cups feature easy release, quick cleanup and outstanding definition of forms. The silicone material cooks evenly and is flexible for easy release of foods and compact storage.


Set of 12 Clear Silicone Baking Cups
is rated out of
5
by
36
.
Rated

3

out of

5
by from
Silcone Muffins Cups Sticky at First
Because most muffin tins sold in stores come with a petrochemical-based coating that can be easily scraped off and ingested, I use paper cups as liners. Paper cups stick to the muffins. So I tried Silicone Muffin Cups. The first batch stuck. I was frustrated. A chef pal said his muffin cups worked so well, the muffins sometimes slipped out and fell on the floor. Naturally, I can't divulge where he works, other than it's in Las Vegas.So I tried them again. On the third batch, they must've gotten "worn in" because now they work fine. Yes, they are a pain to clean but that's what a scrub brush and a little soak in the sink are for. If you bake and don't like the mess, get your significant other to clean up.
Date published: 2014-02-28
Rated

5

out of

5
by
Marr
from
Best purchase
Ona scale of 1-10 these are a 12. Best thing ever invented. You simply fill cups & place on a cookie sheet. No need to spray or put in a cupcake pan. They come out without any problems at all. With the price of paper cupcake liners, which I have no idea they are so hightly priced, this is something that will last forever. Price was right, I ordered on-line one night & received the next day. What great service!! I will definately order on-line in the futyre. Great customer service!!
Date published: 2013-10-04
Rated

1

out of

5
by
BakerRia
from
The many failures
I'm a baker, through and through. Also, I'm a tree hugger eager to reduce/reuse/recycle whenever I can. I was excited to get these baking cups and was very happy to have found them in clear (read: not an obnoxious color). After over a year of baking with and without them, I'd advise you to save your money and stick with paper liners.Cons:• The cup size is a bit smaller than a standard muffin tin• muffins and cupcakes are tricky to get out of them once baked. They don't flip inside out like paper does.• they are NOT easy to clean, by dishwasher, by soaking, or by hand• People aren't used to muffin/cupcake liners as being reusable. I took muffins to work and a few folks threw the cups away, not understanding they weren't disposable. :(Pros:•reusable
Date published: 2013-12-09
Rated

4

out of

5
by
jcjw
from
Baby Food
I use these to store baby food. I add the baby food that I have prepared then stick them in the freezer for storage. When I am ready for one, the baby food (butternut squash or whatever) just pops right out and I can heat it up. They are cheaper and easier to use than the baby food storage systems that cost a lot of money and are a pain.
Date published: 2013-12-09
Rated

4

out of

5
by
Alexa
from
I like them.
They're not perfect - sometimes I need to soak them before putting them in the dishwasher. Sometimes the cupcakes baked in them have a tiny bit of an odd taste. But, I still like them a lot and use them very often. I'm not sure if they are that much of a help to the environment (cause it does require a cycle through the dishwasher to clean them). I bought two containers so I have enough for each time I make cupcakes. Good product, but does have some flaws.
Date published: 2013-10-04
Rated

5

out of

5
by
Aweesan
from
Nice addition to my kitchen arsenal!
I tested them out for the first time with lemon-lime cupcakes I made from scratch. The cupcakes popped out without incident and look beautiful and the cups are easy to clean with soapy water.
Date published: 2013-10-04
Rated

1

out of

5
by
RandomReviewer52
from
TERRIBLE!!!!
These are terrible! I followed directions exactly and my cupcakes did not "pop out easily" as product claims. I had to scrape the cupcakes out with a fork leaving them completely mangled. And to top it off, the grooves make them a nightmare to clean. The only reason I'm not throwing them out is that I figure they might be useful for a kid's school project one day. Or maybe as a glue/paint cup. Don't waste your money -- go back to good old fashion paper cups or greased muffin pan.
Date published: 2012-12-20
Rated

5

out of

5
by
cas412
from
Easier to clean than expected
Received these as a gift for Christmas, and they're great! I've always hesitated to buy silicone cupcake papers because I was worried about being able to clean the ridges, but these clean very easily. I do occasionally put them through the dishwasher (top shelf) but usually I'm happy with just a handwash. I also really like that you can put them on a tray in the oven - they're sturdy enough to stand on their own without being in a muffin tin
Date published: 2014-03-28
Rated

1

out of

5
by
hbhulamom
from
WORST PURCHASE EVER
"I just got these as a gift last week. Not sure what I'm doing wrong but the muffins won't come out in one piece and they don't come clean in the dishwasher. I even hand washed them and they're still not clean. and as the other buyer said I can't wait to get rid of these!"
Date published: 2013-10-04
Rated

2

out of

5
by
HeidiLynn
from
Doesn't work as advertised
Impossible to clean, muffins and cupcakes don't come out cleanly. Would not recommend. Liked the idea of reusing but it's just too much of a hassle
Date published: 2013-10-04
Rated

5

out of

5
by
laura85
from
Love these!
I was skeptical of these but am so glad I got them! They are so easy to clean. MUCH easier than cleaning a muffin tin, and my cupcakes didn't stick at all. I also love that you can reuse them. Much better than throwing out paper cups, after having to peel them off your cupcakes or muffins. I definitely recommend them!
Date published: 2013-12-13
Rated

5

out of

5
by
juliebeezzz
from
A fantastic buy!
I bought these for myself quite some time ago and regularly get comments from others when they see them in use. I've since purchased more for friends and family. They wash well and typically don't stick! I love not buying muffin tin liners again!
Date published: 2014-04-08
Rated

3

out of

5
by
Crystal842
from
Ok
I only used these once so far. My muffins stuck to them, but they were easy to eat with a fork and came clean in the dishwasher. I like not having to worry about whether I have paper cups before baking.
Date published: 2013-06-08
Rated

4

out of

5
by
Leftcoastmom
from
Great for everyday baking
These are great for muffins and cupcakes. A great way to reduce litter. One thing though, they make a slightly smaller cupcake compared to the crate and barrel cupcake liners. Overall a good purchase.
Date published: 2013-06-08
Rated

5

out of

5
by
jen68
from
Best. Thing. Ever.
awesome...cleanup is a chore (not really, stuff just slides off, it's just that there's twelve of 'em) but when cornbread muffins pop right out, well I'll put up with washing them.
Date published: 2014-04-08
Related Products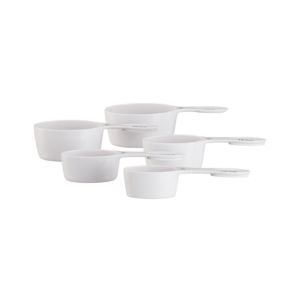 Smart measuring cups in heavy gauge white plastic feature special handles that...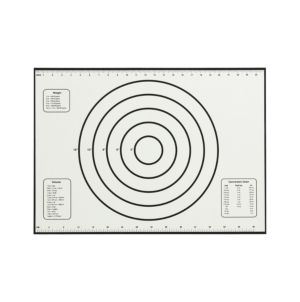 Multifunctional silicone baking mat is calibrated with concentric circles for uniform biscuits...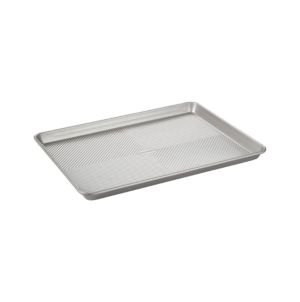 Our exclusive commercial quality bakeware features a unique textured surface that promotes...