Prices and availability are subject to change from the time and date that you print this page.
4/23/2014 10:30:13 PM. For Customer Service, please call 800.967.6696
Substantial stainless measuring cups feature a wide, low profile and flat bases that allow them to sit on the counter without support for filling. The set, designed by Carter McGuyer, features a connector ring for storage convenience.


More Stainless Steel Measuring Utensils
Set of 4 Stainless Steel Measuring Cups
is rated out of
5
by
117
.
Rated

5

out of

5
by
imhiking
from
LOVE these!!!
I bought this set as a gift for my cousin, who had asked for these specific measuring cups. Once I received them, I knew I had to get a set for myself.These measuring cups are bit heavier than I expected, and they are STURDY! I have had measuring cups with flimsy handles and it makes it hard to use them to scoop things like brown sugar. Not a problem with these.I also like that the volume is achieve via a wider, shorter cup rather than a taller, narrower cups - it makes it so much easier to get a rubber spatula in there and get all the goodies scooped out. Also makes cleaning a bit easier.I also like that these stay pretty after multiple uses - no staining, hard to scratch, etc.
Date published: 2014-03-16
Rated

5

out of

5
by
recruiter
from
Pretty good!
Much more practical than my last set of rubber ones that fold up. One continuous piece of metal so gunk doesn't get caught in the cracks. This set will last forever. Very sturdy - all of the cups sit flat on the counter even with the weight of the handle except the 1/4 cup. The 1 cup is wide and shallow, so I doubt you can use it for scooping in narrow flour containers. I love the metal because honey doesn't adhere to the surface like it did on my plastic cups. Just drips right off. Thought of getting a more expensive set, but then I would have felt badly when they got scratched up from stacking them. These you won't. Very easy to clean. I've looked at all of my other options.
Date published: 2014-01-02
Rated

5

out of

5
by
meljv
from
Best Option Out There
I LOVE these measuring cups and recommend them to anyone I know who loves to bake.Unlike the plastic measuring cups I grew up using, these are sturdy and strong enough to scoop flour and sugar without the handles bending under the pressure. I never worry about breaking them - and never will!I also love that they're one solid piece. Most of the stainless steel measuring cups out there (including some high-end brands) have the handles soldered to the cup, which makes me wonder if someday they could come apart.And lastly, my other favorite feature is the halfway mark on all of the cups - no more grabbing two different measuring cups for 1.5 cups!
Date published: 2011-07-15
Rated

5

out of

5
by
KatieKate678
from
BEST measuring cups!
I added these cups to my wedding registry, and boy I'm glad I did. These are by far my favorite measuring cups I've ever owned. I also have a KitchenAid set, and the quality doesn't even compare. These are sturdy, accurate, a great weight, and durable. I've been using them for 4 years, and they're still just as good as new. I'm considering buying a second set, just in case they're ever discontinued. DEFINITELY a worthwhile purchase.(Several reviewers commented that the ring rusts in the dishwasher. I can't comment on that because I threw away that silly little ring when I got the set. I keep them in a drawer, and they stack very well. If you want to keep the ring, just don't put it in the dishwasher!)
Date published: 2011-09-05
Rated

5

out of

5
by
Long time cook
from
Great Measuring Cups
There is not a lot one can say about measuring cups but there are actually three things about these cups that stand out!1. The cups are wider than most so scraping out all the contents is easier as standard sized spatulas will fit nicely.2. They are heavier than most measuring cups and therefore unlikely to topple over if you accidentally knock them.3. The cups have markings on the inside to note half measures, i.e., the 1-cup has a mark for 1/2 cup, the 1/3 cup for 1/6 and so on.
Date published: 2013-02-26
Rated

5

out of

5
by
Naby
from
The Perfect Measuring Cups!
I love these! I have had them for over a year, and just recently bought a second set. They are well-made, haven't rusted, wash up easily.I love that they are all one piece. The other ones I see elsewhere, have the handle attached to the cup part with screws or welded on, and food can get stuck there, making that area all gunky and gross. These don't have that problem at all.They are heavy, so they stand up on the counter without tipping over.And, they conveniently have a 1/2 cup measurement in the 1 cup measuring cup.I went ahead and took them off the ring and just store them nested in one another in my drawer. But, I could see how people might not like the ring.
Date published: 2012-01-11
Rated

5

out of

5
by
iheart13point1
from
A simple pleasure
I'm not a fan of cooking. I'll say that upfront. However, I was in the market for some quality measuring cups after having used a plastic set since my college years. I try to eat healthy, clean, and organic, and every time I'd use the plastic cups it just felt... well, wrong and depressing.I bought these cups, and I can truly say they are a pleasure to use. They are hefty weight (not heavy, just quality made) and can be easily handwashed or tossed in the dishwasher. Is it a stretch to say that ridding my kitchen of plastic makes me feel more connected to the food I eat? Cause that's my take. These may not make me a gourmet chef, but they do make the prep work more of a pleasure than a chore. HIGHLY recommend.
Date published: 2012-07-06
Rated

5

out of

5
by
Dishevel
from
Unique Design
I wanted to upgrade my measuring cups from plastic to stainless steel, but I thought All-Clad's measuring cups were too expensive and too thick. I love these measuring cups because they are less conventional and more convenient with the wide-bottomed design. They are heavy and high quality yet elegant. The imprinted marks for half of each cup and the metric measurements are helpful, too. If you like quality, function, beauty, and unique style, you will love these measuring cups.
Date published: 2012-09-16
Rated

5

out of

5
by
mizjmassie
from
Exceptional Quality
I am a homebaker and I like purchasing the best products I can afford. I can honestly say that I got my monies worth with these. I love that they are of such high quality and are very sturdy. Although there are others on the market with equal quality, I actually got these because of their shape. I love the fact that because of their shape, I can use them in boxes that I normally would not have been able to put them in. I don't think I will ever need to purchase another set of measuring cups again in my lifetime. I didn't get the measuring spoons.
Date published: 2011-11-30
Rated

5

out of

5
by
dsnyfan
from
A must in any kitchen
Great curved design that makes getting ingredients completely out of the cups without getting stuck in the corners. Sturdy and sleek, which make it easy to scoop directly out of sugar and flour bags. Easy clean up in the dishwasher. Measurements are engraved into the handles and also inside the cups (1/2 cup line in a 1 cup scoop)--no more guessing! I also have the measuring spoons and love them as well.
Date published: 2011-12-13
Rated

5

out of

5
by
marcel
from
Love the measuring cups
This purchase completed a comprehensive food prep make over for my kitchen. Attractive and in keeping with my theme of stainless steel, these cups are very high quality, easy to clean, and the weight is a real plus. Measurement conversions etched into the surface and a clearly marked half measure are brilliant. I expect these cups will last for the duration.
Date published: 2011-05-22
Rated

5

out of

5
by
lieslmorris
from
Classic
These are great, sturdy measuring cups. Easy to use and clean. Give me stainless steel over a rubber grip any day! The ring is removable so you can easily separate the measuring cups, or clip them together to better keep track of them.A classic, simple and functional style.
Date published: 2013-11-15
Rated

2

out of

5
by
r can ca
from
too heavy
these are beautiful and sturdy and so well made however they are so big and heavy they are not as user friendly as i'd imagined. i still find myself reaching for the cheap plastic ones i thought i'd throw out when these were purchased.
Date published: 2012-03-23
Rated

5

out of

5
by
Teach3
from
Fantastic measuring cups!
I love these measuring cups! All of the cups I have previously owned had the cup size wash off after a few months. These cups have the cup size engraved into them, so I don't have to worry about guessing what size it is.
Date published: 2012-02-04
Rated

5

out of

5
by
librashell
from
Perfect Cups
WOW was the first word out of my mouth. These are the best measuring cups I have ever seen or used. Substantial, hefty (so they stand on their own and don't tip over when filled), modern and one solid piece (these handles won't ever fall off and it would take a vise to bend them). Measurements are engraved on the handle, on the interior side and on the underside. These will certainly last through my lifetime of cooking and baking and beyond. (The matching measuring spoons are just as great!)
Date published: 2012-04-09
Related Products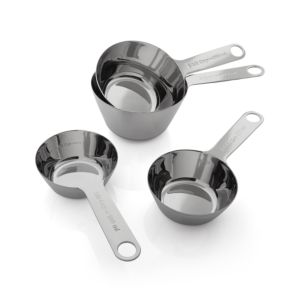 Clever cups fill in the gaps between the standard measurements for busy...
Functional, durable measuring cup with classic design features a generous four cup...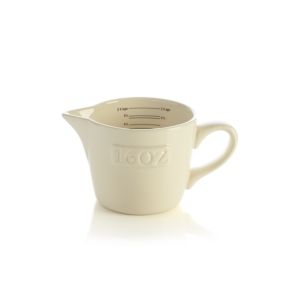 Prairie or penthouse, this simply styled collection by renowned designer Barbara Eigen...