Prices and availability are subject to change from the time and date that you print this page.
11/20/2014 4:40:05 PM. For Customer Service, please call 800.967.6696
Pickup
Outlet Item. Available for Shipping Only.
Glossy whiteware shaped for sauces, condiments and nibbles. Gratin-inspired round features flared handles.


Set of 6 Sauce Dishes with Handles
is rated out of
5
by
39
.
Rated

1

out of

5
by
cookinggrandma
from
Thought it was bigger
Disappointing buy. I bought the set with handles. I thought they were much bigger, guess I didn't read the dimensions correctly. The only use for them would be to put sauces like soy sauce, ketchup, etc. Glad I got them on sale.
Date published: 2013-09-17
Rated

2

out of

5
by
Samm M
from
Extremely Small
It is my fault for not paying attention to the dimensions when ordering, but these are very very small. The lip is not very high, so using these for any kind of dipping sauce is out of the question. The only thing they may be good for is as a tea bag rest.
Date published: 2013-06-19
Rated

1

out of

5
by
LauraDee
from
Impractical size
Hate to give a low rating, but these guys really are a mystery. They arrived in three separate boxes (which is hilarious when you see their size in real life- I ordered the set of six smaller ones). The size is...disappointing. I'd call them more of a salt dish to go above one's plate. If they are for mustard or another sort of dipping sauce, you may need to use a miniature spoon to get the sauce out of the miniature dish. A hot dog could crush these. But maybe it's just me.
Date published: 2013-05-23
Rated

5

out of

5
by
Redmond
from
Saucey!
Great addition to the table for those simple sauce additions to make a great meal better.
Date published: 2013-03-15
Rated

3

out of

5
by
tuckernutter
from
tiny & fragile
These are quite small (fit in the palm of your hand) and are more shallow that I expected. Have not found a great use for them yet, might even be too shallow for soy sauce on sushi nights. I have not broken any yet, but they give the feel that it wouldnt take much more than a bump on the table.
Date published: 2013-03-11
Rated

4

out of

5
by
Celina K
from
Cute, very small.
These little dishes are so so cute. They are very small and shallow, but I knew that when I purchased them. They are great for personal dipping sauces, not so good for things like salsa or sour cream. Overall, I am very pleased with my purchase. Oh, and the packaging was beyond fantastic.
Date published: 2013-03-05
Rated

2

out of

5
by
Helene O
from
Maybe next time
Price was great and quality was great but totally disappointed that they do not stack. With 6 to store they are all over the place so I have to put them in a bowl. Would have liked to know this before. Everyone has enough little dishes around without this problem.
Date published: 2013-01-26
Rated

1

out of

5
by
prince
from
picture is deceiving
This picture of this product is deceiving... Without a close look at specified size, one is made to believe the source pan is bigger than it is... I was very disappointed when it came in the mail... What do one do with this? I have no use for it...
Date published: 2012-08-25
Rated

1

out of

5
by
crateshopper99
from
Worst Purchase Ever
This is way too small. The only thing that would fit is soy sauce.
Date published: 2012-07-17
Rated

5

out of

5
by
lisakay
from
Yang and Yang
These keep your sweet & sour sauces separated. Love that you can serve a variety of sauces in the same dish. I use these at each individual table setting so my guests can serve up their own favorites.
Date published: 2012-06-16
Rated

4

out of

5
by
floridagal
from
Fun little dishes
I use these for mis en place for small amounts - also use to put ranch dressing in for my son - he likes to dip his carrots and broccoli. When I am taking a prescription, I set my pills for the morning in these near the coffee pot so I don't forget.The dishes were smaller than I expected but I still like them
Date published: 2012-04-26
Rated

5

out of

5
by
analogprincess
from
So Cute!
These are great little sauce dishes, or they can be used to put salt and pepper out for guests as a place setting. Love them!
Date published: 2012-04-24
Rated

4

out of

5
by
dakkohi
from
Great bargain!
Just purchased a few sets to give as little favor/gifts. Although slightly smaller than originally expected, it's the perfect size for dipping sauces, food/baking prep, etc. C&B packs items so well that they all arrived in perfect condition to Hawaii. Just wish we could take advantage of free shipping offers.
Date published: 2012-02-28
Rated

5

out of

5
by
Bossione
from
Very small, but.... has some uses
These are very tiny. However, I like to use them to hold dipping sauces for my homemade egg rolls. They are the prefect size to dip into sweet & sour or hot mustard. They also hold a serving of ketchup for fries.I like the suggestions for use that 75723503 wrote. Great imagination at work there!!
Date published: 2011-07-02
Rated

3

out of

5
by
family chef
from
okay sauce
nice products, really cute, but smaller I had expected. Not sure what I will use them for, exactly.
Date published: 2011-04-29
Rated

5

out of

5
by
75723503
from
Adorable & they are functional!...
Okay, I'm not sure for EVERY day use, but there are times when these are great! With a ruler I measured from top "curve" to top "curve" (points up) that is 3 1/2 ". the actual circle that would 'hold' anything is 2 1/4". The depth is just 1/2". They are great when you are having a special dinner with family/friends. If you make a compound/flavored butter you can pipe individual butter pats for each guest. This is great for a little spoon rest. Informally: when I make coffee/tea, I keep the stirring spoon there for the day as I have multiple cups but don't want to wash a ton of spoons! The little dish is a nice rest w/o just sticking the spoon on a napkin...ewww. When we have a casual dinner to include french fries/tater tots/etc. it is great for the ketchup! It is a nice stop for a butter knife next to the butter dish. Again, casual setting. If you use tea bags why would you want to keep the bag on the saucer to slip into the center every time you pick up the cup...put it on this little dish! My dishes stack just fine. I kept the little papers C&B packed them with so they don't bump porcelain to porcelain. One dish sits on my kitchen windowsill...rests rings when I do dishes. If you cut a birthday cake the cutting knife can rest on this little dish so it does not get on the table. If you are making a recipe it makes a nice rest for a stirring spoon you use repeatedly or I also rest my cup leveler or my thermometer tip between temp checks. Love these little dishes. For the price, they are so nice!
Date published: 2011-01-11
Rated

3

out of

5
by
videen
from
Way too small..
This sauce dish is way too smaller than i expected. Though the size is mentioned in description, i fallen in love when i first saw the picture. I received it today and kinda of disappointed. It doesn't have a proper handle but little extended in sides. It doesn't even have depth to hold a scoop of sauce.I think it is OK for serving a tbsp. or less of hot sauce or something. If you like to buy miniature dishes, this could be the one that satisfies you. I don't have mind to return it since it seems good for the price.
Date published: 2010-11-16
Rated

1

out of

5
by
PeepO
from
Would not recommend
These dishes are so small that I can't think of any way I'd use them. Also, they do not stack well enough to even store. To send them back to Crate and Barrel would cost me almost as much as what I paid for them. Guess I'll donate them to Goodwill or to another thrift shop.
Date published: 2010-10-13
Rated

5

out of

5
by
shelley2
from
Very cute and very tiny
Ok, now that I have these 12 very cute, however VERY TINY little sauce dishes? I'm not quite sure what to use them for. Perhaps a pat of butter, wausabi sauce, or a dollip of something. These cute little dishes hold about a tea spoon full of product.I consider myself very creative in the kitchen, but these little dishes are sure to challenge my culinary and serving creativity.Never the less. Very cute.
Date published: 2010-08-09
Rated

1

out of

5
by
Evey
from
Not Stackable!
This review is for the divided sauce dish. I was really disappointed when I received these - you cannot stack these! The bottom of the dish is flat (there's no swirl groove on the bottom to accommodate stacking) so unless if you have room to store these unstacked, you will be disappointed like I was.
Date published: 2010-01-13
Rated

3

out of

5
by
California Newlywed
from
Miniature size
There's nothing wrong with these dishes if you're looking for something teensy tiny. They're very cute and would be adorable for any kind of sauce. I was just expecting a larger size.
Date published: 2009-12-06
Rated

4

out of

5
by
wyomingmom3
from
VERY CUTE
These little dishes are very small in size, but very cute. If you are looking for something to hold very much this would not be the thing. But for something very stylish on the table and just a little taste of something then this would be great. I have used mine, and had everyone wondering where I had found such a small thing that was so cute. AGAIN C&B HAS COME UP WITH A NEAT THING.
Date published: 2009-07-13
Related Products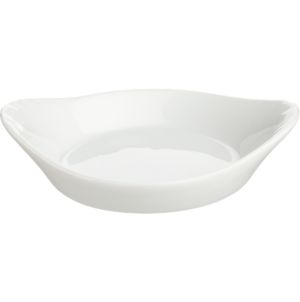 Glossy whiteware shaped for sauces, condiments and nibbles. Gratin inspired round features...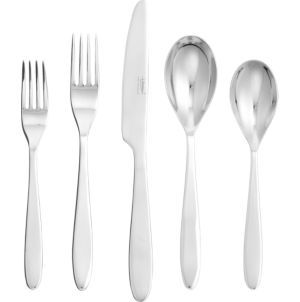 Giving new meaning to the term flatware, this mirror polished stainless pattern...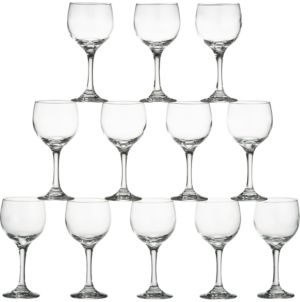 A cool dozen for all purpose wine service. Classic rounded stemware stores...