Prices and availability are subject to change from the time and date that you print this page.
8/31/2014 5:22:48 AM. For Customer Service, please call 800.967.6696
Crate and Barrel Exclusive
Our Aspen dinnerware is an overture of grace and simplicity. Dressing up or down with ease, its elegant appearance belies its everyday durability. Trim, crisp lines in bright white porcelain; extensive array of pieces to choose from. Easy care.


Set of 8 Aspen Low Bowls
is rated out of
5
by
369
.
Rated

5

out of

5
by
Kimmie
from
White Hot
Clean and crisp dinnerware flatters any table design. Very pleased with quality and selection. Versatile, dishwasher safe AND extra dinnerware has been available for purchase. Perfect for entertaining on any occasion.
Date published: 2014-06-09
Rated

5

out of

5
by
Kriscuit
from
Aspen Dinnerware its the most practical dinnerware
I purchased a set of 4 piece dinnerware and then another set, its the best dinnerware I have owned!! You never will see it scratch your dinning table its scratch fee. My counters tops don't get scratched when plates are used and slide back and forth. I love the white color for all occasions its so practical.
Date published: 2014-06-09
Rated

4

out of

5
by
Andrea
from
Worth it!
I got this set almost 3 years ago as a wedding gift. I absolutely love it! It works for traditional or contemporary dinner parties. I can dress them up or down which I love.I am giving it 4 stars rather than 5 because one dinner plate that came, was significantly larger than the others so I had to purchase another one. And, they tend to chip easily if not handled with care. But that's with most glass items.
Date published: 2014-06-09
Rated

5

out of

5
by
Home_and_office
from
Let the food do the talking!
We bought the Aspen dinner plates, salad plates, and cereal bows 6 months ago. They are simple, affordable, nice quality, and don't distract from the food. Easy in the dishwasher, durable against normal bumps and bangs (no chips yet). Overall, a great deal for the price.
Date published: 2014-06-09
Rated

5

out of

5
by
mreilly
from
Awesome product - love the size
I bought these items over a year ago. I have not had any chips or cracks. They are great sizes - a lot of items these days are too large. They do not stain either. I would love these again!
Date published: 2014-06-09
Rated

5

out of

5
by
EmilyATL
from
I've had these for years and still love them
These dishes have held up so well over many years of use. I still love the simple design of these. I have looked for new dishes a few times, but have yet to find anything that I like as well as these. Would definitely buy these again.
Date published: 2014-06-09
Rated

5

out of

5
by
Emoyle
from
Clean and universal!
Love the clean design and simple aesthetic. Perfect plates!
Date published: 2014-06-09
Rated

5

out of

5
by
sepc
from
White is best!
My older sister first had these and because I love them so much, my husband and I registered for them. We received these off of our wedding registries and use them for our everyday dinnerware. We absolutely love the white simplicity because it goes with everything- every theme, every color and makes the food look so pretty!
Date published: 2014-06-09
Rated

5

out of

5
by
lbnc
from
Great size bowl!
We purchased the Aspen bowl to use with the Essentials pattern plates. We liked this size a bit better than the one offered with Essentials. Looks great and has worked very well. Holding up well after 3 months of use by young kids.
Date published: 2014-06-08
Rated

5

out of

5
by
AnonAnon
from
Going strong after 9 years!
I love the simplicity of these plates. They're substantial, smooth, and classic. I always feel great serving people with these, and they blend with any wild design idea I come up with for that fun party.
Date published: 2014-06-07
Rated

5

out of

5
by
linneajean
from
Beautiful, even after a lot of use
We bought this set a few years ago and it still looks amazing! It has held up really well with a lot of use.
Date published: 2014-06-06
Rated

5

out of

5
by
Csumsion
from
Simple and classic
Love the simplicity of these plates! They are also super durable and last forever! So happy with my purchase!
Date published: 2014-06-03
Rated

5

out of

5
by
jaimers88
from
Love these! Lightweight, classic, affordable
My mom bought be these dishes for me as a Hanukkah gift about a year and a half ago. I absolutely love them. They have a classic look that will go with anything anytime. I originally ordered the set with the low bowls and then ended up buying the other aspen bowls at a later time. The low bowls are really great for salad and soup if you are serving dinner, but they don't accommodate cereal or oatmeal very well. I love that these dishes are lightweight; I had some heavier dishes before and I just hated serving with those.
Date published: 2014-05-30
Rated

5

out of

5
by
MrsSimpson
from
Love it!
I have been looking to replace my 30 year old set of Dansk dinnerware. The Aspen dinnerware is perfect. It feels perfect, not too heavy. My 12 place settings arrived intact. I was definitely impressed by Crate and Barrel! I will order more!
Date published: 2014-05-28
Rated

5

out of

5
by
Pswils01
from
Extrordinary Shipping!
I bought this as a gift, I know they will love. I'm just so more than pleased with the quality of shipping! Shipped over the ocean and not one break or chip! So impressed with Crate and Barrel's customer service! Wish we had a local store so I could drool in person! Thank you so much!
Date published: 2014-05-27
Rated

5

out of

5
by
Reider1
from
Great product, Great price
I purchased a complete set of these dishes and love them. They can be casual or dressy, based on preference or occasion. They were received very quickly and hold up very well given they are used daily. My daughter loved them too so she's getting a set as a wedding present!
Date published: 2014-05-27
Rated

5

out of

5
by
Corcor
from
Simple and elegant
We have had these dishes for a few weeks now. No chips- appear strong. We love the way they look and feel - and for a great price too! I would recommend these to anyone!
Date published: 2014-05-23
Rated

5

out of

5
by
MominRI
from
Great set of dishes!
I ordered 8 dinner plates, small plates, low bowls, cereal bowls and mugs. They were shipped and arrived early and no broken ones-well packed. They are simple, elegant, durable and classic. Love them! Only down side is the cereal bowls are clumsy size for the dishwasher but good to eat out of! I highly recommend the set. Glad I went the extra step with the low bowl... Great for soups stew and salad!This was a great replacement of my 10 year old dishes! Nice update!
Date published: 2014-05-10
Rated

5

out of

5
by
tica2
from
Wonderful dishes!
I love the Aspen line of dishes. I use them as my everyday dishes and they are wonderful! They are elegant for dinner parties or casual meals.
Date published: 2014-05-01
Rated

5

out of

5
by
PJKC
from
Love the Aspen Dinnerware
I am so glad that I purchased the Aspen dinner plates. They were available in sets of 8 so I purchased 2 sets. The porcelain glaze is just what I was looking for. No utensil marks left on the white surface. I plan to purchase additional pieces to fill in a complete set of dinnerware. Thanks Crate and Barrel!
Date published: 2014-04-28
Rated

5

out of

5
by
MimiD1
from
Great value
I have the entire Aspen set and love every piece. Great value for the moneyand can be used so many different ways in tables capes.
Date published: 2014-04-27
Rated

4

out of

5
by
Mama2DnG
from
Love the dishes! (but not the extra work involved)
I just purchased these online with the store pick up option. The store is located near my husband's office so he was able to get exactly what I wanted without having to shop himself- perfect!! I received a text when my order was ready- awesome!! I did not unpack the dishes until the day I needed to use them for a dinner for 14 (my bad). I love the dishes but have 3 complaints. 1- there are price stickers on EACH piece that were difficult to remove. I bought 16 sets so this was a huge inconvenience and waste of time. I'm assuming they were tagged for sale in the store and that wouldn't be an issue if ordered online. 2- after removing all of the stickers and placing the plates in my dishwasher before first use, I discovered they don't fit well. I can only fit a total of 4 dinner plates at a time. Not a deal breaker as we are a family of four but there was a lot of unexpected hand washing before and after our Easter dinner. 3- my biggest disappointment is that the mugs don't stack. I purchased 8 of each style, the mugs and the cups and saucers. I will probably have to purchase shelves for my cabinet to rectify the rather precarious balancing act I have going on. Either that or see if C & B will allow an exchange for a different style of mugs.Aside from the above issues, the settings themselves looked beautiful dressed up for Easter but have also been delightful for everyday meals. My little girl said she feels like she's eating in a restaurant everyday. Can't get much better than that!
Date published: 2014-04-23
Rated

4

out of

5
by
emdg
from
Lovely simplicity
I love the clean lines of these dishes. I worried a bit because I saw reviews that said they had issues with chipping, but so far so good--I've had them for ~3 months and always put them in the dishwasher and no chip in sight. My one complaint would be that I wish they also had a saucer-sized plate that isn't a saucer (would that be a desert plate?). Oh, and that they had matching serving dishes. But, I suppose that could be my opportunity to add some color/variety to the table setting.
Date published: 2014-04-09
Rated

5

out of

5
by
Dee44
from
Excellent versatile white plates
I bought some salad plates to augment my everyday lunch plates. They are very attractive, and useful for any occasions. They are also sturdy and have not chipped.
Date published: 2014-04-07
Rated

5

out of

5
by
jpow
from
Great basic white set
Great basic white set...had it for over a year now and no scratches or chips with daily use. Sizes are just right, too!
Date published: 2014-04-07
Rated

5

out of

5
by
ana86
from
Great dinnerware!
I originally purchased my first Aspen pieces 3 years ago, and they are still in great shape. I decided to write a review, after purchasing several more pieces this past week. My family and I use the dishes everyday, and they are constantly going through the microwave and dishwasher. They add a casual elegance to the dinner table, and I don't have to be concerned about chipped pieces, discoloration or scratching. I look forward to adding to my collection for many years to come. Thanks Crate & Barrel!
Date published: 2014-04-07
Rated

5

out of

5
by
magzsb
from
Perfect Everyday Dishes!
I searched for the perfect white everyday dishes for a very long time and finally discovered these. Perfect! couldn't be happier with my purchase. I bought 12 dinner plates, 12 lunch/salad plates and 12 pasta/soup bowls because I already had plenty of mugs and cereal bowls.
Date published: 2014-04-07
Rated

5

out of

5
by
KarenO
from
Great set of dinner wear
I bought this3 weeks ago and LOVE it ! The bowls are just the right size. My tea tastes great in the mugs. Washes well, not to heavy, so it's easy to unload as a stack and fit inside shelves. Great service from staff.
Date published: 2014-03-25
Rated

5

out of

5
by
Swtpeaches114
from
SO versatile!!
We just received this dinnerware set as part of our registry and love it! The pieces are all easy to clean and do not fade in dishwasher! We can't wait to add more to our collection!!
Date published: 2014-03-25
Rated

5

out of

5
by
Katholtz
from
Great everyday dishes
I love these dishes! They are great everyday dishes and fit into a dishwasher well and are the perfect size and weight. As they are white they go with any fun seasonal dishes and can be used year round.
Date published: 2014-03-25
Related Products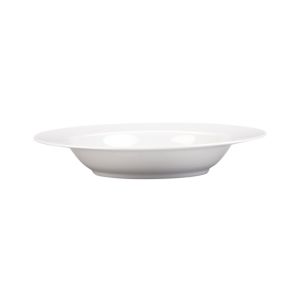 This streamlined, contemporary classic has long been a Crate and Barrel favorite...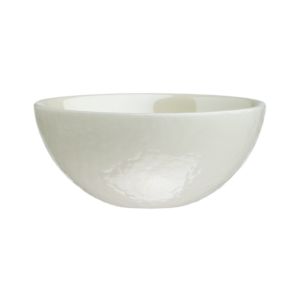 Murano glass coupe shapes have a dramatic iridescent glow. Set a pearlescent...