Prices and availability are subject to change from the time and date that you print this page.
4/24/2014 10:25:54 AM. For Customer Service, please call 800.967.6696
Cocktail culture. Enhance your cocktail hour celebrations with the wine-bottle stopper.


Wine-Bottle Stopper
is rated out of
5
by
62
.
Rated

5

out of

5
by
Tab2son
from
Wine Stopper
This is an essential for anyone who drinks or serves wine. These are long lasting and will even tolerate a bottle of wine lying down (like in a picnic ice chest). However, they are plastic (the inner works) and will eventually fail, but they last a long, long time. Keeps wine fresh with no changes to flavor by sealing out air and oxygen. Even works with Champagne and other sparkling wines like Prosecco. Keeps them fresh and sparkling. They're a good buy and I always buy ten. Sometimes I give one with a bottle of wine I'm giving as a gift. Hope you never stop carrying them.Thanks
Date published: 2014-04-21
Rated

5

out of

5
by
Beantown Beverageman
from
Party Perfect
These work great, but are economical enough that if they get wrapped up and tossed during party clean up or accidentally walked out of a get together in somebody's pocket you just don't have to worry. Keep a handful of them available for impromptu occasions and you are all setAnd when you take wine to the beach you don't have to worry about it getting knocked over before you get to that final glass at sunset!
Date published: 2013-12-27
Rated

5

out of

5
by
PatriceLee
from
So good
I have bought this wine stopper over and over again. It is the perfect stocking stuffer, and I keep several on hand to accompany a gift of wine.
Date published: 2014-04-21
Rated

5

out of

5
by
bwaitte
from
Best Wine Stopper I've Found
The way the seal expands inside the bottle helps to keep the wine fresh. The one I have has lasted a long time and even works when the bottle is tipped on its side. The way it folds down also allows for an easier fit in the fridge since it doesn't add much height to the bottle like many other wine stoppers do. We've also had success using these on beer bottles.Overall, they are a great addition to any kitchen and make a nice gift idea.
Date published: 2014-04-21
Rated

5

out of

5
by
cvito
from
Excellent stopper
Fits all bottle sizes. The seal is amazing and works better than any other stoppers I've tried except the metrokane rabbit stoppers. This is equally good.
Date published: 2013-10-18
Rated

5

out of

5
by
Jack2007
from
Best Stopper Ever!
My wife & I stock up on these everytime we visit a Crate & Barrel store. We buy a half dozen @ time because whenever our guests see them they ask where to buy so we end up sending them home with our guests. They are easy to use, effective (can store wine on it's side) & very reasonably priced.
Date published: 2012-07-19
Rated

5

out of

5
by
PURPLEJ
from
Great product and gift!
This wine-bottle stopper works great and so easy to use.It is a perfect little addition to any wine bottle you are bringing for a hostess gift.
Date published: 2012-09-05
Rated

5

out of

5
by
molliemolliemollie
from
Best Wine Stopper
Bought this wine stopper a little over a month and have already used it at least a dozen times. It is the best stopper we have found. It provides an air tight seal, keeping your beverages fresh for longer. We've used in on wine bottles, champagne bottles, beer bottles and even sabered champagne bottles--it worked excellently on all! For $2 a pop, you can't beat it. We plan to keep a good stock of these handy.
Date published: 2014-03-27
Rated

5

out of

5
by
manioso
from
Great stopper at a great price
First discovered these about 10 years ago at a competitor. They no longer carry, so I purchase at Crate&Barrel. Great for wine, but don't try them on Champagne bottles. The neck is slightly smaller and you'll break these. Even with strictly wine usage, being plastic you'll do well to get three or four year's usage. However at $2.00 they are a great bargain, and I buy 10 to 12 at a time.
Date published: 2014-03-03
Rated

5

out of

5
by
themadlibs
from
Favorite Kitchen Accessory
I kid you not, this is my favorite accessory in my kitchen (which does not speak of poor cooking or over-drinking). I have a stash of these stoppers in my gift wrapping supplies and with every wine bottle gifted (party, birthday, holidays), this wine bottle stopper is included. Because it folds to create the seal, I am able to keep bottles both standing and on the side in the fridge and wine cooler without any leaks.While there is a warning about champagne bottles, I have found that as long as I wait a few minutes after opening the bottle to let some pressure relieve, I have no problems using it with champagne - just be careful when you're opening; the seal's pop creates the same experience you'd have w/ the original cork. I have had the worst luck with traditional champagne stoppers, but this is the first to keep the seal and freshness for days without releasing due to pressure (or user failure).
Date published: 2011-12-22
Rated

5

out of

5
by
nwlywd
from
Multi-Purpose
These are great for wine...and we have even used them for beer bottles. Tight fit and keeps the beverage fresh.
Date published: 2013-03-03
Rated

5

out of

5
by
MinniePearl
from
Sometimes Moms right !!!
Visiting my Mother in Seattle and she had this handy, dandy gadget that just about works for every thing from that expensive gourmet ginger syrup to the half bottle of Root Beer you just had to have with your sandwich. I came back searched in the store for it and found it in the wine section...although it's uses are much more diverse.I need more !
Date published: 2012-12-08
Rated

5

out of

5
by
MrObvious
from
How simple is that !
This is the easiest, most pratical, efficient item known in the wine business. Throw out all those oversize, gaudy stoppers. The best part is; it's low profile therefore fitting back into the fridge (often upright) and it's inexpensive too. I'm just here ordering another dozen. They do make great gifts. Your friends will appreciate your wisdom.
Date published: 2010-10-19
Rated

5

out of

5
by
LReich
from
Love These Wine Stoppers
These are the best wine stoppers I've found. They really work and you can't beat the price.
Date published: 2012-03-01
Rated

5

out of

5
by
AmyKH
from
Fantastic, and a steal!
What a great little wine stopper. I picked it up when I was stocking up on wine glasses because it was so inexpensive, and my nicer wine stoppers either tend to be pretty, or break, or both. I've found this to work perfect and keep my wine great! Finally time to stop trying to shove the cork back in. Great product!
Date published: 2014-03-27
Related Products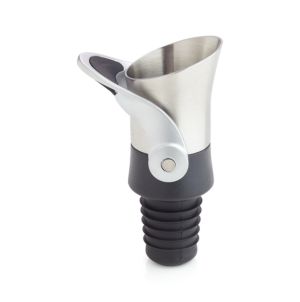 Two wine gadgets in one. Push the soft, comfortable lever down to...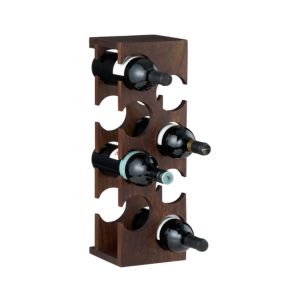 Rack fine wines eight at a time in sculptural rectangle of beautiful...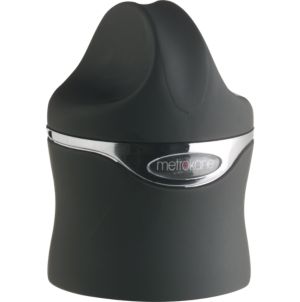 Keep the bubbly bubbly and the air from spoiling fine wine with...