Prices and availability are subject to change from the time and date that you print this page.
4/20/2014 5:39:47 PM. For Customer Service, please call 800.967.6696
Heavy-duty mixing in gleaming black with KitchenAid® power and planetary mixing action that spirals the beater to 67 touch points within the bowl for quick and complete mixing. Powerful motor handles heavy mixtures while the rugged transmission ensures constant power as the load increases. Ten-speed control provides settings from very slow to high. Stainless bowl with ergonomic handle locks into the base; easy-install two-piece pouring shield facilitates easy addition of ingredients.
More KitchenAid® colors and items available via special order. Please contact your
local store.
KitchenAid® and other Wedding Registry offers
KitchenAid® Artisan Black Stand Mixer
More Items
KitchenAid® Stand Mixer Accessories
KitchenAid® Artisan Black Stand Mixer
is rated out of
5
by
51
.
Rated

5

out of

5
by
Landy
from
I use this at least 4 times a week!
I received my KitchenAid Artisan stand mixer as a Christmas present and have used it at least 4 times a week since then. It's not only built like a tank, but also adds a touch of glam retro style to my kitchen. It's unbelievable how quickly this whips heavy cream (I barely have time to walk something to the sink and back and the cream is whipped!). Nothing can compare to this mixer when it comes to cookies - I often make 3 dozen (by increasing recipes by 1.5 times) and its bowl isn't even full. The splash guard prevents clouds of flour and potentially wayward eggs. Simply put: if you like to bake, get one!
Date published: 2013-01-28
Rated

5

out of

5
by
doll
from
Amazing.
My husband and I purchased one a week ago. My niece said "how many times are you going to use that machine? It's a bit pricy for a mixer". Anyway, I have used it three times in one week. It is very easy to use and clean. I love the fact that it makes dough and takes no time to do it. I will never go back to kneeding dough ever again. I made whole wheat bread twice already and baked cookies, once one evening after work because. All you do in put in the ingredient and way for the bread to rise, which will be unheard of after a long day. I am glad that I purchased it. It is a great invention, and anyone who loves baking will absolutely love it. At first I was hesitant but I have no regrets.
Date published: 2013-01-30
Rated

5

out of

5
by
Raph
from
Every cook must have
This mixer is simply great: it is very good quality and will last for years. I use it a lot for all types of things, from mashed potatoes to complex doughs and cakes. It mixes very well and help me spend less time cooking. The dough hook is perfet for any kind of dough, including pizza and pasta. You just have to pour the ingredients and let it do the job while you take care of something else.It is a little bit pricey but come in lots of fun colors and is definitly worth the money, I am now using it at least 3 times a week, and I'm thinking of buying some add-ons, like the ice cream maker.
Date published: 2009-05-28
Rated

5

out of

5
by
AThomas
from
Don't Get a Cheaper One!
This was one of our favorite wedding gifts. You can use it for everything, and it is very easy to clean and change the attachments. It is very heavy, but I would not ever buy a different mixer. My mom has the ugly orange color from the 70's, but it still works perfectly! Don't settle for the cheaper one you'll only have to replace in a couple of years. Just don't forget to get a "normal" color because I can promise this mixer will outlast the latest fads!
Date published: 2013-01-30
Rated

5

out of

5
by
zee1
from
IT IS A MUST HAVE.
I bought the citrus color in the artisan series. I have been looking at the kitchen aid mixers for 2 years. I finally decided on this series since I definitly wanted a unique color. I also don' t need a mixer on a regular basis so spending extra money on the 600 series did not make sense. I must say it is everything everyone has ever said, Kitchen Aid mixers are the best. It does an amazing job kneading doughs and mixing cake mixes. I hope to buy other accessories to make it even more versitile. It is worth the money and I assure you , you will not regret it.
Date published: 2009-05-31
Rated

5

out of

5
by
dmcNoVA
from
i heart this mixer
I've always wanted a KitchenAid mixer and this classy looking black and silver one lives up to the dream! Just made cake with it this past weekend and it is perfect. Can't wait for winter and baking season. Looks great on the counter too so I don't have to store it.
Date published: 2013-07-30
Rated

5

out of

5
by
kmarie
from
holiday helper
purchased for my 78 yr old Mother, she makes fruitcakes every Christmas and had trouble making them with her old hand mixer due to arthritis, she loves this mixer, very easy to use and clean. She can make twice the batches with ease, now twice as many people can get a fruitcake, whether they want one or not !!
Date published: 2013-05-27
Rated

5

out of

5
by
musikluver04
from
so glad i went for the 325 watts
My parents have had a kitchenaid all my life and it was THE one appliance I was super excited about for my wedding registry. I'm so glad I went for the 5quart bowl and the 325 watt motor as opposed to a cheaper option. You can hear how much power the machine has and when you are mixing thicker batters, you can really hear how much power it takes. I would recommend not buying a smaller motor if you can afford the extra $100. Also I would recommend buying the scraper mixing paddle because it is a pain to get stuff off the sides of the bowl. I'm also really glad we chose the black color because the white shows so many stains, that's what my parents have. All in all, an amazing purchase and I find myself constantly trying to find more ways to use it...can't wait to start acquiring attachments!
Date published: 2009-06-20
Rated

5

out of

5
by
ahappyhippymom
from
Optimize Your Time
The BEST appliance purchase I have made. It delivers everything it promises and more. Making cookies, breads, whipping egg whites all have become a breeze since I have owned this wonderful machine. It also looks nice on the kitchen counter so there is no need to try and find a space in your cabinets to store it. I would recommend it to anyone who enjoys baking and wants to optimize their time.
Date published: 2013-01-29
Rated

4

out of

5
by
AimsSD
from
Makes Mixing Fun!
This Kitchen Aid Stand Mixer is easy to use and easy to clean! I received this as a gift for my wedding (2+ years ago), and though I don't use it every week, when I need it, is it ready and waiting. It is great for mixing dough and batter. The only thing I don't like about it is that when using the flat beater it doesn't get all the way to the bottom of the bowl. So you occasionally have to stop the mixer to scrape the bottom. Everything else is great!
Date published: 2009-06-22
Rated

5

out of

5
by
sari
from
About Time!!
After using a hand held mixer for 30 years, I finally purchased one this last year. I LOVE it! The splash shield is great to use when whipping cream or other "liquid" items. I just purchased the pasta attachment and am looking forward to making raviolis on the next rainy day:)
Date published: 2013-07-24
Rated

5

out of

5
by
Lucy2875
from
Amazing Power
I have had one of the stand mixers from Kitchen Aid for years... it is buy far the best stand mixer I have EVER had... I have owned two other brands prior to the Kitchen Aid mixer and it was shocking the power and stability this mixer has. The base is heavy and stops all fear of tipping over and the mixing bowl is completely secure as it locks into place. And it has interchangeable attachments that makes it perfect.
Date published: 2009-06-05
Rated

5

out of

5
by
Baby Jay
from
Yes, you need it
Whoever told you that this was an unecessary item for your kitchen must not have one... I LOVE my black Kitchen Aid mixer. It looks gorgeous sitting on my kitchen counter - almost a decorating technique without intention - and does the job it is supposed to do. My grandmother who has been cooking for years and YEARS even said that this is a great buy. And we all know the power of grandma's reviews. :)
Date published: 2009-06-04
Rated

5

out of

5
by
seaburd
from
Kitchen essential
I use the KitchenAid Artisan stand Mixer almost every day . It is sturdy , comes with useful attachments for bread kneading, whisking, etc.. A powerful mixing action . A little heavy to carry from counter to storage.
Date published: 2013-01-29
Rated

5

out of

5
by
katie725
from
Love this!!
I bought this mixer about 4 years ago and LOVE it, I use it all the time for everything. I have never had any trouble with it at all. Its a must have in any kitchen!
Date published: 2013-01-29
Related Products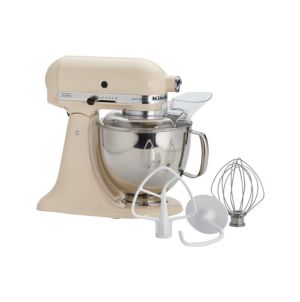 Heavy duty mixing with KitchenAid® power and planetary mixing action that spirals...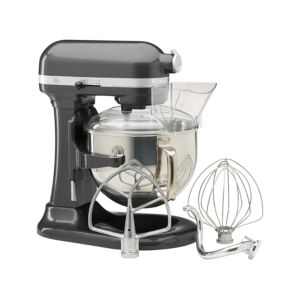 Professional mixing power with a commercial style motor for the home kitchen....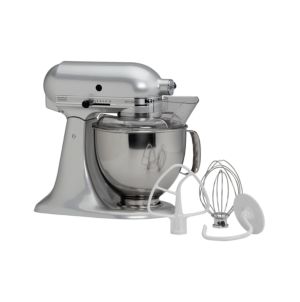 Mix, whip and knead this rugged 10 speed mixer does it all,...