Prices and availability are subject to change from the time and date that you print this page.
10/21/2014 8:03:00 PM. For Customer Service, please call 800.967.6696
Thoughtful modern dish-drying design from simplehuman® isn't just stylish, it's a high-functioning "tool for efficient living." Customized rack includes detachable plate-drying tray; deep utensil holder with bamboo knife block that holds knives upright with blades covered; cup holders; and pour spout that combines with quick-flip feet for fast, directed draining. Extra-long shape with deep sides mean high capacity – up to 14 plates or rimmed bowls.


More simplehuman® Kitchen Cleaning Items
simplehuman® System Dish Rack
is rated out of
5
by
51
.
Rated

4

out of

5
by
Nikki T
from
Quality
I've had this dish rack for at least 4 years now, and it's still working beautifully. You know something is good when you never have to think or worry about it, and that's how this has been.Some notes on the details:(1) The detachable components are nice. I rarely handwash plates, so I don't use the plate rack; if you don't anticipate needing one of the components, it's nice to know you can just get rid of it.(2) The rack is set up to drain on either the short or long end, and this can be adjusted by attaching a little metal drain plate to the side. Initially I wasn't sure how effective the drainage would be, but actually the little plates work well with the exception of a little hard water buildup on the corners of the drain side. Also, Note that you must impart your own incline to this tray. The fact that it allows for drainage on either side means they can'y give it an incline. What I did was prop a couple Altoid containers under the side opposite the drain. These have been there for 3 years without needing readjusting.(3) The size is great. I've never had any trouble with my biggest pots, bowls, trays, etc.(4) Cleanup is a bit of a pain. I'd prefer to handwash it, and the bottom tray is a little unwieldy but okay, but the rack takes a while to clean because it has too many rungs and is bigger than my sink. Putting it in the dishwasher is possible, but it's again quite big, so I had some trouble fitting it in there. My lazy solution to this? Not to wash unless I have to.Overall great product, sturdy materials, good design, spacious, and useful. This will last you a long time!
Date published: 2012-09-09
Rated

5

out of

5
by
raveybaby24
from
Beauty & Function
This dish rack organizes all my dish ware. It is beautiful, modern and very functional. I love Crate & Barrel!
Date published: 2012-09-08
Rated

4

out of

5
by
Tillie
from
Dish Rack
Works well in the space I have by the sik. Love the knife holders. Cleans up easily.
Date published: 2012-09-01
Rated

1

out of

5
by
CricketNYC
from
Didn't last 6 months
This dishrack is designed to hold a large number of items, but apparently cannot withstand the weight. I do a small number of dishes daily, and occasionally more when we have company. Within 6 months, one of the corners of the tray had cracked, no longer able to sustain the weight of the rack. When I adjusted it slightly so the leg was no longer directly on the crack, it took less than 3 months for one of the back corners to break right off. I am extremely dissatisfied with this purchase.
Date published: 2012-06-27
Rated

5

out of

5
by
Miablue
from
Smart dishrack
Perfect dishrack. Easily comes apart for cleaning and holds everything. Beautiful and stylish.
Date published: 2012-05-05
Rated

3

out of

5
by
SMRH
from
Pretty good - but not perfect
We're satisfied with this dish drainer, but I have to say that the search continues. Looks nice and modern - but has so many crevices where stuff can build up and is hard to clean.
Date published: 2012-05-05
Rated

2

out of

5
by
mama crutch
from
not enough bang for my buck!
This was a house warming gift to me & my husband. At first I was truly empressed by its new and modern look. I have not seen dish drains with this stylish appearance. However, the new look took a turn to mold and mildew due to the lack of proper drainage. Using bleach worked when cleaned, but then the holes leading to the spout broke during cleaning. This drain ran down hill from that point. It is large enough and I love the knife holder, but now I want to replace the plastic pieces for the drain because they has lost luster becoming dull and unattractive. but they are not replaceable. Oh well, you win some and you lose some.
Date published: 2011-10-06
Rated

1

out of

5
by
cratenbarrelfan
from
Disappointing Dish Rack
Although this dish rack looks nice and sleek, it is not functional. If your dishes are too big, it does not fit in the plastic slots. Little bowls slide around in the rack. Also, because the utensil and knife racks are closed on the bottom except for a few holes, mold accumulates very easily in the bottom crevices and it is very hard to clean.
Date published: 2011-08-25
Rated

4

out of

5
by
KSaid
from
Good product
This is a very good dish rack. You can move around each piece to configure it how you like it, which is a great feature. I don't use the glass holder because my glasses are too tall, so I just leave it off. I do think it would drain better if you had an undermount sink, but it really is not a big deal. Most traditional dish racks do not drain at all, and you are left with a tray of water. My only real complaint is that the bottom tray is not quite big enough, so the knife block hangs over and drips on the counter.
Date published: 2011-08-23
Rated

5

out of

5
by
JMR21
from
Highly Recommended
I love this dish rack! It's big enough for pots & pans. The clear features are great! I used to have a black one & it showed all the white, dried, soapy scum. The knive holder is a great feature! Also, the extra glass holders that hang on the outside are a great aspect as well!
Date published: 2011-08-17
Rated

5

out of

5
by
hiking mom
from
Well Designed Dish Rack
This dish rack really does function well, although it is expensive. I particularly like the utensil holder and knife block. Also, unlike my previous dish rack, the water drains well from the tray underneath the rack. Note that the dimensions in the product description seem larger than the actual object (although perhaps include the add-on holders on the side) -- for us this was actually better.
Date published: 2011-08-04
Rated

4

out of

5
by
LadyJay384
from
Mostly Great
Pros: Great look, awesome block for drying knives, decent size so it can hold plenty of dishes.Cons: The hooks for the cups are useless and oddly enough, water doesn't drain and reach the spout.You would think that I would hate this rack because it doesn't drain the water, but I don't mind cleaning the tray of the dry water deposits every week. It's not as bad as it sounds too.Overall, I do like this product but would recommend they tweek it a bit.
Date published: 2011-03-11
Rated

1

out of

5
by
Gadget Gal
from
Many Drawbacks
When I first purchased this product I thought it had great styling and would solve my dish-draining problems. I wanted a large drain rack, which this is.As time went on, my family came to dislike it very much. For in-set sinks, it would be a better choice.My sink has a high ledge and the feet are too short to clear it. I eventually got creative and fashioned risers out of small blocks of wood so that the spout would drain into the sink instead of all over the counter top. That worked for awhile.Secondly, the drain board didn't hold up. The holes leading to the spout and drain bottom collected mold and mild-due and was very hard to clean, disassemble and reassemble. The part holding the spout broke, so it won't stay attached to the main piece. This was on a replacement . The first one the spout broke off where the screw holds in on.I have since bought a large flat material drain mat (because that's the only thing that will fit under the large rack). It allows more space under the rack for draining than the original.I'd like to buy the next generation dish rack from Simple Human, but I'm not crazy about the styling, and the price is just too high for a dish-drainer.
Date published: 2010-12-27
Rated

4

out of

5
by
Reality
from
Durable & large
Dish Rack is very durable and sturdy with ample space for everything. The only improvement is the side hanger meant for holding glasses. Even though I read the reviews that mention that the hanger was a problem, I used it anyway and as a result broke one of my glasses when it fell off and on to the floor...this happen on the first day of use. Now that I know not to use it for holding anything breakable, I am sure the Dish Rack will give me satisfaction for a while.
Date published: 2010-11-08
Rated

1

out of

5
by
SR Chef
from
Wish it could be different
I almost loved everything about this dishrack. It is totally customizeable - each piece can be relocated depending on your sink/counter arrangement, or removed... nice looking in general... just seemingly great design. However, IT DOES NOT DRAIN WATER. No matter which direction we arranged it, because the mat underneath is 100% level, water collects in it. It would be a miracle if the water ever found the drainspout. I was astonished to find that the designers hadn't made the center channels any lower than the rest so that water would flow out. Sadly, we had to return it. I hope they redesign it one day, because I would have been thrilled with it if the water actually drained out of it.
Date published: 2010-10-30
Rated

5

out of

5
by
designaholic
from
Must Have
This dish rack was my first dish rack every and I'm in love with it. Works great, lots of space, and very functional! I just love simplehuman products. They are smartly designed and look great in your house. I've received more compliments on this dish rack! My plumber loved it so much, I bought it as a "thank you" gift for him!
Date published: 2010-08-18
Rated

5

out of

5
by
S C K
from
Beauty and brains...
This dish rack is beautiful AND cleverly designed. I love the movable drain spout and the knife block (which also drains). Everything is versatile, so you can change it to your needs. I appreciate the careful thoughts that goes into the design of simplehuman products. Very happy with my purchase!
Date published: 2010-08-02
Rated

5

out of

5
by
designaholic
from
simply amazing
I get so many compliments on this dish rack! It looks great on my granite counter tops and more importantly, works great for both large and smaller countertops. Many functions to use, including a neat lift system to help the water drain. I had to raise mine a bit more so the water would drain more efficiently, but not a big deal at all. Overall - LOVE IT! Love simplehuman.
Date published: 2010-07-19
Rated

2

out of

5
by
BertJ
from
Ok but not great!
I love my Simple Human trash can, but the jury is still out on the dish rack.. I really like the utensil holder and the plate rack for round plates and shallow bowls. However, I find it difficulte to use for square itmes or deeper bowls. The cup holder is only suitable for very short glasses.
Date published: 2010-07-07
Rated

5

out of

5
by
CB lover24
from
Great dish rack
I really like this dish rack. It holds a lot of dishes and I haven't had a problem with anything falling out or breaking. It has so many great features and beats the cheap ones! When there aren't any dishes on the rack, it's very unobtrusive with the clear bottom.
Date published: 2010-06-04
Rated

4

out of

5
by
FURAHA
from
LOVE IT!!
I have been looking for a dish rack for a long while and I finally came across this and bought it. I have used it for a couple of months and I love it. It looks pretty on the kitchen counter but the only reasonI give it 4 stars is because it does not hold tall glasses on the side hooks. They might tip over and fall.
Date published: 2010-04-16
Rated

4

out of

5
by from
Works well enough
This dish rack is defintely large enough. The only two things I would like to see changed would be a more convienient way to hold square dishes. It works but it is a little awkward. Also it does not have a good position place for bowls. You must lay them upside down entirely which depending on the bowl size the rack only holds one or two. The utensil holder and draining technique is great!!!
Date published: 2010-03-22
Rated

5

out of

5
by
ctm29
from
A gorgeous dishrack
I finally found a beautiful dishrack that I can keep displayed on my granite countertop. It blends in fabulously with my stainless steel appliances and I especially love the opaque drainer. Excess water runs off, draining directly into my sink. This is a very handsome and stylish apparatus - just what I have been looking for. Thank you!
Date published: 2010-03-15
Rated

5

out of

5
by
Dude
from
Great Rack! ;-)
Really dig the thing. It was just what I needed.I often let my dishes go so they build up so the thing for me is the size. My sister in-law gave me a small rack and I wasn't getting enough dishes done at a time.So, I bought this and it seemed kind of pricey but then I don't know about such things. It looks good and the best thing to me is it handles the pots, dishes, glasses, cups and silverware all at once.Seems sturdy and it's good looking, too. Haven't had to use the drain thing too much. Still new so I have time. You're supposed to tip the rack toward the sink? Well, when I did it the water didn't go through the little funnel things it just poured outon all sides and made a little bit of a mess. Likely the amount of water would have dried out in a few hours. But, I like the rack and I think it's worth the money.
Date published: 2010-02-20
Rated

4

out of

5
by
Susannah
from
Beautiful!
I love this dishrack. It's really pretty, and I think it works great. I particularly love the knife holder. The glass holders (on the side) don't work very well. All the glasses I've tried just slip off. That is the only reason I rated this 4 stars instead of 5.
Date published: 2010-02-03
Rated

5

out of

5
by
pisces1952
from
Great Purchase
I love that there is a holder for knives, I always had problems with other dish racks. Also you can place it on your counter either lengthwise or widthwise, and it is easy to clean the rack and mat.
Date published: 2009-10-26
Rated

1

out of

5
by
NYCityMom
from
Crash tinkle tinkle
I've been washing dishes by hand for 42 years, but this is the first time ever that they've slid out of the dish rack and smashed on the floor. The dip built into the exterior of the Simple Human rack sheds bowls and glasses if you don't place them just right. So far two pottery cereal bowls have bitten the dust. Also: tall water glasses will not perch comfortably on the hooks designed to hold glasses: the hooks are not long enough to support a heavy-bottomed water glass. I'd bet this item was designed by someone who uses a dish washer and has never washed a dish in his or her life!
Date published: 2009-09-16
Rated

5

out of

5
by
Buddy1
from
Awesome Dish Rack
This dish rack is a must buy. Well organized structure with plenty of room to work with but it doesn't take up too much space on the counter. Rack is tilted so that water drains into sink and doesn't pool in the rack. The knife holder is an excellent bonus. High recommendation for this rack. The Superhuman dish rack is awesome.
Date published: 2009-09-06
Rated

5

out of

5
by
Minkey
from
Best wedding gift!
I dont have a dishwasher and wanted something that would be non-intrusive in my kitchen but yet would stand up to the wear and tear of lots of use. I've had the thing for over a year and besides pulling out the tray to clean the underside once or twice (and that might be me being a little germ-a-phobic), it's been great! I think the cleaning lady managed to bang a corner off the tray but I think she managed to break things more than anyone I know and she's no longer the cleaning lady! :)
Date published: 2009-05-28
Rated

4

out of

5
by
Lemon
from
Decent Purchase
The simple human dishwasher provides great space for drying dishes. Love the deep utensil holders with the knife block. The cup holders are great too as they create more space. Only problem is that the drying tray is not a flat surface - it has ridges on the sides and so water tends to pool in these areas rather than go to the drain spout.
Date published: 2009-05-28
Related Products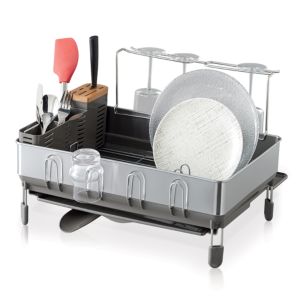 The modernists at Simplehuman created this design savvy, upscale rack that fulfills...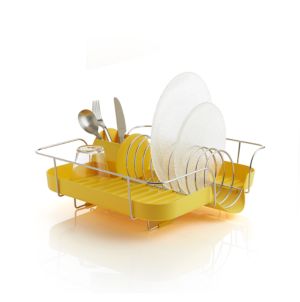 Life meets style at the intersection of form and function courtesy of...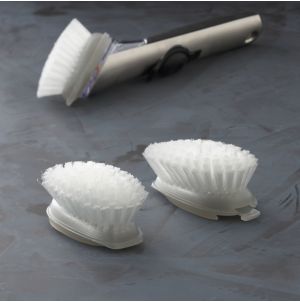 Durable replacement brush heads for the OXO® Soap Dispensing Brush. Nylon bristles...