Prices and availability are subject to change from the time and date that you print this page.
4/24/2014 8:49:49 AM. For Customer Service, please call 800.967.6696
Span White Gateleg Dining Table
More Items
Span White Gateleg Dining Table
is rated out of
5
by
17
.
Rated

5

out of

5
by
BklynTenant
from
Great for sporadic use in small apartment
Our apartment is small and doesn't have a clearly defined dining room where we can have a dining table out all of the time so this was the perfect solution. We pushed it up against the wall and lift up one side to use as a desk, and pull the table out completely in the middle of our living room when we need to use it as a dining table. Although it is a few inches taller than most tables, we dont find it to be drastically uncomfortable or inconvenient. This was exactly what we were looking for and are extremely pleased with the quality and its function.
Date published: 2013-09-27
Rated

3

out of

5
by from
Perfect Except For Price
This item is the perfect solution for a teen's small bedroom where a desk is needed but so is space. My daughter can open the desk when she's working and tuck it back into its small size when homework or projects are done. Two shortcomings: 1) the swing-open leg has a screw at the top that scratched the entire underside of the table. We learned (the hard way) that the top of the table has to be held tautly upwards when moving the leg into closing position. 2) the price is high for this item. It could have easily been $75 - $100 less.
Date published: 2013-11-30
Rated

2

out of

5
by
ALSTEAD
from
flimsy with cracked top
The table arrived with a crack from one end to the middle of the top. The gate legs are flimsy and the extended leaf doesn't feel stable. It's an OK backup table, if you use table cloths, otherwise I'd pass on this one.,
Date published: 2013-09-27
Rated

5

out of

5
by
CBfan2010
from
Great buy
Great buy since we have a livingroom/dining room combo works well for us. I would recommend it. The table wabbles a bit but we love it, the white color makes it lok modern and sleek.
Date published: 2013-09-27
Rated

5

out of

5
by
Lobo
from
Great table
Using this table in a craft room. It is solid, sides easy to put up or down, and overall very impressed with the quality.
Date published: 2014-03-13
Rated

1

out of

5
by
Ctaylor66062
from
Good idea, bad execution
We purchased this table for our basement for our two daughters to use as a craft table and to have game night. We liked that when the table wasn't in use we could fold it up and move it to the side. As soon as we brought it home we realized this table does not work on carpet. When you have the table open on carpet it is very unstable and was very tipsy. We tried putting something more solid (one of those things you put under an office chair to make the chair slide easier) under the table on top of the carpet but this didn't seem to help. So back to the store it goes. I think this table would have worked great if it was going on tile or some other hard surface. So, in a nutshell, if this is going on carpet don't buy it!
Date published: 2014-04-09
Rated

5

out of

5
by
Chazzz
from
Extremely versitile, well built table. Nice price.
I am an engineer & know good construction. This table is well designed + well made FOR THE PRICE. Understand what you are getting. By design, gateleg tables have unsupported corners - if you lean on them heavily, they have some deflection. With this table, the effect is minimal. If I lean on the table with about 50 lb force I can get the corner tio deflect 3/4 inch. How many of you will be doing this unlikely thing with the table set + food on it. Even so, nothing else happened and the table was still solid. This aside, this is an extremely versitile and well built, solid table for a very good price. It stores into a shallow space against the wall, can be half or full opened. Many uses for small spaces as well as a tucked-away addition for large spaces Highly recommended.
Date published: 2014-04-21
Rated

1

out of

5
by
Centennial
from
Not worth buying
Bought this table last year. Moved it carefully once with 2 people and one of the sides that connects to the base cracked (that happened after having it 2 months). Table is somewhat flimsy and unstable. Also it has grooves in the top which collect dirt. As for sitting 3-4 people, it is really awkward with the board in the middle (where the hand grip is). This may be useful for an occasional table for playing cards or for a dinner party (use a table cloth), but definitely something not to be used for daily dining use. It scratches and dents really easily. This is one of the worst pieces of furniture I've purchased. My advice is to spend the money and buy something more sturdy and at which you can sit 3-4 people comfortably and in a conversational manner.
Date published: 2013-11-30
Rated

5

out of

5
by
modcat
from
enjoying this table
I have a tiny house and a lot of big hobbies, this is perfect, I can put up both sides and have enough room for cutting out 60" wide fabrics folded lengthwise, and after cutting I can put my sewing machines on it, although I try to keep their weight towards the center, I get some wobble when running the sewing machines at full speed if I don't. I have been using it enough to be wondering what kind of paint I'm going to need when it comes to re-painting time, but like I say-it's used ALOT-daily-and all day-daily.
Date published: 2014-01-02
Rated

4

out of

5
by
rae lyn
from
Problems at first but fixed by C&B
I purchased this table in store and when I opened the package at home it was damaged. I called the store and the table was on backorder 4 weeks out. No problem... it came in early and was called to pick it up. I asked the store clerk to inspect the table before I arranged nurse care for my medically fragile child so I could come pick up the table - they said they would. When I drove to pick up the table they had NOT inspected. #2 table was indeed damaged! After explaining our special circumstances and frustration they offered to order table #3 with deliver at no charge. I was impressed with the customer service and when we finally received table #3 it was lovely. Perfect for a small eat-in kitchen with option for seating of 6.
Date published: 2014-01-02
Rated

5

out of

5
by from
versatile super value
I bought this table for a member of my family who lived in a small space. Folded up, it is a side table providing room for a child to have a play space. Extended on one side, it is a table big enough for the family to eat meals. Extended on both sides, it is large enough for a larger group. Its surface is easy to clean and it fits in well with any decor. It is inexpensive enough that I just bought another one for me for extra seating!
Date published: 2014-01-02
Rated

5

out of

5
by
greyhoundpal01
from
Great Design for Small Space
I recommend this table highly as a craft table. It is perfect for my guest room (which is a craft room the majority of the time). the table folds up and expands very easily. i love the gate leg design. when the table is folded up there is plenty of space for the queen sized guest bed. in addition, the table is very sturdy (i'm surprised by the people who rate it as flimsy). the table easily supports my portable sewing machine and is great for sewing projects, gift wrapping, etc. the is *really* large when it is unfolded (i usually just unfold half of the table and use that) so is great for a variety of craft projects.
Date published: 2014-04-08
Rated

5

out of

5
by
Kim W
from
Great for a Small Space!
We bought this table in Black and love it! It's nice and sturdy both if you use half of it and the whole thing. I would recommend this for sure for anyone looking for a flexible table for small spaces.
Date published: 2013-08-12
Rated

5

out of

5
by
Dini
from
Great Table
Ordering and delivery went smoothly. Table is versatile and nicely constructed. Enjoying moving it around to find the perfect spot. This table is perfect for eat-in kitchen or alcove. Highly recommend.
Date published: 2013-09-27
Rated

5

out of

5
by
DCArl
from
Simple and versatile
I have an open kitchen/living/dining space, and this table blends in really well with other furniture and is easy to move and set up. The white makes the room look bigger and allows you to switch up the accessories when you get bored!
Date published: 2013-09-27
Related Products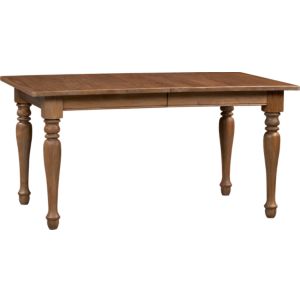 Classic lines from the beaded apron to the turned legs let the...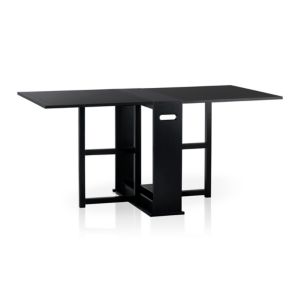 An ingenious classic for modern times, our slender gateleg table opens to...
You don't have to be a French cooking school graduate to fall...