Prices and availability are subject to change from the time and date that you print this page.
12/28/2014 9:45:13 AM. For Customer Service, please call 800.967.6696
Get back to coffee-brewing basics with the Chemex classic, originally designed by a chemist and inventor and found in the collections of several major museums. Simple engineering in wood and glass (no corrosive elements) produces pure drip coffee with less bitterness—to the extent that the coffee can be refrigerated and reheated without sacrificing flavor. Polished wood collar with insulating leather tie is removable for cleaning. May also be used for tea, iced coffee and beverage infusions.


Chemex 8-Cup Coffee Maker
Chemex Filter Circles Set of 100
Chemex 8-Cup Coffee Maker
is rated out of
5
by
64
.
Rated

5

out of

5
by
godsgracey
from
Excellant Cup of Coffee
I drink one cup of coffee each morning and I want it to be good. The Chemex makes the best coffee every time. There is no bitter sediment at the bottom of the Chemex every cup of coffee is crystal clear. I will never use another coffee maker.
Date published: 2014-12-14
Rated

5

out of

5
by
gkim
from
Never using standard coffee makers again
The Chemex is an essential item for all coffee enthusiasts. The flavor of the coffee tastes better than machine brewed coffee, and you can also drip tea as well. Cleanup is very easy and I would recommend the thin spout stainless steel kettle to use with the Chemex.
Date published: 2014-12-09
Rated

5

out of

5
by
Azalee
from
Great Coffee Maker
Excellent coffee maker. I have tried to find this coffee maker for years, I am glad that Chemex is making the 8 cup coffee maker.
Date published: 2014-11-20
Rated

5

out of

5
by
JThistle
from
Pure Beauty, Pure Coffee
You will get delicious coffee that is not bitter because it has no residue in it. However, I bought it mostly for the beautiful design. I love looking at it! Is it easy to use? Not really. If you want it to stay gorgeous you will need to remove the wood collar and leather tie every time you wash it and then put it all back together when you use it again. The drip process takes longer than you might be used to and the coffee might not be quite hot enough when it is done dripping. You can't heat the carafe other than maybe if your electric glass top stove has a very low heat warmer spot. I have one but have not tried to heat the Chemex on it because I am afraid it will break or get permanently coffee stained. But it is possible to reheat the coffee in a separate cup without sacrificing flavor because the coffee is that pure.
Date published: 2014-11-13
Rated

5

out of

5
by
Jad1
from
Awesome
This was a gift for my boyfriend and we love making coffee with it! The coffee tastes great!
Date published: 2014-11-13
Rated

5

out of

5
by
ach6877
from
Great alternative to drip coffee
I love using Chemex. Its easy to use, and creates the best homemade cup of coffee ever. The smell of the first splash of hot water over the grinds fills up my kitchen. I will have this for years, if not decades.
Date published: 2014-11-13
Rated

5

out of

5
by
Lillian
from
Love this!
I bought this a couple weeks ago, but had one previously. It works great! My boyfriend and I both really enjoy the coffee and the elegant coffee maker
Date published: 2014-11-13
Rated

5

out of

5
by
thewoob
from
Hands down best cup of coffee
We've tried countless methods (and machines) and nothing compares to the Chemex. The coffee is smoother and never has even a touch of bitterness. Only words of warning...1. It definitely takes longer to brew (and there's no programming in advance)2. Take the wood and leather off before putting it in the sink to wash because the sealant on the wood will deteriorate quickly (aesthetic issue only)3. You'll miss it when you have coffee brewed another way.
Date published: 2014-11-12
Rated

5

out of

5
by
former non coffee drinker
from
non-coffee-turned-coffee-drinker
I cannot profess to understand the "science" (however soft) behind the Chemex. I only know that the promise of un-bitter coffee drove my purchase.And, guess what?It's true!Whatever transpires between the paper filter and the beautiful glass carafe results in incredibly yummy coffee.The End.
Date published: 2014-10-31
Rated

5

out of

5
by
nicole
from
Love the Chemex for pour over coffee
This is a classic for a reason -- makes great pour over coffee for a crowd. Beautiful to look at too.
Date published: 2014-10-29
Rated

5

out of

5
by
Bryan C
from
Perfect Cup of Coffee
I highly recommend this brewing system. The coffee I have made has been nothing short of spectacular. It does require more hands on time than other systems but the overall time it takes is the same. I do not follow Chemex's brewing directions. There are numerous sites that have much better instructions.
Date published: 2014-10-29
Rated

5

out of

5
by
LeshaT
from
Makes AMAZING Coffee
I had been reading about the Chemex coffee makers for several months so I finally broke down and purchased one, and boy am I glad I did! It is so easy to use and it makes the best coffee I have ever tasted. I used a very bold coffee and it still came out smooth and perfect, no bitterness at all. I drink my coffee black so I'm very picky about the taste, and it was just perfection. A must have for coffee connoisseurs!
Date published: 2014-10-29
Rated

4

out of

5
by
AHoss
from
Love it- with one stipulation
I've always been a French press kinda girl but since switching to the Chemex, I may have to re-think that; brews a lovely cup(s) of coffee without the grinds one expects at the bottom of a French pressed coffee.The ONLY issue with the Chemex is that the circumference of it is big, and if you have small hands, as I do, it's a bit awkward to wrap your hand around the thing.
Date published: 2014-10-28
Rated

5

out of

5
by
mckayak
from
Love it!
We love our Chemex - brews a perfectly smooth and delicious cup of coffee. The price and shipping from Crate & Barrel can't be beat for the 8-cup Chemex!
Date published: 2014-10-28
Rated

4

out of

5
by
Maggiethecat
from
Perfect Coffee Everytime
This is the third Chemex we have bought, which is a testament to how happy it keeps us. Consistently good coffee. The only downside is the glass; breakable. Glass is also the upside, because that material keeps the water at the perfect brewing temperature.Also, in store pick up from C&B, is fantastic.
Date published: 2014-10-28
Related Products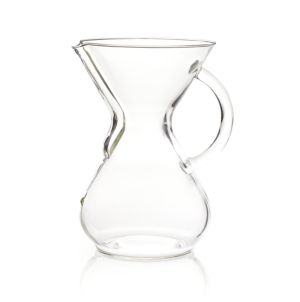 Get back to coffee brewing basics with the Chemex, originally designed by...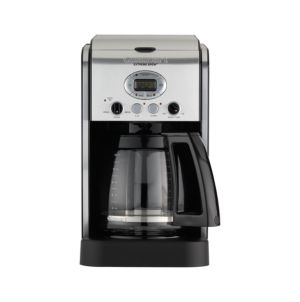 Twelve cup programmable coffee maker with re engineered extreme brew technology delivers...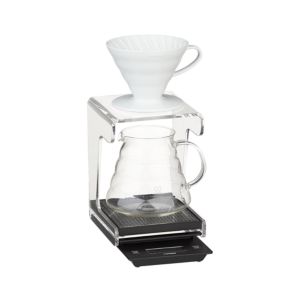 Hario's state of the art coffee system features all the components for...