Prices and availability are subject to change from the time and date that you print this page.
7/25/2014 11:06:37 PM. For Customer Service, please call 800.967.6696
Reversible Double Griddle
is rated out of
5
by
117
.
Rated

3

out of

5
by
ANDREW
from
CLEANING
We got this as a gift but some marinated chicken on it and now we cant clean it the marinade ruined 100% this is NOT non stick
Date published: 2014-07-21
Rated

5

out of

5
by
ErinBaynham
from
Can't live without it!
We received this as a wedding gift and it's been replacing several of our favorite pans ever since. We use it all the time. It gives great grill marks and heats up quickly. I'm definitely considering buying another to use at the same time. You definitely need to use some type of spray, I wouldn't say it's totally nonstick. Either way, we adore it!
Date published: 2014-07-06
Rated

4

out of

5
by
DogmomSara
from
Double Duty
Works great to fit over 2 burners so I can make more pancakes/french toast quicker. Also good on the grill side. It DOES help defrost frozen stuff quicker. Neat.
Date published: 2014-06-09
Rated

5

out of

5
by
larpai16197
from
Great addition to a 5 burner stove
We bought this last month. We have a gas stove with an oblong 5th burner in the middle. The stove did not come with a griddle. Those that did had heavy cast-iron flat griddles. This one is great. Aluminum so it is lightweight, and 2-sided. The flat side is great for pancakes, etc. The grill side is perfect for fish, kabobs, etc. Easy clean surface. The package says you can also place it over 2 burners if you only have a 4 burner stove. Great product for the price!
Date published: 2014-06-09
Rated

4

out of

5
by
Jessica727
from
Essential Kitchen Item
We use this griddle a few times a week and it is great for cooking a variety of things. It is great for our double burner. However, it is hard to clean.
Date published: 2014-06-09
Rated

4

out of

5
by
kkeller360
from
Great griddle but maybe be overpriced...
Bought this for my husband so he can make lots of pancakes at a time. Was thrilled to get a "2 for 1" deal with the grill side as well. I thought it was a great deal until I saw some that were VERY similar for around $25 at another store. Still, I love this pan and think the quality is excellent and very easy to clean which you may not get from a more inexpensive pan.
Date published: 2014-05-27
Rated

1

out of

5
by
GrillBad
from
Impossible to clean
Got this as a wedding gift - super excited. Very disappointed when I had problems cleaning it! Non-stick doesn't work and the entire product looks dirty and years old after only a few months of use. What a waste!
Date published: 2014-04-27
Rated

5

out of

5
by
jan15760
from
This griddle is great!
I had been contemplating buying this griddle for a long time, but since there are only two in my household, I didn't think I would get much use out of it. The price seemed reasonable and the free shipping sealed the deal. The first time I used it I fried bacon, and was careful to just use medium heat, as the instructions recommend. The bacon cooked perfectly and there were no splatters. Same with pancakes, sausages, grilled cheese. It heats very evenly. I haven't had any problems with sticking (when I fried eggs-I used a dab of butter) or cleaning - I let it cool before cleaning and it was a breeze. It fits perfectly on the gas burners so it can live on your stove all the time if you use it frequently, but it's compact enough to slide along the side of a cabinet wall.
Date published: 2014-04-07
Rated

5

out of

5
by
mbnick
from
Good value
Compared to some others, this made in USA reversible grill is a good value. We find it fits perfectly over our gas cook top, heats evenly and is fairly easy to clean.
Date published: 2014-04-07
Rated

2

out of

5
by
Islandvet76
from
Useful but....
I was very excited to purchase this stove-top griddle two months ago. I have used it to make pancakes and grill inside during the cold winter months. Recently I have noted small rust spots on the grill side. I have been careful to use only soft sponges and soap to clean the product and have avoided using meal utensils. I plan to return it for a new one and see if this happens again.
Date published: 2014-03-27
Rated

5

out of

5
by
foxandowl
from
Awesome non stick surface
This was the first wedding shower gift I received and I'm in love with it. It grills perfectly.
Date published: 2014-03-26
Rated

4

out of

5
by
MColburn
from
Great for a variety of uses
I received this as a wedding gift and we couldn't be happier. Use the griddle to make pancakes or cook larger batches of things. Grill side is great for a small apartment with no outdoor space for a real grill.Haven't had the sticking issues that the other reviewer mentions- just use a little spray olive oil or butter before cooking anything and it works great!Fits nicely over two burners (we have a gas cooktop).
Date published: 2014-03-25
Rated

2

out of

5
by
CastIron
from
Lasted Only 1 Year
Bought this for Christmas 2012. We used the flat griddle side exclusively for months and loved it. Once we used the other side (with the griddle side down and exposed to flame) the non-stick of the flat side was no more. It became hard to clean and eventually started to wear away the non-stick layer, so we had to dispose of it. Maybe if we had continued to use the same side and never exposed it to direct flames it would have lasted longer. Regardless, I have since bought a cast iron griddle from Lodge and wish I had done so from the beginning.
Date published: 2014-02-11
Rated

1

out of

5
by
bubbles21
from
Not non-stick...
We put this item on our registry and were so excited to use it! Unfortunately, other reviewers were right... after two uses, the non-stick surface was disappearing. We also had a terrible time trying to clean it. We noticed that the non-stick first vanished where the burners were. Hoping for a better product that does double duty for a griddle and grill pan!Thankfully, C&B customer service is wonderful, and they gave us store credit to put towards something we'll thoroughly enjoy.
Date published: 2013-10-20
Rated

2

out of

5
by
hlh4shots
from
Big Fat Bummer
After maybe a month's use, the non stick surface is wearing off. Actually started after the third use? This griddle is impossible to clean. I have used only a non scratch teflon approved sponge, and have to soak, and scrub, soak and scrub. It's too much. I can now see the white or silver under the non stick surface. I was super excited to finally have an indoor grill pan, but this has disappointed. The flat side has been okay, but the grill side, not so much. Crate and Barrel, what is your return policy??
Date published: 2013-08-05
Related Products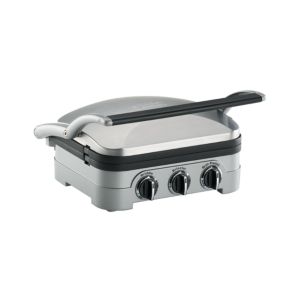 This timesaver is a nonstick griddle, contact grill, panini press and open...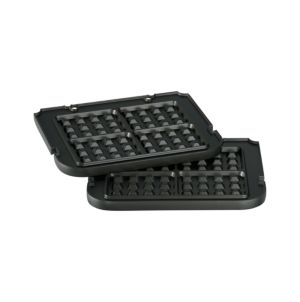 This timesaver is a nonstick griddle, contact grill, panini press and open...