Prices and availability are subject to change from the time and date that you print this page.
4/20/2014 2:20:25 AM. For Customer Service, please call 800.967.6696
Swiss precision for the coffee connoisseur. Nespresso's fast, convenient espresso machine combines Thermobloc heating, 19 bars of pressure and automatic pump priming for the purest, subtlest coffee aromas and flavors and richest crema. Slim, retro-modern countertop presence in black; automatic capsule ejection, and removable water tank and drip tray. Use the two pre-sets or program your own cup volume. Integrated Aeroccino frother preps milk for cappuccino or lattes. Includes whisk storage space. Only for use with Nespresso's exclusive coffee capsules, available in a variety of strengths and origins. Machine includes a starter set of coffee capsules and information booklet.

Nespresso® and other Wedding Registry offers


Nespresso® Citiz Black Espresso Machine with Aeroccino Frother
is rated out of
5
by
18
.
Rated

4

out of

5
by
NewcastleMomof2
from
Excellent Choice
After trying other types of machines, I gave this one a try and it is so easy to use and makes wonderful lattes. There is no messy clean up, the frother makes a perfect foam, and my two boys even enjoy me making them flavored steamers. The only draw back is having to buy the capsules online, but was told Crate & Barrel will eventually be selling them in the store. I have saved so much money by not having my daily Starbucks, etc. WIth the holiday season here, I have already enjoyed my Low Fat Egg Nog Latte, and my kids their seasonal steamers.
Date published: 2014-03-15
Rated

5

out of

5
by
kimberly p
from
Best purchase ever!!
I had never even had a cup of coffee, let alone an espresso, until I went to France. Then, I was hooked. After returning to the States, I was convinced I would try to recreate the experience by buying an espresso machine. I sampled the high-end machines but kept coming back to the Nespresso. I have to admit, I am a bit of a purist when it comes to food/drink so the thought of using a pod bothered me. But I promise you this is the BEST coffee/espresso I have ever had. It's delicious, clean taste is the selling point, but the ease of use is the foam on my latte! And when you buy the sample pack, you get a great book that describes the pods and the region they come from and intensity. It's like a little pod-bible. I am even considering buying another one for my office. You will not regret this purchase.
Date published: 2014-03-23
Rated

5

out of

5
by
APH in CLT
from
I love this machine
I purchased this machine over a month ago and I can't stop raving about it. It is so easy to use!!! It has become the topic of discussion at my dinner parties, and my family can't seem to pick which capsule is their favorite since they're all so good. I've had to buy more cups because everyone that sees it wants to try it out.Ordering the capsules online is very easy and they ship to your house in about 2 days. The capsules are about $0.57 each so it's a cheap way to enjoy an espresso, cappuccino, or latte without having to pay $5 for a grande macchiato. The only drawback is that I wish they would offer more specialty flavors. The espresso is ready in about 30 seconds, and the milk frother takes about 60 seconds. All you have to do is press a button. I highly recommend this machine!
Date published: 2013-12-06
Rated

5

out of

5
by
Hazen555
from
Perfect espresso & cappacino
My mother in law arrived from Italy last week and the only thing she'll drink is a cafe machiato and not our single cup coffee, so I went to various stores to try to find a "real" espresso machine. A true steam pressure driven espresso machine is around $800, so I thought I would try this one and return it if I didn't like it. Nespesso machine with the built in frother was still not that cheap! I just recieved it and it is actually better than cafe espresso, which isn't that hard. I can honestly say it is just like in my wife's hometown, Bolzano (actually Sulla strada del Vino). I'm not crazy about having to buy only from Nespresso, but most Americans aren't that particular about their coffee so there probably isn't much of a market to sell it at say The grocery store. It is actually worth every penny and it doesn't get any better than this coffee.
Date published: 2013-12-26
Rated

5

out of

5
by
nespresso lover
from
where have you been all my life?
How much do I love our new Nespresso machine? I honestly can't even say, it has changed our lives.....no more getting in the big gas guzzler SUV to drive to the coffee shop and shell out 4 bucks for a latte, now my whole family can enjoy amazing espressos, lattes and cappuccinos right from our own kitchen, heaven! The shipping is super fast on the capsules and ordering is easy online. LOVE LOVE LOVE my Nespresso Citiz, enough said.
Date published: 2013-11-21
Rated

5

out of

5
by
loyalcbgal
from
Awesome Product
When I purchased this product I struggled with whether I should buy the cheaper Pixie model. I am so glad that I spend a little more to get the built in frother. It tastes like a coffee house latte and I am so happy with it. We even use the quick hot water (without a coffee cartridge) to make hot chocolate topped with hot frothed milk on top.
Date published: 2013-12-06
Rated

5

out of

5
by
daba
from
Easy, dependable and tasty!
I have all the coffee machines but this tops them all! Easy to use. Fun. Tasty coffee capsules which I leave in and use twice before discarding; The second time with coffee with milk. Got this for my husband but if we divorce, this goes with me!
Date published: 2014-01-16
Rated

5

out of

5
by
PDXRL
from
Love this Machine!
I love how this machine looks sitting on our counters...but even more so, I love the coffee that it makes! The steamer is completely silent (how does it work?) which means that we can make lattes in the morning when people are still asleep.
Date published: 2013-12-06
Rated

5

out of

5
by
Ottfamily
from
Great product
I've had the Citiz with espresso frother for a few weeks now and am very happy with my purchase. My trips to coffee houses have decreased - I can quickly make myself an espresso or latte before leaving the house in the a.m. My kids love making themselves "steamers" quite often as well. No complaints - highly recommend this product!
Date published: 2013-12-06
Rated

5

out of

5
by
GMGi
from
"The Best"
If you want the best, buy it.Fast Machine!Perfect Taste!Froths milk perfect!
Date published: 2013-12-06
Rated

5

out of

5
by
Binka
from
Excellent Espresso Machine
My husband and I bought this machine, and are very satisfied! It is very easy to use and very easy to clean (unlike our other espresso machine). It is excellent, the selection of coffee flavors is wide, and it makes delicious lattes, etc. Same or better than the ones you buy at a coffee shop. You can't ask for more. The price is also unbeatable.My only complaint is that we bought it during the time Nespresso offered a $100 voucher to be used towards their products. According to them it would take 2 to 4 weeks to receive the voucher. In fact, it took close to 9 weeks and four long phone calls. First time they said: I am sorry, you will receive the voucher in the next 10 days. Of course, it did not happen. The second time, they said: I am sorry, you will receive it in the next 24 to 48 hours. It did not happen. The third time around, they said: I am sorry, you will receive it in 15 minutes... check your email. Of course, it did not happen. Tired of that, I asked my husband to call them (I wouldn't give up) and they did it while he was on the phone with them. Bottom line, I honestly believe they do it on purpose!!!
Date published: 2013-12-06
Rated

5

out of

5
by
JTorres
from
Changed my coffee forever
After our wedding, we had a lot of money left over from our registry, so we invested in a Nespresso machine. We LOVE Nespresso coffee! There is nothing like it! It is so much better than Starbucks and Keurig. Regular coffee just doesn't compare anymore! Awesome purchase!
Date published: 2013-12-06
Rated

5

out of

5
by
RNRodHouston
from
What a fantastic Espresso Machine
My Partner and I got this for our"Christmas" Present and we love, love , love it. IT brews a perfect cup of espresso, lungho in seconds and the milk forther is a whiz, literally. We highly recommend this item to anyone who likes espresso.Rod and Dan
Date published: 2013-12-06
Rated

5

out of

5
by
MishyC
from
Great Machine
I love this machine! My son has one and I just had to have it. It is so easy to use and makes a perfect cup every time. The frother is what really makes the machine great. It is simple to use, makes perfectly frothed milk, and is easy to clean.
Date published: 2013-12-06
Rated

5

out of

5
by
LisM
from
Best Ever
Great Espress. Awesome Price.The upfront cost is totally worth it. The best part is that it makes hot and cold beverages. I have saved so much money by not buying a $4 espresso drink everyday. Mine only cost about $1. It really adds up. If you are wondering should I buy this, definitely, you will not be disappointed.
Date published: 2011-12-13
Related Products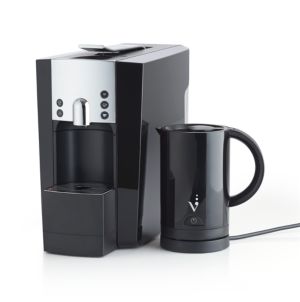 For barista quality beverages at home, the Swiss engineered, high pressure Verismo...
Crafted with Swiss precision for the coffee connoisseur, this powerful espresso machine...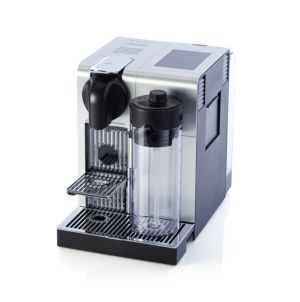 State of the art espresso maker joins the Italian style and engineering...