Prices and availability are subject to change from the time and date that you print this page.
10/23/2014 1:55:32 AM. For Customer Service, please call 800.967.6696
Spin Bar Stools
More Spin Seating
Spin Bar Stools
is rated out of
5
by
127
.
Rated

5

out of

5
by
JesseH
from
Sturdy Stools
Perfect for our kitchen island. I recommend felt pads under the legs.
Date published: 2014-06-09
Rated

5

out of

5
by
Kajay614
from
Looks great and comfortable
I recently redid my kitchen and wanted stools to match the stainless appliances I now have. These look great and are very comfortable. I am very happy with my purchase.
Date published: 2014-06-09
Rated

5

out of

5
by from
Chic and Funtional!
I bought 2 of these spin bar stools and actually was a little leery. I wasn't sure that they would be comfortable enough to actually eat an entire meal. I was pleasantly surprised. Functional and comfortable. In addition, I have gotten loads of compliments. P.S. I looked for stools for about 3 months and finally found these great stools.
Date published: 2014-06-06
Rated

5

out of

5
by
EMSB
from
I was spinning !
I have had this stool for about 2 years and it has traveled all around our house. Bathroom, son's bedroom and kitchen. It is good looking and sturdy and SO comfortable, even for those with ample bottoms. You can spin forever in one direction and it does not 'unscrew'. Great purchase !
Date published: 2014-06-02
Rated

4

out of

5
by
skytop
from
nice stools, minor issue
We've had four of these stools for a couple of years now. Love the look and they are also quite firm and steady. They never tip over even with little kids climbing on and off all the time. We also like that they are not too bulky and slide nicely under the kitchen island. The only problem with these stools is that the screws start falling off after a period of use and they are not easy to screw back on as some other reviewers noted. We even lost some of the screws since we did not notice that they had fallen off. They still spin but makes me wonder what happens if more of the screws are gone. Despite this issue, we still like these stools and believe that they were a good value.
Date published: 2014-06-01
Rated

4

out of

5
by
Mplewd999
from
Great stool, worth the price!
For 109 this stool is great. Made of lightweight "aircraft" aluminum, with a brushed finished, it looks great in our modern kitchen. Built well and does not feel "cheap".
Date published: 2014-05-29
Rated

5

out of

5
by
kleary
from
completes our kitchen!
I bought the spin bar stool a few months ago and loved it so much, we bought another!
Date published: 2014-05-28
Rated

3

out of

5
by
veroletta
from
Very nice to look at
I bought 4 of these stools 2 years ago when we remodeled our kitchen. Pros: I love the way they look, and they are competitively priced. Con: they are not up to the abuse we put them through...Granted, we have 3 kids under 10, and we a rough on our furniture, but I have found that the screws frequently fall out (and they are not easy to screw back in). I am on the fence as to wether or not I would repeat the purchase if I had to do it all over again.
Date published: 2014-05-28
Rated

4

out of

5
by
smallgoodthing
from
Nice stools (if they're not damaged) great service
I bought three of these stools in person at a store states away from where I live. When I got home, two were perfect and one was dented--what looked to be manufacturing issue because the packaging was exceptional. C&B sent UPS to pick it up and deliver a new one, which was also dented. One more return and delivery (all at no cost to me), and we got it right. The stools look great in my kitchen and are comfortable.It was unfortunate that 2/5 stools I saw were damaged, but the customer service was top-notch. Someone even called me from the store on a weekend to check to see if I got the delivery. I didn't know people still do that.
Date published: 2014-05-27
Rated

5

out of

5
by
Veryhappy
from
Great product!
I bought these stools for my new kitchen table and they fit underneath wonderfully when not in use and are perfect with the black granite countertop!
Date published: 2014-05-27
Rated

5

out of

5
by
dkdoodle
from
Nice Stool, sturdy
This is a great little bar stool for the money. It is sturdy and the mechanism for the swivel works well. They are very light weight for moving around, but well balanced.
Date published: 2014-05-27
Rated

5

out of

5
by
the5dollars
from
Simple and Well Priced
We needed three barstools for our remodeled kitchen's breakfast bar. I wanted backless stools (we need to tuck them under the counter when not in use to keep a a passage to the back porch open) and the kids wanted them to swivel. After a kitchen renovation, I wanted something affordable and also durable. These were the perfect solution. The kids like sitting on them, and they blend in with any decor. So far they have held up well, although they don't get tons of hard use. The kids sit here to eat breakfast and do their homework.
Date published: 2014-05-27
Rated

5

out of

5
by
Cubanita100
from
Very cool item!
I reviewed this about a year ago when my kitchen reno was completed and I bought 3 for my island. I loved them then and love it now when I bought a 4th. They are very well made. The spinning mechanism works smoothly and beautifully. They are super easy to clean and everyday look brand new out of the box. Highly recommend!
Date published: 2014-05-27
Rated

5

out of

5
by
annierkpt
from
Love these stools!
I've had these stools for several years now. They are wonderful. I don't "limit spinning" on them and am not sure how you could……….. anyway, they are great. They get constant use and are holding up very well. They look exactly the same as the picture represents and while mine now have gotten a few minor scratches, the brushed finish really doesn't show them very much at all. Sometimes I put a faux sheepskin throw on them in the winter since the metal can get chilly but otherwise they are care free. And for $99 - I mean, be serious! What's not to love? I have two and I'm about to buy two more so thought I'd share my thoughts.
Date published: 2014-05-12
Rated

1

out of

5
by
Whynot5510
from
They don't last
Bought five of these stools 8 years ago for our 10-foot kitchen island, and here I am looking to buy 5 (different) stools for the island. I definitely should have spent more money on a better quality stool. I will say they look great and they clean up easily. But they are really cold to sit on (which I hadn't considered), and, more importantly, they are cheaply made and now don't function properly. The mechanism that spins the seat contains small ball bearings that have dropped out of all the stools, and there is some kind of greasy round gasket that gets dry rotted and breaks. Now the ones that work at all are super loud, clunky, and not swiveling properly. Some of them have oozed grease from the bottom, too, as the swivel mechanism becomes worn out. It's not like they were overused--there are 3 of us in the house (one is a child), and we are not at all on the heavy side. I would not buy these again--a stool should last more than 8 years.
Date published: 2014-04-17
Rated

1

out of

5
by
DJones
from
Fell apart
I purchased 3 of these ~ 2 yrs ago and 2 have lost the ball bearings and can no longer be used.
Date published: 2014-04-16
Rated

5

out of

5
by
Coco44
from
Good quality
These stools have a good weight to them. I looked for a long time to find the perfect stool. The price for the quality is great.
Date published: 2014-04-08
Rated

5

out of

5
by
TMama
from
Practical for Kids
Just received my order of (4) stools and so happy with them. Easy for the kids to get on and off. Comfy seat.
Date published: 2014-03-26
Rated

5

out of

5
by
Palf
from
Love them
I love these stools, the structure of them is extremely durable and built very well, would purchase again
Date published: 2014-03-25
Rated

5

out of

5
by
Vtforme
from
Perfect for small spaces
I bought this for our kitchen island since I didn't want anything with a back that would stick out from under our small island. They fit perfectly and arrived with the usual C&B efficiency and excellent packing. Couldn't be happier!
Date published: 2014-02-16
Rated

5

out of

5
by
northoc
from
Exactly What I Needed!
I have mobility problems and need a stool in the kitchen. I have been through at least five other types before finding this one. It is the best I have ever had. Lightweight yet sturdy and even better - it arrived already assembled! One minor drawback was that the metal seat was slippery to sit on. A piece of rubber shelf liner cut to fit solved that problem.
Date published: 2013-12-15
Rated

5

out of

5
by
vwo3
from
good value
Nice, well built, lightweight stools. Wide seat and sturdy. Nice finish and contemporary look. 
Date published: 2013-12-01
Rated

5

out of

5
by
robertb
from
Nice Stools
We just bought these for a kitchen remodel, and they're about perfect.  They're the right height for a cabinet countertop.  We like that they weigh very little so we can move them around and they don't scrape the floor easily - in fact, they have little plastic caps on the legs to prevent scraping.  Simple design is classic.
Date published: 2013-10-31
Rated

5

out of

5
by
northoc
from
What A Gem!
I'm disabled and need a stool in the kitchen to use while I am working. What a treat to finally buy one that arrives PUT TOGETHER!!! The others I have used fell apart after a time (loose screws, broken parts, etc.) This stool is very sturdy and is the best I have ever purchased. I love it.
Date published: 2013-10-24
Rated

5

out of

5
by
lawlesstanner
from
Spin Barstools
I bought both sizes of bar stools for our newly remodeled kitchen.  They are beautiful, sleek and add just the right contemporary feeling I was hoping for.  They were shipped in a timely manner and were a great price.  Absolutely no regrets!!!!!
Date published: 2013-10-15
Rated

5

out of

5
by
kayak31
from
Perfect with a kitchen island
My husband and I purchased a white butcher block island for our white kitchen that has a lot of stainless steel features...We returned to purchase these brushed metal stools, the perfect addition to tie the look together. We couldn't be happier with the size of the actual stools, 24" height is perfect with our island to eat breakfast (otherwise would be too tall). The spin feature when you are sitting on them, and the light weight, are great. I have a feeling these will last a long time. Recommend! 
Date published: 2013-10-03
Rated

5

out of

5
by
Mertd
from
Happy with the purchase
I bought these stools about 3 months ago and couldn't be happier. The seat on the stool is very roomy and spins easily. The stools were packaged extremely well, ensuring safe delivery. I also like that they do not have a back so they tuck nicely under the bar top.
Date published: 2013-08-28
Rated

2

out of

5
by
StuK
from
Won't last if you use them everyday...
Love the stool's look and size but the screws fall out and the top easily warps. They lasted about 5 years until we gave up trying to repair.
Date published: 2013-08-25
Rated

5

out of

5
by
sherriberry
from
Love These!
When I bought these I was a little concerned they might be too "industrial" for my traditional furnishings.  But they gave the kitchen/dining area the perfect punch it needed.  And I love the comfy swivel seat.  Guests can visit with me while I'm in the kitchen and still be a part of the conversations in other parts of the room.
Date published: 2013-08-10
Rated

5

out of

5
by
Toni S
from
Just the right addition
Purchased the Big Sur table and have oak and stainless steel in my kitchen. These were perfect - not too bulky or overwhelming, matched my stainless steel appliances and go very well with the new table. They are also more attractive in my kitchen than I anticipated. Easy to use and very light!Highly recommended.
Date published: 2013-06-26
Related Products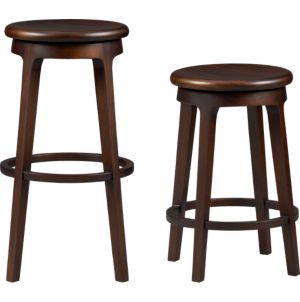 Simple lines, warm mahogany and a 360 degree swivel seat elevates casual...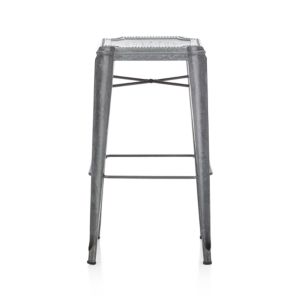 All the charm and character of a flea market find, our galvanized...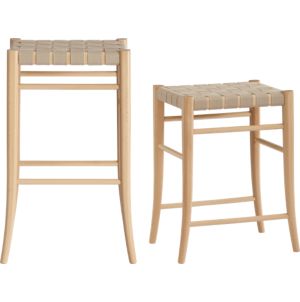 Gentle curves, honest materials and streamlined contours are the hallmarks of classic...