Prices and availability are subject to change from the time and date that you print this page.
4/17/2014 11:44:34 PM. For Customer Service, please call 800.967.6696
Dig into that juicy grapefruit with the proper utensil. This beautiful modern serrated grapefruit spoon makes sure you get every bit of that delicious fruit. Smartly styled in gleaming stainless. Also suitable for use with oranges and kiwi fruit.


Stainless Steel Grapefruit Spoon
is rated out of
5
by
33
.
Rated

2

out of

5
by
Rarebit
from
Awkward
Grapefruit spoons have become more difficult to find. I was pleased to see this one offered on the Crate and Barrel website. My teenage daughter eagerly awaited the shipment. She thinks cutting a grapefruit with a knife is a hardship.I was very disappointed to find that the spoon is uncomfortable to use. The serrated part is fine, and does the job. But the spoon's stem has a squared off style at the end that uncomfortably poked my hand when "digging" into the grapefruit. Perhaps it's a matter of how one wields a spoon, but since "digging" is a necessary function of cutting into a grapefruit, rounded edges would have been preferable.
Date published: 2014-03-25
Rated

5

out of

5
by
Miguel the gardener
from
Great Design!
I first saw this great grapefruit spoon when visiting my daughter in Florida. Upon returning to Massachusetts, I ordered a set of six for my place. No more precutting the grapefruit sections with a knife to make the eating managable. The design is narrow at the serrated tip and flatter than a spoon. Just insert the tip at the center of a grapefruit section at the rind and the spoon cuts the section free from the rind - a quick left, right twist of the spoon and the grapefruit section pops free of the inner membranes and the juicy section is free and ready to enjoy! A wonderful addition!
Date published: 2014-01-12
Rated

5

out of

5
by
Tatluvr
from
I love these grapefruit spoons and ordered twice!!
I bought some of these for me and loved them. They work to not only cut the grapefruit section lose from the pulp but also you have the spoon to eat the fruit and juice. I had no problem as some other's said they did with handling the spoon. I may order some more just in case later on. I have used other's that I didn't like near as much as these. Worth every penny and as I said ordered twice..once for me and 6 of them for a gift. They loved them too! Also they are very strong and do not bend. Please keep carrying these in stock...you know how spoons get lost somehow...I swear the sink eats them LOL. Love my purchases!
Date published: 2014-03-28
Rated

5

out of

5
by
bellaruse
from
Love them
I eat grapefruit for breakfast a few times a week and I used to use a knife and cut out each individual section before eating. But oh my gosh, I can't even imagine that now. These spoons make it so easy!
Date published: 2013-02-22
Rated

5

out of

5
by
MadisonWI
from
Great spoon!
This spoon is narrower than the ones my parents had but this design works even better than I had expected. Great grapefruit spoon and much more heavy duty than any others that I could find in local retail stores. I'm glad I got a few extra- we use them for removing the stems from strawberries, too.
Date published: 2014-01-15
Rated

5

out of

5
by
like2bake
from
Great find
This item was purchased for my husband and I from our registry. My mother, growing up had grapefruit spoons and I wanted a nice set for my house which can be hard to find. I was happy to see that Crate & Barrel had them! They do the job intended. I saw that another reviewer mentioned using them for seeding lemons and oranges - I'll definitely be trying that now as well too!
Date published: 2012-12-07
Rated

5

out of

5
by
The5Ps
from
Best Grapefruit Spoons In the Visible Universe
My family and I love grapefruit and have used these spoons for years. We don't bother prepping the grapefuit with a knife, because these spoons are just the right size and shape to do the job. We have used other spoons, but they are too wide / the wrong shape and end up mutilating and wasting alot of fruit. When my daughter went off to college, she just had to have grapefruit spoons, and didn't want just any spoons, so I ordered them and had them shipped. You just can't find these anywhere else.
Date published: 2013-05-25
Rated

5

out of

5
by
pleased33
from
The Perfect Spoon
This spoon is a very high quality grapefruit spoon that I have had a lot of luck with. It cuts the grapefruit very well and is of very good quality. I highly recommend it!
Date published: 2013-07-18
Rated

4

out of

5
by
queenofgreen
from
grapefruit spoon
Really like the spoon, but actually the shipping was more than the spoon, but the fuel and time would have even been more
Date published: 2014-04-01
Rated

5

out of

5
by
RO Crate barrel fan
from
Great Invention!
Never had grapefruit spoons before but after ordering these, I'm sold! Cannot believe how much time I've wasted using the knife to cut a grapefruit to prepare for eating. These spoons cut the fruit out perfectly! Best purchase ever and they are beautiful as well! Ordered 4 but need to get more...
Date published: 2013-06-29
Rated

4

out of

5
by
snowy88
from
A spoon with teeth!
Very functional for getting the grapefruit sections out without mess or waste, top marks for that. However feels oddly pointy and toothy in the mouth, although in fairness, this may just be the nature of grapefruit spoons.
Date published: 2013-06-08
Rated

5

out of

5
by
jjoh18
from
Nice Speed Tool
This is a great spoon to speed up the time it takes to eat your grapefruit in the morning. I mean who has time to cut each section? This spoon digs right in so you can enjoy all the yummy deliciousness of your grapefruit!
Date published: 2012-04-29
Rated

5

out of

5
by
Slushie
from
Great Grapefruit spoons
I needed some grapefruit spoons. I ordered four spoons and they arrived within 4 days. I was amazed how well they spooned out the grapefruit with the serrated edges. Nicely made and heavy duty too.
Date published: 2013-06-08
Rated

4

out of

5
by
awdreyg
from
Sleek and Polished
I purchase these grapefruit spoons for my husband and I after years of using old shoddy ones. I love the slim design. So easy to use. Great purchase and just the right price!
Date published: 2013-06-08
Rated

5

out of

5
by
Hanngreg
from
Great Product
these spoons are great. My son visited and also liked them.
Date published: 2013-06-08
Related Products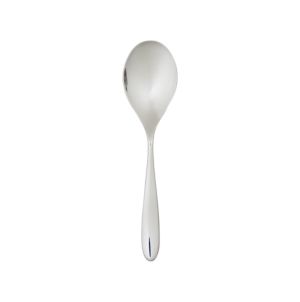 Perfect for casual or elegant entertaining. Each simply styled stainless server has...