Home
>
Stainless Steel Recycled Cookware
Stainless Steel Recycled Cookware
Featured Categories
Shop Cookware
QUICK LOOK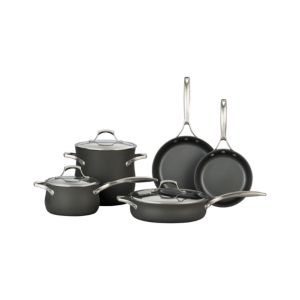 Calphalon Contemporary ™ Unison ™ Slide & Sear Nonstick 8-Piece Cookware Set with Double Bonus ...
$499.95
Professional performance with a choice of two revolutionary nonstick finishes for two different cooking techniques. "Slide" finish is ultra-smooth for easy-release of omelettes and delicate sauces. "Sear" finish is textured to evenly brown and seal in juices of meats, seafood and vegetables. Stylishly curved in tri-ply, hard-anodized aluminum that heats quickly and evenly without hot spots. For use on gas, ...
QUICK LOOK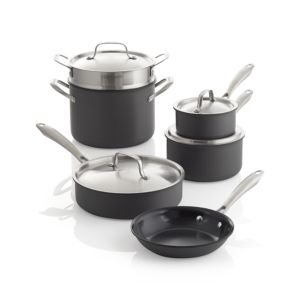 Cuisinart ® Green Gourmet 10-Piece Cookware Set
$199.95
Eco-friendly, state-of-the-art cookware is a versatile modern option for use on any cooktop. Green Gourmet features Cuisinart's exclusive Ceramica® nonstick (and non-petroleum based) technology for healthful fat-free cooking. Hard-anodized aluminum construction assures superior heat conductivity and uses less energy to achieve desired temperatures. Riveted stay-cool handles are crafted of 70% recycled stainless steel
QUICK LOOK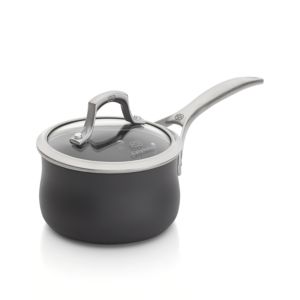 Calphalon Contemporary ™ Unison ™ Slide Nonstick Saucepan with Lid
$49.95
Professional performance with a revolutionary nonstick finish that seals in flavor as you cook with little or no oils, butter or fats. Ultra-smooth surface releases foods effortlessly and is ideal for sauces, gravy, rice, pasta, and vegetables as well as reheating small portions. Sloped sides promote easy stirring, tossing, rolling and flipping of foods, and the heavy-gauge base provides even ...