Prices and availability are subject to change from the time and date that you print this page.
4/18/2014 9:24:52 AM. For Customer Service, please call 800.967.6696
Crate and Barrel Exclusive
One of our bestselling classics for more than 20 years, and not just for the price. Exceptionally clear handmade glass takes shape with a clean, round sham and fine cylindrical walls, cut and polished at the rim.


Crescent 16 oz. Cooler Glass
is rated out of
5
by
116
.
Rated

1

out of

5
by
Archer802
from
Don't Buy - WILL Break!!
Do not buy these glasses!!! They are certainly beautiful, but they just chip and break way too easily. We bought 10 of them about a year ago and now we are down to two! The sides are very thin and fragile; the rim of the glass is not rounded and routinely chip in the dishwasher. The entire glass will break if something lightly knocks into it during a wash cycle. The juice glass is a little sturdier - it is not as thin - but the edges still chip. We will be buying a different set of glasses.
Date published: 2014-03-21
Rated

5

out of

5
by
Ann O
from
lovely glassware
Crescent glassware has a clean contemporary design and is nice to hold in your hand - not too heavy - and does not tip over easily. My husband and I enjoy both the 16 oz and the 6 oz glasses.
Date published: 2014-03-17
Rated

1

out of

5
by
SM333
from
Breaks Too Easily
We registered for these glasses for our wedding and were incredibly disappointed when they started to break right away. The bottoms are solid, but the top is too thin and incredibly fragile. Of the 10 we received, 5 broke within weeks and a 6th one has a chip at the lip. It should be noted that we very careful with them, but they broke very, very easily. We are scared to use the remaining 4 and have bought sturdier glasses elsewhere.
Date published: 2011-02-22
Rated

1

out of

5
by
CrescentReview
from
Cheaper glass, same price
I purchased Crescent barware several years ago and have been very happy with them. Last week I went to Crate and Barrel to purchase additional glasses, only to find that the "new version" is much lighter in weight, with thinner walls.This is not a cheap product, at $8 each I expect a quality product.I'm very disappointed that C&B would significantly lower the quality of one of their products
Date published: 2012-04-10
Rated

5

out of

5
by
like2bake
from
Great glasses
Unlike some of the other reviews, none of my glasses have broken. I like the simple, clean lines of the glasses and they give a set table a polished look regardless if it's a fancy dinner or just a take out pizza kind of night.
Date published: 2012-04-29
Rated

2

out of

5
by
DPUTiger
from
Too Fragile!
We registered for these glasses, but it wasn't until we started using them that we realized how fragile they are. After we broke the third one we got sturdier glasses from the C&B outlet.
Date published: 2013-06-08
Rated

4

out of

5
by
joel
from
Crescent Glasses
We have used this glass pattern at our house for 2 decades now.Plusses are:Elegant simple design - goes well with scandanavian tablewarePretty enough for holiday place settings, Cheap enough for everyday.Always in open stock -Negatives are:They break in the dishwasherThin wall is less sturdy than most other designs (over the years the wall has been increased but is still pretty thin) so keep them seperated or immobileHeavy bottom means the glasses should be inverted onto a pin in the dishwasher to stabilize or they will fall over and break.in everyday use we break or chip the lip about 3-5 pcs a year of each type.
Date published: 2014-04-11
Rated

2

out of

5
by
Newlywed0623
from
Nice style but chips easily
My husband and I got these glasses for our wedding last June. The tallest ones started chipping only a couple months after using them and they looked like they were made with the amount of glass needed for the smaller glasses (aka, very thin). I called and complained, so they let me exchange them. The new ones I got were thicker. However, they're still really fragile and we have chipped two over the past few months. I'd like to return them and get cheaper ones from somewhere else...these won't last. Beautiful, clean and simple, but don't buy them.
Date published: 2014-04-12
Rated

1

out of

5
by
michelebee
from
Pretty, not practical
These have been my everyday glasses for 10 years. I've needed to replace so many over the years because of breakage and chipping--most of which happened in the dishwasher! Very fragile. I recently purchased new ones to again complete my dwindling set and these have been ruined by the dishwasher. The new ones are now partially covered in a while film that will not come off (I've scrubbed them, used lemon juice and baking soda, white vinegar, etc.). Also, the thickness of the glasses is not uniform-some are thinner and even more fragile than others. I'm going to try to return them but I'm considering switching to a different pattern. These are very pretty but unfortunately do not stand up to regular, everyday use. 
Date published: 2014-04-15
Rated

1

out of

5
by
nyc2013
from
Too fragile
I'd like to echo recent reviews: these are beautiful to look at, but they chip almost immediately upon every day use. I was really disappointed, as they were exactly what I was looking for. But the rims of two were chipped after one month's use, and  simple ice cube (!) caused another to break. Another met its death when I bumped it against our porcelain sink. Do not buy. 
Date published: 2014-04-15
Rated

2

out of

5
by
acceber
from
Not dishwasher safe
We received these glasses as a wedding present. We love how they look and feel. That said, we are extremely disappointed in how fragile they are. While the web site says the Crescent glasses are dishwasher safe, we found that we ended up with broken glasses on our first run -- we never have had this happen with any other glasses. During a trip to C+B today to see if I could get my broken glasses replaced, I was told "they are not dishwasher safe and that's not recommended as the glasses can be moved with the water pressure and then break." So, I decided to replace one more just so that we'd have an even number. That said, I likely should start looking for more durable everyday drinking glasses.
Date published: 2011-04-18
Rated

1

out of

5
by
jennyc
from
Beautiful but VERY fragile
We LOVED the way these looked and felt in the hand, and we were so excited to register for all new glasses to replace the menagerie we'd been using. One by one, however we have lost and (stupidly) kept replacing the tall ones. We live in New York, so we don't have a dishwasher... these things can NOT handle laying down in a sink of soapy water.. CRACK! Nor can they survive tipping over... SHATTER! Nor can they survive something being dropped on the rim... SMASH! If I had the space to store formal dinner glasses, these would be perfect, but they simply can not survive everyday use. Bummer.
Date published: 2014-04-15
Rated

3

out of

5
by
CaitlinM
from
Beautiful but fragile
I've had these glasses for about four years. Well, I've had some of them for four years. They do break as easily as other reviews describe, which is really unfortunate because they are a good price and a clean design. My husband and I love the way they look, so we keep replacing them. I've probably bought two sets of 8 over the years. I also noticed that the glass does keep getting thinner, which is probably keeping costs down, but isn't helping with the fragility of the product.
Date published: 2012-12-08
Rated

5

out of

5
by
hippochica
from
beautiful glasses
Have had these glasses for 3 yrs and use them everyday. They are so clear and sparkling w/ a nice weighted bottom that is not prone to tipping. We have broken 2 glasses in 3 yrs, they are a bit slippery w/ hand washing and I dropped a soapy one once just about an inch but right on the rim, which is the thinnest part of the glass. Now I rest the rim on the bottom of the sink when I wash and no further breakage. They are delicate in appearance, but I haven't had any trouble w/ them breaking/chipping w/ simple bumps or clinking. Love these glasses.
Date published: 2014-03-17
Rated

5

out of

5
by
snowboardingwife
from
Worth the gamble!
I searched reviews high and low to decide on which glasswear to register for and I'm glad I landed on these, despite some reviews that the glasses break easily and are spotty. We got these as a wedding shower gift a few months ago and I was careful to handwash them at first, but threw caution to the wind and put them in the dishwasher. I've not had any breakage or spotting, but I am careful to give the glasses a little room to shift in the top rack instead of packing them in and remove them right after the cycle is over. A little caution is all it takes to keep these glasses beautiful.
Date published: 2011-08-06
Related Products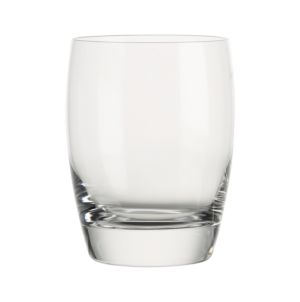 Stock the bar with classic Italian entertainers priced for every day, styled...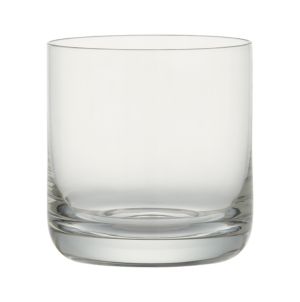 One of our bestselling classics for more than 20 years, and not...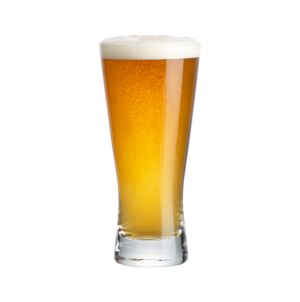 Well proportioned for a wide variety of beer. The shape and design...