Prices and availability are subject to change from the time and date that you print this page.
9/16/2014 5:04:22 PM. For Customer Service, please call 800.967.6696
Crate and Barrel Exclusive
Clean, simple and beautifully balanced, this white porcelain dinnerware with flared rims and straight sides is the ideal blank canvas for your culinary creations.


Verge Dinner Plate
is rated out of
5
by
67
.
Rated

5

out of

5
by
seanc
from
everyday style
Stylish, practical size and durable. The bowls stack nicely too. Also great size for appetizers when entertaining.
Date published: 2014-04-27
Rated

3

out of

5
by
worldpeace
from
Great design, but...........
I was attracted by the raised edge of the plate. However, I got no idea about the shade and the heaviness even after reading all the reviews ( different people say things differently). So as I don't know how it will turn out, I order a salad plate to start with.After received it, ok, the raised edge is a bit shorter then it's on the website (wish it could be a bit taller just like the web photo). The color is not as white and crisp as shows in the picture. And the plate tend to be on the heavy side for my taste.( Fortunately, the one that I got does not wobble. But it shows cutting line/ knife marks and discoloration over the plate) .It's understandable that people have different perception also with different strength level. For what I can provide-The weight :- The salad plate weight 16.4 oz. (about one pound. I own salad plate only andnothing else from this line). But at least with data info, people get an roughlyidea to whether it's close to you liking. Some feel it's light weight, some may getthe feeling that it's heavy for them. However, for those who commend that Theyare the perfect weight....it's just too abstract for me to know how's the perfectweight for me or anybody else when it comes to making decision.Colorwise :- When it's next to the CorningWare (Corelle) or bone china ("Bennett dinnerware"and "Camden Bone China dinnerware" from C&B), this Verge line looks grayishwhite. Verge white look closely to the white shade of "Cappuccino Cup andSaucer" from C&B (reg. price $5.95, hold 12 oz.). Verge carry only mug-type ofcups. So in case people looking for a cup with saucer/ or drink cappuccino couldconsider this one.The plate does get hot after microwave only where food get direct contact with the plate (and the base). So you can hold the remaining part of the plate or the raised lip and does not feel hot at all.Also the dinner plate does not measure 10.5 inch in diameter. It is more like 11.5- 12 inch (same problem with essential and some other-lines of dinner plate, and that does make quite some difference). I found this when I was in C&B store returning items - also due to the inaccurate measurement from website. Would be appreciate that C&B could pay attention to that issue and provide correct measurement. You could save your unnecessary shipping and we customer save time, gasoline/energy returning them.Overall I love the concept and design of this dinnerware. However it's just too heavy and not crispy white enough for me ( and it leave cutting marks). I guess I will go with "Bennett Dinnerware" from C&B. It's thin/ light weight yet very sturdy (much lighter then Camden Bone - China dinnerware when hold in hand. But both are equally beautiful with that true bone-china white color from inside out).
Date published: 2014-04-08
Rated

4

out of

5
by
DesigNV
from
Minimalistic, contemporary style
Love these crisp white dinner plates with the contemporary edge. I purchased the salad plates and bowls also for every day use. Have mixed and matched with other more formal pieces when entertaining. Always receive compliments and questions where I purchased them. Ideal for both trendsetters and minimalists!
Date published: 2014-04-08
Rated

5

out of

5
by
nrdx
from
Beautiful and Simple!
I bought the dinner set in December and I couldn't be happier. It is really elegant and modern. Food looks beautiful presented on these plates and the serving plates compliment the set perfectly.
Date published: 2014-04-07
Rated

5

out of

5
by
Miss_Whisk
from
Love these, modern yet classic.
Needing new dishes as other ones have been breaking over the years. Searched high and low for white dishes that had a modern twist yet weren't odd shaped or too crazy and these are perfect! I also love the smaller, taller bowls compared to most that are wide and shallow.
Date published: 2014-03-26
Rated

5

out of

5
by
lksw
from
Top quality
These plates look amazing everyone asks where I got them!
Date published: 2014-03-25
Rated

5

out of

5
by
Svante12
from
Versatile dishes
I purchased a set of 10 of these dishes and love them. They are clean, chic, and durable.
Date published: 2014-03-25
Rated

5

out of

5
by
Miller8786
from
I <3 These Dishes!!
I have had these plates for 8 months now and they are my everyday dishware. Nearly every guest who has come over and eaten off of them comments on how much they like them! They are crisp white, uniform, and great sizes. I have had no issues with chipping although I did break one when I dropped it in my porcelain sink - but that's to be expected. I also have the serving platter which I wish was a bit bigger. I hope C&B never retires this design because I plan on having a set of these forever!
Date published: 2014-03-25
Rated

4

out of

5
by
jmorr06
from
Great value
I bought the plates and the bowls to replace my Staccato set I got 15 years ago. The quality seems to be comparable and I love the simplicity of this style. The plates stack nicely, but I have found that the bowls stick if you stack them when they are still wet. I have a pair stuck at the moment that I can't get apart! I will take them back to get replacements. I find this to be a minor inconvenience, since I love everything else about them. I just need to make sure the bowls are dry before stacking!
Date published: 2014-03-17
Rated

1

out of

5
by
Jlfunderburk
from
Great design, but not very durable
We bought these less than a year ago and are so happy about the clean design, but the plates and mugs are starting to chip. We clean them both in the dishwasher and hand wash. Super disapointed that these haven't been able to stand up to normal wear.
Date published: 2014-02-21
Rated

5

out of

5
by
prionn
from
Date published: 2014-02-09
Rated

5

out of

5
by
DaniSays
from
Beautiful + practical plates!
There is nothing bad I can say at all about these wonderful plates.I love the raised sides; they keep everything on the plate!Dishwasher safe means that this mama doesn't have to slave over the post-dinner mess.We received 6 as a wedding gift, and I am a hair away from buying some more.Great size for pot roast and veggies, or sandwich + chips... love this versatility.YAY VERGE DINNER PLATE!
Date published: 2014-02-02
Rated

5

out of

5
by
SeniorCitizen
from
Simple to Beautiful
I bought a place setting for twelve and absolutely love these dishes. They are great for everyday and yet, with a colorful placement/napkins, etc. - they look beautiful and ready for company. The dishes stack, so, they take up very little space on the shelf. Plus, the serving pieces, latte cups and espresso cups add to the versatility of this dinnerware. Clean-up perfectly in the dishwasher and no problems in the microwave. They are also oven safe to a specific temperature, so, I put them in the oven on warm to make sure my food keeps warm when I serve my meal. The only thing you may want to know is that the bowl is smaller than other salad or soup bowls that I have purchased.
Date published: 2014-01-29
Rated

5

out of

5
by
bmoresteph
from
great for every day or entertaining
I just purchased this set last week. It arrived pretty quickly and I was really impressed with the packaging. I love the classic white with a modern style. Could be used for every day or entertaining. Seems to be good quality and sturdy, although I've only been using it for a week. I like that they're not really bulky and stack well in my cabinets, taking up less space.
Date published: 2014-01-29
Rated

4

out of

5
by
Katefinch
from
Great versatile set! Quality meets function -
I purchased a set of 8 - love the way they stack and are a lighter weight but still feel nice and sturdy- a perfect dish for everyday. will be great to dress up with an accent plate etc- to dress them up as well- very versatile. I replaced the mercer set with these; similar look however these are much more functional for family use- they dont feel as nearly as fragile and still have that modern yet classic streamlined feel.
Date published: 2014-01-13
Rated

5

out of

5
by
madisontoaustin
from
Lovely, clean lines
Great shape. Stack easily. But we haven't used them as yet. These plates seem perfect for gravied/ curried foods such as Indian or Thai cuisine. 
Date published: 2013-12-21
Rated

4

out of

5
by
Bananzie
from
Perfect fit!
I purchased the dinner and salad plates just before Thanksgiving and am very pleased.  I was tired of the hodge podge of plates that I was left with after damage etc. They look clean and crisp, whether it be a family dinner or a more formal affair. They fit beautifully with other family pieces such as Limoges and Havilland which have been passed down. My only "disappointment" would be that the salad plates are larger than I thought and take up a great deal of room when placed to the left of the dinner plates. They are more like luncheon plates. I have some patterned, smaller salad plates that I have mixed with the dinner plates which works well.  I too am impressed with the packaging and that it is safe for the environment!  My order arrived very quickly as well!.
Date published: 2013-12-04
Rated

5

out of

5
by
Server1
from
Date published: 2013-12-02
Rated

5

out of

5
by
archrenov8
from
We are so happy, but...
We have been enjoying our set of Verge for almost a year now. The clean design in pure white is exactly what we were looking for. Strangely enough, though, with as many options as there were for coffee mugs in this line, there is no creamer or sugar bowl. So we thought, well we must be able to find something from someone else that will coordinate. No such luck so far. And we have looked far and wide.As for our style, I selected contemporary, but we have a mix of Arts and Crafts, Stickley, primitive American, and Asian in a nice fusion.
Date published: 2013-10-28
Rated

5

out of

5
by
Non to 8
from
Happy girl!
As usual, superior product at a super price. Classic design that will stand the test of time. So happy I went back and purchased 4 more for a service for 12. Not only a great product but I'm continually impressed by customer service and super fast processing of my orders, at my door in a flash! Love C & B!!!
Date published: 2013-07-31
Rated

5

out of

5
by
shadowgirl
from
Verge Dinnerware
We love these dishes. I ordered them about two weeks ago and I loved them so much I ordered enough to accommodate 12. I love the sizes of all of the pieces. They are just the right size for better portion control. The dinner plate is large but that is OK for bigger meals and I love the rim to keep food from running off your plate. Even though I am a contemporary person I feel these dishes are so simplistic looking that they could work in many settings. The excellent packaging allowed all of the dishes to be in wonderful condition. The company does a great job on this every time I have ordered anything.
Date published: 2013-07-29
Rated

5

out of

5
by
CAL JANE
from
Perfect size
Purchased a set of the Verge espresso cups and saucers for my husband. Many of the porcelain sets had only 3 oz. cups which are very small. These had the 4 oz. size cup which is better. My husband watched Dr. Oz who recommended drinking Greek coffee every day and needed the set to indulge. They stack well, look smart and are durable. Love them!
Date published: 2013-07-26
Rated

5

out of

5
by
oregon chica
from
the perfect modern everyday set
I got fed up with the hodge-podge of dinnerware sets haphazardly stacked in my cabinets. I had been on the hunt for a modern white dish set that could easily be dressed up or down for any mealtime occasion. These dishes are PERFECT. The flared rims add just a touch of modern sophistication. They stack beautifully in cabinets and would look lovely displayed on open shelving. They are heavy, but not too heavy like some ceramic dishes I've had. The bowls are on the smaller side and have steep walls, which could deter some people. I like them and think they are a better choice than square bowls that often come with modern sets. The white finish is nice and bright. Overall, I am very happy to have replaced my dinnerware with the Verge line. They are worth the investment and seem to be holding up with very little wear after daily use.
Date published: 2013-07-14
Rated

5

out of

5
by
Prairie Lover
from
Unique and Modern
I was very attracted to the "lip" design of this product. Looks great and the size of plates and bowls are perfect.
Date published: 2013-07-09
Rated

5

out of

5
by
VELDub
from
More please!
I absolutely LOVE this line of dinnerware. I am much more rustic, while my husband prefers something a bit more contemporary. The Verge style met both our preferences perfectly. The only thing that is a problem is that low/pasta bowls and bread plates are not available in this style. I would love more serving peices too. I just hope there are plans to expand the line!
Date published: 2013-06-06
Rated

5

out of

5
by
AshNJ
from
Modern Style & Excellent Quality
Absolutely LOVE the "Verge" collection! I actually purchased these plates the day after C&B starting carrying it, and have been in love with them since. Clean lines, simplistic style, and good quality. Highly recommend.
Date published: 2013-04-08
Rated

5

out of

5
by
atqueamemus
from
Perfect
I love the clean simple lines of this whole set. Good size bowls for portion control. Wish there was a matching big bowl for a giant bowl of soup or noodles. I think I need to buy another set... Good quality as well~
Date published: 2013-03-05
Rated

5

out of

5
by
albertinaspring
from
Beautiful basic dinnerware with a modern feel
We've been looking for months for the right dinnerware to replacing our aging and chipped white square plates. It was tough to find a basic but still modern plain white set. Verge fits the bill perfectly! The lipped edge gives it just enough of a different feel that moves it beyond a boring white dinner plate. And the shape of the bowls is definitely more interesting than your average bowl but still very deep and functional. It was a bonus surprise to see how well they stacked together saving TONS of cupboard space for some colorful appetizer plates.
Date published: 2013-03-04
Rated

5

out of

5
by
exhotrod
from
Awesome every day!
I love the look of this plate: the finish is very glossy and the feel is sturdy. The completely flat bottom is awsome for serving salad or pasta as the dressing or sauce doesn't sink to a rounded bottom. They stack nice and don't wiggle around in the cupboard.
Date published: 2013-03-04
Rated

5

out of

5
by
kkbb
from
Love this set!
Purchased a set as whole line is very simple, clean and modern, and not to mention this can be used in any occasion. Especially love the rims. Planning on purchasing 2 more sets and may be platters. Hope CB continues to carry this line. They are that good!
Date published: 2013-02-23
Related Products
Simple coupe shapes in coffee brown stoneware define contemporary everyday dining.Please note:...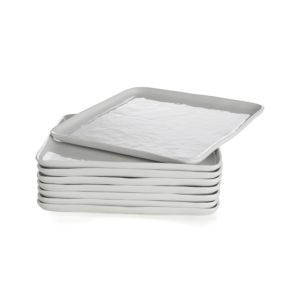 Contemporary porcelain whiteware represents a fusion of refinement and rusticity. Square slim...
Traditional porcelain squares up clean, white and slim to pair with other...