Prices and availability are subject to change from the time and date that you print this page.
4/23/2014 10:26:31 AM. For Customer Service, please call 800.967.6696
Everyday stemware, beautifully crafted from top to bottom. Generous bowl is finished with smooth fire-polished rim and pulled stem. Exquisite clarity at an exceptional price.


Viv 13 oz. White Wine Glass
is rated out of
5
by
122
.
Rated

5

out of

5
by
Urban Wife
from
Wonderful!
My husband and I registered for these when we got married. They are great white wine glasses and are actually fantastic for reds too. They are very durable. We run them in the dishwasher and haven't had a single glass break in almost 2 years. If you're looking for elegant, durable, and affordable wine glasses...these are perfect!
Date published: 2013-07-28
Rated

5

out of

5
by
Like2Bake
from
Pretty and economical too
We received these wine glasses from our registry. They are simple, yet elegant and look wonderful on the table for a nice dinner party or simply if you just want that glass of wine on pizza take out night. I also like the price. If one breaks, I won't feel upset like I would with my crystal wine glasses and with my family and friends all having little kids, they are very practical and look great!
Date published: 2012-05-06
Rated

4

out of

5
by
cbreviewing
from
Great buy!
I bought an entire set of 12 glasses and have loved them! I didn't want glasses with stems that were so slim they would easily break but I didn't want glasses that seemed "weighty". This is the perfect middle ground! I use them for red and white wines and the shape works for them both.
Date published: 2012-04-29
Rated

4

out of

5
by
bluelady
from
Nice wine glass
This is a very nice wine glass for the price. I bought these because they were close in size and shape to the Gala wine glasses which have been disontinued. I like the shape, size and clarity of these glasses, but find the base to be a bit large for the size of the 13 ounce glass.
Date published: 2013-04-13
Rated

5

out of

5
by
KatL
from
Simply Perfect
Great glasses! They are simple, light weight, and perfect for entertaining. I have sets of both wine glasses and the Champagne glasses. They can be used for everyday use or formal dinners and entertaining. Highly recommended!
Date published: 2011-08-17
Rated

5

out of

5
by
duffysmom
from
great everyday glassware
I bought 8 to use in our rental condo. I wanted something I'd enjoy using that would stand up to everyday use by renters, too. These fit the bill - nice looking, good feel in your hand and dishwasher friendly!
Date published: 2012-12-08
Rated

5

out of

5
by
stella014
from
Excellent value
The price:quality ratio is great on these: inexpensive enough to get a large set and not worry abt breakage, but nice enough to provide good drinking experience. well-weighted, fairly thin-lipped.
Date published: 2014-04-08
Rated

5

out of

5
by
beachykeen
from
Delicate but Beautiful!
I purchased 8 of these glasses as a gift for my parents. I loved them so much, I bought myself a set! You must hand wash them because the stems are thin and delicate. Beautiful glasses to own!
Date published: 2012-06-24
Rated

5

out of

5
by
rdewing07
from
Great glass for a decent price
THese glasses are very elegant and have a nice weight to them. The price is right too!
Date published: 2013-05-25
Rated

5

out of

5
by
redvelvet88
from
Beautiful
Bought these glasses for a friends wedding and they look amazing.
Date published: 2011-08-18
Rated

5

out of

5
by from
Great for the price
At 5 bucks a pop, these glasses can't be beat. The one catch is that I tend to break them because they're so delicate (which is exactly why I like drinking out of them). But at this price, they're easy to replace and holding off washing them until the next morning has done wonders for their longevity. Not that I ever over indulge.
Date published: 2014-03-20
Rated

5

out of

5
by
TheWineGuy
from
Excellent glasses at a bargain price
First let me say I'm what people classify as a wine snob. I have a large cellar full of aging bottles, many Grand Cru Burgundies and Bordeaux. I have my share of Riedel and Spieglau glasses for those special wines or special occasions. Unfortunately, decent glasses tend to go $10 a stem and up. Sometimes, WAY up!What I was looking for was less expensive glasses that I could throw in the dishwasher and use for everyday wine drinking, yet still provided something beyond the heavy glasses with the big round fired rim that you find in bars and cheap restaurants. Something large enough to capture the aromas of the wine and deliver it to the nose. Something delicate enough to feel right in the hand and on the lips, but not so delicate as to require hand washing, or extreme care in handling.These fit the bill perfectly. I actually purchased one each of several of Crate & Barrel's sub $6 glasses to compare and found that I liked this one (the cheapest one!) the best. Some of the more expensive ones seemed to have a stem that was too small, or a bowl that was not pleasantly shaped, or was heavy and clunky like a bar glass.I purchased the 10 oz, 8.25" glass. It's a nice general purpose glass, at home with either reds or whites. These glasses strike the perfect balance! The rim is fired, not cut, but is done delicately enough to not get in the way for everyday drinking. The bowl is large enough to enhance the nose, but not so large as to get in the way of a casual dinner like a balloon style Burgundy glass might. The stems are perhaps just a touch smaller than I'd like, but I've not had one break yet.I started with a set of 8 to see how they held up to everyday use. I've been using them daily and tossing them in the dishwasher with reckless abandon. I love them! I plan to get a lot more so I can use them for parties where my good stemware might be too much.Highly recommended!
Date published: 2014-02-14
Rated

5

out of

5
by
dllk
from
the perfect wine glass
I'm in love with this wine glass. I originally purchased the oregon balloon wine glasses, which are absolutely gorgeous, but I found when I got home that they just didn't feel quite right in my hand. those went back, and I fretted over what to replace them with. I finally settled on the viv glasses in the 20oz size, and I could not be happier. they look and feel so elegant. they're comfortably held by the stem or the bowl, and the rim feels the perfect thinness against my mouth. I'm in love with these wine glasses!
Date published: 2012-12-09
Rated

5

out of

5
by
mellocello
from
great value wine glasses
We love these wine glasses and bought 2 dozen of them 4 years ago. Believe it or not, we still have all 24. They hold up well in the dishwasher. Great shape and hold the bouquet of the wine. We use them for both white and red wines
Date published: 2013-09-29
Rated

5

out of

5
by
UrbanCricket
from
BLAMMO! Best wine glass value EVER!
I'm very picky about my wine glasses. They don't have to be expensive, but they do have have a thin lip and a big round bowl. Bonus when they are dishwasher safe, and will fit in the top rack completely inverted (if the stems are too long, the glass must be tilted, and this leaves a sediment ring on the lip of the glass). I also believe that if your wine glasses occasionally break it's because they are being used, and if you're using your wineglasses, life is good!The Viv glass is perfectly sized, perfectly thin-lipped, dishwasher safe, and not too tall. And if one breaks, it's a $5 replacement. BLAMMO! Best value on a wineglass, EVER! I bought 12, and the next time they go on sale, I'll buy a few more.
Date published: 2013-06-08
Related Products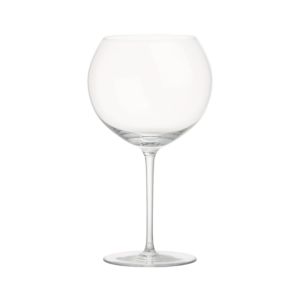 This elegant stemware features oversized proportions that really let big wines breathe....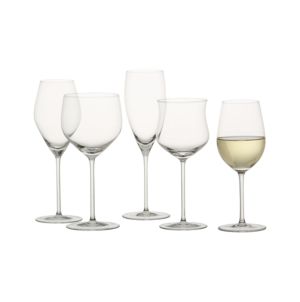 Great wines deserve the right glass to bring out their distinct aromas...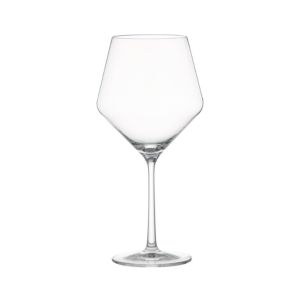 A new angle in stemware from Schott Zwiesel creates an edgy silhouette...