Prices and availability are subject to change from the time and date that you print this page.
7/30/2014 5:11:17 AM. For Customer Service, please call 800.967.6696
With the rise in home canning and preserving, it's only natural we'd revisit these German classics—keeping it fresh since 1900. Unlike other canning jars, Wecks feature an open tapered shape that's easier to fill and empty, rust-free glass lids (no can opener required), and sealing gaskets that are easy to check at a glance. Jars stack for convenient storage.


Weck Canning Jars
Weck Replacement Seals and Clamps
Weck Canning Jars
is rated out of
5
by
98
.
Rated

5

out of

5
by
Desertgyrl007
from
Date published: 2014-07-24
Rated

5

out of

5
by
Annie
from
Awesome jars!
I love using these jars for my sourdough starter....the wide rim makes it easy to use and clean. Great find!
Date published: 2014-06-14
Rated

5

out of

5
by
Robfree
from
Perfect: functional & beautiful!
I bought 4 Weck canning jars to make fermented vegetables. They are perfect! I'm about to order more. They are easy to use and the sloped sides are a nice shape. I'm thinking of the shorter size to have on hand for gifts. Thank you for carrying the useful product!
Date published: 2014-06-09
Rated

4

out of

5
by
pantryenvy
from
My pantry looks so pretty
To be fair, my review is based on storage use, not canning. I got tired of having all my bulk foods in plastic bags - it looked messy and made it difficult to find what I was looking for. So I bought a number of these in different sizes to help organize my pantry and my, do they look pretty! The jars stack nicely, making it easy to find the item I want and to see when supply is running low. I know there are some complaints about the metal clamps but I haven't had any issues. The rubber seal sometimes slips about, but that's a minor nuisance.
Date published: 2014-06-09
Rated

5

out of

5
by
MaggieA8
from
Love these jars!
I bought these jars as serving pieces for chicken liver mousse, and it worked beautifully as a rustic, classy serving piece. After the mousse was all gone, I decided to use them as jars for my summer jams, and they've worked perfectly for that too. Highly recommend!
Date published: 2014-06-09
Rated

5

out of

5
by
Kcsim18
from
Love Weck Jars!!
I have multiples of these jars in every size produced. I use them for EVERYTHING! For refrigerated leftovers, on the counter top to display snacks (which doubles as decoration, store coffee and tea in the cupboard.... like I said, everything! The variety of sizes provides me so many options, they do not stain, and are so easy to clean.
Date published: 2014-06-09
Rated

5

out of

5
by
tsjpack
from
More than canning
I ordered the weck jars for jams but also use them as storage for fresh nuts or unused pasta! They are wonderful!!
Date published: 2014-05-27
Rated

5

out of

5
by
ColoradoAltitude
from
Not just for canning!
I don't can, but I LOVE these jars and have them in many shapes and sizes. Why? Simple - they're beautiful! Great for a variety of food storage. And no concern about BPA and other harmful chemicals leaching into food. You will find more uses for them than you can imagine! Here are just a few:10 oz:•Store bulk tea•Store leftovers in fridge, then warm in microwave right in the dish (remove clamps & rubber ring first).•Use as snack bowl (keeps portions small!)•My favorite: use to bring along a small meal (maybe yogurt, nuts, & fruit). An elegant delight - so much nicer than plastic!•I also plan to give them as holiday gifts, filled with homemade cranberry sauce.The 2 larger sizes:•Store rice, rolled oats, nuts, and other dry goods•Freeze soup, stew, and other leftovers. Other canning jars, even when not overfilled, tend to crack in the freezer. And the straight sides enable the contents to slide right out when you run a little warm water over the jar!An added bonus: they nest to store compactly in your cupboard!
Date published: 2014-05-14
Rated

5

out of

5
by
beanthere
from
Great jar!
I needed an airtight jar to store my whole vanilla beans in. This jar works wonderfully. The trick to getting the rubber gasket in place is to position it on the lid first and then transfer it to the top of the jar. Once you add the clips, the jar is perfectly airtight. This jar is functional and beautiful!
Date published: 2014-04-10
Rated

5

out of

5
by
Blkcats
from
Weck jars are a treasure to own...
The 18-ounce Weck glass jar is such a useful and collectible container. This container can be used for a variety of uses such as canning, storage and just the mere idea that they are well constructed and beautiful to look at when filled up with the item of your choice. Maybe I am biased when it comes to these jars because I own a large variety of them in different sizes and styles but they are bar-none the best glass jar I have ever purchased. The only imperfection that I see is the slightly clumsy and difficult way to secure them using clamps and a rubber gasket. But, it just takes a bit of patience and practice to seal them this way. For storage purposes, I seal them with the plastic lid and for canning purposes, I use the clamps and rubber gasket method. I thoroughly enjoy these Weck jars as they are a treasure to own and totally enhance my everyday living.
Date published: 2014-04-07
Rated

5

out of

5
by
MandieG
from
Perfect for pantry organizing!
I have a few of these jars that I use for organizing in my pantry. This size holds my special sugars~ turbinado, maple sugar, and vanilla sugar. Great for keeping ingredients fresh.
Date published: 2014-04-07
Rated

5

out of

5
by
MandieG
from
Great size!
I have 5 of these so far and I use these to make little personal pies and brownies for my kids. These are the perfect size for personal portions.
Date published: 2014-04-07
Rated

5

out of

5
by
BDunsmoor
from
Plastic free food storage solution
I love that these are plastic free, durable, and super cute. I like that you can use them with the rubber gasket and clips for an air tight seal or just with the glass lid set on top for quick access to items that don't need that air tight seal. I put both glass pieces in the dishwasher and hand wash the clips and seal. I recommend prying open the clips a little bit when you get them - they come pretty tight and can scrape the glass ridge sometimes.
Date published: 2014-04-07
Rated

5

out of

5
by
Kwhit83
from
Perfect
I've had these for several months. I use them for leftovers, but butters, dry storage and anything I can when it comes to food. They are a lot more than mason jars, but I'm trying to get away from plastic. These have glass, pure rubber (which I reuse) and stainless steel clips. Put the rubber on the lid before putting on the container. These are airtight, versatile, beautiful and I'm trying to get enough so I can can jams, jellys, fruit butters and poss nut butters this year. I even use these , 10 oz low jar, for layered casserole leftovers like lasagna. It's not perfect since my portions are generally in squares but I make it work and have no qualms about heating the food up in them. Best price even on the internet -after you factor in shipping and handling- which can be as high as 29%. Thank you c&b for carrying these. My only request would be to also carry their tulip shaped jars as well. Btw, I knocked one of these from the top of my full size refrigerator onto a wood floor. No chips, dings, scratches, etc. since I'm always a graceful person (sarcasm) I appreciate how well built and sturdy they are.
Date published: 2014-03-26
Rated

5

out of

5
by
umihui
from
best glass jar ever!
I would like to buy all the jars of Weck. Totally affordable,good looking,good function,air-tight and stackable. Make my kitchen cabinet organized.
Date published: 2014-03-25
Related Products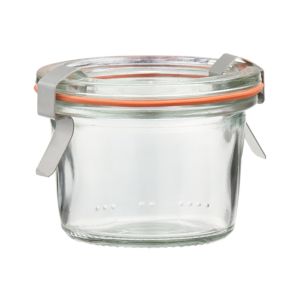 With the rise in home canning and preserving, it's only natural we'd...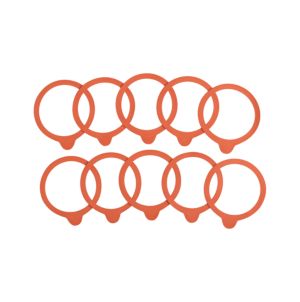 Single use rubber gasket seals extend the life of Weck's classic glass...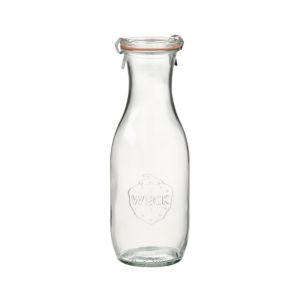 With the rise in home canning and preserving, it's only natural we'd...