Barbara Costas

United States
The exploration of world cultures has been a common thread in the life and career of textile designer Barbara Costas. Costas learned to weave and handprint textiles while attending the University of Michigan where she earned a Bachelor of Arts degree in Asian studies. Her travels through Turkey, Iran, Afghanistan, India and southeast Asia at 20 years old proved to be equally pivotal in shaping her design aesthetic. "The colors and patterns I saw in these cultures awakened everything in my life," Costas says. "To me, the textiles carried a living spirit and human touch."
Costas began her design career in the '80s, handpainting silk fabrics in New York for eveningwear designers before exploring bedding, upholstery and fabric design in the retail world. Working both by hand and digitally with textile software, which she studied at the Fashion Institute of Technology in New York, Costas likes to deconstruct historic patterns to their geometric DNA. "At that level they become universal shapes," Costas says. "Direct and clean, they become more about energy and less about decoration." Now living and working from her studio in historic Oak Park, Illinois, Costas need not look far for inspiration, from her pinup wall papered with swatches and evocative images to the light-filtering trees outside her windows and local fashion she spots on public transportation.
Learn more about artists and designers, from illustrators to industrial designers, who have collaborated with us on our exciting line of exclusive products.
View more artists and designers.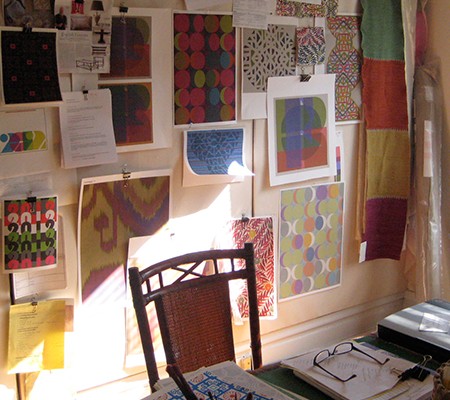 Back to Top
; ;