Blake Tovin

United States
The desire to make and create has been engrained in Blake Tovin for as long as he can remember. "There was always a mysterious sense of satisfaction and enjoyment that came with making things, and as a kid, I was naturally attracted to that," Tovin says. "As I grew older, I came to realize that creating things was an essential part of life for me." After graduating from the University of the Arts in Philadelphia, Tovin began producing handcrafted furniture and accessories for clients and galleries before broadening his reach to the international retail world of home design. He realized his own vision in 1992 when he founded Tovin Design Limited. His studio in Nyack, New York—a renovated warehouse that houses his design studio, prototype shop and gallery space—sits on the Hudson River just 20 miles north of Manhattan.
Throughout his career, Tovin has seen his work evolve, yet his approach has remained the same from the start: "I always try and reduce a design down to its essential elements, avoid ornament, concentrate on proportion and focus on materials and finishes to create products that are understated and comfortable to live with." Favoring the simplicity of wood, Tovin finds inspiration for his designs in visually interesting objects as profound as a great architectural detail or as mundane as a fence post. "The result is the same," he says, "a sense of excitement about an idea that sends you to the drawing board to explore the possibilities."
Learn more about artists and designers, from illustrators to industrial designers, who have collaborated with us on our exciting line of exclusive products.
View more artists and designers.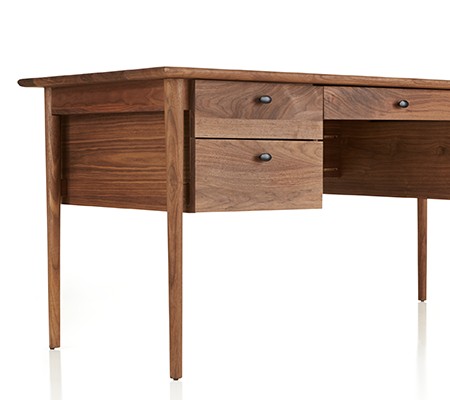 Back to Top
; ;