Genevieve Bennett

London
London-based textile designer Genevieve Bennett draws inspiration from archival materials for her warm, contemporary and luxurious designs. The intricate work of Art Deco textiles, 18th-century Spitalfield silk tapestries, 17th-century wooden carvings and Elizabethan armor all inform and influence her award-winning work, which she defines as "the translation of pattern into beautiful, innovative techniques and processes using timeless materials."
Bennett cuts and layers rich textiles into graphic shapes to compose unique three-dimensional surface patterns through a variety of techniques, including print, appliqué, embroidery, embossing and engraving. A graduate of the Glasgow School of Art and the Royal College of Art for her Masters Degree, she established Genevieve Bennett design in 2000.
Learn more about artists and designers, from illustrators to industrial designers, who have collaborated with us on our exciting line of exclusive products.
View more artists and designers.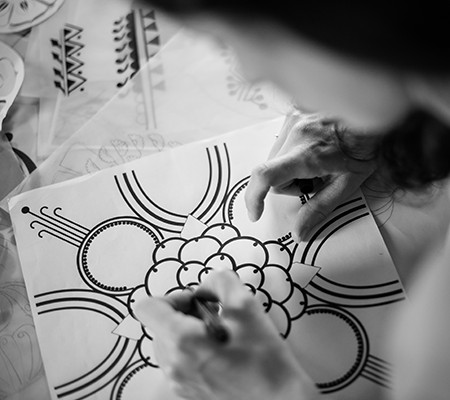 Back to Top
; ;