Kathy Erteman

United States
Describing herself as a modernist with minimalist leanings, Kathy Erteman is a New York-based ceramic artist and designer. She is known for objects that are simple in form with lively surface detail and color. Drawing inspiration from early 20th-century European design and a pared-down Asian aesthetic, she imagines her work being in homes "where art and design dissolve into function with personal style."
Erteman received her Bachelor of Fine Arts degree from California State University, Long Beach. Upon graduation, she interned with Judy Chicago, renowned for her "Dinner Party" installation. Erteman went on to develop her own body of celebrated work, exhibiting internationally with objects in private and public collections, including the Renwick Gallery in Washington, D.C., and the Los Angeles County Museum of Art. Currently a teacher at Greenwich House Pottery, Erteman recently received a Nwang Choephel Professional Fellows Cultural Exchange Fulbright award in partnership with Aid to Artisans to work with Tibetan potters in Yunnan, China.
Learn more about artists and designers, from illustrators to industrial designers, who have collaborated with us on our exciting line of exclusive products.
View more artists and designers.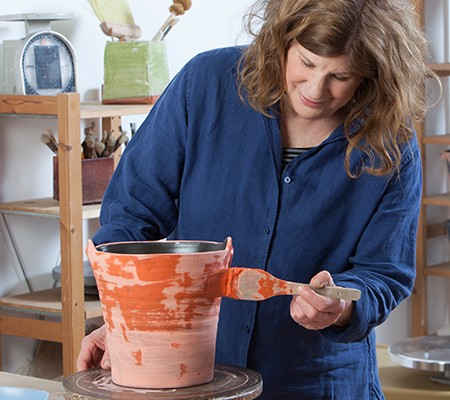 Back to Top