How to Give Your Summer Patio a Makeover
Longer days and warmer nights are the only invitation we need to move the party outdoors. Kim and Scott Vargo of Yellow Brick Home tackle their back patio just in time for summer.
Last year, Scott and I spent the entirety of our summer whipping our patio into shape with a backyard makeover. We worked every weekend (and some weeknights, too!) to get us to a starting point. From rebuilding our deck to laying pavers to building raised garden beds and a large outdoor table, we had a full schedule! By the time we were planting perennials, it was September, and shortly after, winter closed in. During the colder months, we talked endlessly about our back patio; we couldn't wait for the day that we could furnish the space and truly enjoy all the hard work we had put in the year before.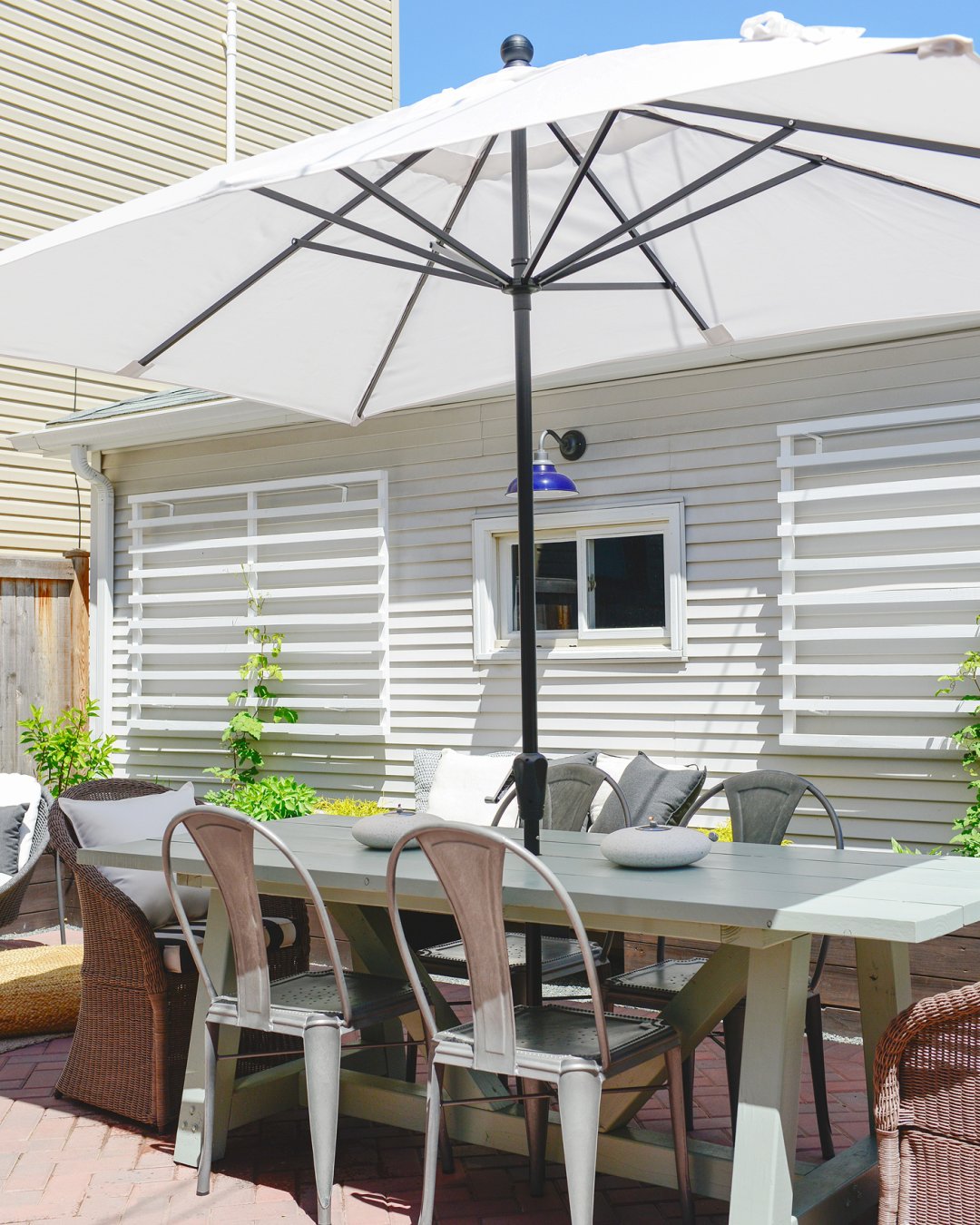 It's always been a little dream of mine to have our friends and family over for a casual barbecue and late night drinks, packed around a large patio table. Until recently, we didn't have the space, but this year, that's all going to change!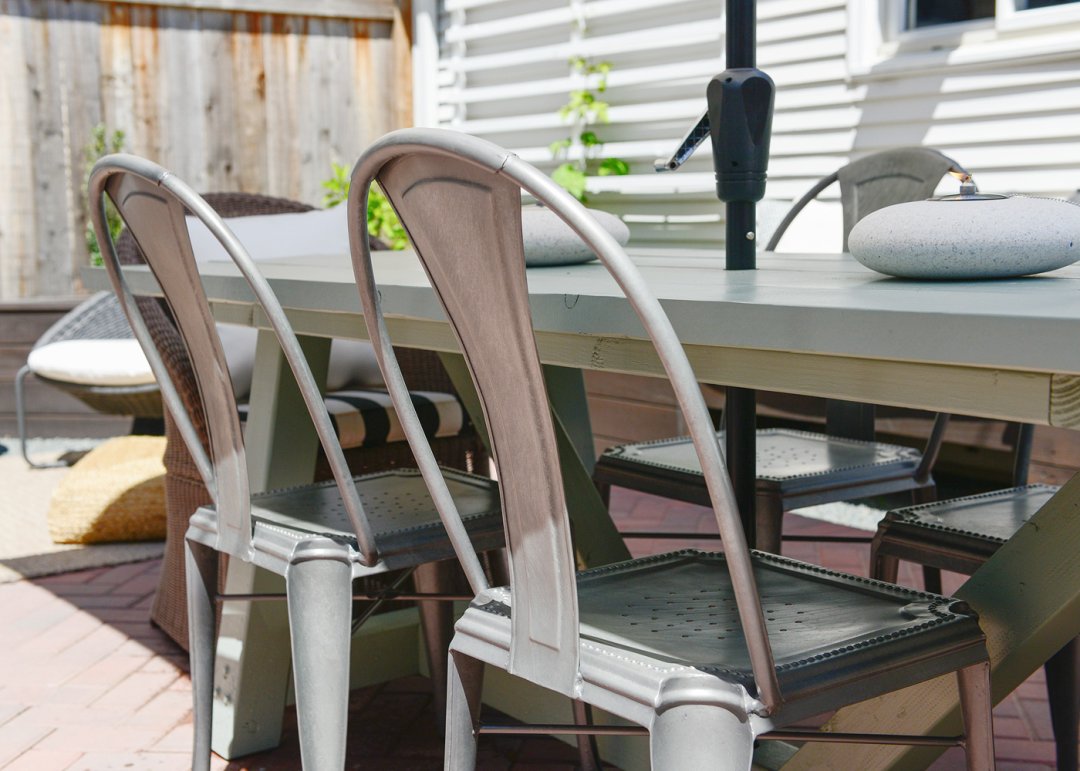 The table we built can seat eight, but I think we could easily sneak in a couple more chairs if needed. We chose a combination of these Lyle metal dining chairs (bonus points for being stackable!) and wicker chairs with Sunbrella pillows for extra comfort and texture.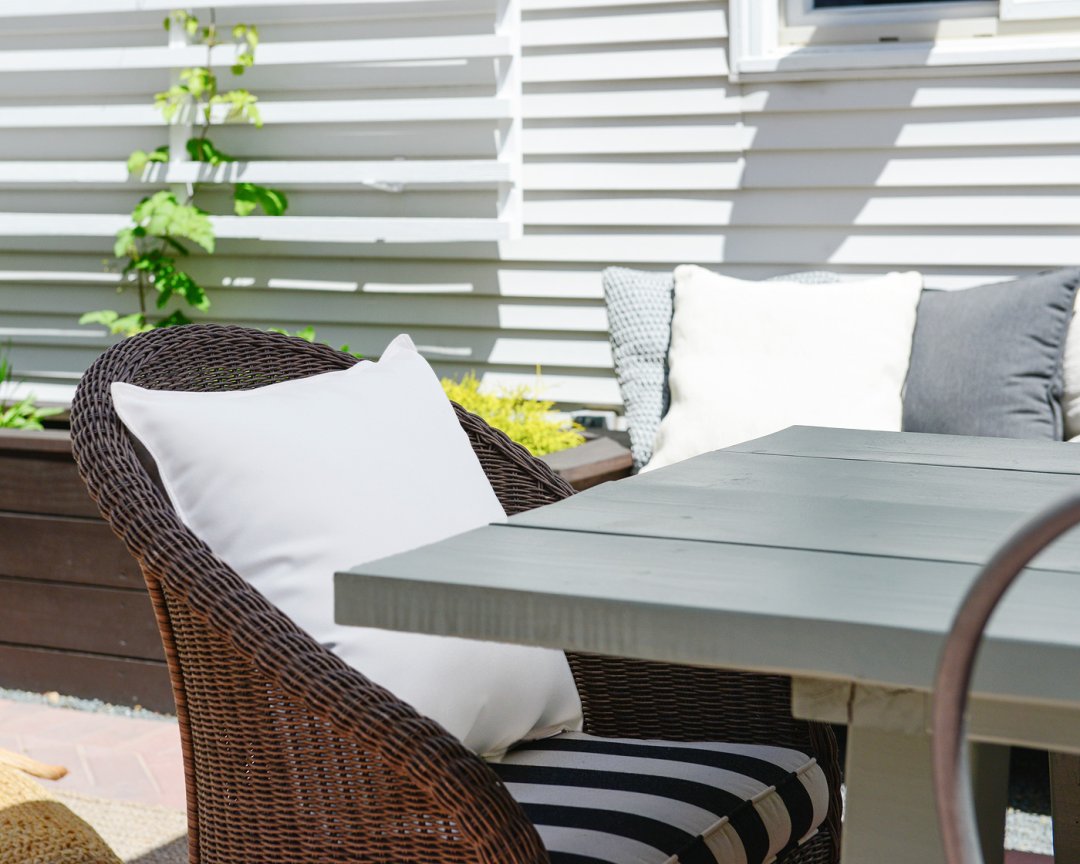 To prevent buggy evenings – especially around all the delicious barbecue! – we picked up a pair of low polyterrazzo oil lamps for the table, and we staggered taller black resin lamps on the stairs leading down our deck. We filled the reservoirs with citronella oil and added sand for weight.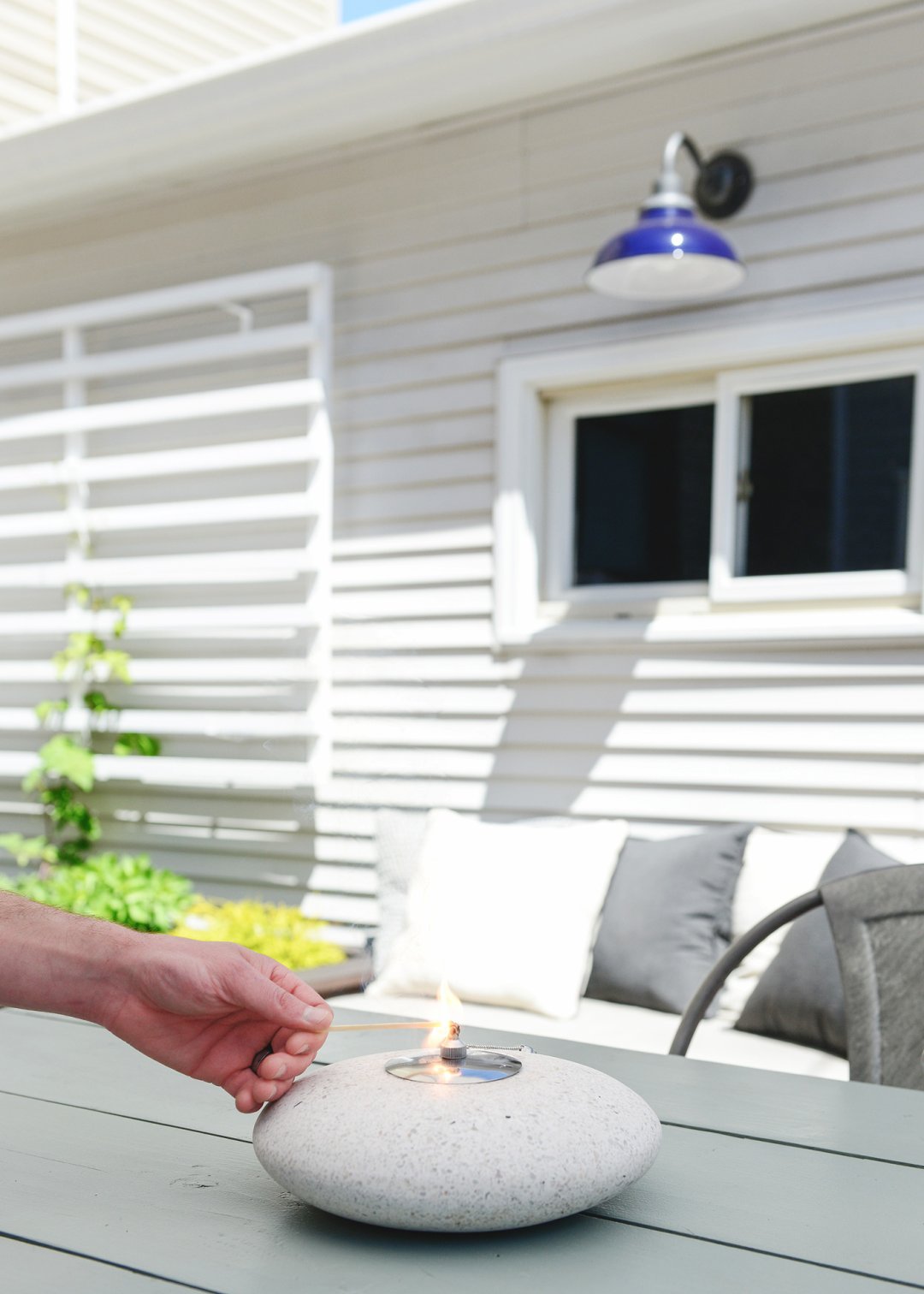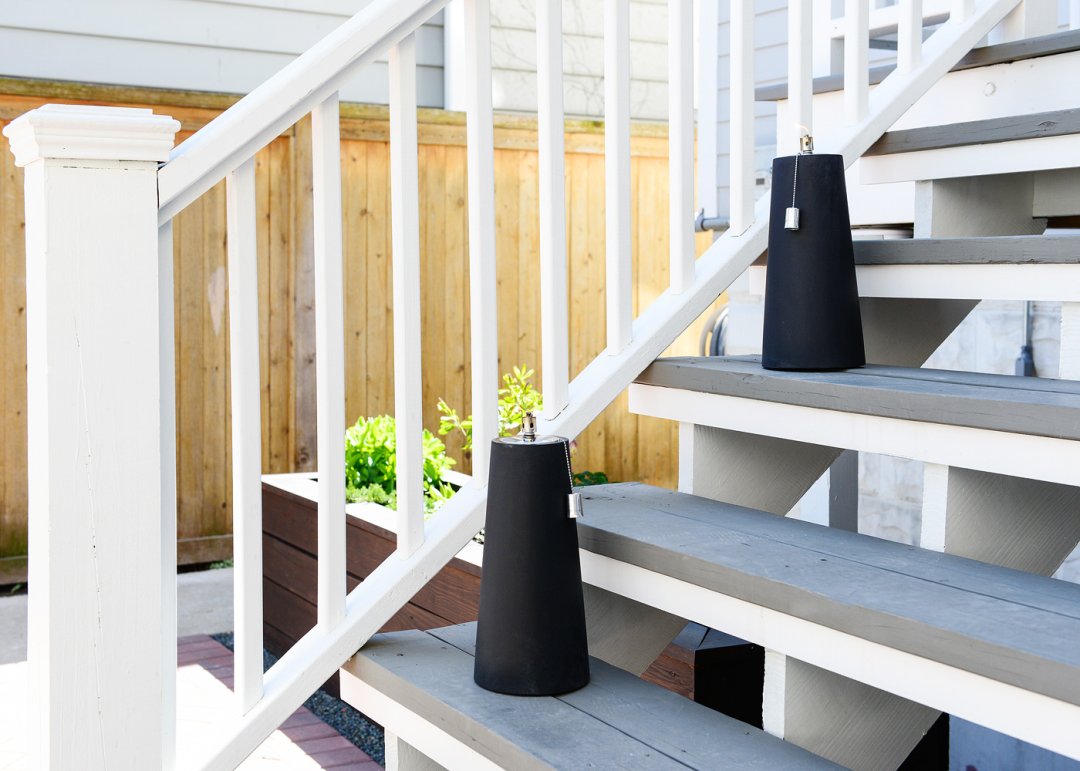 Overhead, we landed on a 9' rectangular umbrella with White Sand Sunbrella fabric, and we couldn't love it more! We were nervous that it had the potential to be too large, but once it's cranked up to its full height, the umbrella fills the space perfectly. It adds such a simple statement to our patio, while feeling cozy and intimate.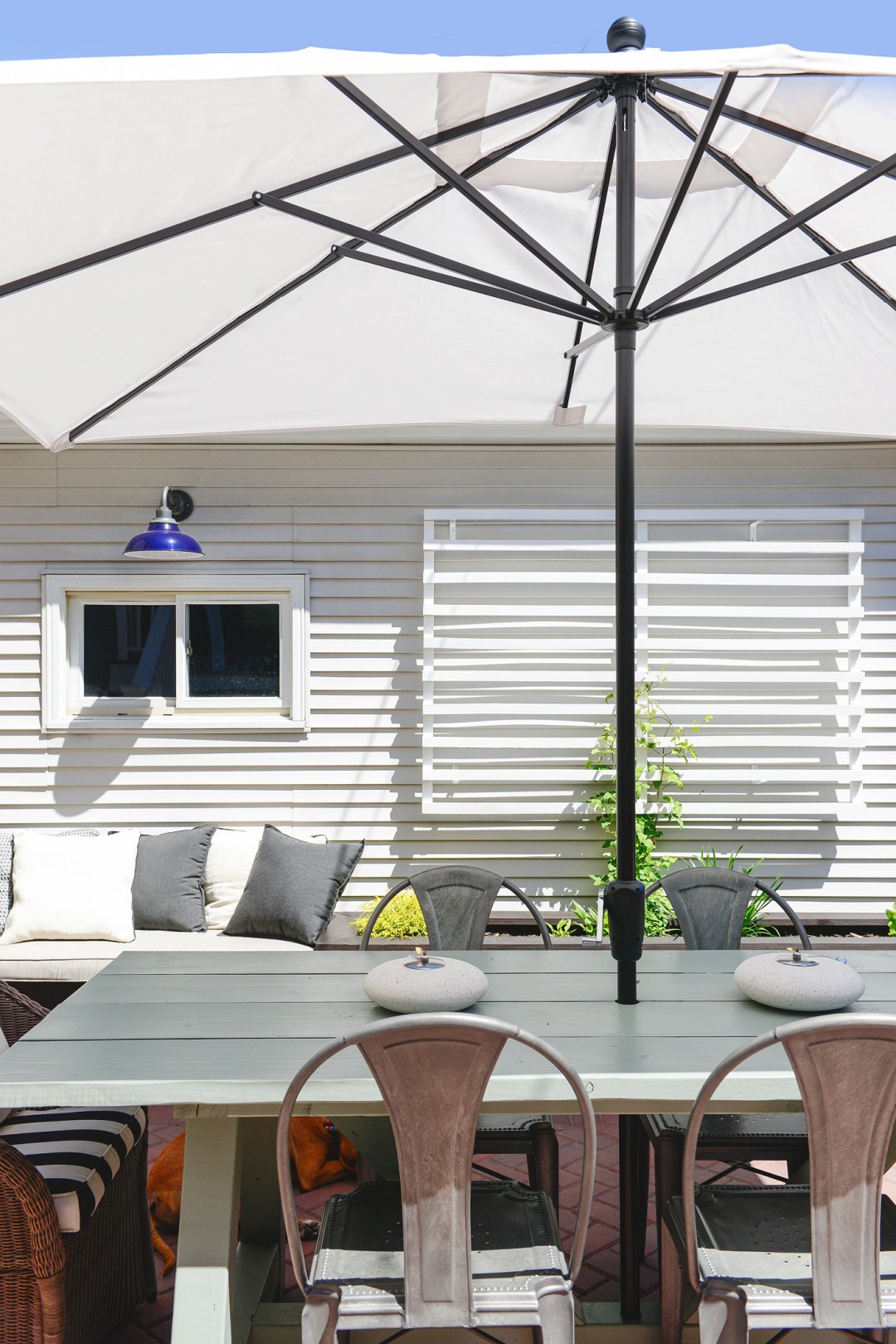 Behind our patio table, we tucked away a 4-foot bench. We built it to mimic the look of our raised garden beds, stained the wood to match and secured it between two boxes. We have loved every minute of watching our dogs and the neighborhood children scramble onto this bench.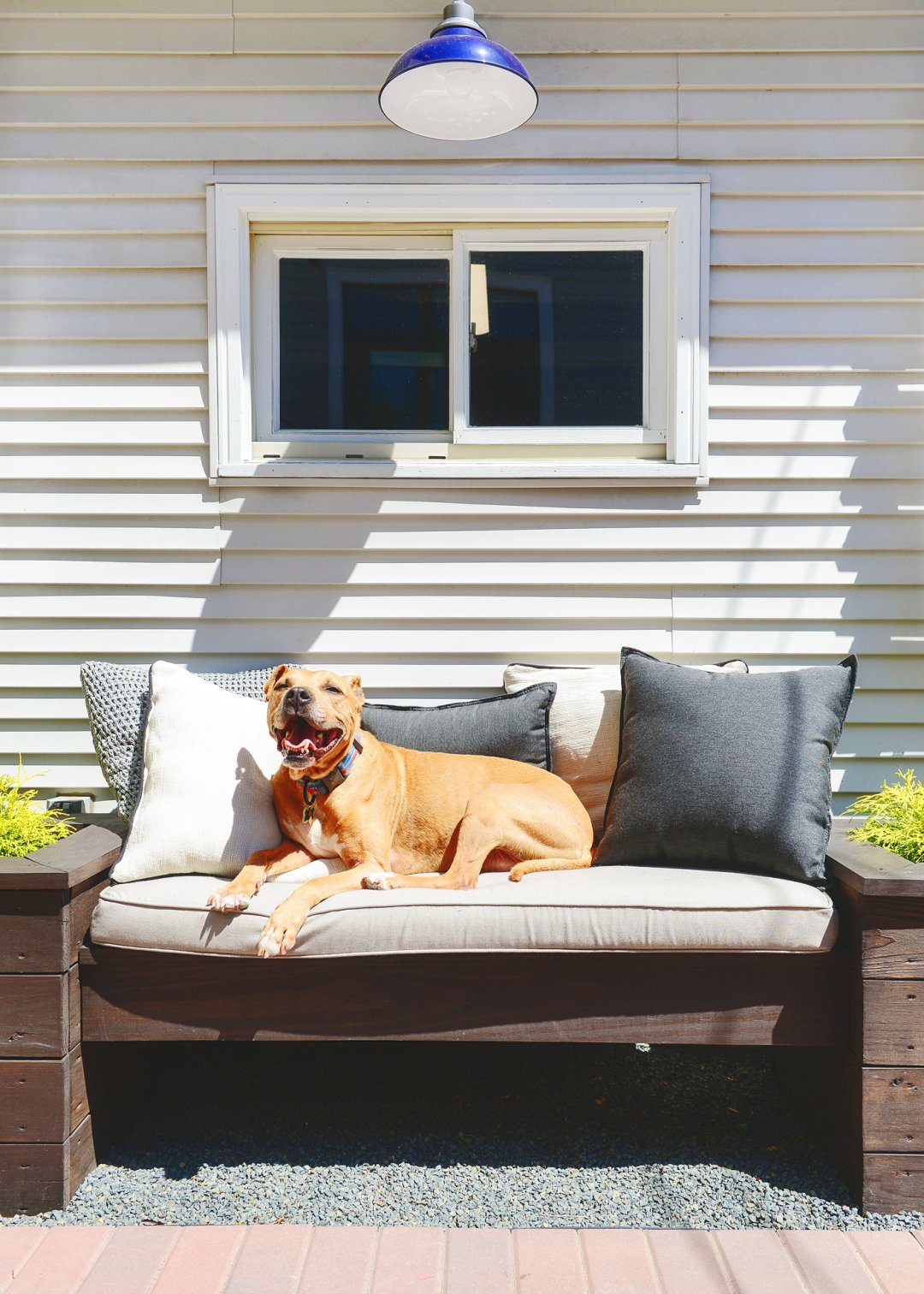 It's the perfect two-seater, but to make it extra inviting, we added an assortment of outdoor-friendly pillows! All the pillows are stuffed with quick drying polyester fiberfill, and that adorable crochet pillow (my favorite!) is weaved from polypropylene yarn. In other words, they dry quickly after a rainstorm!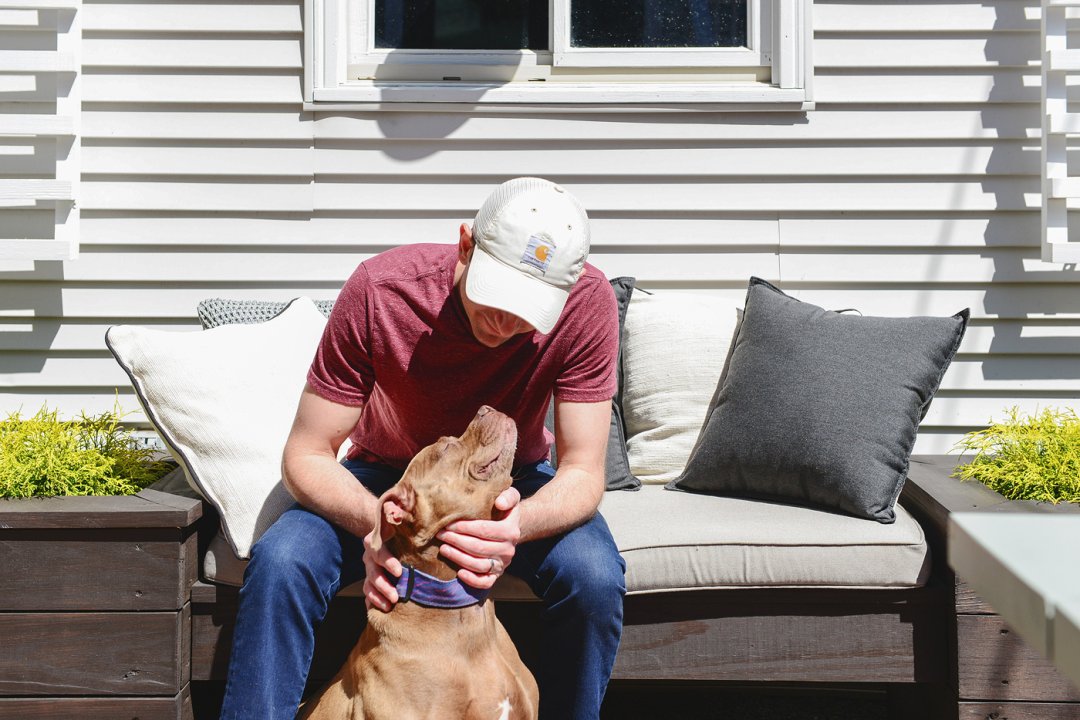 The main attraction in our backyard is, hands down, our fireplace! We converted a Mid Century fireplace to run on propane, and we had it powder coated to resist the elements. We've had a crush on the Morocco Oval Lounge Chairs for years, and we quickly agreed that a pair of them would flank our fireplace just right.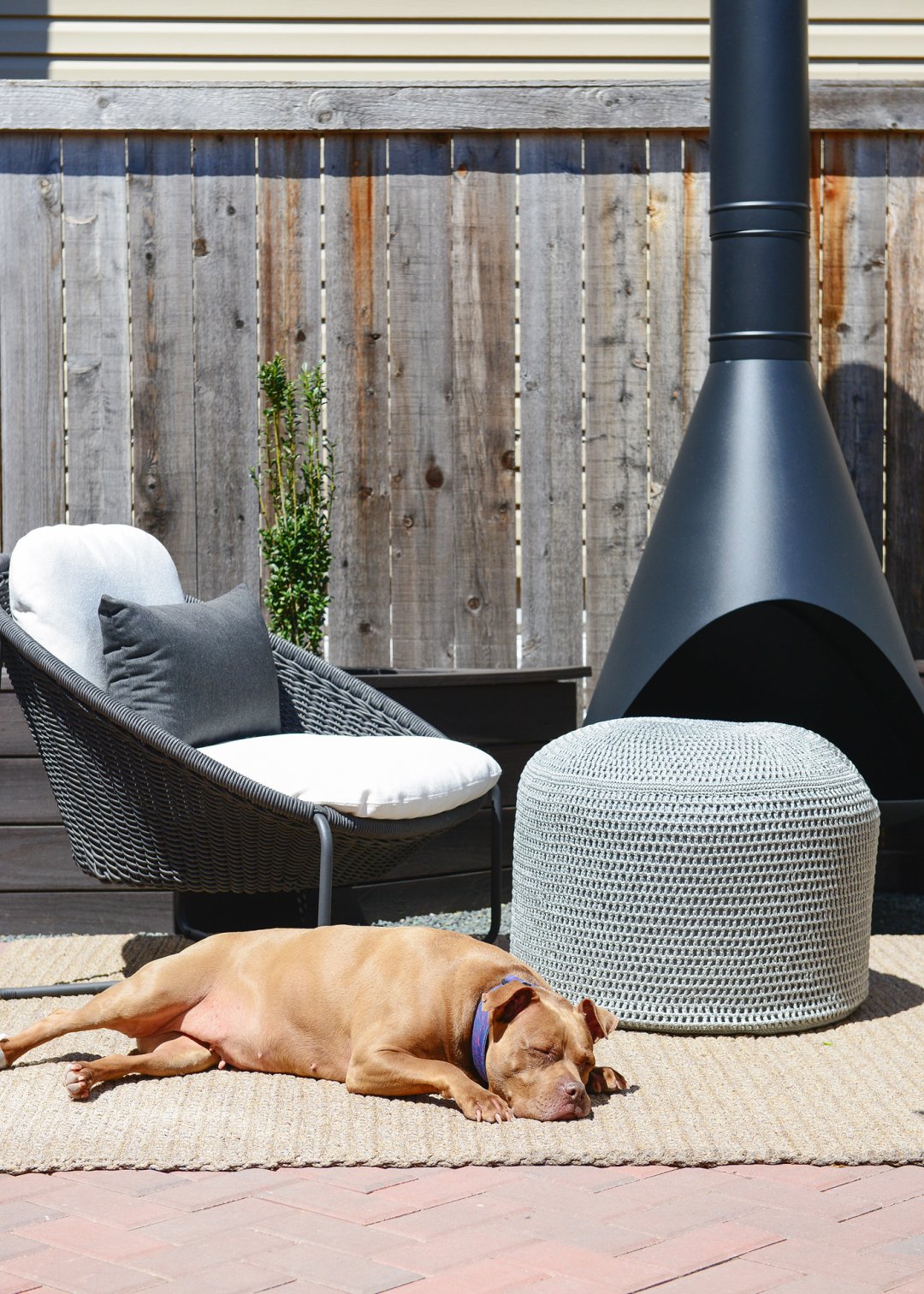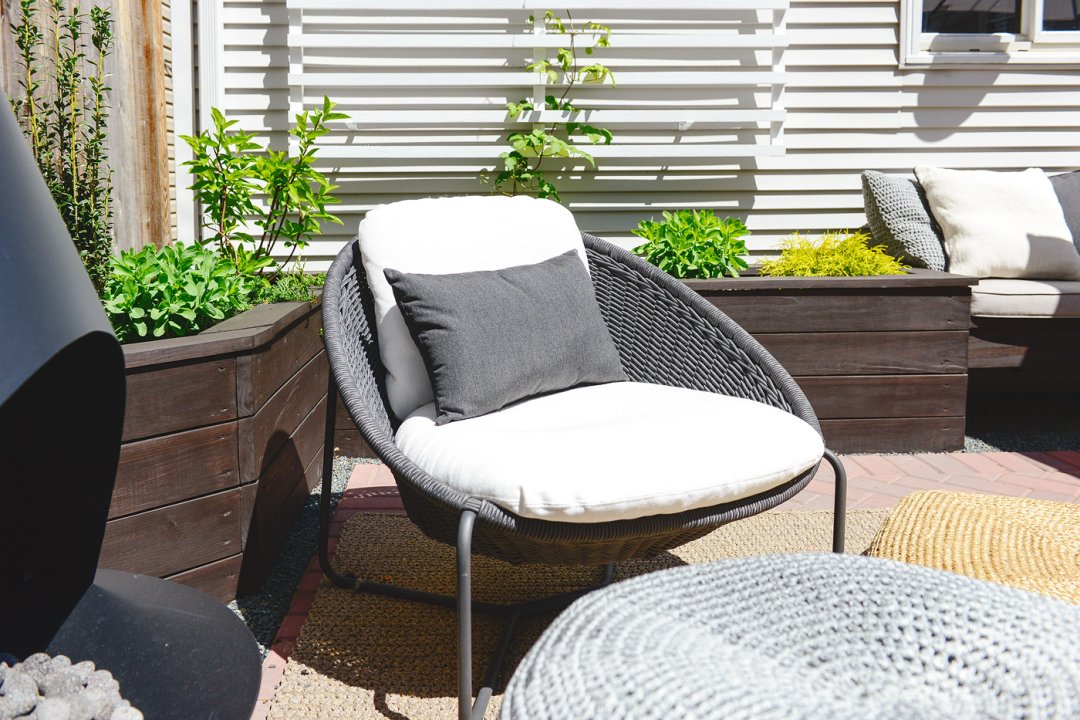 We threw in a crocheted outdoor pouf for us and a jute floor pillow for the dogs, and we placed it all on top of the thickest, prettiest Salome rug. Our backyard receives full sunlight throughout the day, although in the event of looming showers, we'll prop the cushions up (the dog bed included), so that the water drains nicely.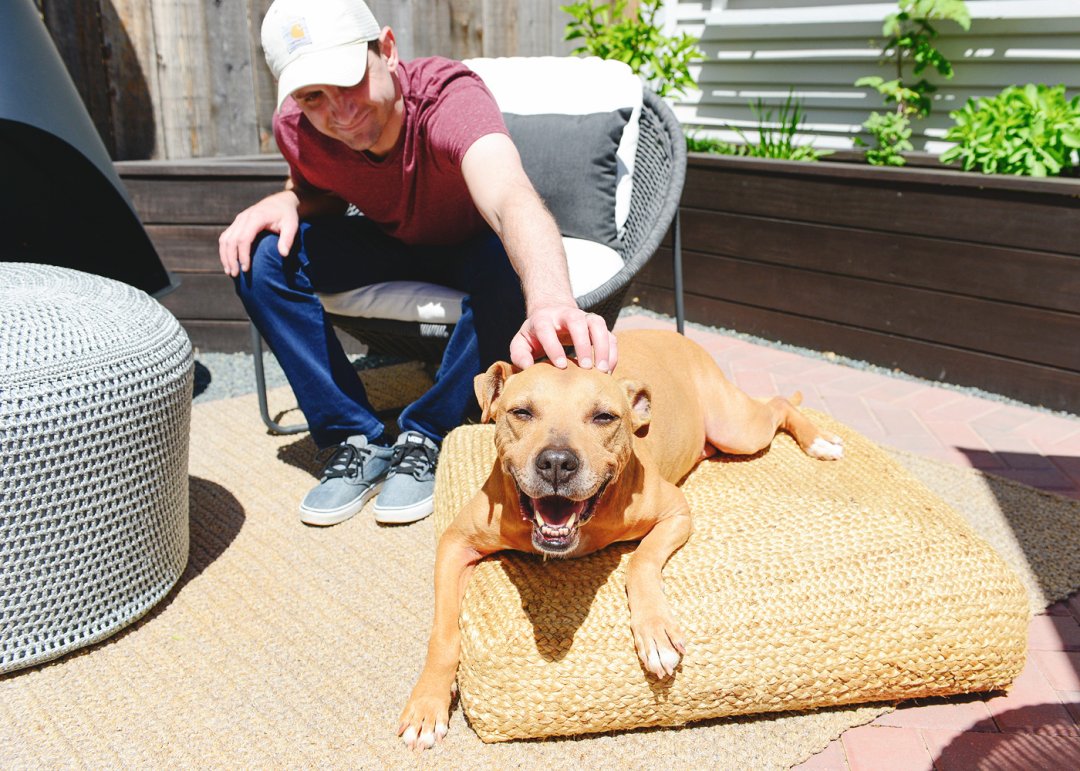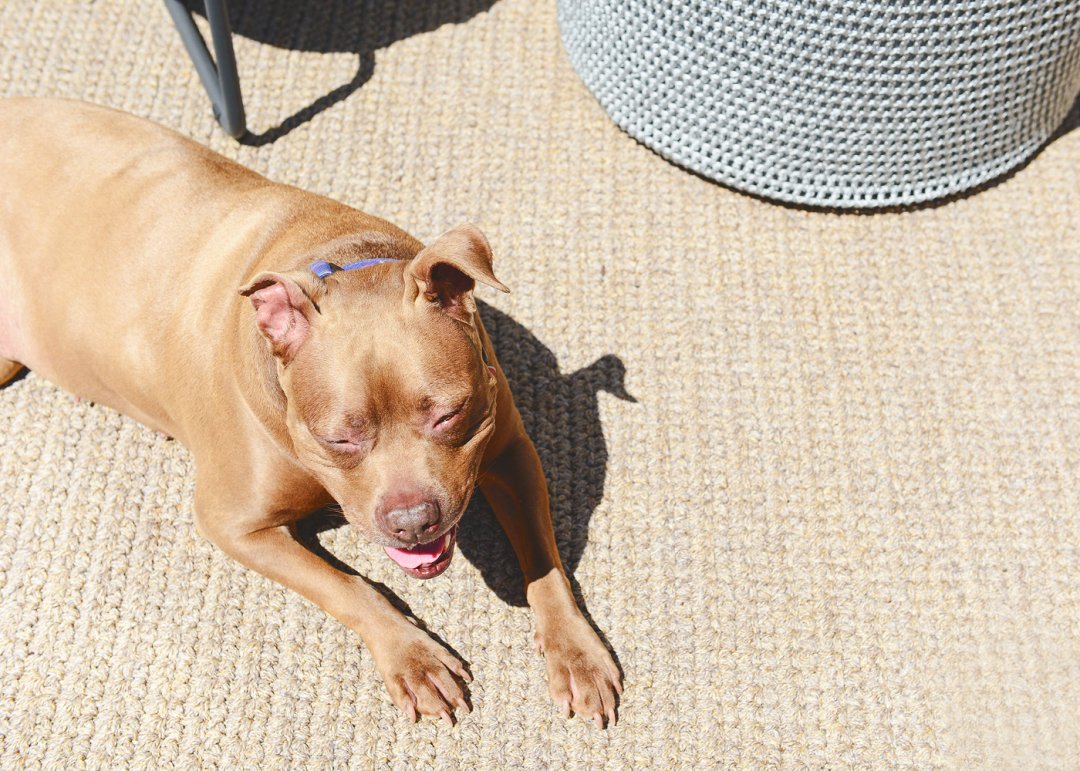 On chilly evenings, we curl up by the fire for low-key date nights, roasting marshmallows and talking about summer plans ahead. On especially cold evenings, we'll cover ourselves in blankets, and we've found that we can cozy up in one chair for extra warmth!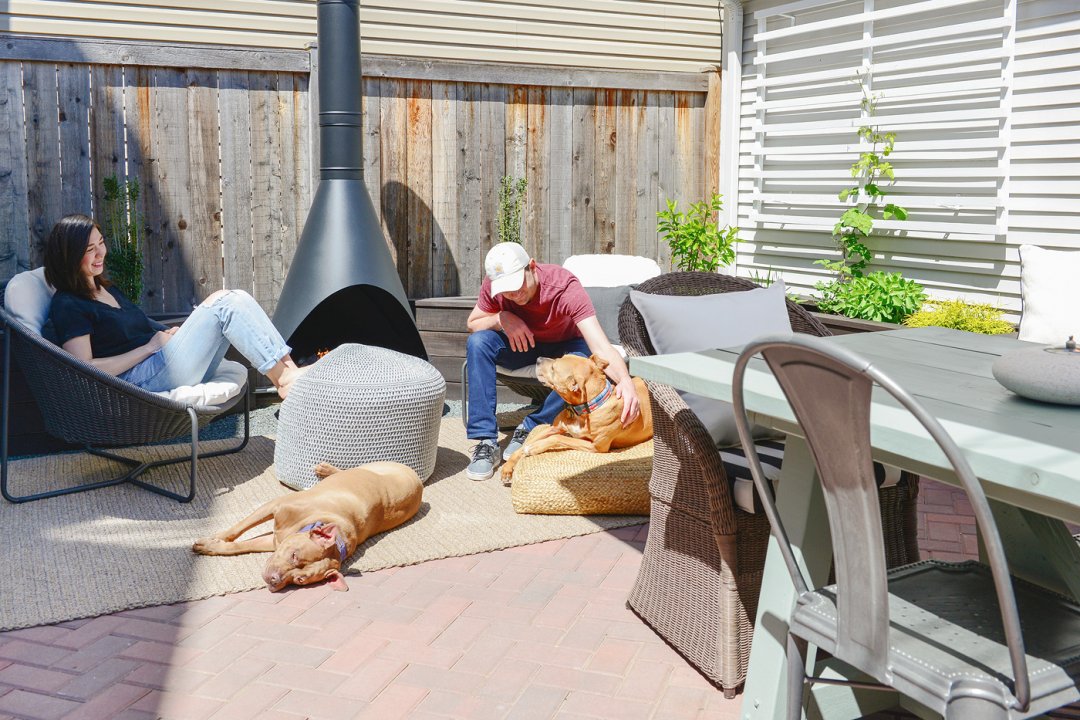 We couldn't be more excited with how our backyard has taken shape over the last couple of summers, but this is the year that it will really get some use! Neighbors, party at our house!